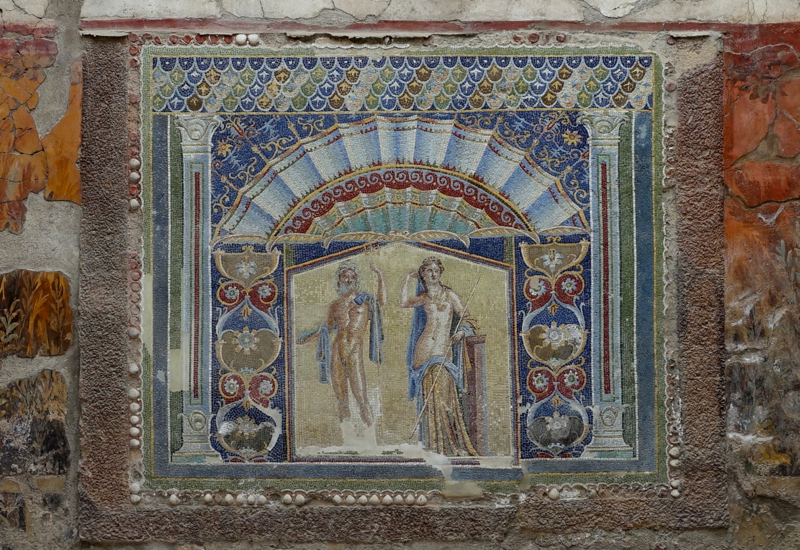 This Herculaneum Photo tour post is part of a trip report featuring the Amalfi Coast, Tuscany, Florence, Rome, Singapore Suites, Air Berlin Business Class, and luxury hotel stays, dining and activities in Berlin and Italy.
For the prior posts, please see:
Review: Air Berlin Business Class A330 JFK to Berlin
One of Europe's Best Hidden Secrets: Guess the Place
Review: Virgin Atlantic Clubhouse, New York JFK Airport
Review: Singapore Suites A380 New York JFK to Frankfurt with a Kid
Katz Orange Berlin Restaurant Review
Marzapane Rome Restaurant Review
Emma Pizzeria Rome Review: Great Pizza in Rome
Review: Pompeii with Private Tours of Pompeii
Review: Monastero Santa Rosa Hotel and Spa, Amalfi Coast
Paestum's Greek Temples: A Must See While Staying on the Amalfi Coast
Review: Ristorante Il Refettorio at Monastero Santa Rosa
If Pompeii gave us a sense of the vastness of even a moderately sized Roman city, Herculaneum was a must-see for us in order to see first-hand the incredible beauty and detail of Roman artwork, which is much better preserved at Herculaneum than at Pompeii.
Why is this? As Professor Andrew Wallace-Hadrill explains in the video below, the ash fall at Herculaneum, which is closer to Mount Vesuvius, was much hotter and covered the city by up to 5 times as much as at Pompeii: up to 25 meters (over 80 feet) in some places.
Herculaneum, as with Pompeii, was a port city, but the volcanic eruption pushed Herculaneum's coastline 400 meters out. Significantly, about 340 skeletons (almost 10% of Herculaneum's estimated population of ~4000 or so at the time of the eruption) were found by Herulaneum's ancient shore, up to 40 in each vault, which have been called boathouses, but most likely were used for storing other goods, not boats. The vast majority of skeletons found in the vaults were women and children, while those on the beach were mainly men, alluding to a desperate attempt to flee by sea, with the men perhaps trying to summon boats to the shore for an evacuation, while women and children were sheltered in the vaults.
Here are just a few photos from our brief visit (we stopped en route from Monastero Santa Rosa Hotel & Spa to the Naples train station) that were highlights:
1. Beautiful Mosaics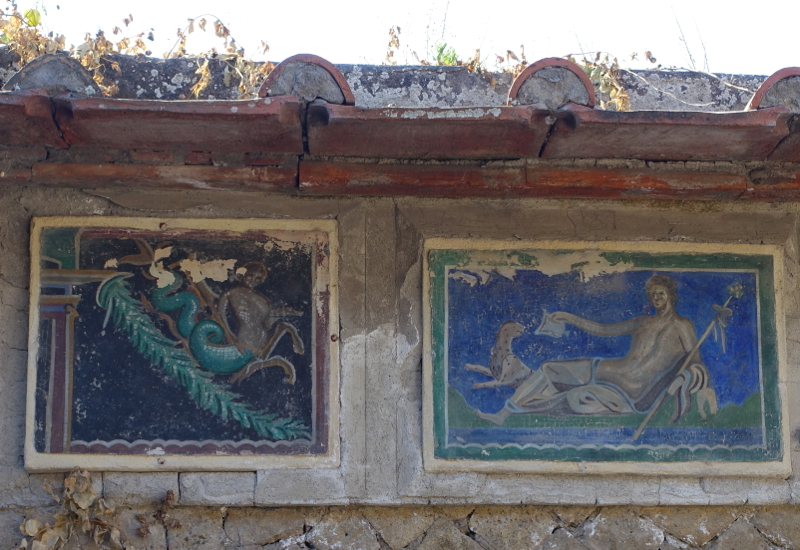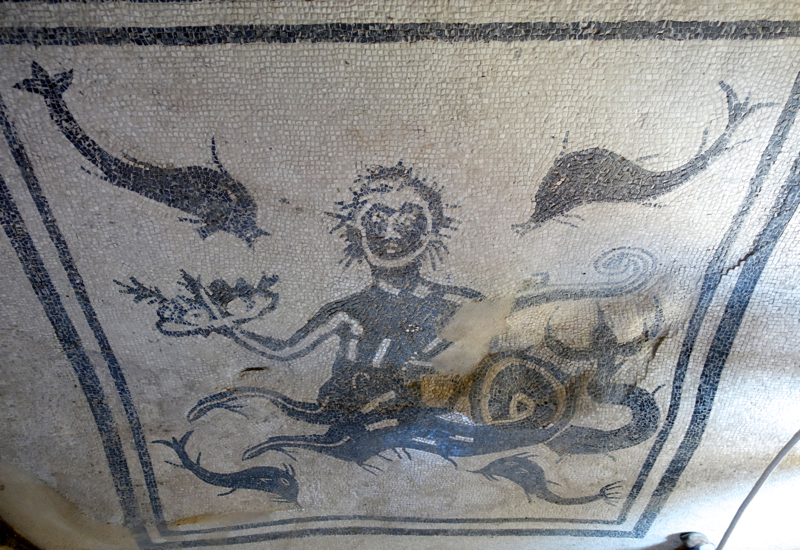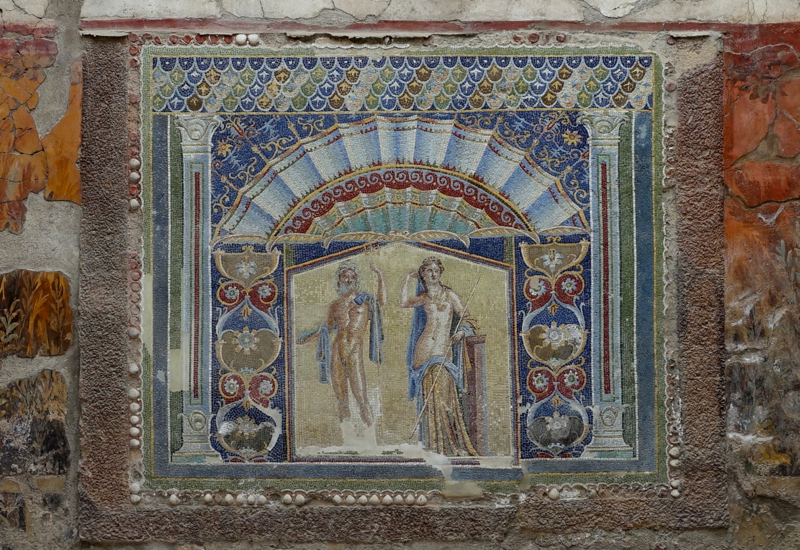 2. Fresco Colors
Not only are there some beautifully colored mosaics at Herculaneum, there are several frescos whose colors are still well preserved and help bring to life what Herculaneum (and Pompeii) would have looked like as bustling, vibrant port cities. The below frescos are in the College of the Augustales: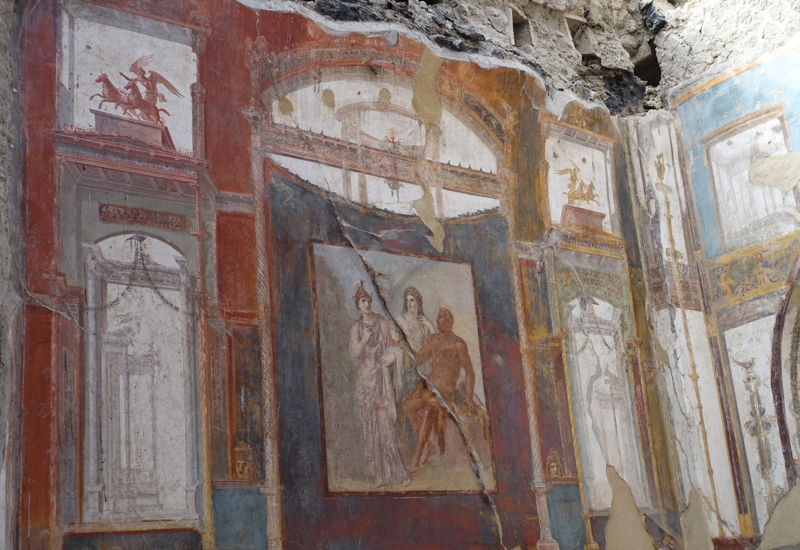 3. Sculptural Details
Sculptures were also better preserved at Herculaneum than at Pompeii. Here's one from the House of Telephus depicting Achilles with his mother on the left, and helping to heal Telephus, whom he had wounded (Telephus was the son of Hercules, after whom Herculaneum is named).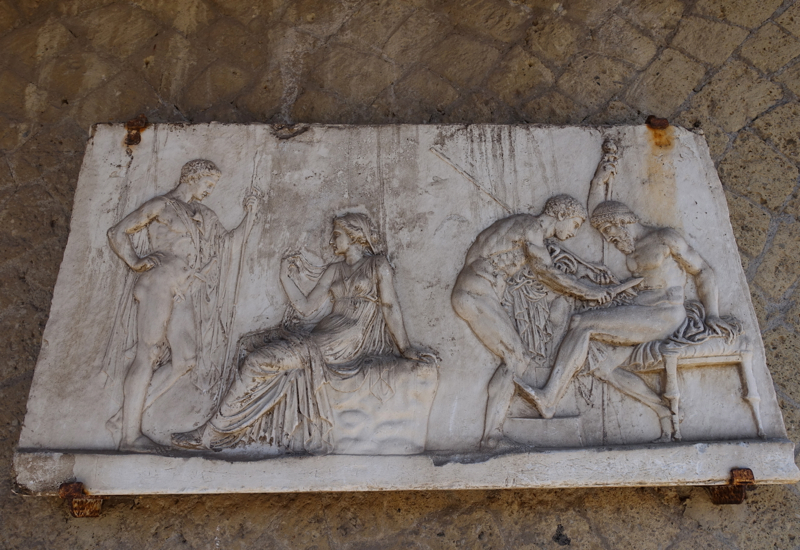 4. Two Story Buildings
The succession of volcanic flows and surges at Herculaneum buried the city's buildings so quickly that many structures, including a number of two-story buildings, were preserved intact.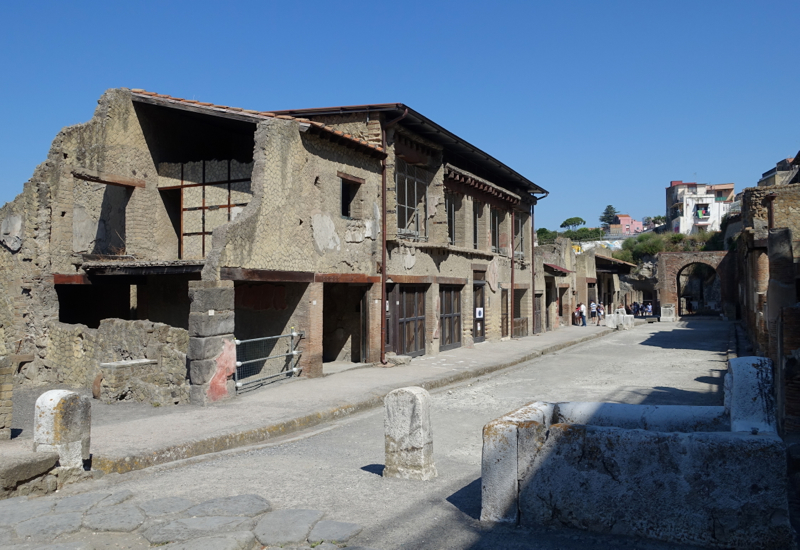 5. Carbonized Wood
Similarly, thanks to the speed, heat and depth of the coverage, some of Herculaneum's wood used in structures and even in furniture carbonized. While the furniture is protected in a separate storage space (including items such as beds, tables, and even a cradle–which was found with an infant skeleton in it) you can still see carbonized wood in some of the buildings, such as this one: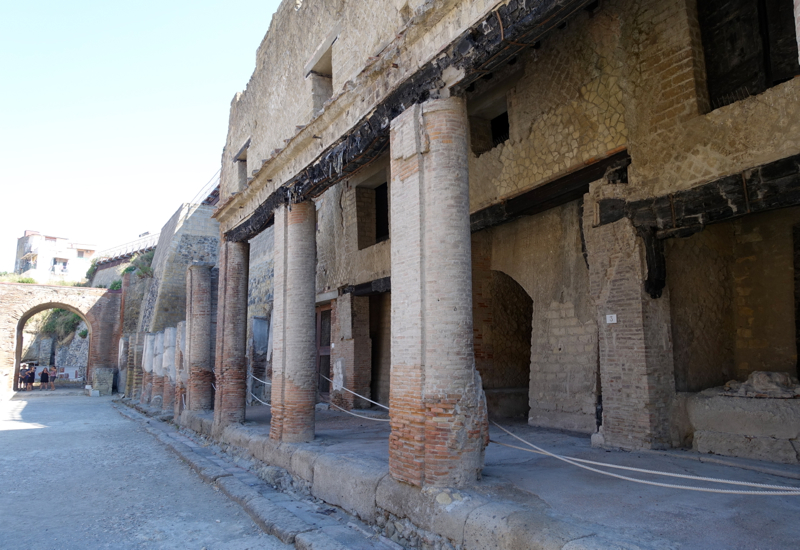 But if you're planning a visit to Herculaneum, be sure to watch Professor Wallace-Hadrill's compelling YouTube video, "Life and Death in Herculaneum:"
If you've visited Herculaneum, what was your experience?
Related Posts
Review: Pompeii with Private Tours of Pompeii
Review: Monastero Santa Rosa Hotel and Spa, Amalfi Coast
Virtuoso Hotels: Bookings with Upgrades, Complimentary Breakfast and VIP Perks
Paestum's Greek Temples: A Must See While Staying on the Amalfi Coast
Need Award Booking Help? Our fee is as low as $75 per ticket if you book your hotel through us.
If you enjoyed this, join 200,000+ readers: please follow TravelSort on Twitter or like us on Facebook to be alerted to new posts.
Become a TravelSort Client and Book 5-star hotels with Virtuoso Perks and Four Seasons Preferred Partner Benefits