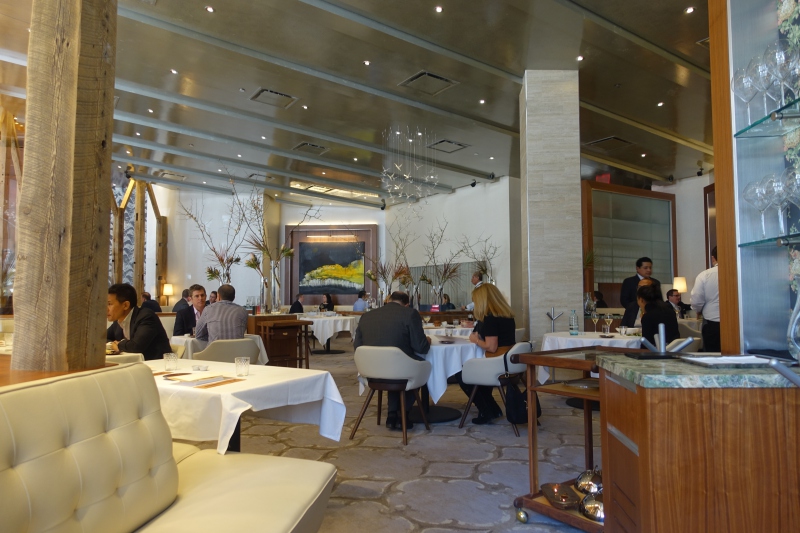 Gabriel Kreuther's eponymous NYC restaurant, which has 1 Michelin star, is one I've wanted to try for some time. Gabriel Kreuther was previously the Executive Chef at The Modern, before opening his own place. My husband and decided to try a decadent Valentine's Day lunch. I reserved via OpenTable, and had to enter my credit card to secure the reservation, and there is a 24 hour cancellation policy–cancellations within 24 hours of the reservation time incur a $50 charge. That's perfectly understandable to me, given that restaurants are generally a low margin business, and a fine dining restaurant can't necessarily expect to recoup business via walk-ins, particularly at dinner, which starts at $142 for a 4 course menu.
Getting to Gabriel Kreuther
Gabriel Kreuther's midtown location at 41 West 42nd Street, across from Bryant Park and a short walk from Grand Central, makes it an easy choice for business diners and visitors alike.
The Scene
I loved the restaurant's space. All too often in NYC, even in many 1 Michelin Star restaurants, tables are too closely spaced for comfort and/or the restaurant is simply too loud for normal conversation due to the acoustics and the number of diners. Not so at Gabriel Kreuther. We were given a lovely semi-circular banquette by the window, but even the other banquettes and tables in the dining room were spaced well apart, so we didn't hear any conversation at all from the nearest table to us, and I doubt they heard us either. The other diners also appeared to be well-dressed couples in their 40s and 50s.
Gabriel Kreuther Menu and Food
After greeting us and asking us our choice of water, our server presented us with the lunch menus. There's a choice of one appetizer and one main dish for $58, with a cheese or dessert course at additional cost.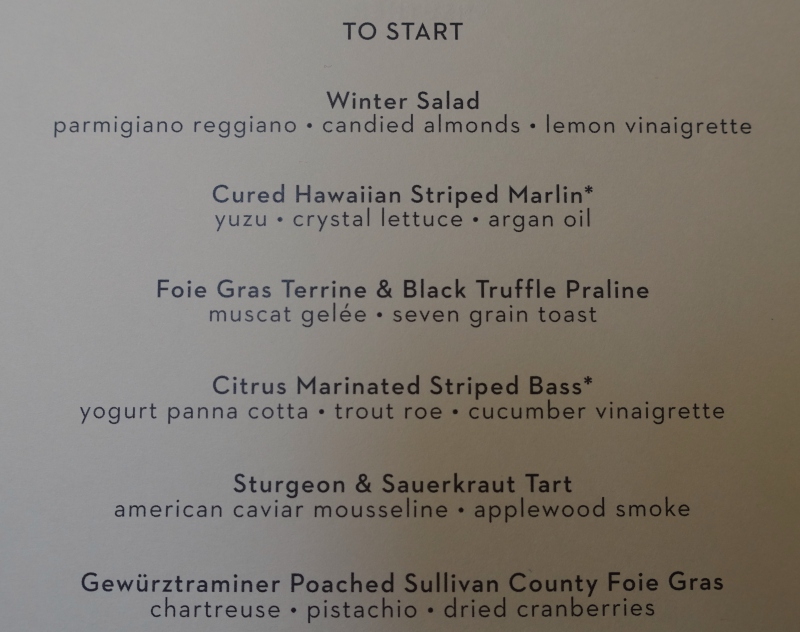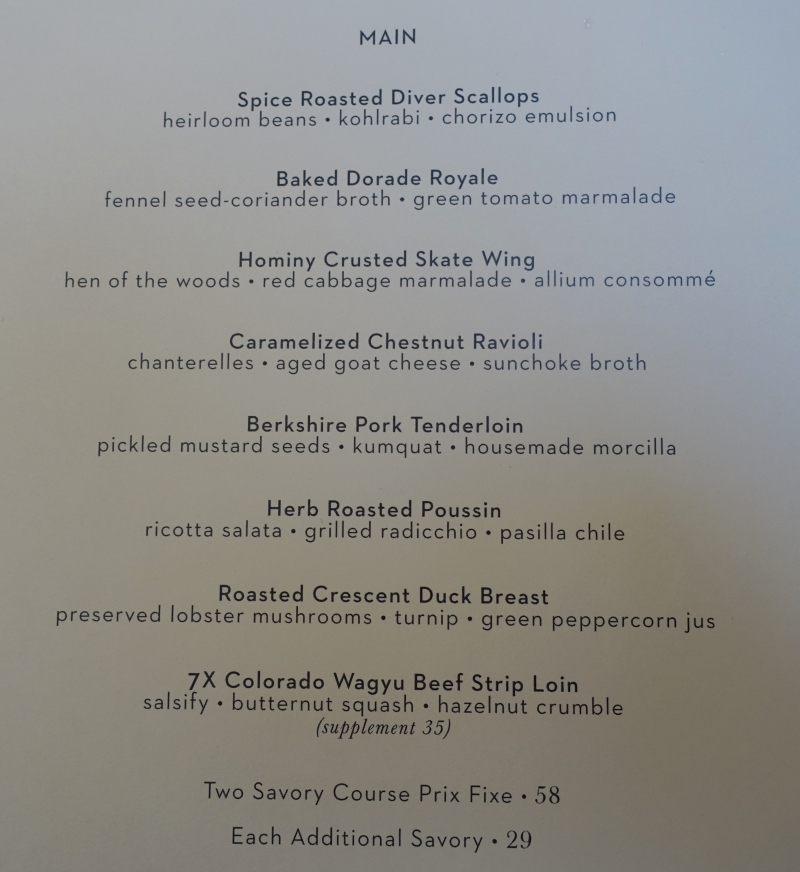 I'd heard the breads at Gabriel Kreuther were excellent, and we weren't disappointed. A warm savory kougelhopf was presented to us first, accompanied by scallion creme fraiche. This was like being in France, and made me recall a similarly delicious savory kugelhopf at Epicure at Le Bristol; although keep in mind that Epicure has 3 Michelin Stars.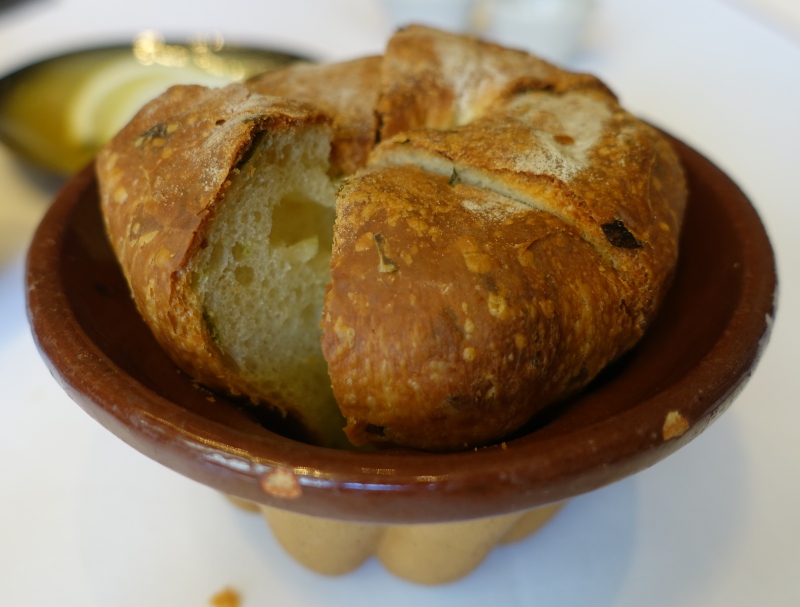 The amuse bouche trio supported our now heightened expectations. My husband's favorite was the Grand Marnier amuse on the right. The tuna with edible flowers was easily the prettiest, and my personal favorite was the Hamachi Brandade (croquette).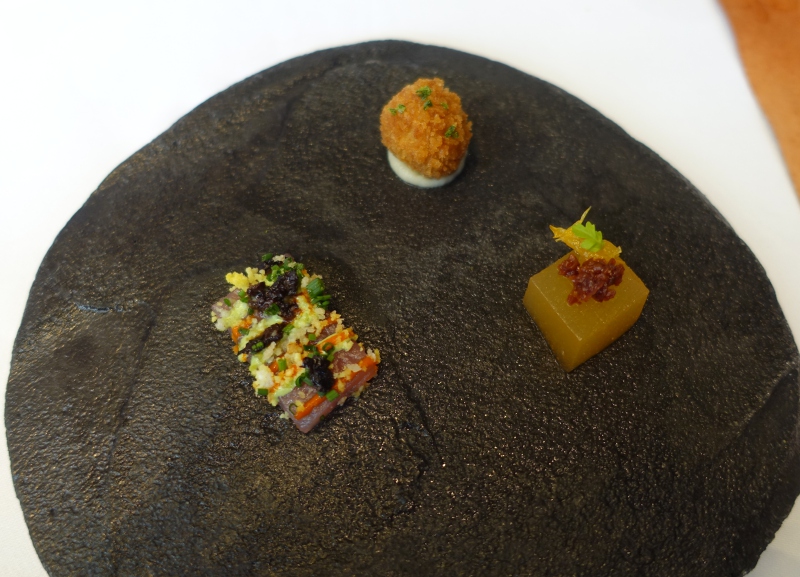 My husband enjoyed his appetizer, Gewurztraminer Poached Foie Gras, which came with a waffle adorned with pistachios, dried cranberries and edible flowers. The Gewurz was a great complement to the foie gras, and it was a visually stunning presentation with the waffle.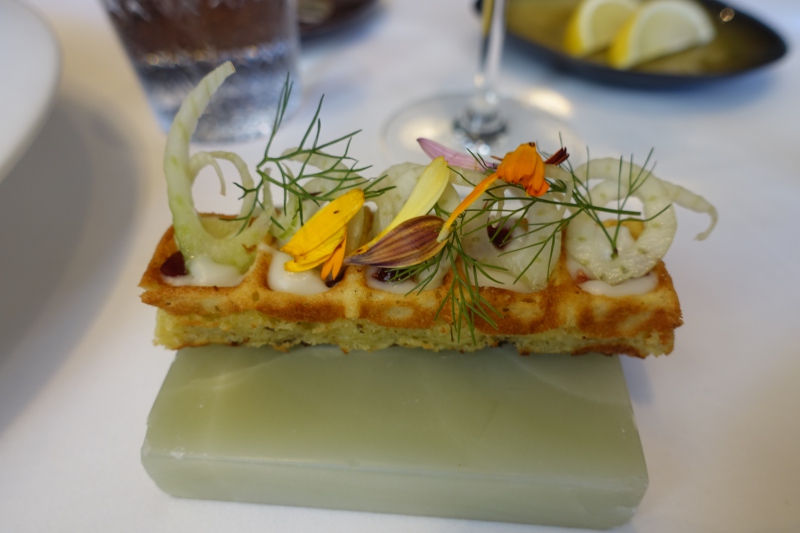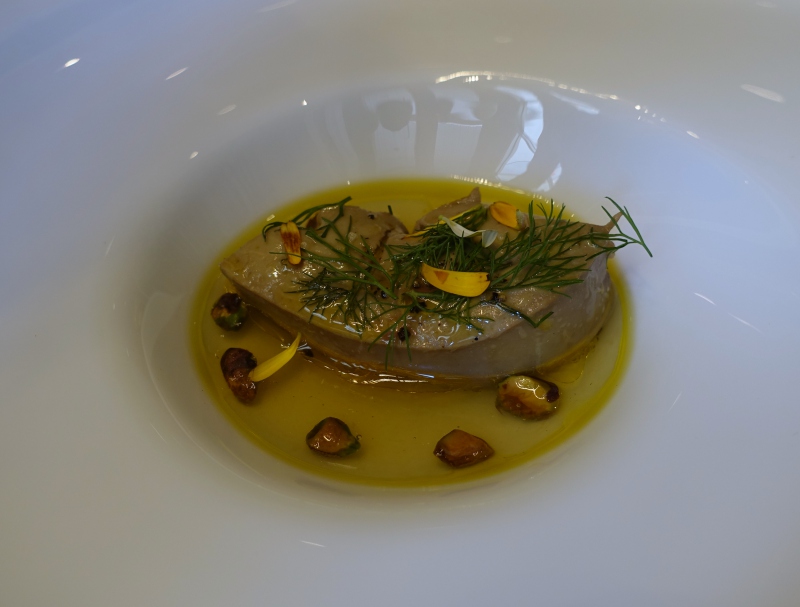 Our favorite, however, was the riff on Alsatian comfort food: the Sturgeon and Sauerkraut Tart, which came to the table covered by a glass dome, which was removed with a flourish and light swirl of smoke. The creamy caviar mousseline made the dish, and this would be a killer centerpiece of an elegant brunch.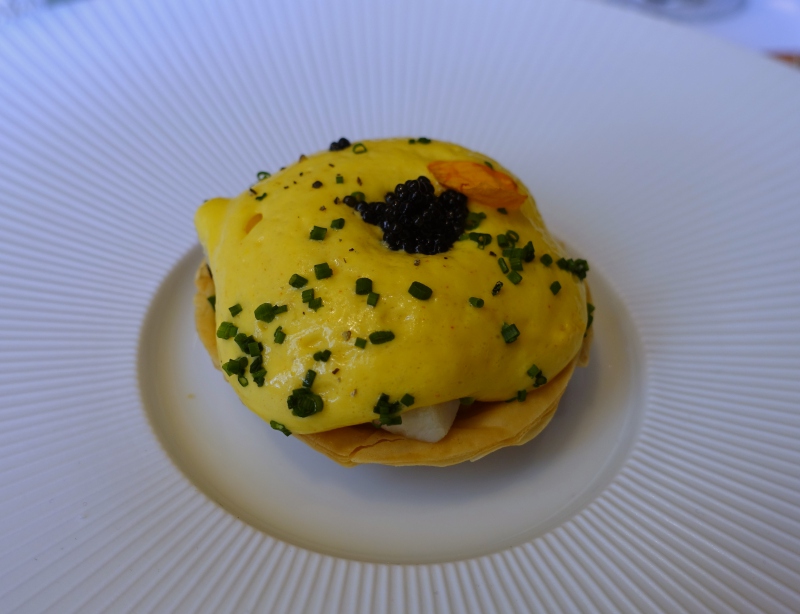 There was a significant hiatus between the appetizers and main courses, punctuated by a fresh baguette brought to our table, which was welcome, as we were both ravenous.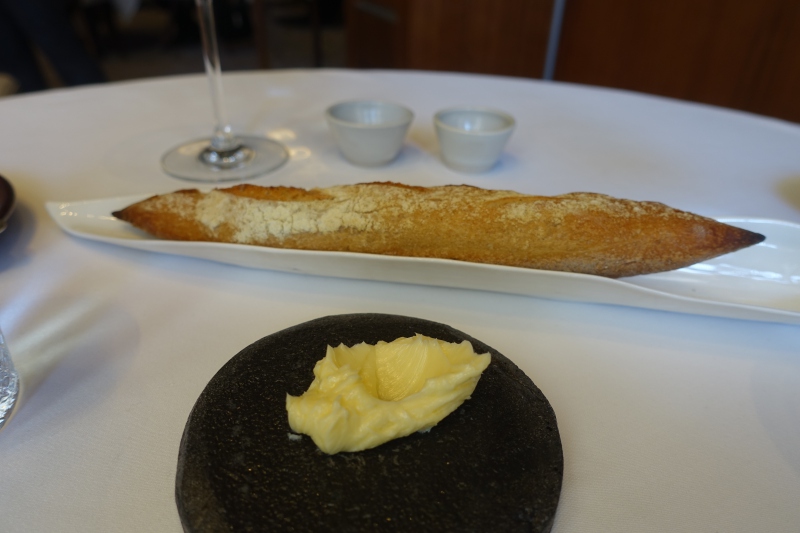 Our entrees were excellent–my husband ordered the Berkshire Pork Tenderloin with pickled mustard seeds, which had the jus poured tableside and also came with a piece of housemade morcilla (blood sausage, which was surprisingly light and tasty). My husband commented on how perfectly cooked and tender the pork was; in contrast to the rather tough pork I'd had at Perry St, this pork at Gabriel Kreuther had definitely been brined and expertly cooked.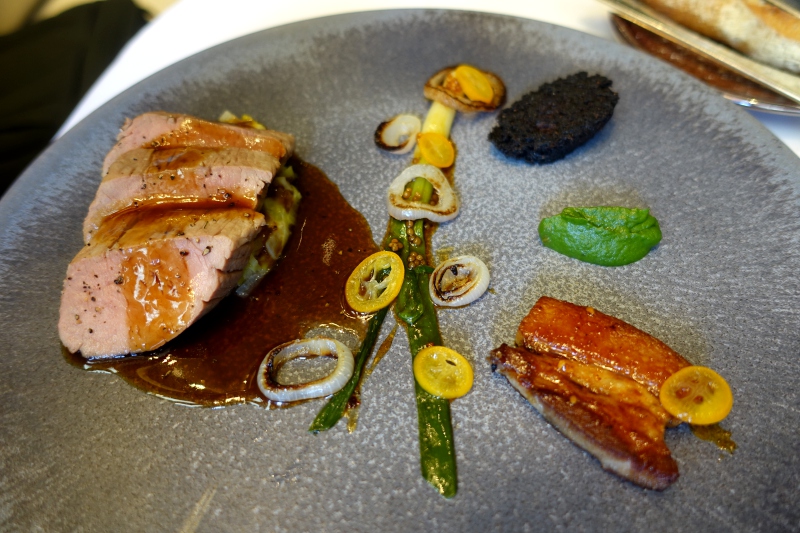 I was just as happy with my Roasted Crescent Duck Breast, which also had its Green Peppercorn sauce poured tableside. I loved that the duck skin had been separately crisped, to avoid overcooking the duck, and I only wish I could cook duck at home like this–medium rare and tender, but not too rare, which I dislike. The preserved lobster mushrooms offered concentrated bursts of flavor, and I only wished for a few more of them. Definitely a go-to dish for any fans of duck.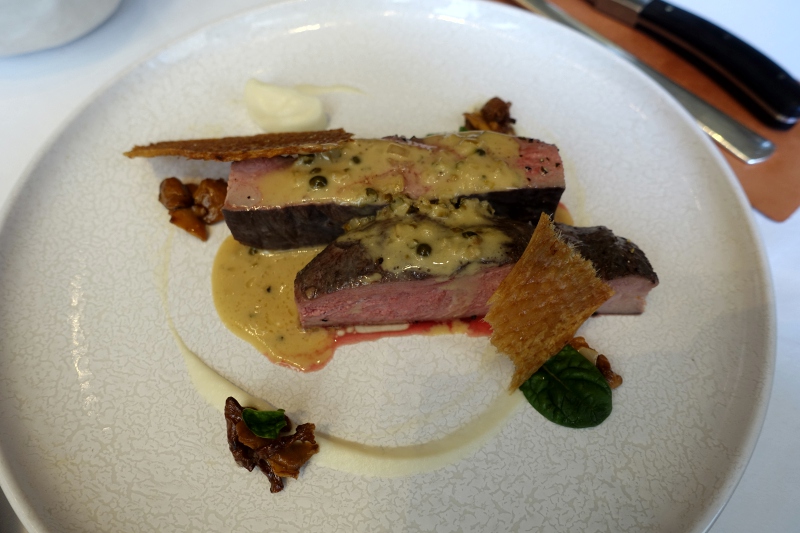 Only our dessert was a bit disappointing; we'd chosen a the Decadent Chocolate Caramel dessert, and for the $18 price I'd expected more, both in terms of innovation and portion. I'd much rather have had a Pierre Herme pastry or bittersweet chocolate souffle for the price, or perhaps some housemade sorbet for about half the price.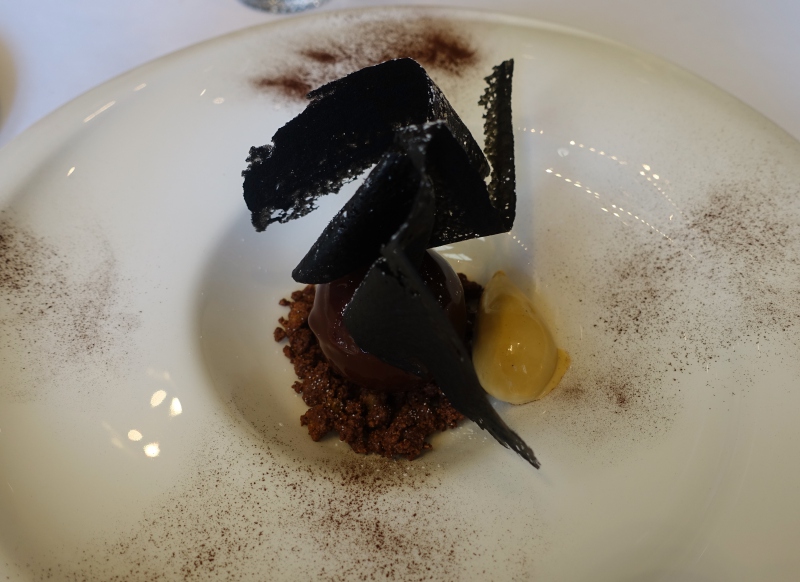 Complimentary mignardises were brought with the check, but as we were close to full, we asked if they could be packed up and taken with us. There were a couple of macarons, but they looked a little rough around the edges and weren't as good as macarons you can get from even average French patisseries, let alone Pierre Herme. Much better were the housemade chocolates, which were dark chocolate (our favorite) and some of which had a ganache filling. Gabriel Kreuther also has a namesake chocolate store next to the restaurant, if the mignardises aren't sufficient for your needs or you'd like to get gifts.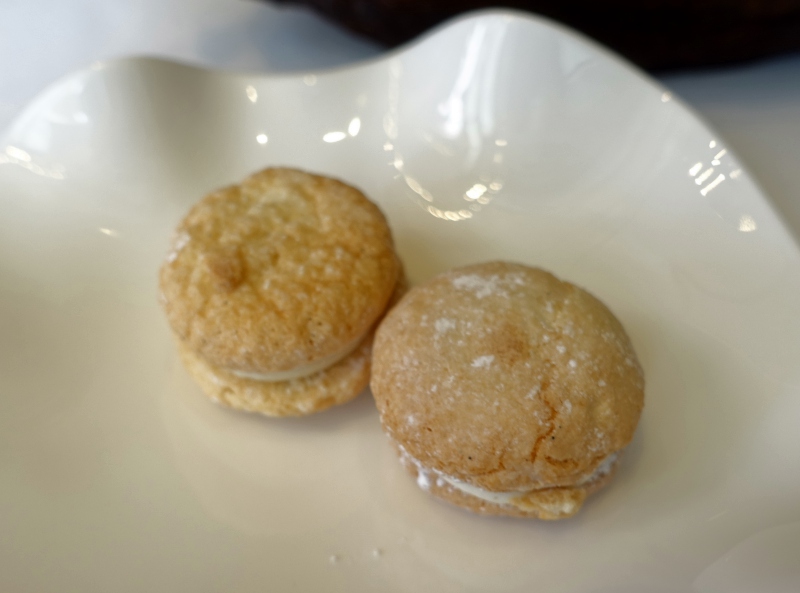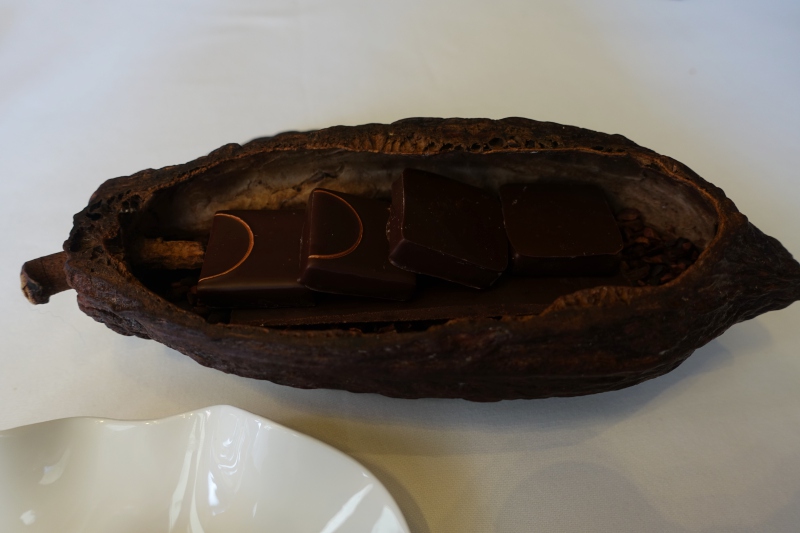 The Verdict
Gabriel Kreuther is a bit of a sleeper; you generally don't hear the restaurant talked about as much as some of the more famous and more starred Michelin restaurants, such as Daniel, Le Bernadin, Eleven Madison Park, and Jean-Georges. Yet if our lunch is any indication, it's a strong contender when you want more traditionally prepared yet elegant French and Alsatian cuisine, especially at its price point. Highlights for us were the warm kugelhopf bread with scallion creme fraiche; Sturgeon & Sauerfraut Tart; and both main courses, the Berkshire Pork Tenderloin and the Roasted Duck Breast. I probably wouldn't order dessert again, but you can still end on a sweet note thanks to the complimentary mignardises, particularly the housemade chocolates. The macarons, however, could use some work.
If you've dined recently at Gabriel Kreuther, what was your experience?
Recommended Posts
Review: Casa Mono New York-1 Michelin Star
Uncle Boons NYC Restaurant Review
David Toutain Paris Review, 1 Michelin Star
Top 5 Best Value NYC Michelin Star Restaurants
Need Award Booking Help? Our fee is as low as $75 per ticket if you book your hotel through us.
If you enjoyed this, join 200,000+ readers: please follow TravelSort on Twitter or  like us on Facebook to be alerted to new posts. 
Become a TravelSort Client and Book your NYC Luxury Hotel with Virtuoso or Preferred Partner Benefits