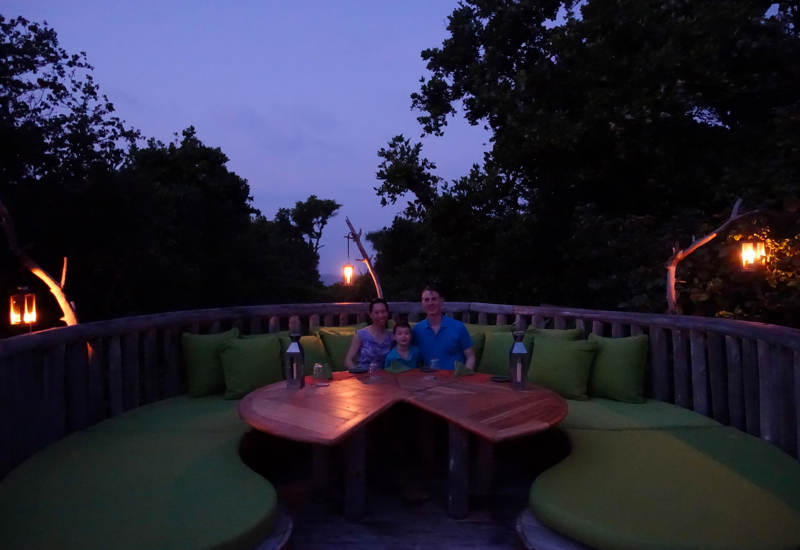 This review of Fresh in the Garden at Soneva Fushi in the Maldives is part of a trip report including luxury resorts in the Maldives and Etihad First Class and Business Class. Fresh in the Garden is perhaps the most distinctive restaurant at Soneva Fushi, as it's set above Soneva Fushi's organic gardens where many of the menu's vegetables and herbs are sourced from.
For the prior posts, please see:
Review of Etihad's Lounge at Washington Dulles Airport (IAD)
Etihad First Class 787-9 Dreamliner Review
Review: Wingtips Lounge JFK for Etihad First Class Passengers
Review: Etihad First Class 777-300ER NYC to Abu Dhabi
Review: Etihad Business Class Lounge Abu Dhabi AUH Terminal 1
Four Seasons Maldives at Landaa Giraavaru Review
Four Seasons Maldives at Landaa Giraavaru Restaurant Reviews and Menus
Four Seasons Maldives at Landaa Giraavaru Activities: Top 10 Things to Do
Interview with Armando Kraenzlin, General Manager of Four Seasons Maldives at Landaa Giraavaru
Review: Four Seasons Maldives at Kuda Huraa
Surfing in the Maldives at Four Seasons Kuda Huraa
Review: Four Seasons Maldives at Kuda Huraa Sunset Water Bungalow
Four Seasons Maldives at Kuda Huraa Restaurant Reviews and Menus
Four Seasons Maldives at Kuda Huraa Activities and Top Things to Do
Soneva Fushi Maldives Activities and Things to Do
Soneva Fushi Breakfast, Ice Cream Room, Chocolate Room and Cheese Room
TravelSort Clients receive complimentary daily breakfast for two, among these Virtuoso benefits, when reserving Soneva Fushi:
Upgrade on arrival, subject to availability
Daily Buffet breakfast, for up to two in room guests
Champagne and Maldivian Tapas
Original handcrafted arrival and departure mementos
A complimentary lunch for up to two people once during stay, excluding alcohol, taxes and gratuities
Early check-in/late check-out, subject to availability
With a minimum 5 night stay guests also receive:
Shoreline Beach dinner
Private sunset sailing by Dhoni at Baa Atoll
Flavorful Six Senses cuisine (organic vegetables) cooking class for two
Getting to Fresh in the Garden
Fresh in the Garden at Soneva Fushi is located very near the tennis courts and Six Senses Spa, on the northwestern part of the island. You can bicycle there, but as this was our "special" dinner we dressed up a little and got a buggy ride there. We passed under a trellis, with a view of Fresh in the Garden in front of us: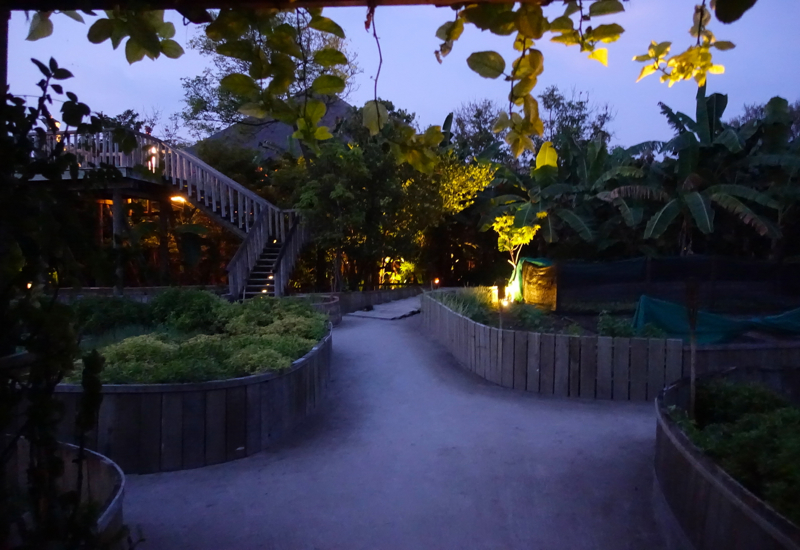 Once up some wooden stairs, we had a view of some of the organic gardens: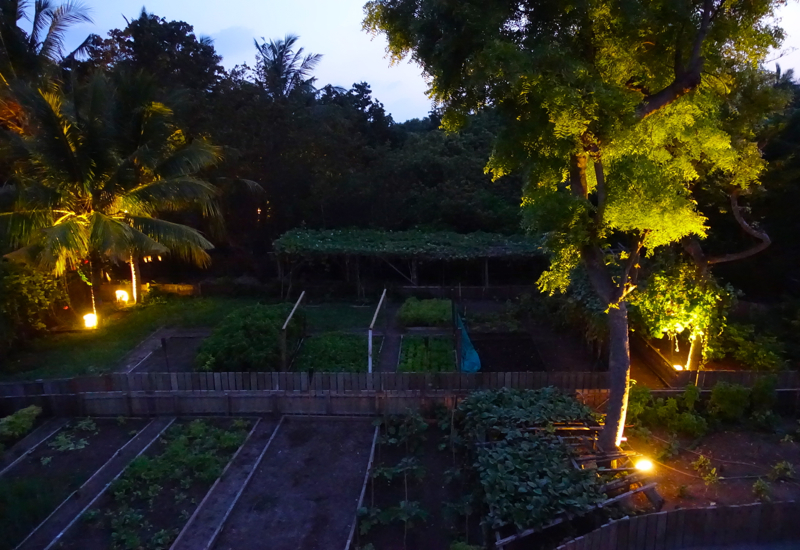 And then it was across a swaying rope bridge (our son loved this part!) to the restaurant.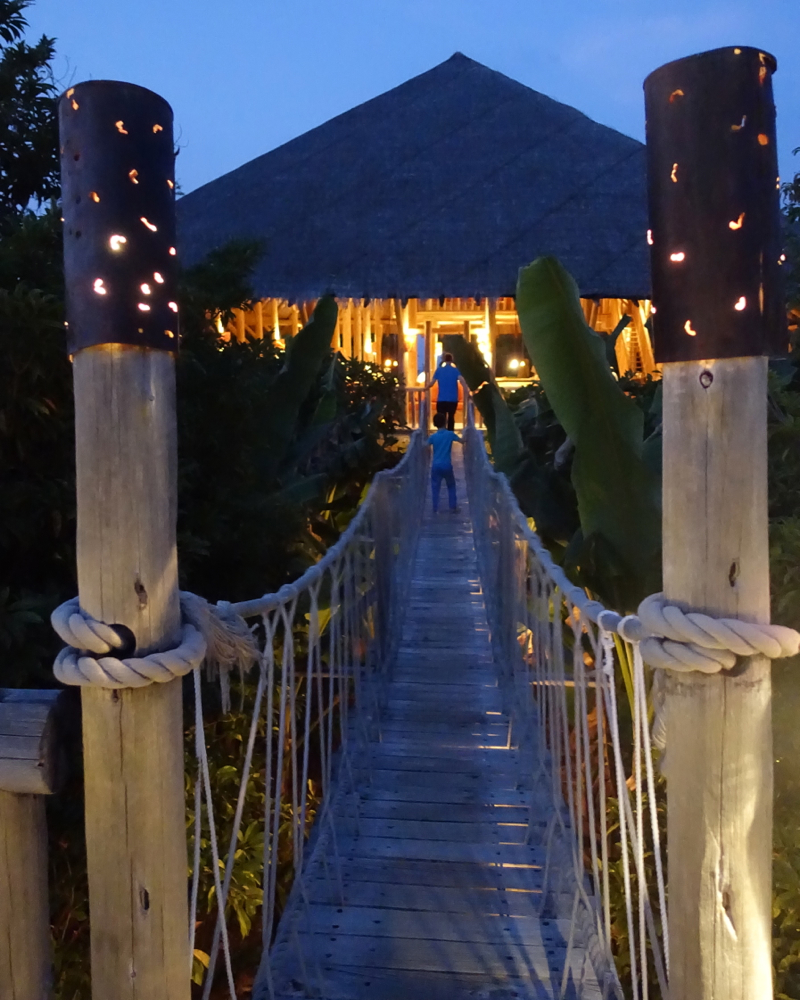 The Scene
We had asked for an early dinner reservation so that we could get our son to bed not too far past his bedtime, so when we first arrived there were only a couple of tables seated. Chefs in the open kitchen were busy preparing for the evening's tables, however.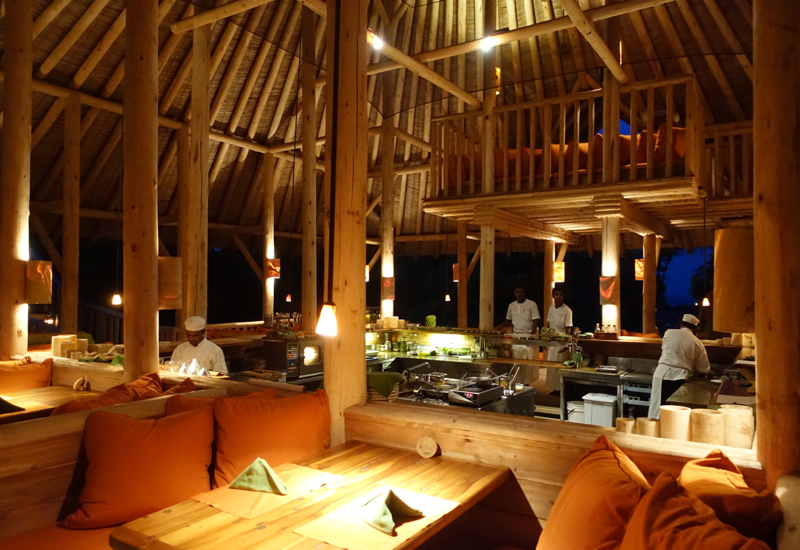 Since we were celebrating a special occasion, we had asked our Mr. Friday to secure us the Starlight Table, and he worked his magic. This is truly the best table in the restaurant, located in its own prime spot with a path leading out to it. There are a couple tables for two on the path leading to it, but those tables are fairly close to the restaurant proper, so the Starlight Table is very private.
Fresh in the Garden Menu and Food
The menu at Fresh in the Garden changes often, to take advantage of the bounty of Soneva's own organic garden, and it as well as some other Soneva Fushi restaurants observe a meatless Thursday, hence the many fish offerings on our dinner menu. Anyone with a seafood allergy or aversion likely wants to avoid Fresh in the Garden on Thursdays, but since everyone in my family enjoys seafood, we were happy with it.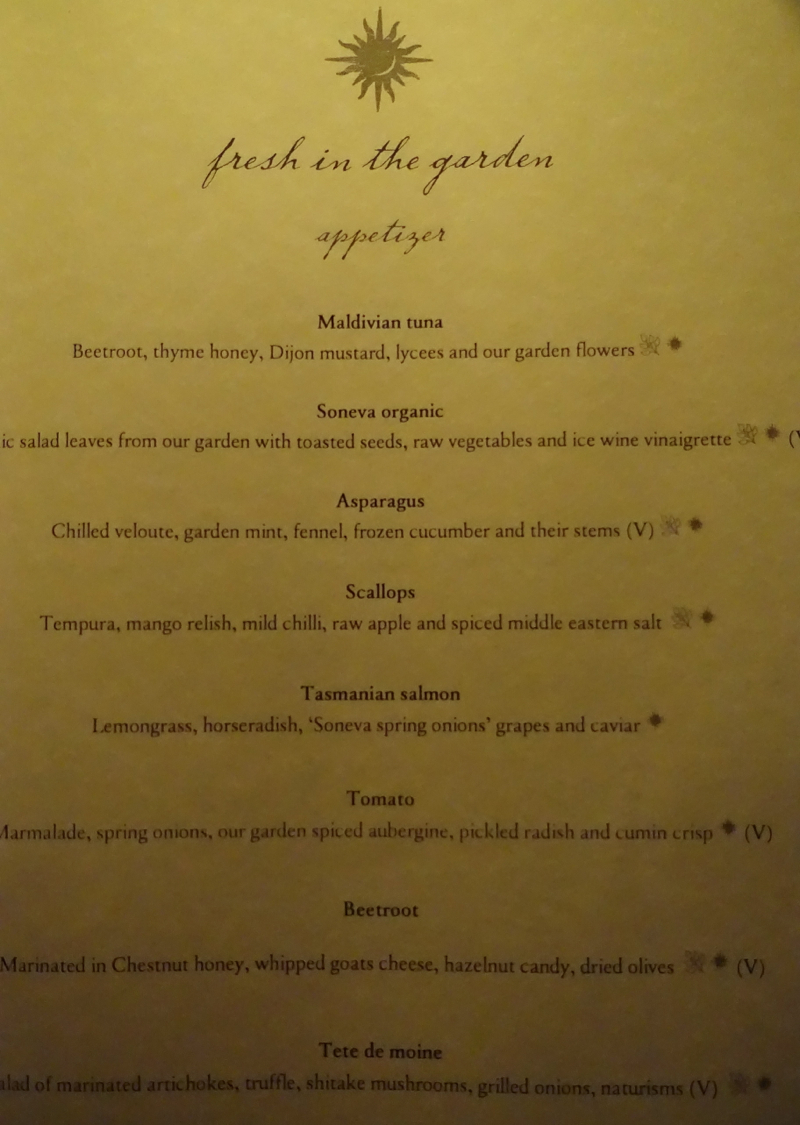 Our server started us off with delicious homemade bread, with a choice of olive oils for dipping, plus tapenade, sun dried tomatoes, olives and cheese. After playing tennis that afternoon, these fresh breads and accompaniments were a perfect start.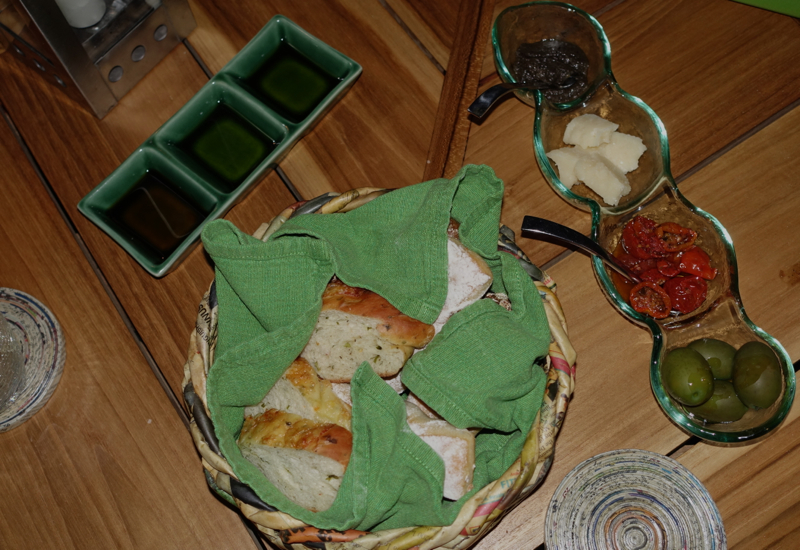 The amuse bouche was a strawberry-vegetable juice with foam, so very fresh, but not something the munchkin was too keen on.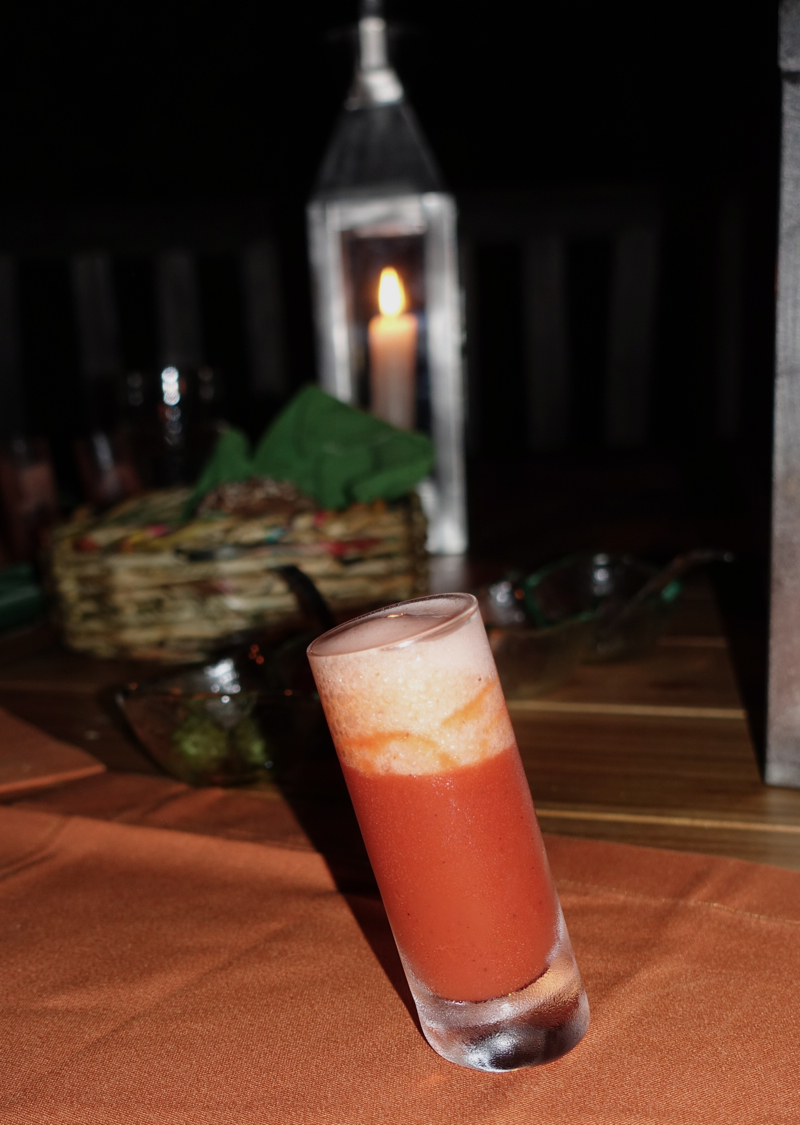 My husband had ordered the Tasmanian Salmon appetizer, and loved it–it was his favorite part of the meal. He said he'd never had such a fresh, delicious salmon appetizer (ironic, I know, since Tasmania after all is quite a distance from the Maldives).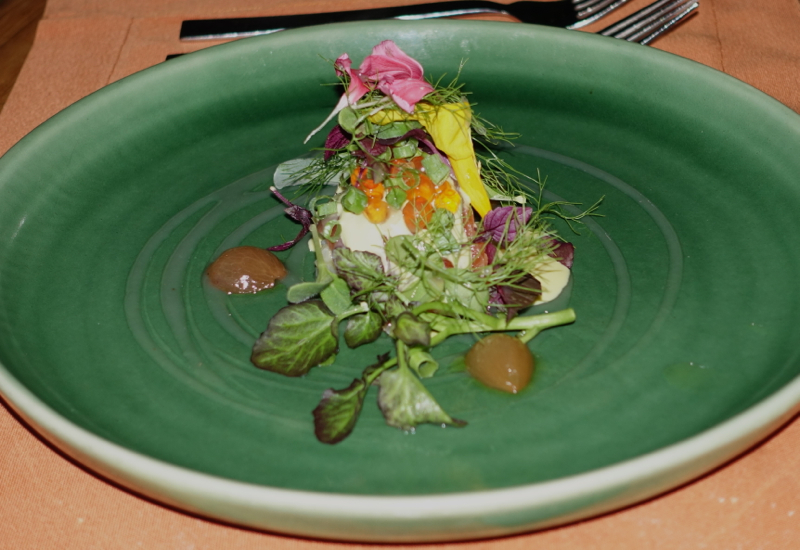 Likewise, I really enjoyed my Maldivian Tuna appetizer, which was nicely accented with thyme, honey, Dijon mustard and edible flowers: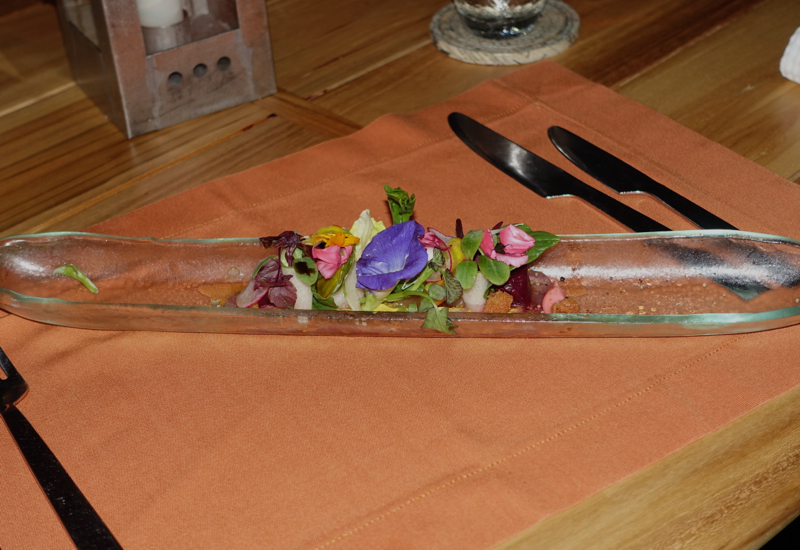 I will say that the kids' meal of fish fingers was a bit of a joke, portion-wise. I guess Soneva Fushi is used to picky kids who don't eat much, whereas my son tends to eat close to adult size portions. Fortunately he'd eaten quite a bit of bread with olive oil, so the portion was fine for him. He made a face at the salad greens, rocket from Soneva's own garden, because it was a bit too bitter for him.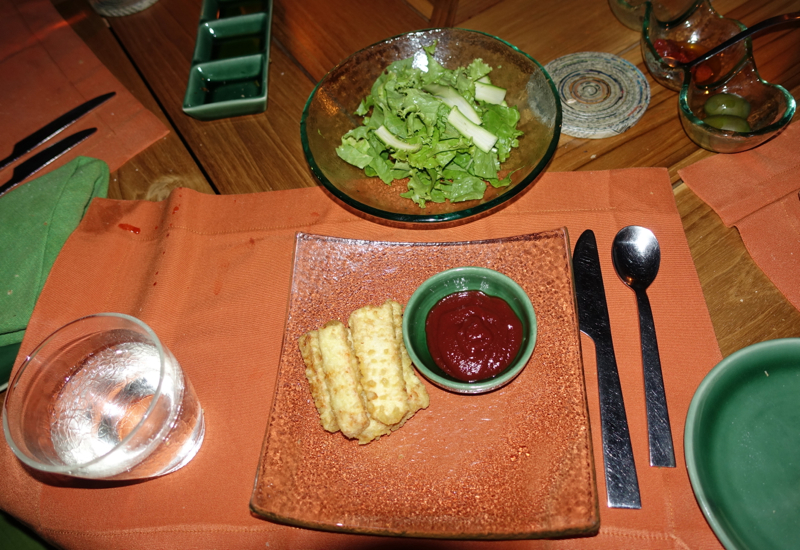 For our mains, my husband liked but didn't love his Reef Fish with red pepper puree, basil and green olives. No question, the fish was fresh, but the flavors just didn't appeal as much as the Tasmanian Salmon appetizer.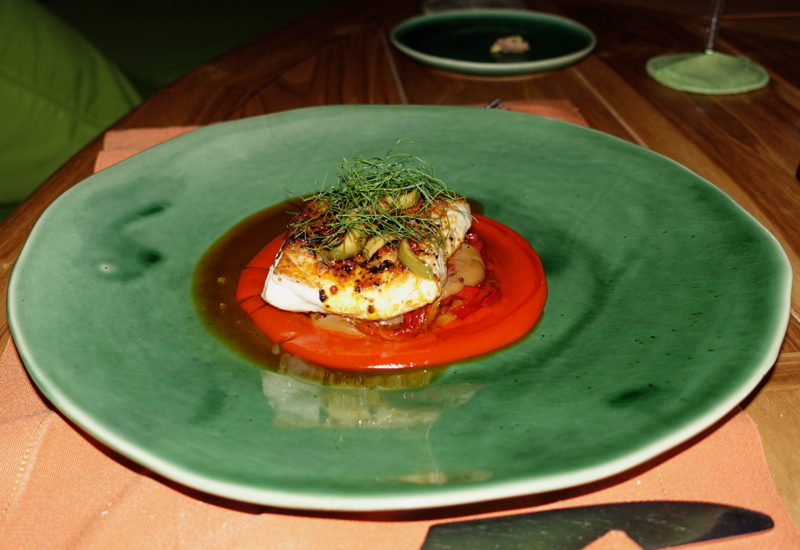 He did enjoy the bite he had of my Tasmanian Salmon with pea and wasabi emulsion, shimeji mushrooms and yuzu–I think we would both happily have eaten another serving of this, it was so addictive.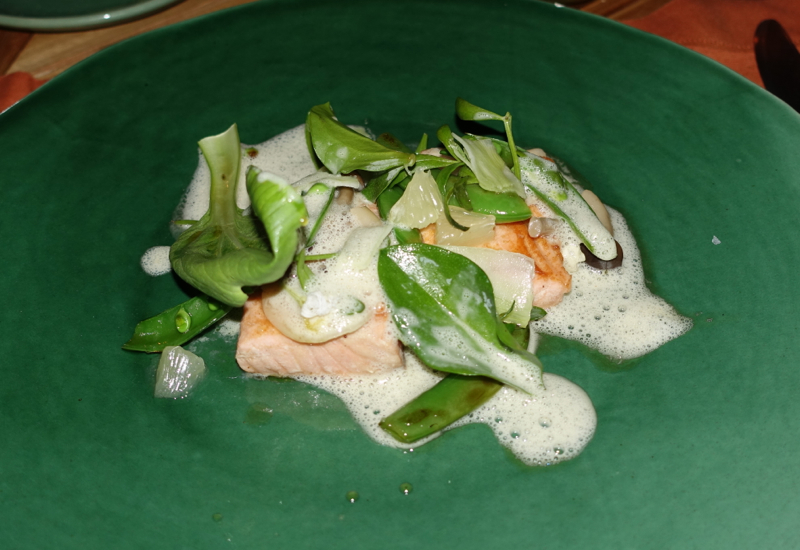 I often find desserts to be rather disappointing at high end restaurants–they can easily become over-designed, with a few dots of puree, some foam there, spun sugar, weird flavors, etc. but fortunately Fresh in the Garden's desserts were more straightforward though as beautifully presented as our lovely appetizers. My husband enjoyed the "Soneva Bounty" with chocolate ganache and coconut ice cream: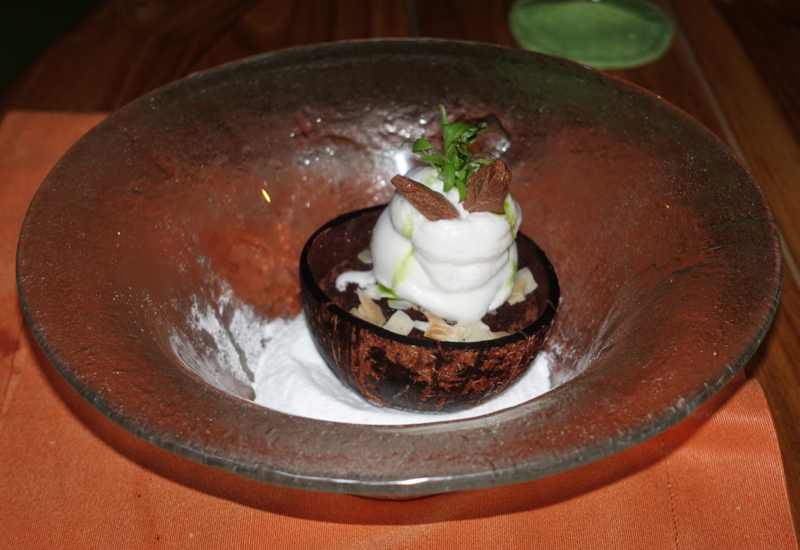 And I liked the "Sweet Corn" dessert with chocolate cremeaux, popcorn ice cream and caramel corn.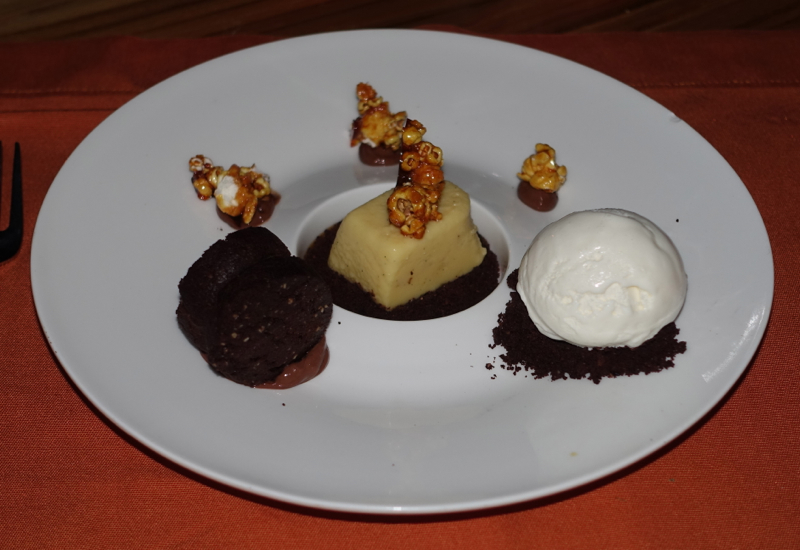 The munchkin's raspberry macarons redeemed the kids' menu somewhat from its tiny main dish–the macarons were fresher than those at the Chocolate Room.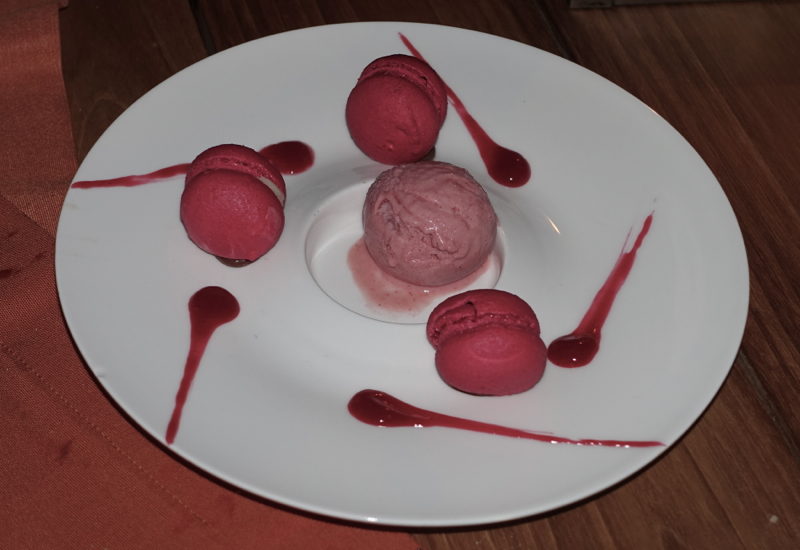 The Verdict
I can understand why Fresh in the Garden is Soneva Fushi's most popular restaurant, especially its Starlight Table. It's a magical setting, and the food is incredibly fresh and well presented, even by Soneva's high standards. It is on the lighter side (at least on a meatless day such as Thursdays), but the three courses plus homemade bread ensure that most will be perfectly satisfied. Service was likewise excellent–anticipatory but never obtrusive. Our only real complaints, which aren't to do with Fresh in the Garden itself, are that I wasn't informed that an advance reservation was needed (I had asked the resort whether I needed to make dinner reservations ahead of time for any restaurants and was told I could make them once I got there) and the Observatory was being repaired during our visit–a pity, since it would be nice to tie in dinner at Fresh in the Garden with stargazing at the Observatory afterwards.
If you've been to Soneva Fushi and dined at Fresh in the Garden, what was your experience?