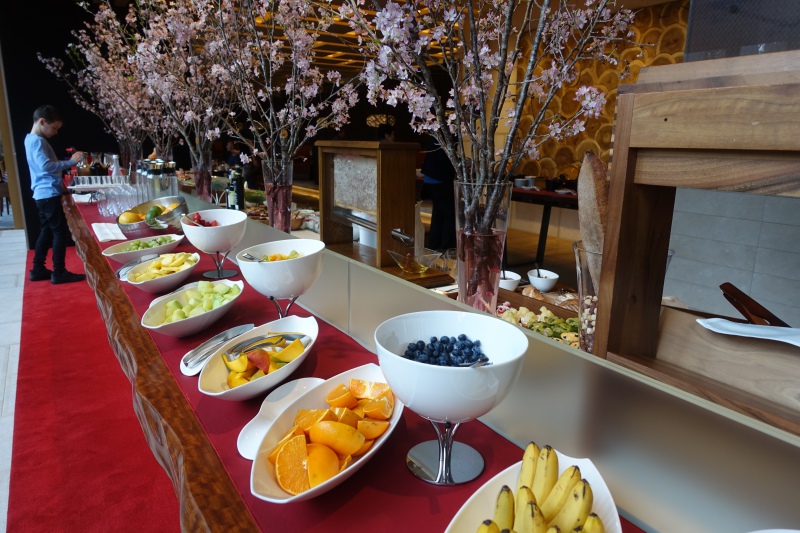 Brasserie at Four Seasons Kyoto is where breakfast is served daily. There's a diverse breakfast buffet, as well as a la carte options. When reserving as a TravelSort Client, you enjoy a full buffet breakfast for two daily (alternatively you can order an a la carte breakfast in the restaurant or via room service), as well as other Four Seasons Preferred Partner benefits.
Brasserie at Four Seasons Kyoto Location and Hours
Brasserie is located on the hotel's first floor. From the entrance on the 3rd floor, descend the stairs just off to the right. Breakfast is served 7am-10:30am, lunch is served 11:30am-2:30pm, and dinner is served 5:30pm-10pm. While most of the seating is inside, including some at comfortable circular banquettes, there's also some outdoor seating as well that is popular in the warmer months.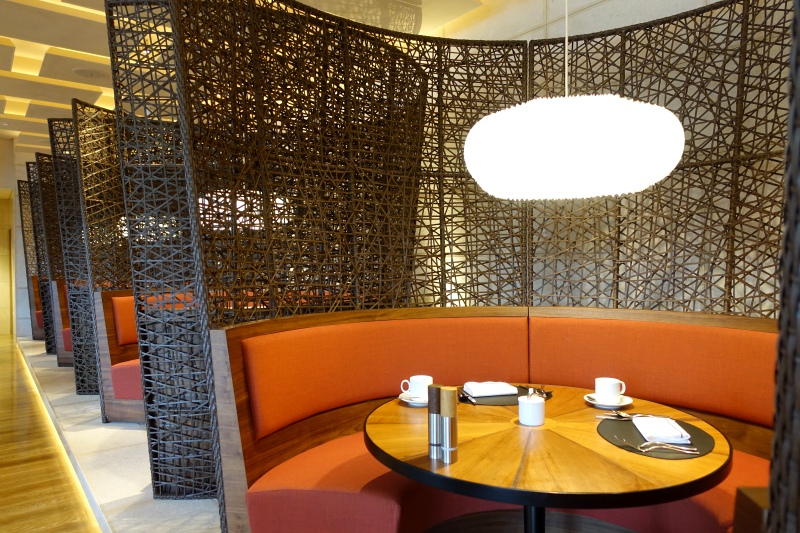 The Scene
During our breakfast, there were a number of couples dining, as well as a few families and small groups of businessmen. It was bustling with activity, but hostesses and servers remained pleasant and efficient.
Brasserie at Four Seasons Kyoto Breakfast Menu and Food
Since buffet breakfast was included with our Preferred Partner rate, we all chose the buffet. Note that kids under 12 pay 50% of the cost of the adult buffet rate, and you can use your hotel credit towards the cost.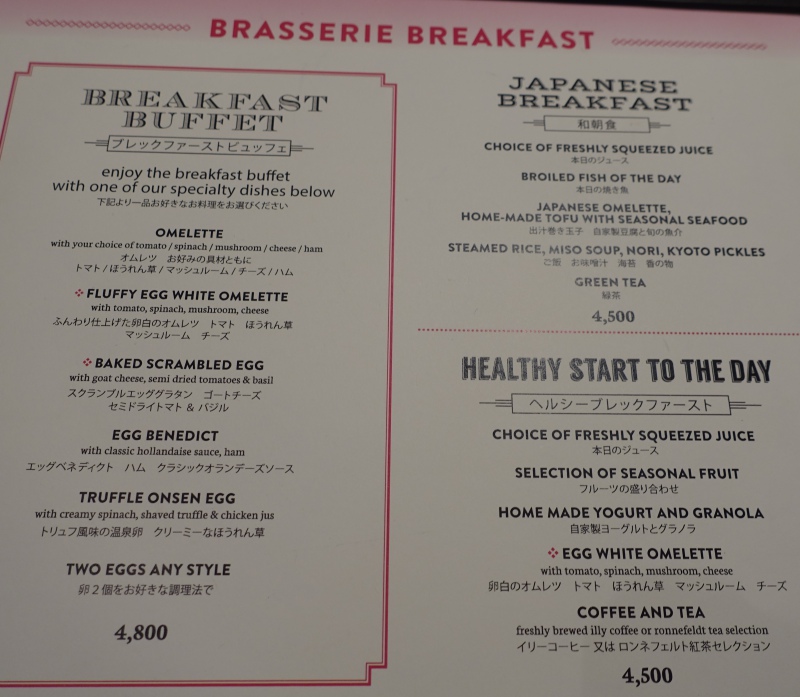 There was a good selection of fresh fruit and juices, which is usually our first stop for a breakfast buffet. Fruits included not only pineapple, melon, oranges, and bananas, but also mango, strawberries, and blueberries, which I appreciated.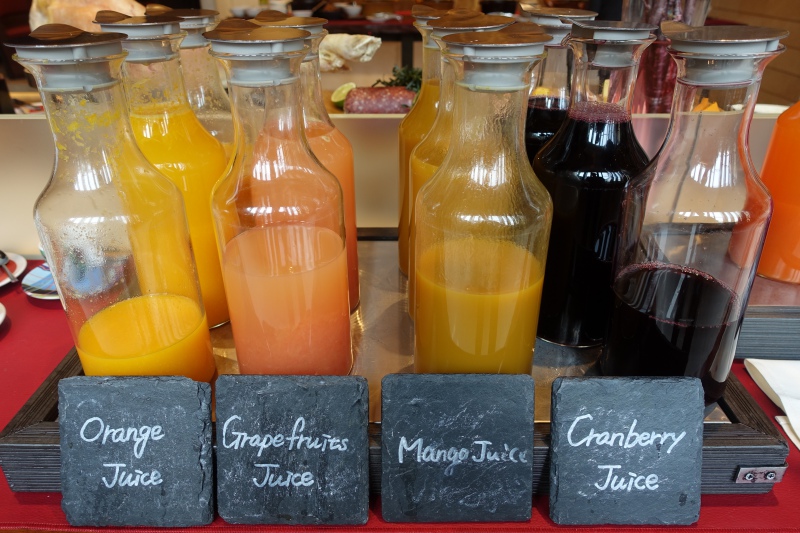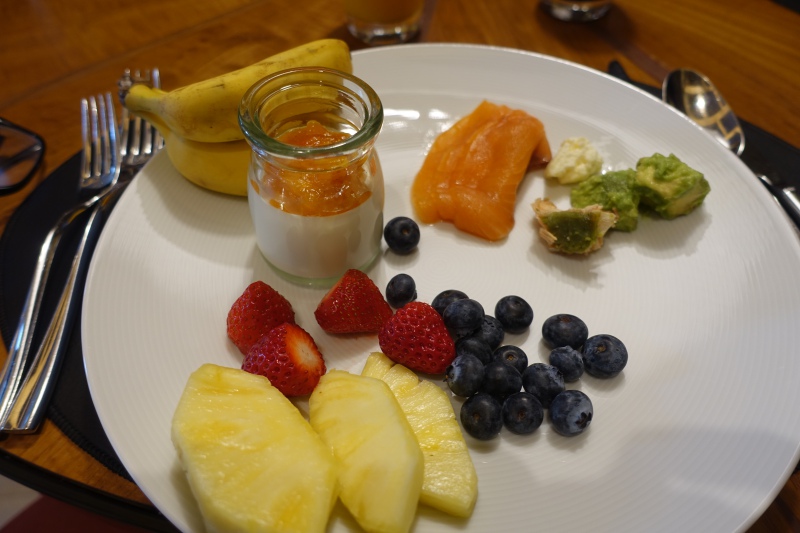 Homemade yogurts were also delicious, especially the yogurt with persimmon compote topping.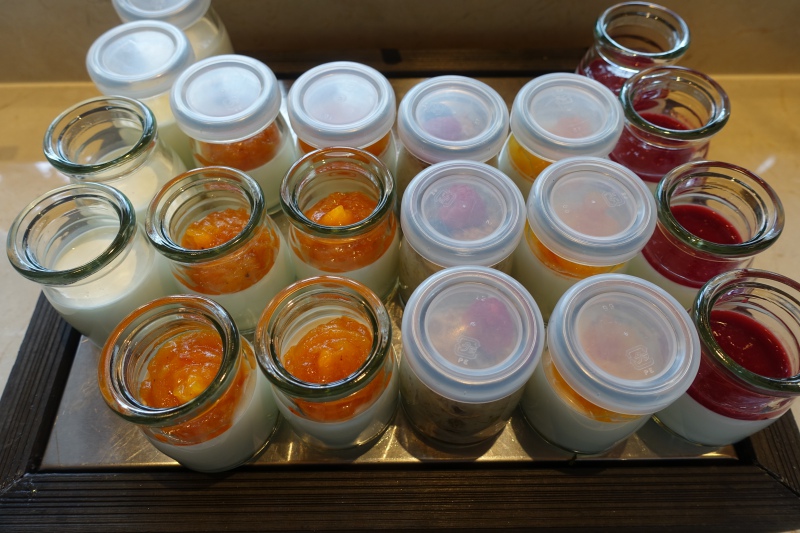 My favorite savory dish was this cold poached salmon, with a miso-like topping that lent richness and umami.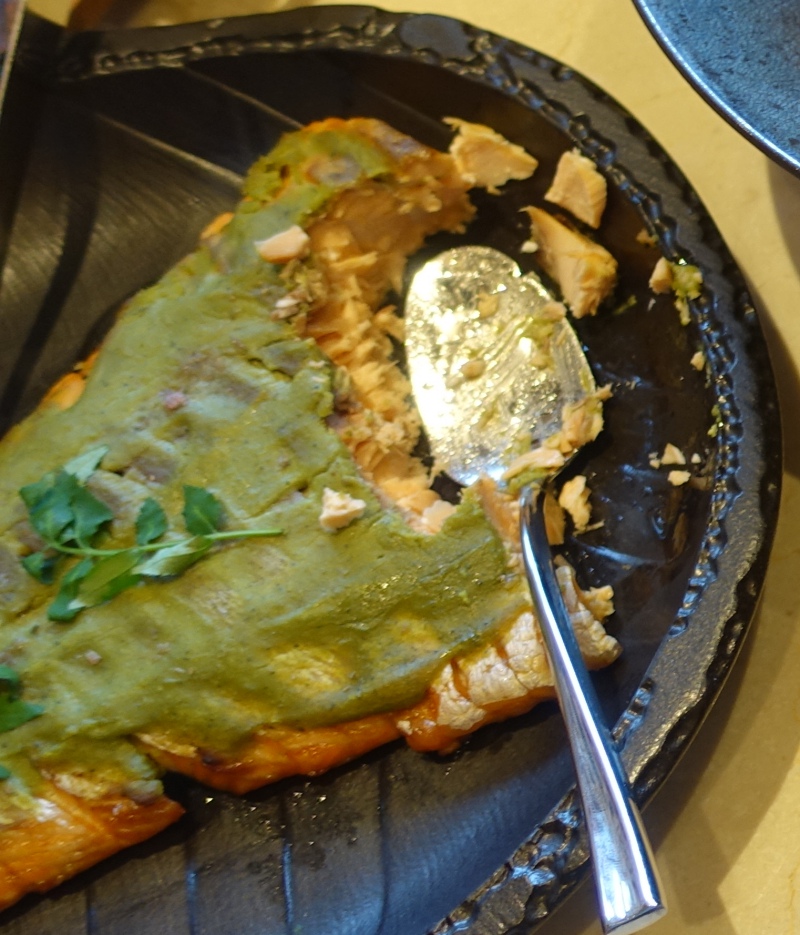 :
There was also Chinese rice congee with condiments, and fried noodles: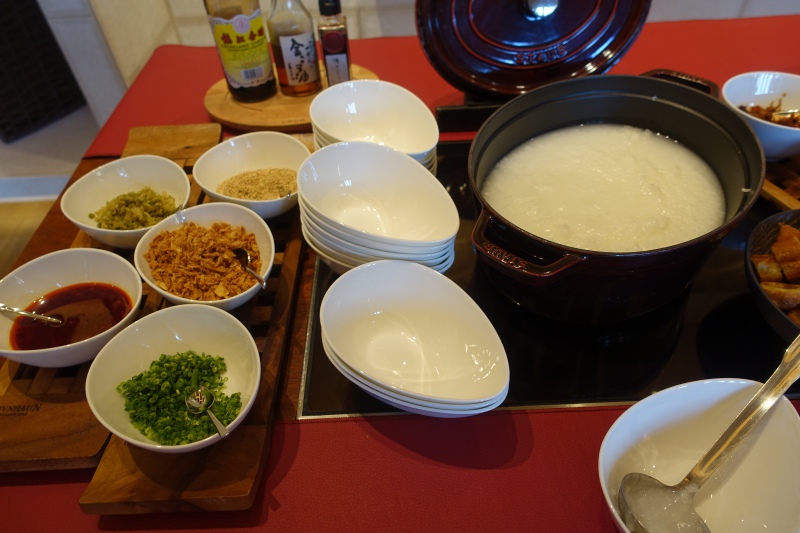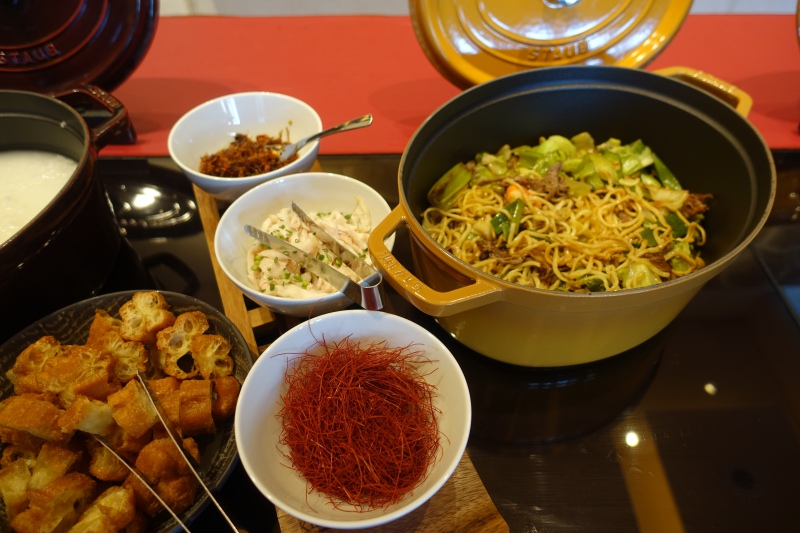 There were also cheeses and cold cuts: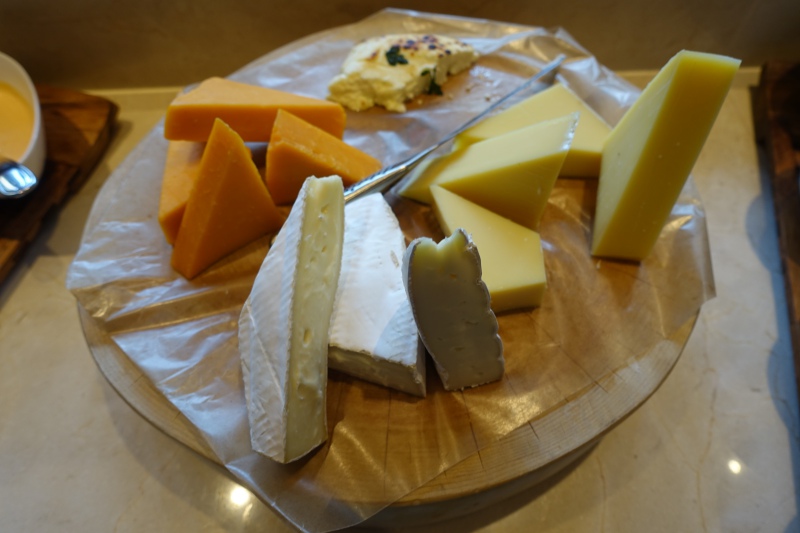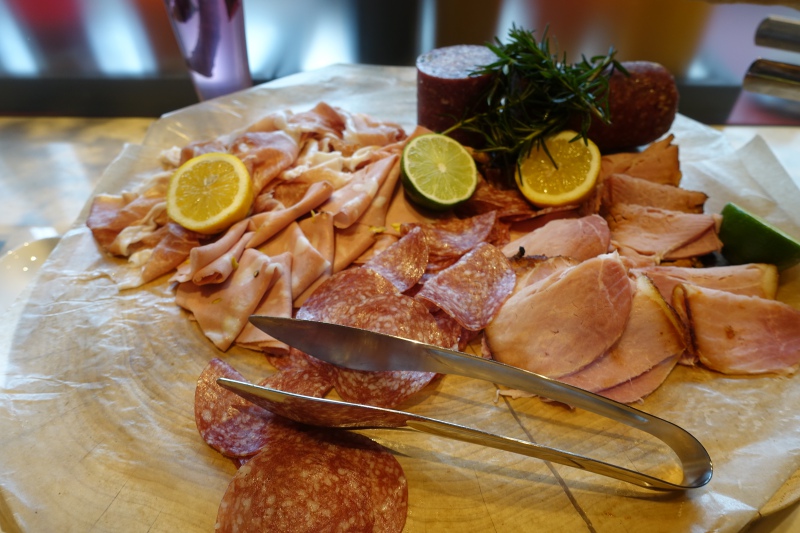 And of course salad, just as at Amanemu. I can't say I'm that enamored of having salad for breakfast, but then again Japanese women's life expectancy is about 87 years old, compared to 82 for U.S. women, so perhaps a breakfast salad or Japanese breakfast would be a good healthy habit to adopt.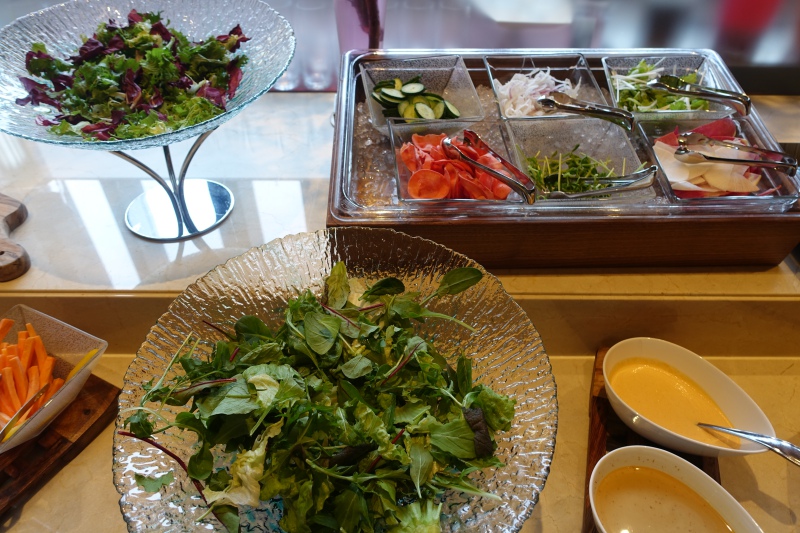 And pastries included several housebaked breads, muffins, danishes and other pastries: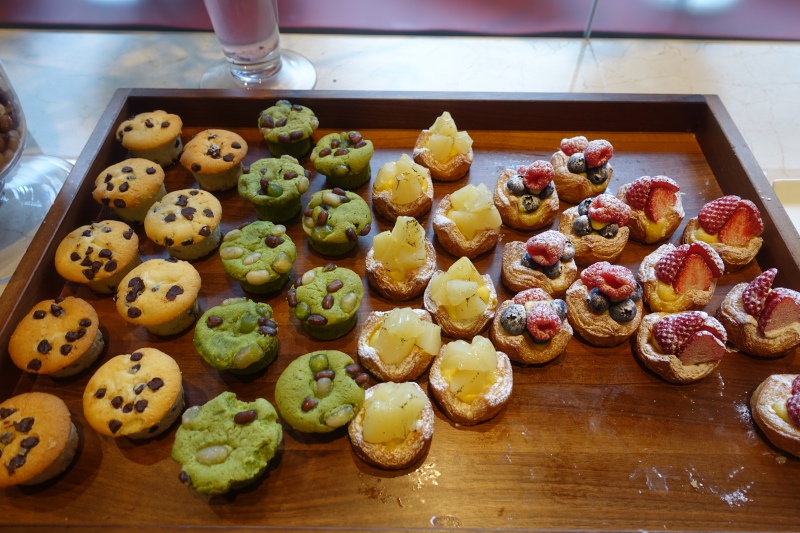 My favorite were the almond croissants, the best I tasted in Japan on this trip, and perfect with a cappuccino: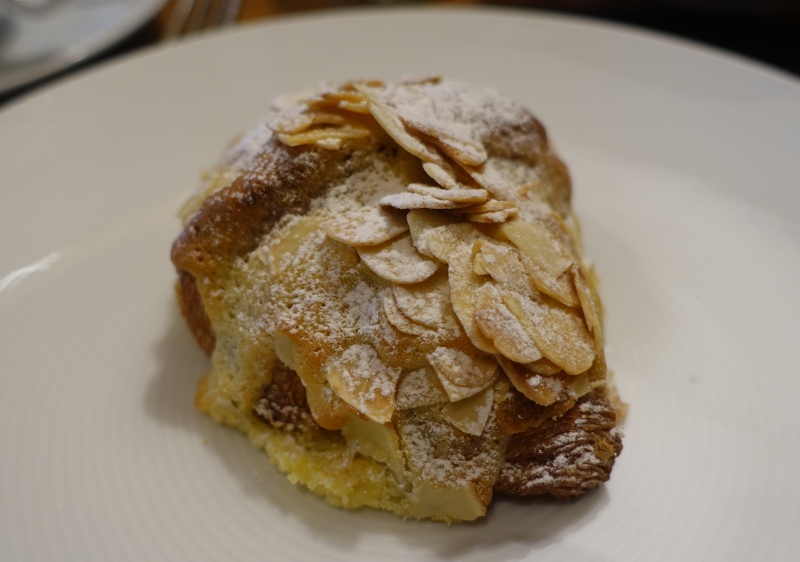 As part of the breakfast buffet, you're able to select an egg dish from the menu. My son chose the Baked Scrambled Eggs, which came topped with goat cheese, sun dried tomatoes and fresh basil, and was delicious.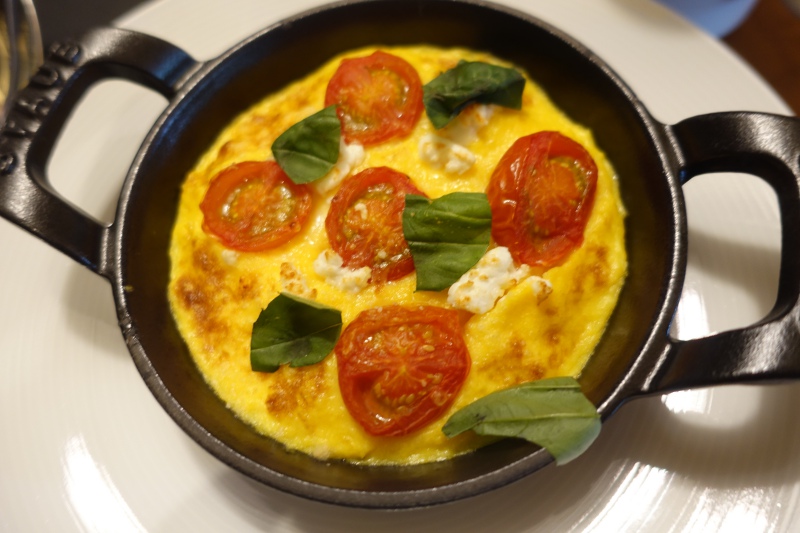 My husband and I both chose the Truffle Onsen Egg, which I enjoyed but he didn't care for. The egg is lightly poached, adorned with black truffle shavings, and served atop creamy spinach.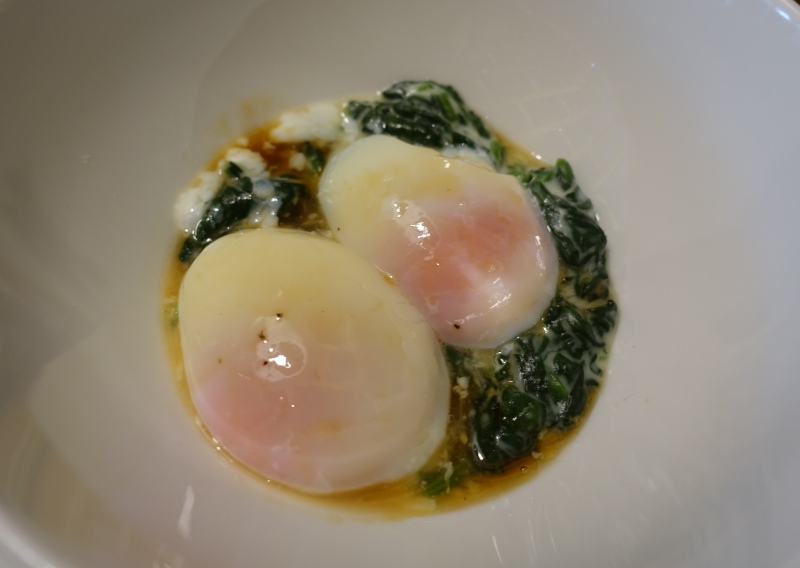 Four Seasons Kyoto Room Service
Since we had additional hotel credit from the special Four Seasons Preferred Partner offer we'd reserved, we ordered a room service lunch before we departed. Of the items we ordered, the best was my husband's Club Sandwich: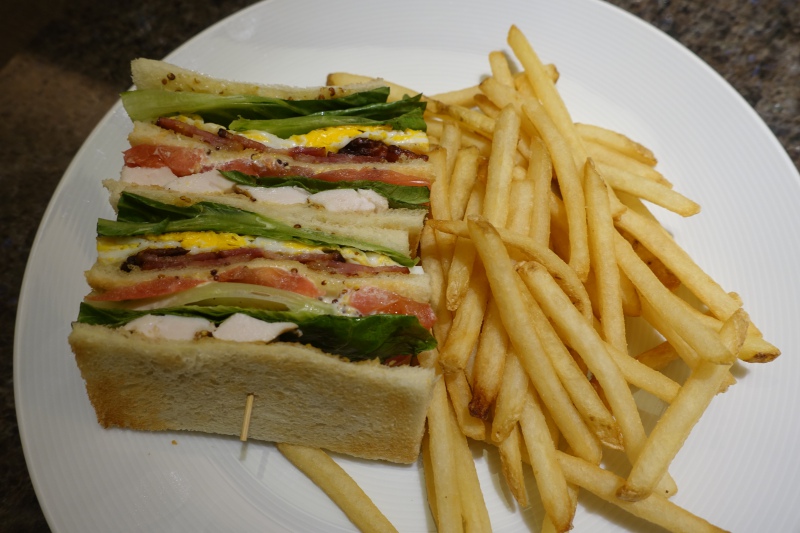 Next was my son's burger, also very good, although not the best we've had.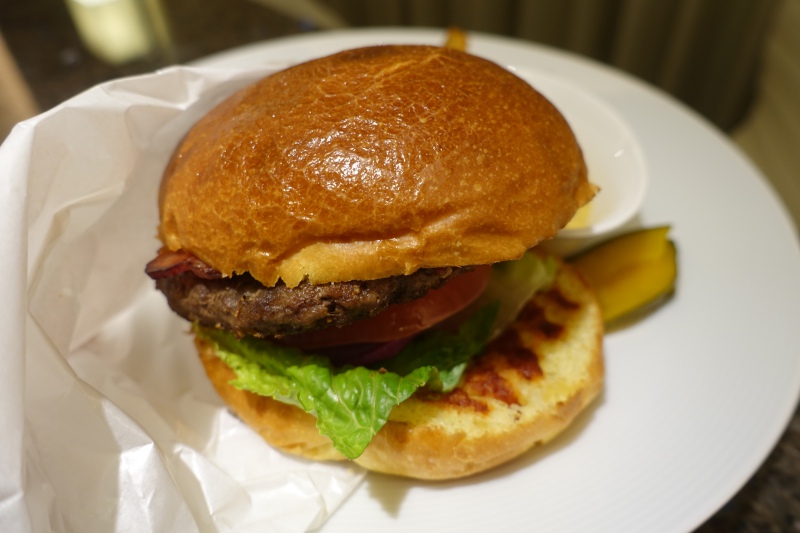 The salad was fresh and tasty, with mini tomatoes: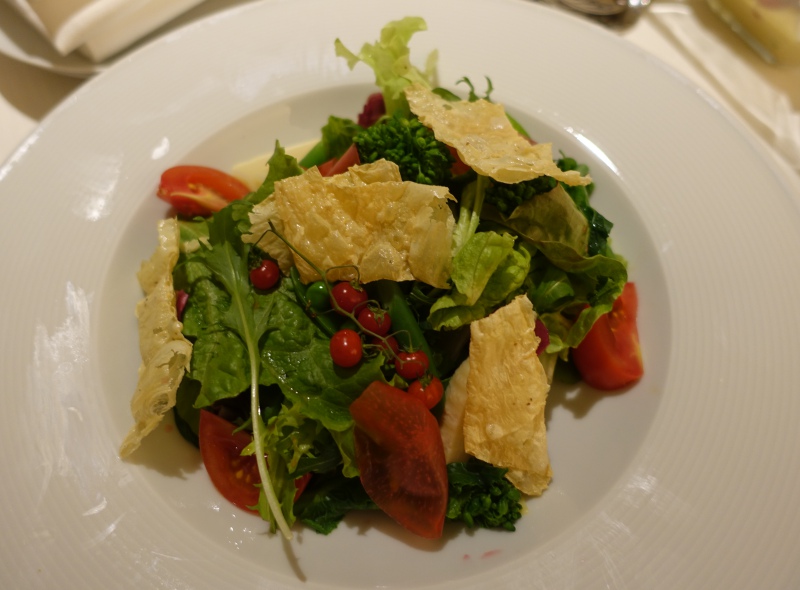 My Soft-Shell Crab Wrap was disappointing for the price, with little crab in it. I wouldn't order it again.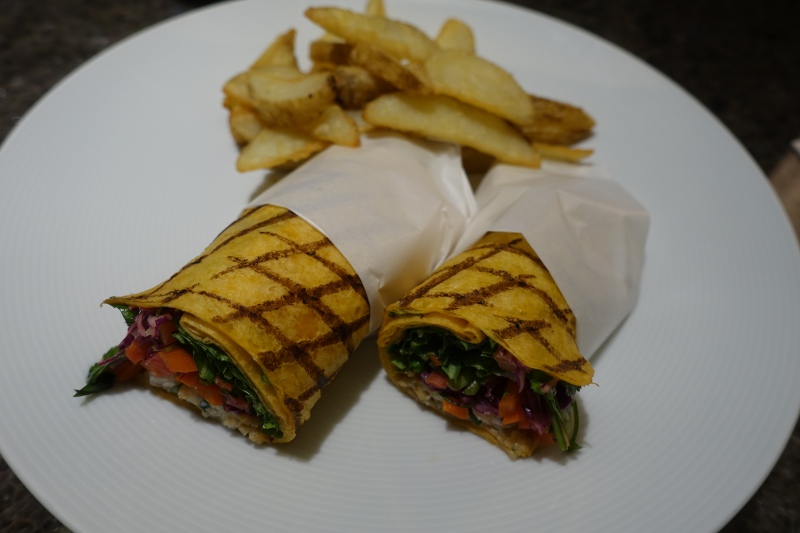 The cheesecake with fruit was good if not memorable.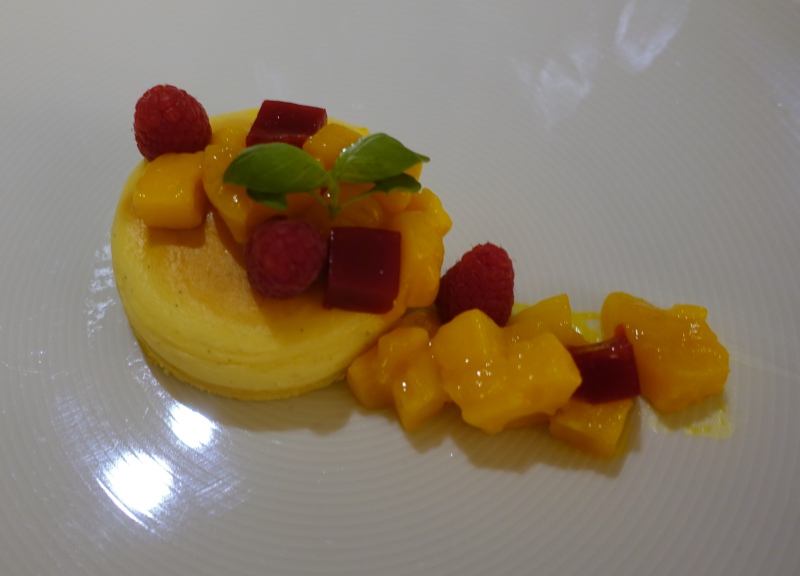 The Verdict
We enjoyed Brasserie most for its breakfast buffet, particularly the excellent Japanese style poached salmon, baked scrambled eggs, yogurt with persimmon, fresh fruit, almond croissant, and cappuccino. It's a very high quality buffet, and I liked that the hot egg dishes went beyond the usual choices and were more creative.
Room service was punctual and attractively presented, and the Club Sandwich was very good, but overall didn't stand out, at least the dishes we ordered.
If you've had breakfast or other meals at the Four Seasons Kyoto, what was your experience?
Recommended Posts
Review: Sushi Wakon at Four Seasons Kyoto
Hotel Review: Four Seasons Kyoto with Preferred Partner Upgrade and Benefits
Premium Express Shimakaze Train to Ise Shima: Review and Photos
Amanemu Virtuoso Review, Ise-Shima Japan
Disclosure: We paid for our own stay at Four Seasons Kyoto, with complimentary breakfast and other Four Seasons Preferred Partner benefits.
Need Award Booking Help? Our fee is as low as $75 per ticket if you book your hotel through us.
If you enjoyed this, join 200,000+ readers: please follow TravelSort on Twitter or like us on Facebook to be alerted to new posts.
Become a TravelSort Client and Book the Four Seasons Kyoto with Four Seasons Preferred Partner Benefits!