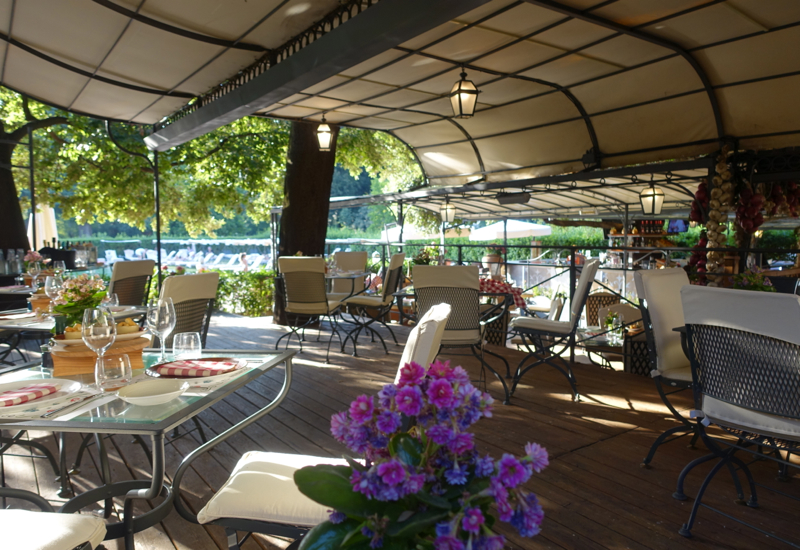 This Review of Breakfast and Dining at Four Seasons Firenze in Florence, Italy is part of a trip report featuring Florence, Rome, Amalfi Coast, Tuscany, Singapore Suites, Air Berlin Business Class, and luxury hotel stays, dining and activities in Berlin and Italy.
For the prior posts, please see:
Review: Air Berlin Business Class A330 JFK to Berlin
One of Europe's Best Hidden Secrets: Guess the Place
Review: Virgin Atlantic Clubhouse, New York JFK Airport
Review: Singapore Suites A380 New York JFK to Frankfurt with a Kid
Katz Orange Berlin Restaurant Review
Marzapane Rome Restaurant Review
Emma Pizzeria Rome Review: Great Pizza in Rome
Review: Pompeii with Private Tours of Pompeii
Review: Monastero Santa Rosa Hotel and Spa, Amalfi Coast
Paestum's Greek Temples: A Must See While Staying on the Amalfi Coast
Review: Ristorante Il Refettorio at Monastero Santa Rosa
Herculaneum Photo Tour: Better Preserved Than Pompeii
Review: Castello Banfi Il Borgo in Tuscany, Italy
Review: La Sala dei Grappoli and Dining at Castello Banfi Il Borgo, Tuscany
Castello Banfi Winery Tour and Wine Tasting at L'Enoteca
Review: Portrait Firenze Hotel, Florence Italy
Review: Walks Inside Florence Private Guided Tour of Florence
Review: Le Volpi e L'Uva Wine Bar, Florence Italy
Review: Irene Restaurant at Hotel Savoy, Florence Italy
Review: Four Seasons Firenze, Florence Italy
Four Seasons Firenze Restaurants
Four Seasons Firenze in Florence has 4 restaurants:
Il Palagio in the main Palazzo della Gherardesca building has 1 Michelin Star and serves breakfast daily 7am-11am and dinner daily 7pm-11pm, as well as Sunday brunch 12noon to 3pm October to June
La Magnolia is in the smaller Convention building, and serves a la carte breakfast daily 7am-11am; it exclusively serves guests staying in the Convention building
The Winery displays about 400 different bottles of wine and is an intimate dining venue for up to 16 guests, serving dinner daily 7-11pm
Al Fresco serves Italian trattoria fare from June to September, and is open daily for lunch 12noon-6:30pm and for dinner 7-11pm
Breakfast at Il Palagio
Il Palagio makes use of a pretty outdoor terrace for al fresco dining in the summer months, although the breakfast buffet itself is inside the restaurant. The buffet wasn't enormous, but emphasized quality over quantity, with a good selection of fresh fruit, cold cuts, breads and pastries, cereals and yogurts.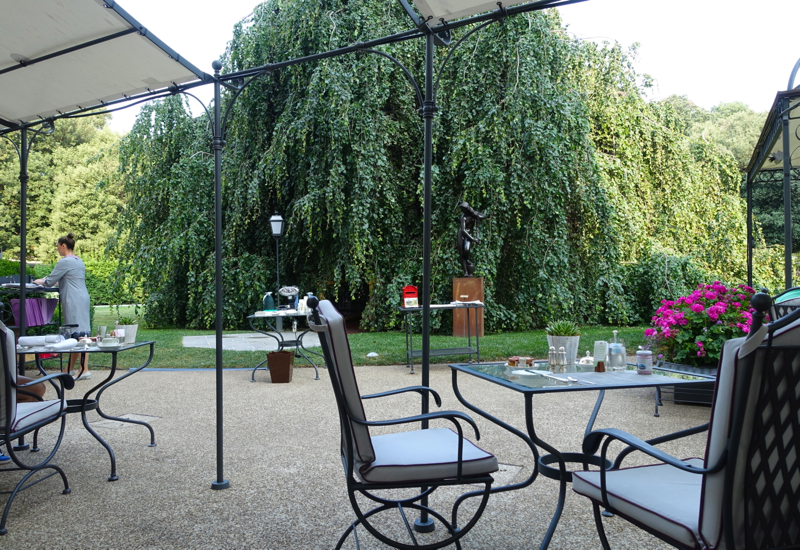 These were our favorite breakfast items:
1. Almond Croissant
Four Seasons Firenze seems to have a crack pastry team, judging by the delicious macarons we received as welcome amenities, and these fantastic almond croissants at breakfast. I was sorely tempted to take one with me, they were that good.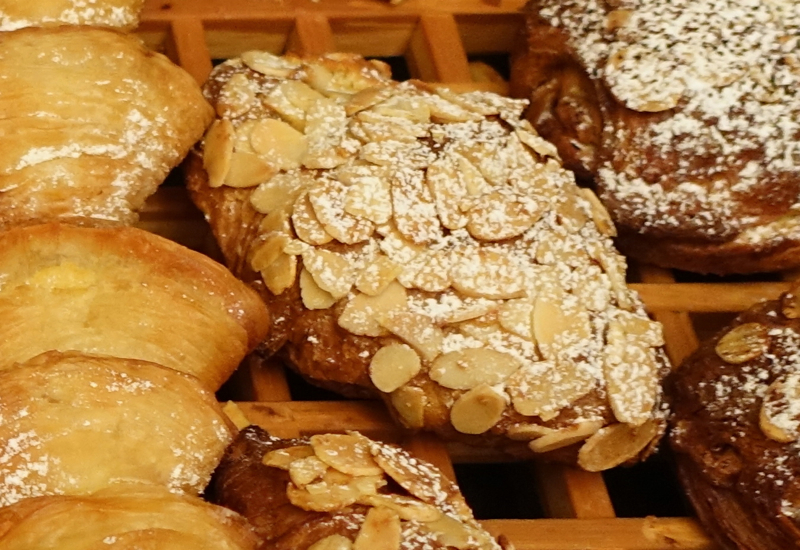 2. Panizzi Yogurt
Yogurt is a breakfast staple for me, so for better or worse it's a key factor in how I judge the quality of a hotel or restaurant breakfast. I was happy to see both Sterzing Vipiteno yogurt (which we'd had for other breakfasts in Italy) and artisanal Panizzi yogurt. The Panizzi blueberry yogurt I tried was especially smooth, creamy and fresh tasting. It was especially good with the housemade granola.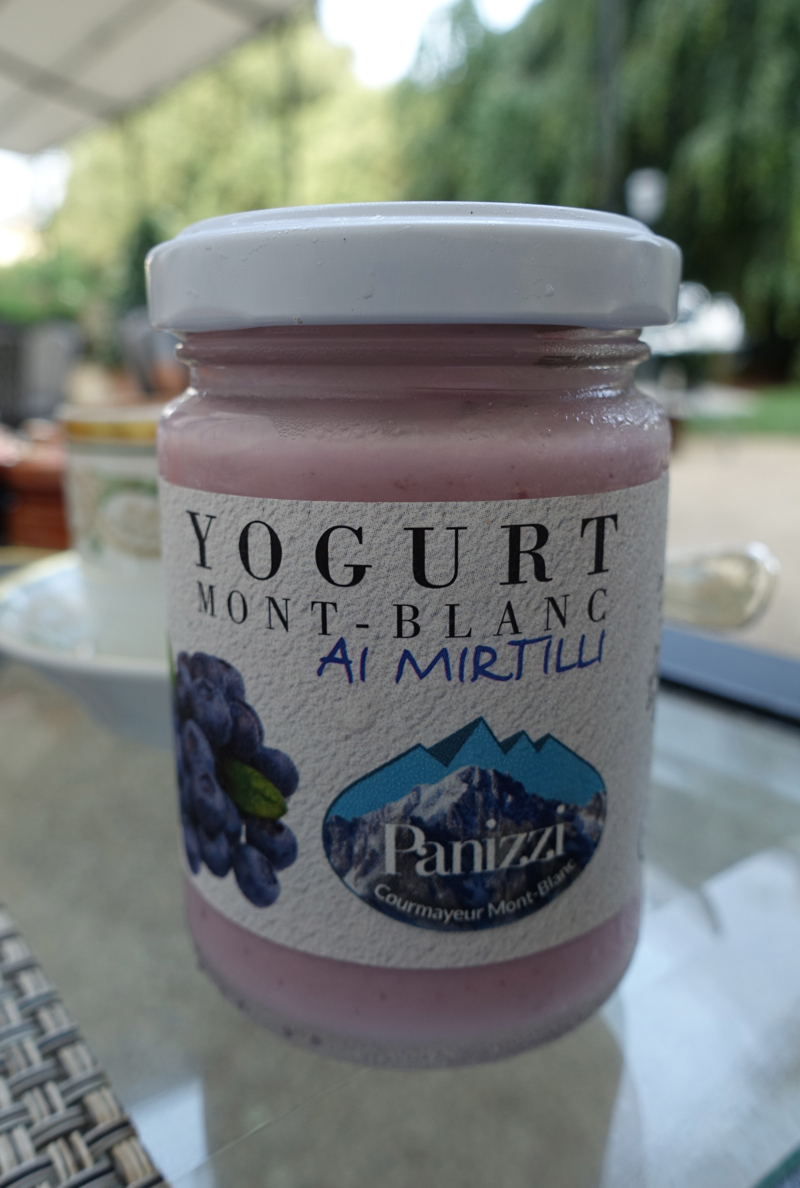 3. Apple Tart
Yet another excellent sweet from the hotel's pastry kitchen, this was a textbook perfect apple tart, with this slices of apple over a custard base and crisp shortbread crust. Who says you can't have dessert for breakfast?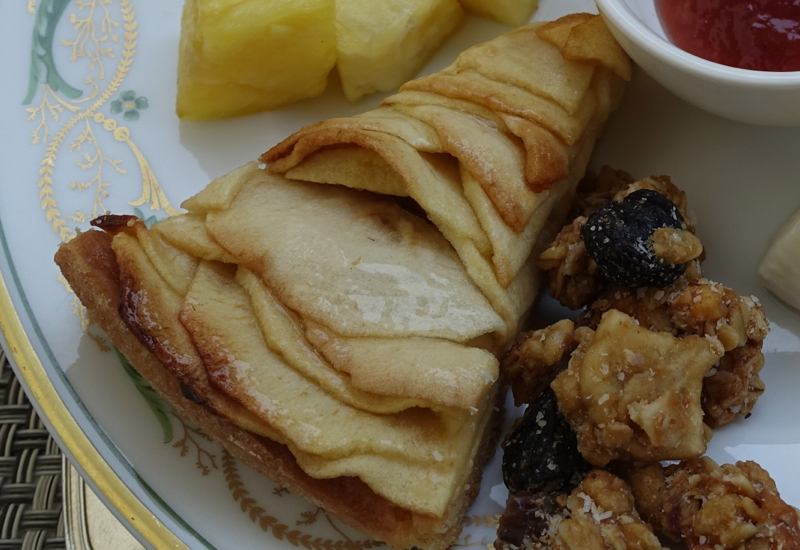 4. Smoked Salmon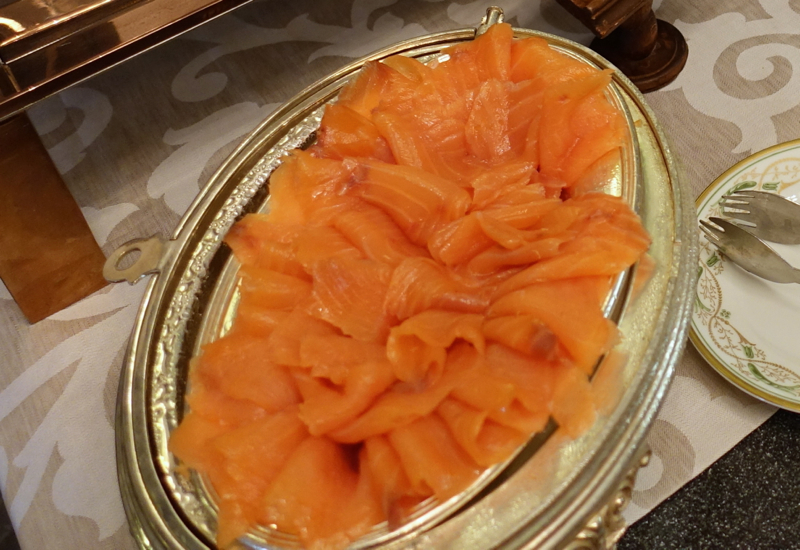 Dinner at Trattoria Al Fresco
For dinner, we decided to try the Four Seasons Firenze's outdoor trattoria, Al Fresco, which is under a leafy arbor by the pool. Since we dined early, we were among the very first diners and had our pick of tables, so we chose one that was completely in the shade, given how warm it was.
Our server brought us menus, and asked our water preference. It wasn't hard for me to decide what to order as a main–in the pizza section I spied a version with zucchini blossoms and goat blue cheese. Although originally he too wanted a pizza, my son decided to order a burger from the kids' menu instead. I'm not sure why you'd order a burger given the plethora of delicious pastas and pizzas, but I bit my tongue, since for him this was a vacation.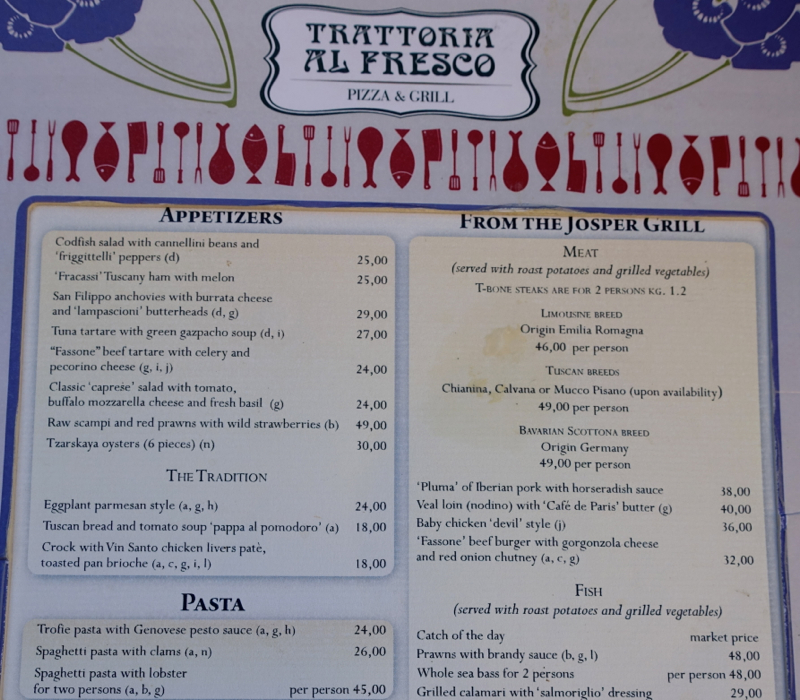 I asked our server for a wine recommendation to go with my meal, and he suggested this 2014 Pian Di Stio Fiano from Paestum, which I loved. Crisp, but with lovely tropical fruit notes.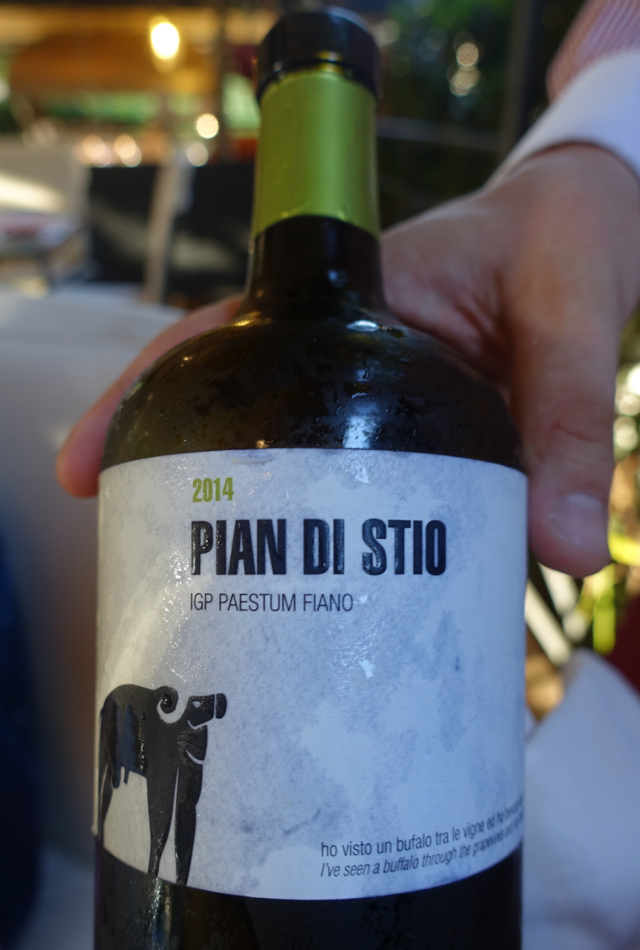 While we waited, I enjoyed these plump and very flavorful olives, along with some fragrant and garlicky foccacia from the bread basket, while my son managed to sample some of each kind of crisp bread and bread, with olive oil.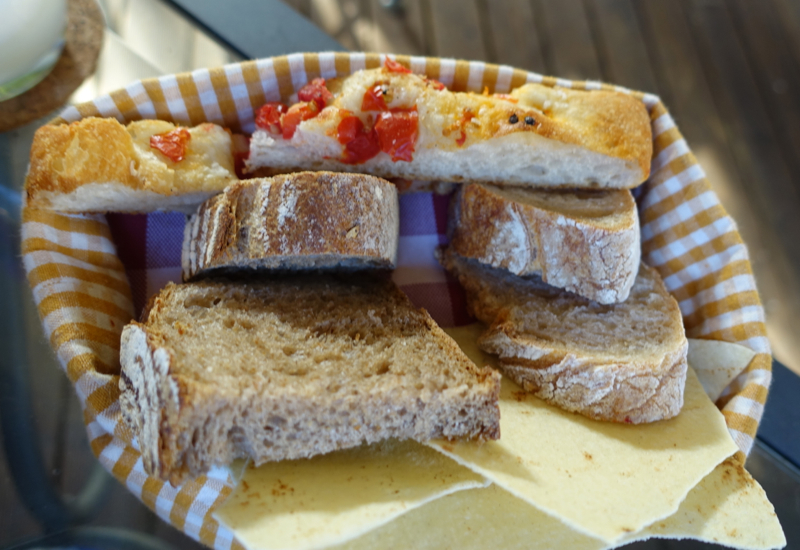 As an appetizer, I took our server up on his recommendation of the tuna tartare with green gazpacho. It was a tasty and refereshing starter, although it and all the starters were quite pricey, in the EUR 25-30 range.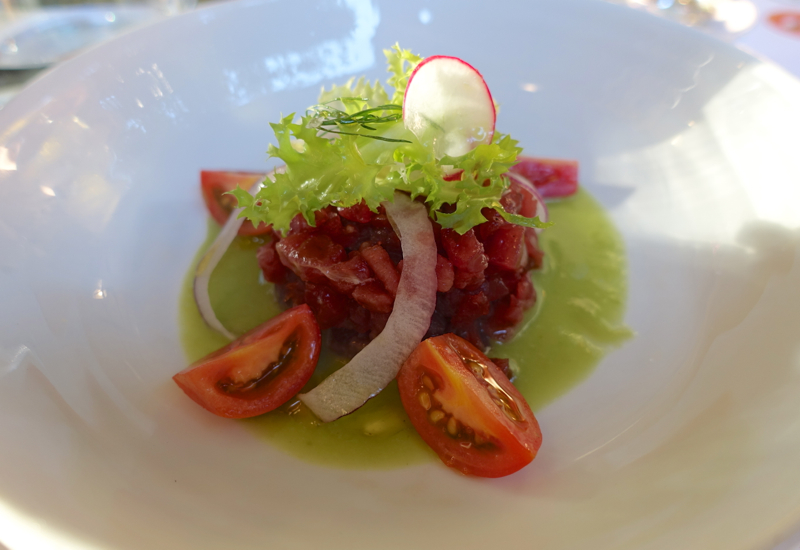 My son loved his burger, which was cooked as he'd asked: medium-well. It was also a good sized portion, especially given its menu description as a "mini burger," so a relatively good deal at just EUR 12 (although I'm pretty sure you'll need a kid in your party if you want to order it!) My son was less a fan of the grilled vegetables that I'd asked to accompany it, so I helped him with some of those. The grilled sweet peppers in particular were delicious.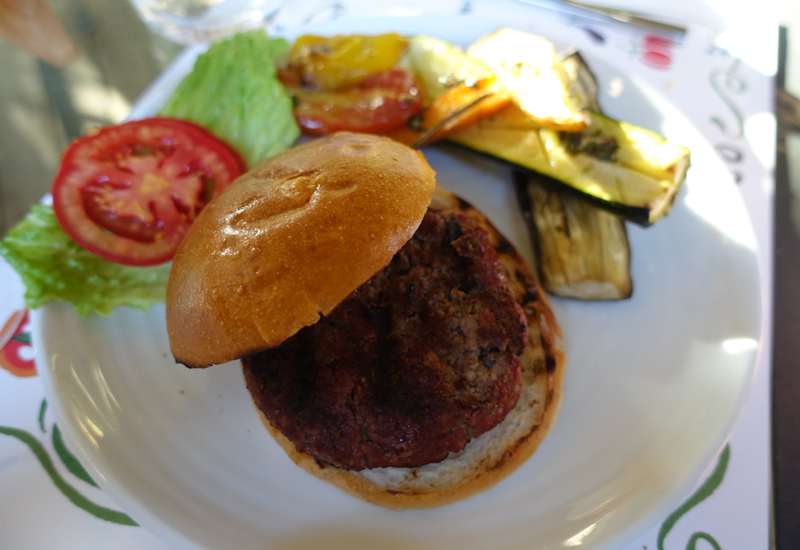 The star of the meal, however, was my pizza, with oven-baked onion from Certaldo, zucchini flowers, and goat milk blue cheese. I wouldn't have necessarily expected those ingredients to work together, but they did, with the tangy melted goat cheese a great foil for the sweet baked onions and crisp-tender charred crust.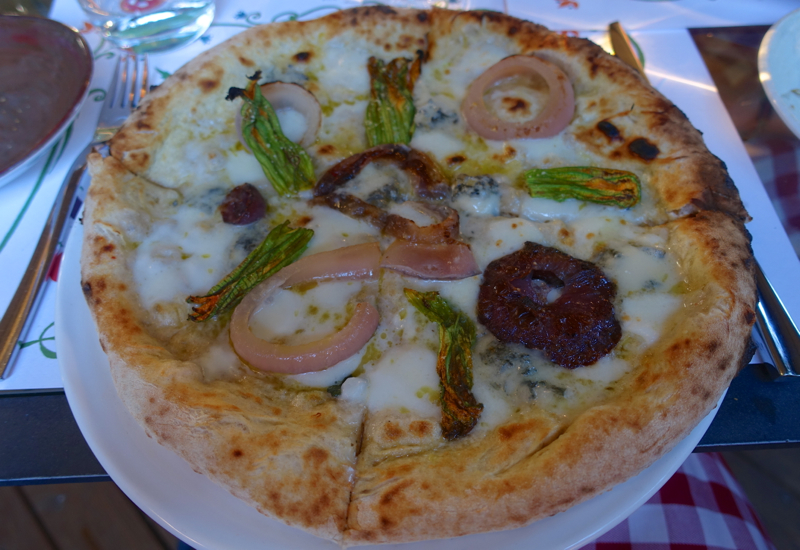 The Verdict
We enjoyed our al fresco breakfast from the buffet at Il Palagio, particularly the pastries with agrimontana preserves and the artisanal yogurt with homemade granola. Service was likewise excellent at Al Fresco, where unquestionably the highlight was the pizza and wine from Paestum.
TravelSort Clients enjoy complimentary daily breakfast (including the breakfast buffet) as one of their Four Seasons Preferred Partner benefits at Four Seasons Firenze in Florence:
Daily full American breakfast for two people per bedroom, served through In-Room Dining or in the hotel restaurant (including buffets)
Spa credit of USD100 once during stay (not applicable to products)
Upgrade of one category, based on availability at time of check-in (excluding signature suites and villas)
Complimentary basic Internet in all guest rooms, complimentary premium Internet in all suites.
Have you dined at any of the Four Seasons Firenze restaurants?
Related Posts
Review: Four Seasons Firenze, Florence Italy
Review: Le Volpi e L'Uva Wine Bar, Florence Italy
Florence: Gourmet Dining and Foodie Delights
Review: Walks Inside Florence Private Guided Tour of Florence
Disclosure: We enjoyed a complimentary stay and meals at Four Seasons Firenze. The views expressed in this post are mine.
Need Award Booking Help? Our fee is as low as $75 per ticket if you book your hotel or cruise with us.
If you enjoyed this, join 200,000+ readers: please follow TravelSort on Twitter or like us on Facebook to be alerted to new posts.
Become a TravelSort Client and Book 5-star hotels with Virtuoso Perks and Four Seasons Preferred Partner Benefits