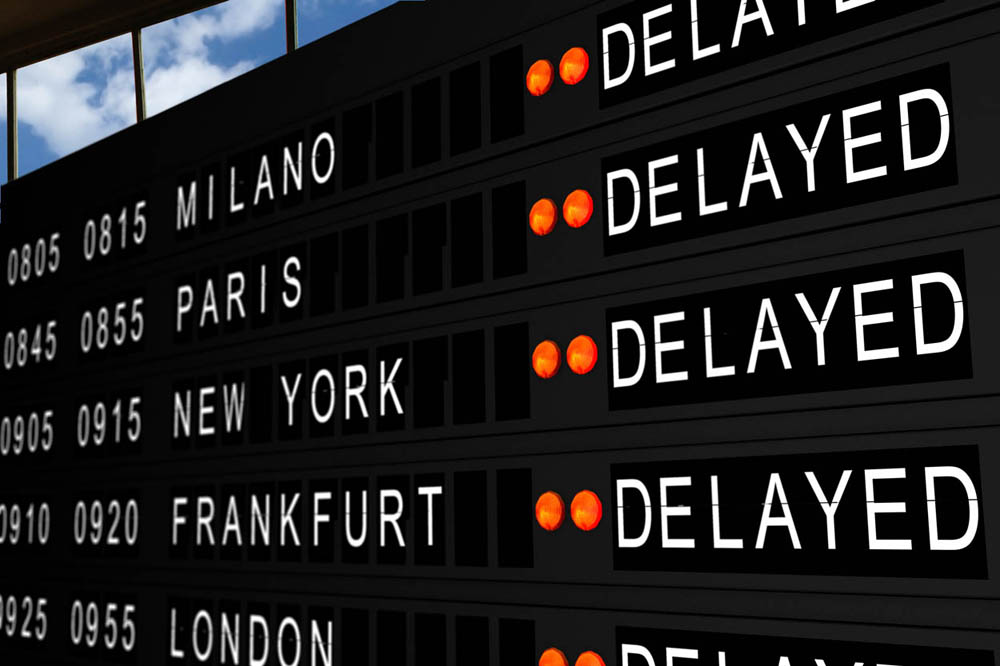 Has a flight cancellation or delay ever spoiled a trip for you? What should you do to avoid cancelled or delayed flights, have a backup plan, and deal with them if they occur?
A TravelSort reader writes:
"
I'm not sure I have any rights but we sure went through a travel nightmare. I purchased 6 tickets (4 adults, 2 youngsters) on an American flight originating in Kansas City at
7AM
that was supposed to make connections in Dallas and arrive in Mazatlán about
noon
. The plane had problems and was canceled.
At first AA said I could get a refund or be booked on a flight three days later. Neither alternative was sensible, either zero or 3 days of our prepaid 7 day all inclusive vacation was unacceptable. AA was very nice and finally found a flight to Dallas, then Mexico City with a
1 hour 49 minutes
layover, then on AeroMexico arriving in Mazatlán at
5PM
. I assume we landed in Mexico City on time but don't know for certain. We cleared Immigration and Customs, gathered our luggage, boarded the tram to Terminal 2 without stopping even to go the bathroom and arrived at the AeroMexico counter about 50-55 minutes before the flight and were told that with luggage and no boarding passes we were required to check in one hour early, no exceptions. Not their problem, talk to AA about how we were to get to Mazatlán.
AA said since the plane was on time, it wasn't their problem either. They could fly us back to KC in 3 days or to Mazatlán three days later landing at
9:45pm
. Finally, they started looking for alternatives and the best they could find was a
9:35pm
flight to Durango…We got to Durango at
midnight
found a $50 taxi to the town several miles away. Stayed at a very nice Holiday Inn, then negotiated a $400 taxi ride to Mazatlán about 200 miles away. After a 3 1/2 hour ride over the most amazing road I've ever been on we got to our resort about 24 hours late. I'm angry but according to the rules does AA or AeroMexico owe us something?"
This reader's email is all too common–I receive several emails a month involving travel nightmares of cancelled or severely delayed flights. Unfortunately, as I'll outline below, airlines (with the exception of those that properly fall under EU 261/400–see
Getting United to Pay EU Compensation for a Flight Delay Under EU 261/400
) don't have to give you much for a cancelled flight or delayed flight. Here are tips for avoiding cancelled or delayed flights in the first place, and dealing with cancellations or delays if they happen.
Avoiding Cancelled or Delayed Flights
While it's impossible to know when booking several months out whether your specific flight will be delayed or cancelled, there are a few common sense tips to help tip the odds in your favor and avoid a cancelled or delayed flight.
Book a Morning Flight: With so many airports in the U.S. operating at capacity, a delay can have a knock-on effect and result in some worse delays later in the day. By booking one of the early morning flights you have a better chance of flying on time and avoiding these knock-on delays
Book Nonstop Flights: Of course, this may not be possible with an award ticket, since many of the most coveted nonstops, especially in business class, have little or no award availability. But the more connections you have, the more chance of one or more of those flights having issues.
Avoid Flying During Winter Storm Season: Easier said than done, right? Business travelers likely don't have a choice, and of course winter is when it's most tempting for winter weary East Coast residents to get away to a warm place. But personally, my family tries to avoid going anywhere major during the major winter storm months of December-February. If we're visiting family and we can take the train, that's what we do instead.
Monitor Your Inbound Flight with FlightAware: FlightAware enables you to track flights in

over 45 countries across North America, Europe, and Oceania, so while it's not comprehensive, there's a decent chance it can help you to figure out whether your airplane will be at the gate in time for an on-time departure.
Monitor for Travel Waivers: Check airline Twitter feeds or, if you booked through a travel agent, he or she should be on top of any travel waivers the airline has issued, in the case of weather-related cancellations.
Making Backup Plans for Cancelled or Delayed Flights
It can be easier being a frequent flyer elite if chances are high that your flight will be delayed, resulting in a late arrival and/or missed connection. Even though technically most agents aren't supposed to, elite frequent flyers can sometimes get an agent to "protect" them by booking them on a new flight, while still keeping their current seat (perhaps an upgraded one) until the very last minute, when they decide which flight they'll go with.
That said, even a non-elite can carefully monitor the situation with tools such as
FlightAware
and create their own contingency plans. If you really want to ensure your own backup flight and have the miles, you could book an alternative flight as an award, and cancel if you don't need it. Just be sure to know the cancellation rules for the frequent flyer program you're using. For example:
Alaska Mileage Plan: $125 per ticket cancellation fee, but note that the original $15 call center booking fee (if booked by phone) and $25 partner award booking fees are non-refundable
American AAdvantage: $150 for the first ticket to cancel and reinstate AA miles (additional awards reinstated to the same account at the same time are an additional $25 each), must do so before award travel commences
British Airways Executive Club: Just $40 per ticket to cancel Avios award online, but must cancel at least 24 hours prior to flight departure to redeposit Avios in your account. Within 24 hours, you forfeit your Avios
Singapore KrisFlyer: Just $30 per ticket to cancel and reinstate KrisFlyer miles, but must cancel at least 24 hours prior to flight departure, otherwise it's $75
What to Do If Your Flight is Cancelled or Delayed
Weigh Whether the Trip Still Makes Sense: If this was to be a short weekend or extended weekend trip and everything is getting cancelled due to a winter storm, hurricane or other weather related event, it may not be worth it. Take the refund (don't settle for an airline voucher, get a refund to your credit card) and postpone your trip.
Get Help at the Airline's Lounge: Even if you're not a frequent flyer, it can be helpful to have access to an airline's lounge via a credit card (for example the Citi Executive AAdvantage or United Club Card). You'll often get help faster and more efficiently from the agents staffing the lounge.
Know Your Options: It's helpful to use your laptop or smartphone to understand your alternatives, while waiting on hold or in line or both to speak to someone for rebooking. Don't assume the computer or agents will think of every possibility for your itinerary–that's your job, to know which routes, even if highly indirect, will work for you.
Ask for The Itinerary or Alternative Flights You Want: The airline may not be obligated to reroute you on other airlines, but that doesn't mean you shouldn't ask–nicely. Since staff will be up to their ears with grouchy passengers, try to be the one that is empathetic with their thankless job, it may well pay off for you.
Focus on Getting the Flight or Hotel Bed You Need: While you may be outraged or indignant at the cancellation, delay or how indifferent airline staff are, just focus on getting there (if deciding to continue with your trip) and if you can't fly out that night, getting the sleep you need. There's time after the trip to seek compensation, don't let it ruin the trip.
Are You Due Compensation for a Cancelled or Delayed Flight?
Unfortunately, typically no. Most airlines' contract of carriage clearly states that all the airline obligates itself to do is to get you to your destination on the next available flight. Of course, during busy travel times, that next flight could not leave until tomorrow or even a few days from now, so you may end up wanting a refund instead.
Here's the relevant language in American Airlines' contract of carriage:
"When cancellations and major delays are experienced, you will be rerouted on our next flight with available seats. If the delay or cancellation was caused by events within our control and we do not get you to your final destination on the expected arrival day, we will provide reasonable overnight accommodations, subject to availability."
So as you can see, American doesn't obligate itself to provide flights on other non-American Airlines flights, or to getting you to your destination within a certain number of hours of your original expected arrival, etc. You would have no recourse if for some reason all the American Airlines flights were booked up for the next week, other than a hotel room "subject to availability."
That said, you should always try for better than this, as described above, and seek a "gesture of goodwill" from the airline, through the online customer care form. It can help to tweet the relevant airline Twitter accounts.
And if calling, don't forget to use Skype to try international call centers, if the U.S. or local call centers are inundated and you can't get through.
So back to my reader: unfortunately, in the scenario described, AA and AeroMexico don't owe you anything, and you actually already did better than AA's contract of carriage, since American did put you on partner flights even though AA's contract of carriage doesn't obligate it to. Unfortunately, delays and cancellations sometimes happen, and sometimes make a long awaited vacation in jeopardy or even a "trip in vain" that forces you to simply take a refund. If you want more consumer rights when flying, you may want to travel on EU member airlines to take advantage of EU 261/400 protections.
If you've experienced a cancelled or delayed flight, what are your tips for what to do?
Related Posts