This Etihad First Class Review is part of a Maldives trip report including Qatar Business Class, Etihad Business Class, Etihad First Class and the Park Hyatt Maldives. Want help booking Etihad First Class? I offer an Award Booking Service, starting at just $75 per ticket for TravelSort Luxury Hotel Clients.
For prior posts please see:
Review: American Airlines Flagship Lounge in NYC, JFK
Review: Qatar Business Class NYC JFK to Doha
Review: Qatar Business Class Lounge, Doha
Qatar Business Class and Economy Class Review, Doha to Male, Maldives
Park Hyatt Maldives Hadahaa Review
Park Hyatt Maldives Island Grill Restaurant Review
Park Hyatt Maldives Water Villa Review
Park Hyatt Maldives Diving and Snorkeling
Park Hyatt Maldives Food and Menu
Park Hyatt Maldives Back of House Tour
Park Hyatt Maldives Interview with General Manager Julian Moore
Park Hyatt Maldives Activities: Top 10
Male: Plaza Premium Lounge Review
Etihad Business Class Review Male to Abu Dhabi
Yas Viceroy Abu Dhabi Hotel Review
Etihad First Class Lounge Review Abu Dhabi
Park Hyatt Maldives Costs and Cost Saving Tips
When our Etihad First Class flight was called, we quickly left the Etihad First Class Lounge (cutting short my divine Six Senses Spa massage, which I was lucky they squeezed me in for) and proceeded to the gate. There was a bit of a line, but we eventually made it to the jetway, where we got a glimpse of the 777-300ER that would take us from Abu Dhabi home to NYC: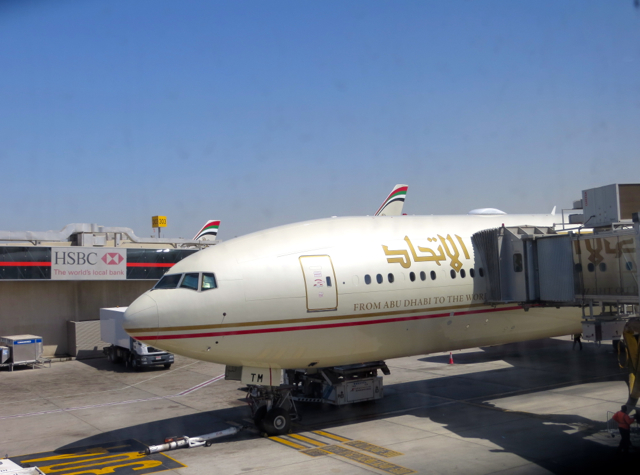 We were welcomed and escorted to the first class cabin, which is 8 enclosed suites in all, 4 in each of the 2 rows: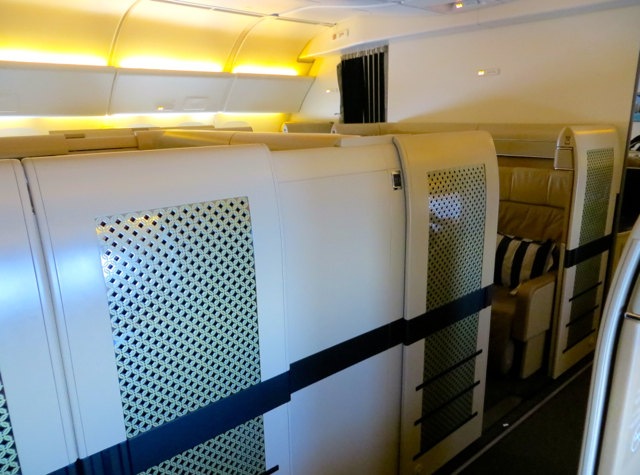 Here's a photo of the 1A suite and ottoman, which wasn't occupied on our flight: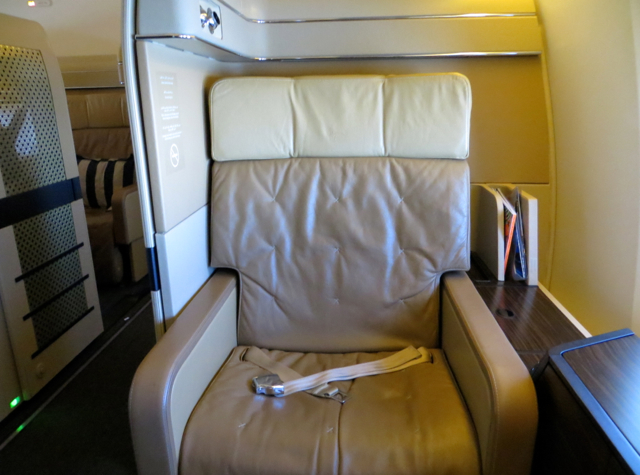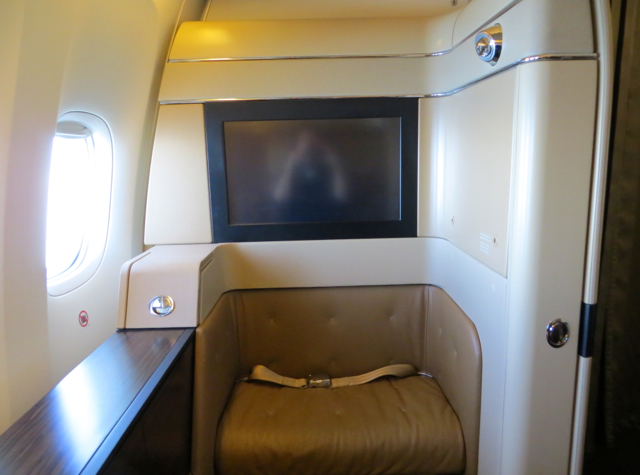 The seat controls and light controls are by touchscreen: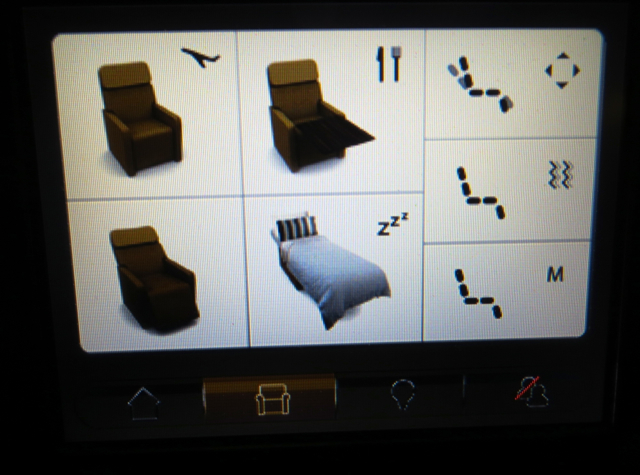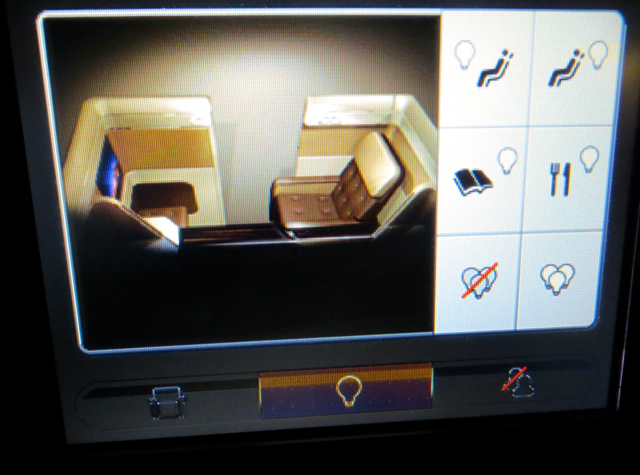 The suite is fully enclosed on the sides if you wish, by sliding doors that you manually operate. There's plenty of room lengthwise, although to be honest I prefer the side seats of Cathay Pacific First Class, where I can actually sit side by side with the munchkin to read to him. But there's no question that if you want greater privacy the Etihad and other suite products afford that.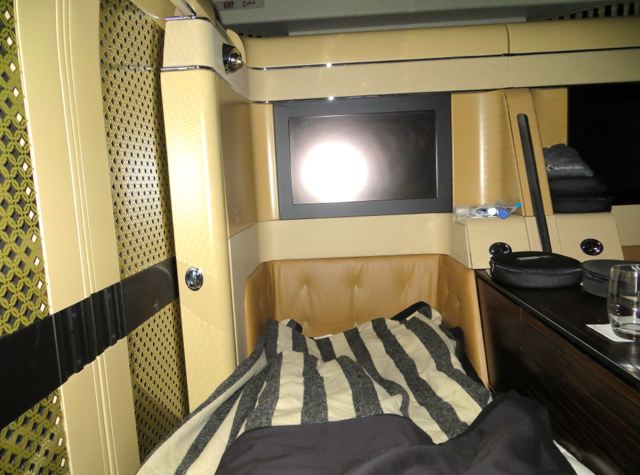 The munchkin immediately settled into Suite 2A, which he loved since he always prefers window seats: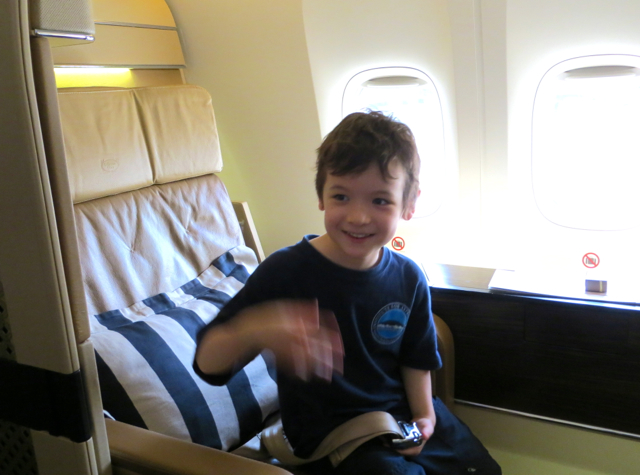 My husband and I were in Suites 2D and 2G: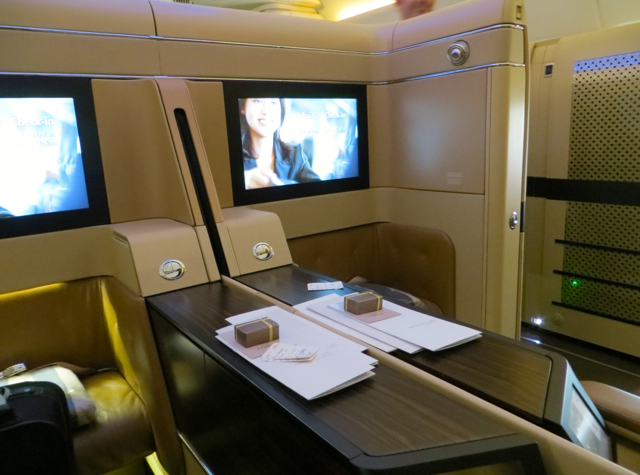 Both the purser of the flight and the on-board chef came over individually to introduce themselves. The purser had a kindly demeanor, and the Australian chef was very outgoing, joked around with the munchkin, and mentioned his specials of the day.
Meanwhile, we'd been provided a hot towel and pre-flight drink (I know, it's boring that I always order water, but Bollinger champagne would have been another option). We also were offered Arabic coffee and dates, and the Arabic coffee was delicious, although I didn't have a chance to take a photo as I was settling the munchkin.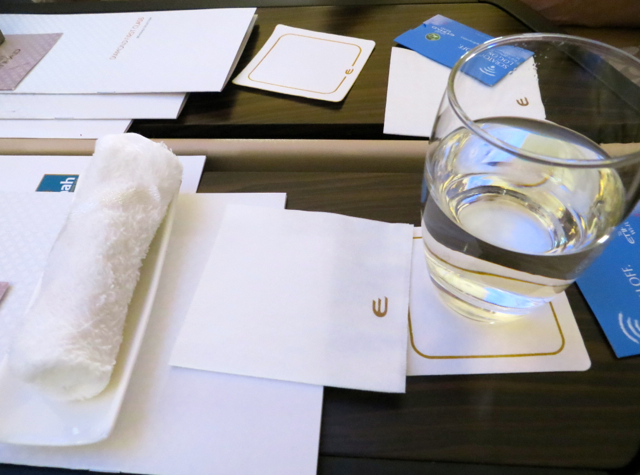 The munchkin was presented with a kids' welcome amenity, a backpack with an activity book, coloring pencils, and even tic tac toe, which he loved: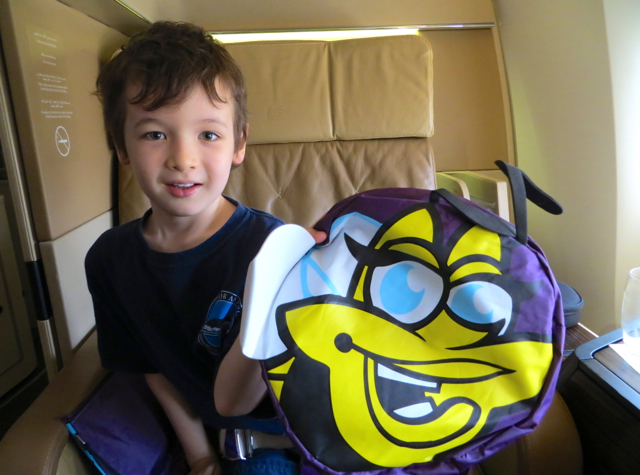 While I usually work or sleep and don't make much use of the IFE, I could tell my husband was thrilled at the chance to catch up on some movie watching. As parents, the most we typically have time for is 30 minutes of The Colbert Report, so the prospect of watching several movies back to back was pretty exciting for him 🙂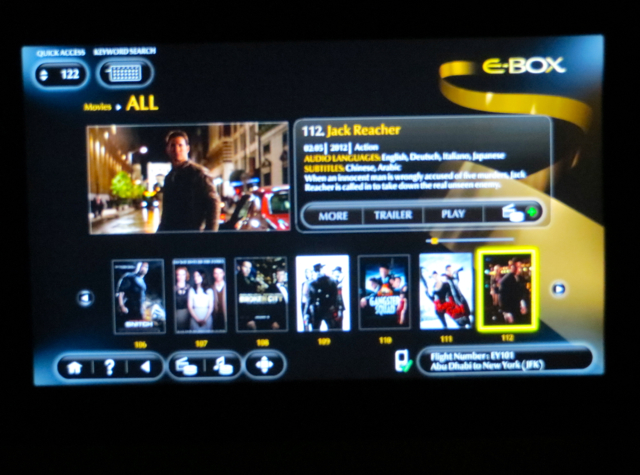 After take-off and reaching cruising altitude the seatbelt signs were switched off, and I went over to the munchkin in 1A to play tic tac toe with him. Of course he found some other goofy uses for the game pieces…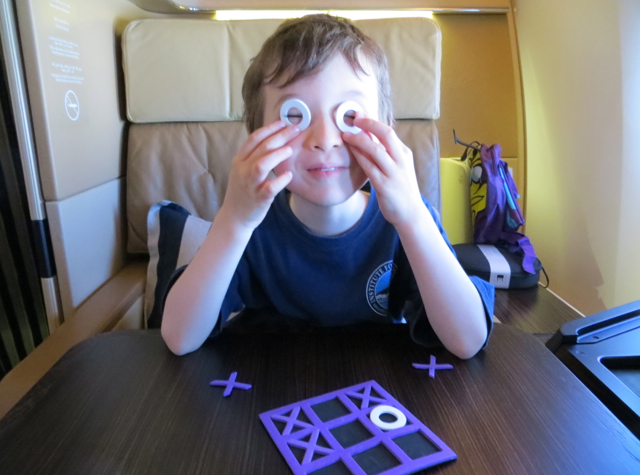 The chef asked what we'd like to order from the menu, which offered plenty of choices and was dine on demand. Here's the Lunch Menu: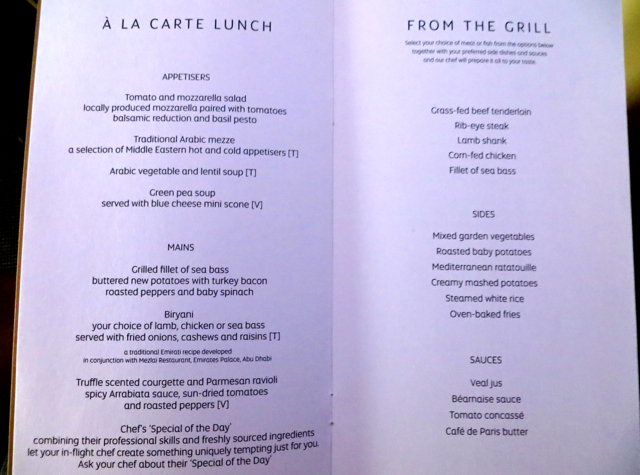 And the Taste of Arabia and Dessert Menu: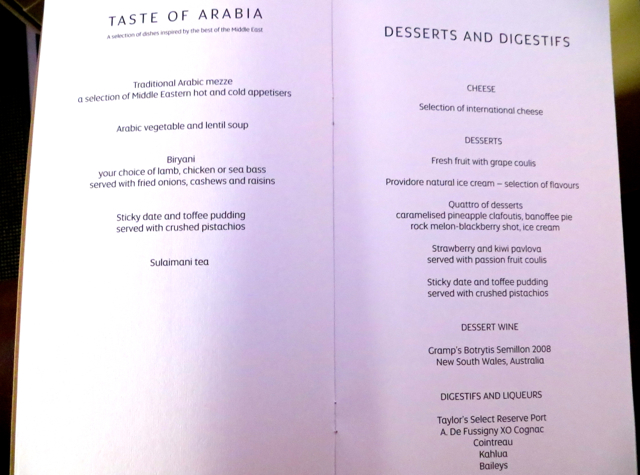 And the Kitchen Anytime Menu: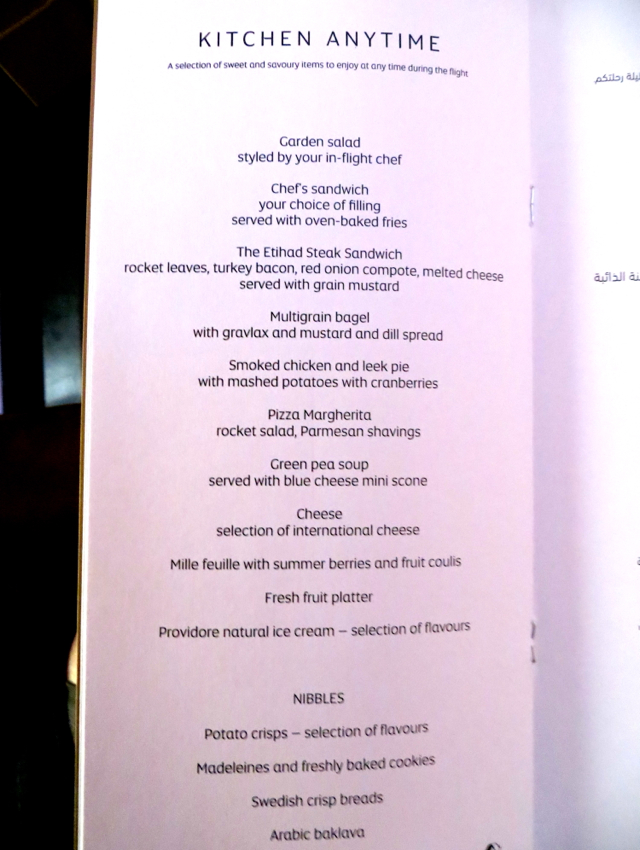 The munchkin was happy as could be that he could order pizza. The chef obliged by making the munchkin's food first, so that my husband and I could later dine together. Here's the munchkin's pizza: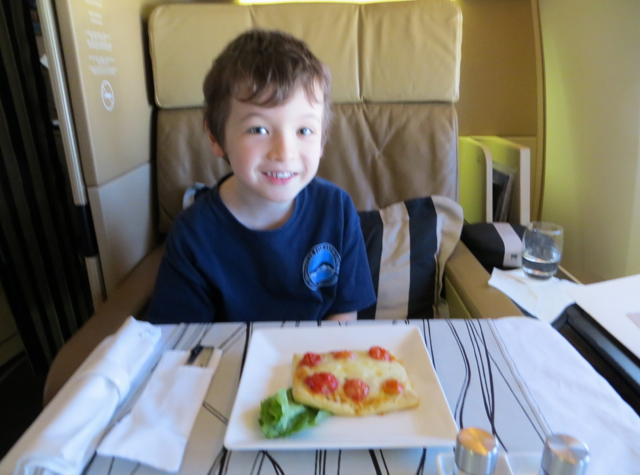 After his lunch and after I read him some stories, the munchkin was ready for a long nap. I requested turn down service, his bed was made up, and while he didn't go to sleep right away, he was comfortable in his flat bed.
My husband and I started off with glasses of the Reserve de la Comtesse 2008 Pauillac Bordeaux, a blend of Cab, Merlot, Cabernet Franc and Petit Verdot. While in general we prefer more fruit driven Zinfandels and Malbecs, we both enjoyed it, especially alongside our main dishes.
Our meal began with a little amuse bouche–a roulade with a sweet chili dip. Fine but nothing special.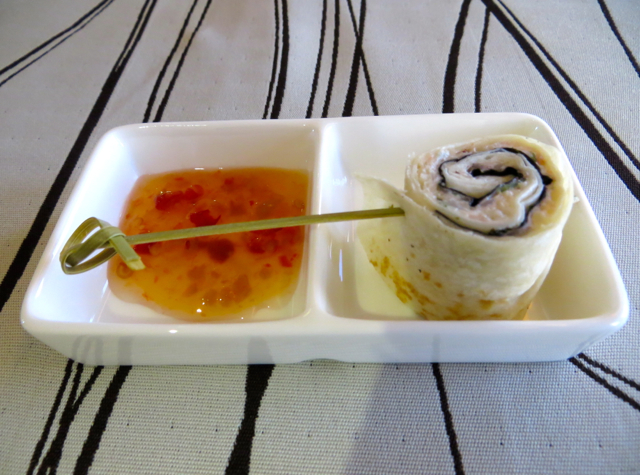 We were then served a nicely presented arrangement of olives, cheese and dips: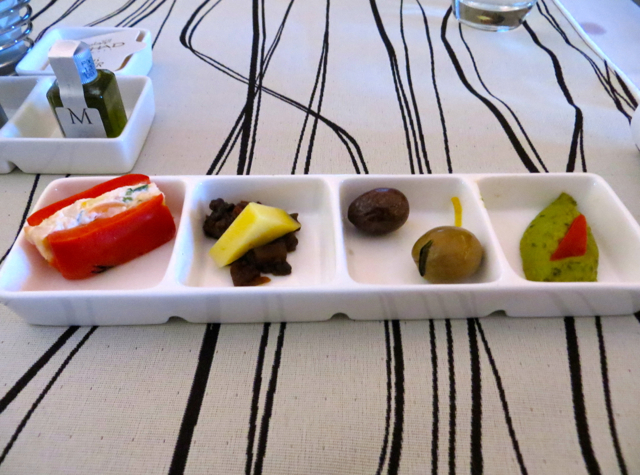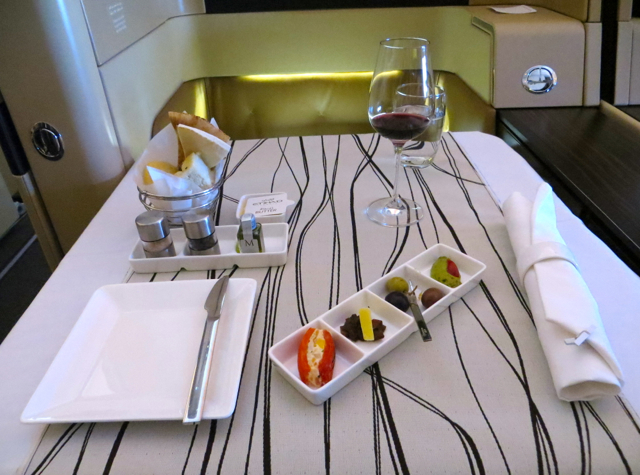 My husband opted for the traditional Arabic mezze, which, as is to be expected, was better than the mezze in Etihad Business Class from Male to Abu Dhabi, although in my view some of the dips at the Yas Viceroy breakfast buffet were even better.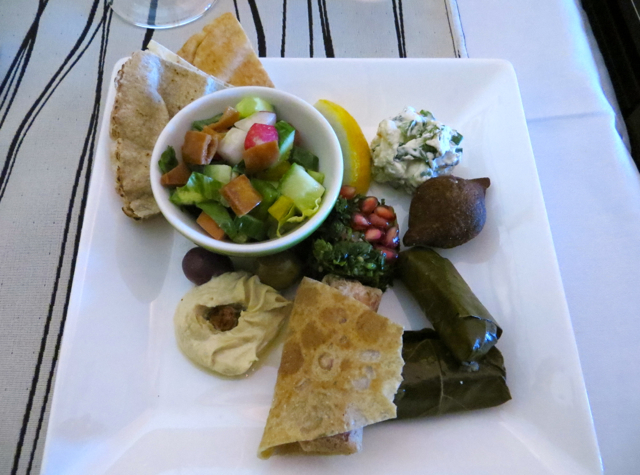 We were then offered a refreshing sorbet palate cleanser: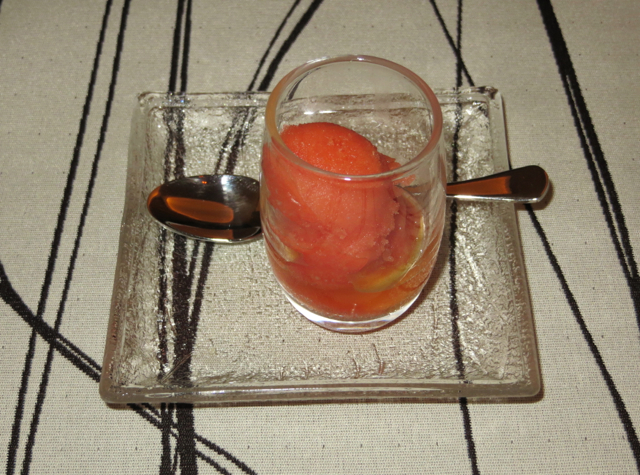 We were both very happy with our main courses. I ordered the Chef's Special, a Surf and Turf combination of Grilled Salmon and Steak, and the steak was cooked perfectly to medium as I'd requested. The salmon was quite good as well–the richer fish helps counteract the inevitable dryness effects of most onboard dining.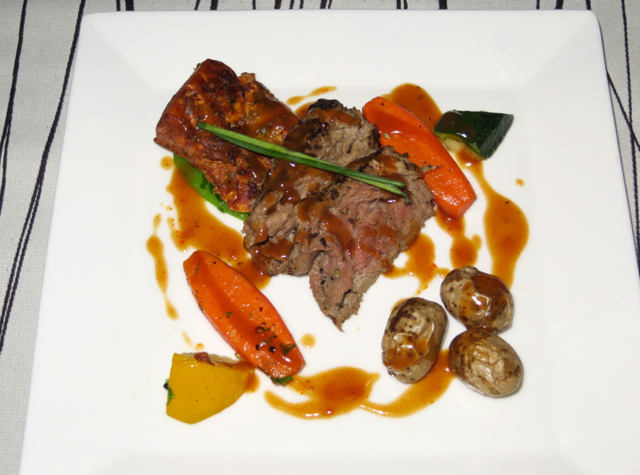 I give the slight edge, though, to my husband's Lamb Biryani, which was very succulent, with tender, flavorful meat and well complemented by the cashews and raisins: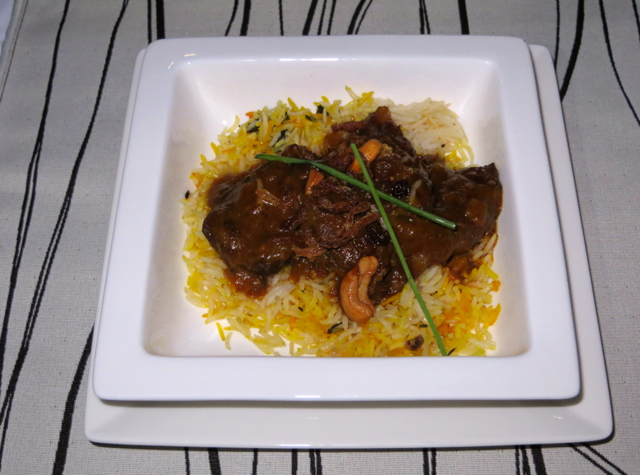 For dessert, my husband's Taste of Arabia Menu concluded with Sticky Date and Toffee Pudding. The flavor was good, but it was a bit dry and of course not as good as the best I've had in the UK: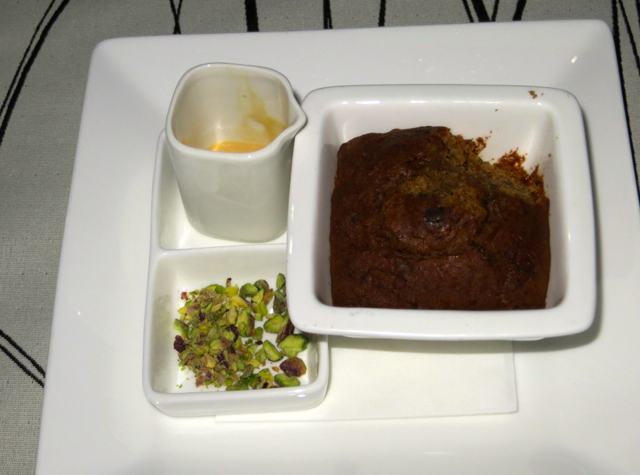 But my dessert, the chef's own special creation from chocolate, cookies and cream molded into a pudding, was incredible–hands down the best chocolate dessert I've had on a flight, and so good that about 7 hours later I ordered another one.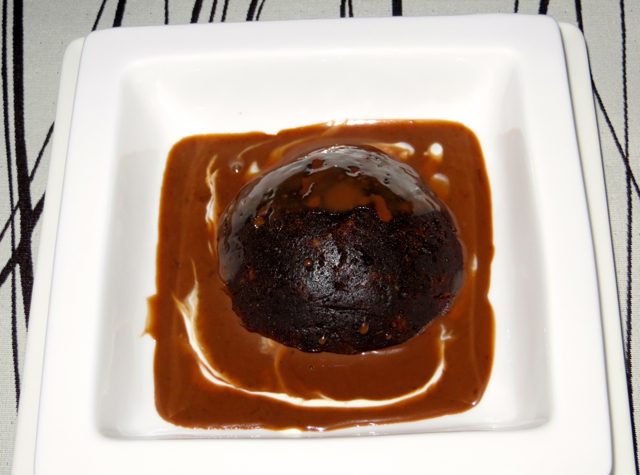 After our filling lunch, I decided to do some work. Etihad provides complimentary WiFi for first class passengers via T-Mobile, and it was straightforward to enter the provided code and get online. I was pleasantly surprised that it worked as well as it did–Web pages rendered quickly.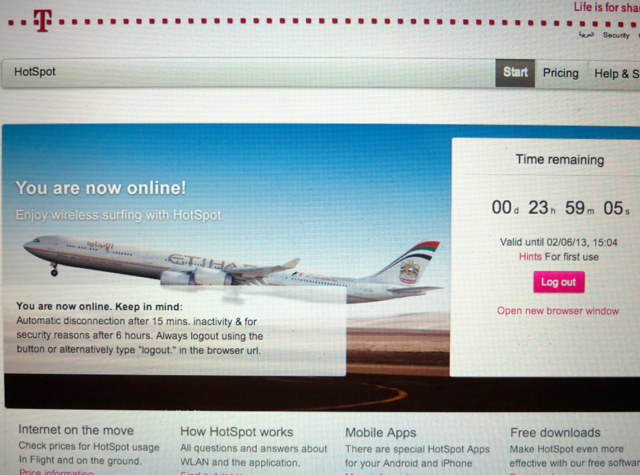 Eventually I decided to get some rest. Etihad's pajamas for women are probably the most stylish I've seen–they're very soft, fit well, and are specifically made for women, not just a smaller version of their male pajamas. Best of all, you can change into them in a larger changing room toilet, with a place for hanging the pajamas.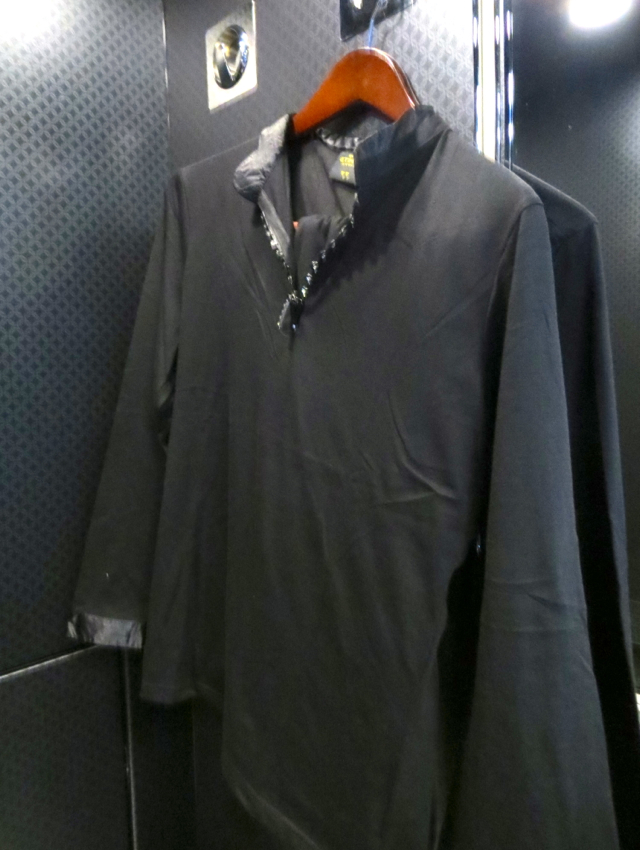 Meanwhile my seat was turned down into a fully flat bed: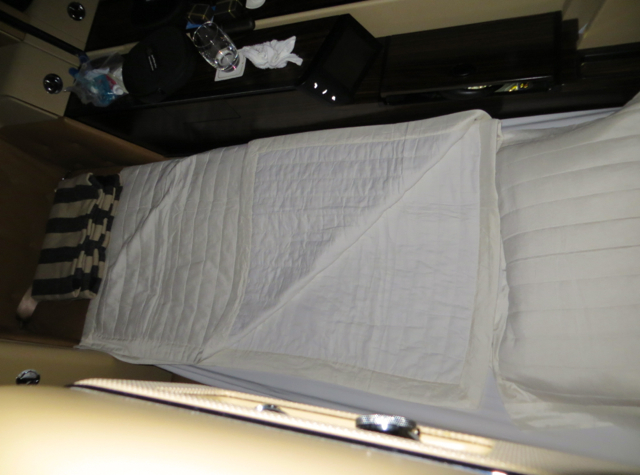 My husband of course was still keen to squeeze in as many movies as possible: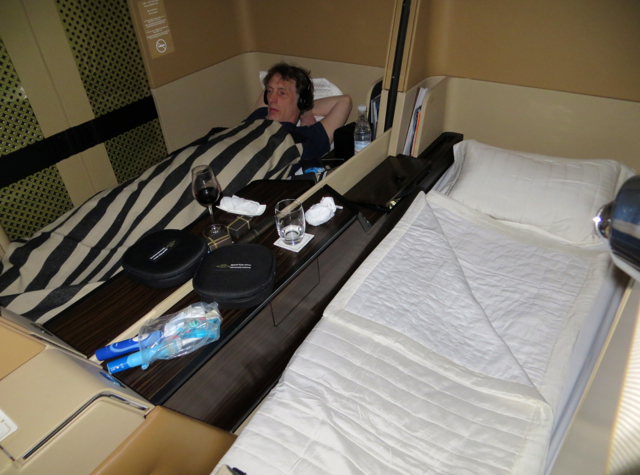 Lights had been dimmed, and there was even a "starry night sky" on the ceiling! Not exactly the Maldives, but I couldn't help but smile at this effect: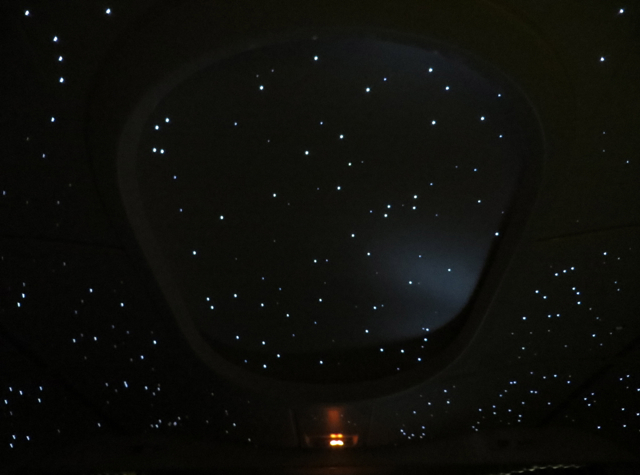 After a few hours of sleep, we were all up again and the munchkin in particular was hungry. I ordered a fruit plate for him, followed by a cheese plate. While the Brie and Blue Cheese were typical choices, I have to give bonus points for including Tete de Moine (literally, "monk's head")–it's one of my favorite cheeses, and I love how it's shaved so artfully.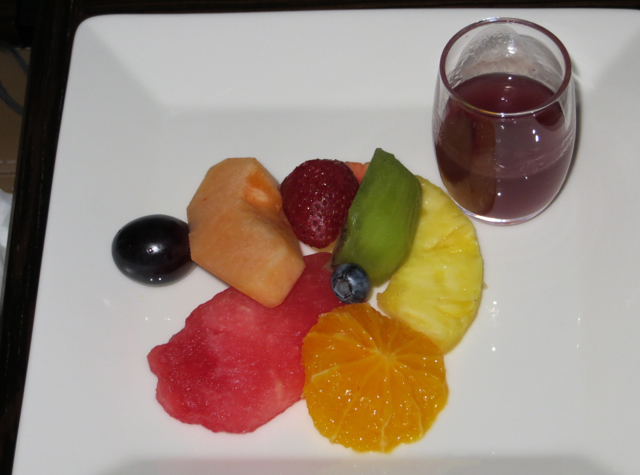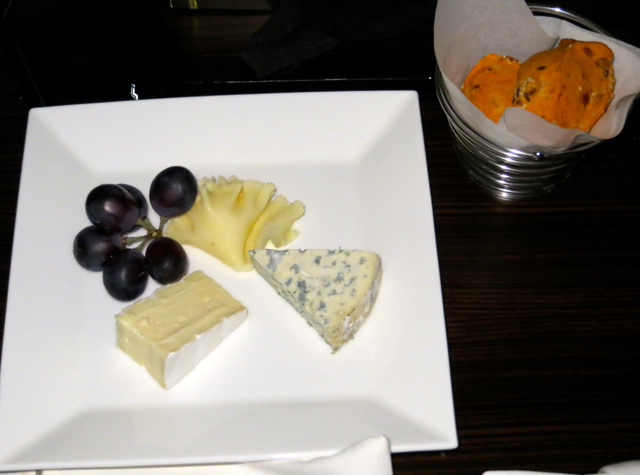 My husband decided to try the Parmesan Ravioli with Spicy Arrabiata Sauce, which was very good, with a nice kick to it: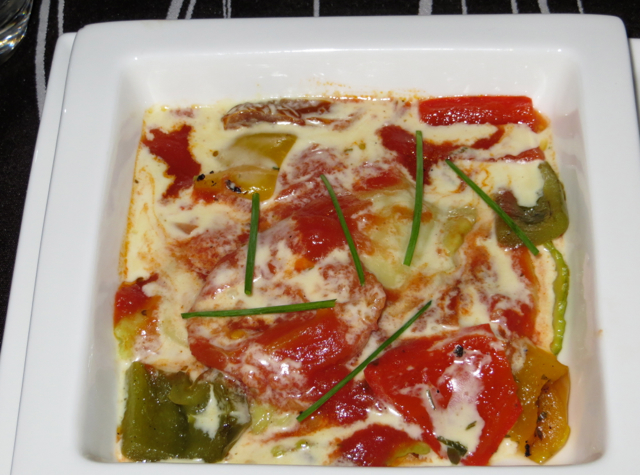 My main, the Grilled Fillet of Sea Bass, was a bit dry and wasn't quite what I had in mind for sea bass, but I figured fish was at least healthier than some of the other options.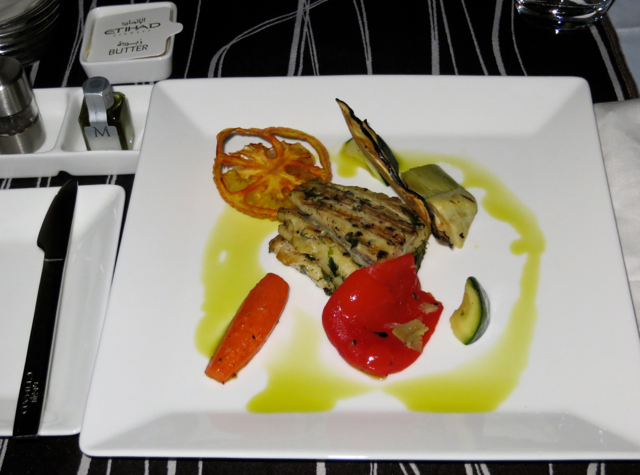 The munchkin and my husband shared the Quattro of Desserts, which consisted of caramelized pineapple clafoutis, banoffee pie, rock melon-blackberry shot, and ice cream. The caramelized pineapple clafoutis was especially good, although my dessert vote still goes to the Chef's Special Chocolate Dessert that I had.
When the munchkin insisted about a couple hours later, soon before our descent, that he was still hungry and wanted some yogurt, the crew were happy to oblige with some plain yogurt and jam: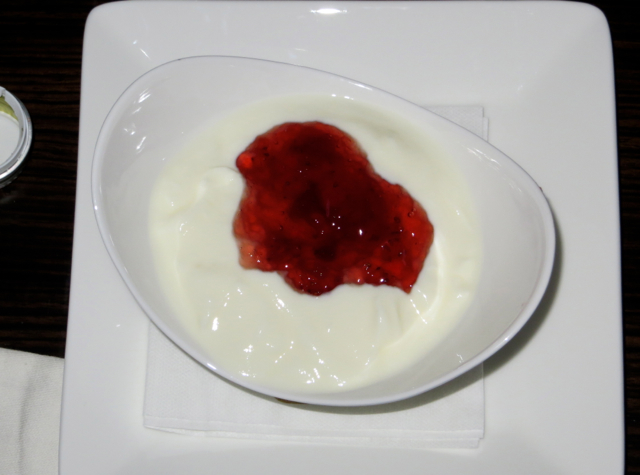 The only real issue I had during the flight was that my headphones didn't work. Initially the purser thought it was my IFE, and restarted it, but as it turned out to be the headphones, I simply got a pair from one of the other vacant suites. It would be nice if this and other seat equipment was tested prior to the flight, however.
One of the great perks of flying Etihad First Class or Etihad Business Class is Etihad Chauffeur, which provides complimentary car service to and from the airport. Remember to reserve this service prior to your flight. Once we arrived in JFK, after clearing passport control (thank you Global Entry!) and customs, we proceeded to the Etihad Chauffeur Desk, and the dispatcher told us where our car was waiting for us. Our driver was very courteous and it was a much nicer ride than we usually have back home.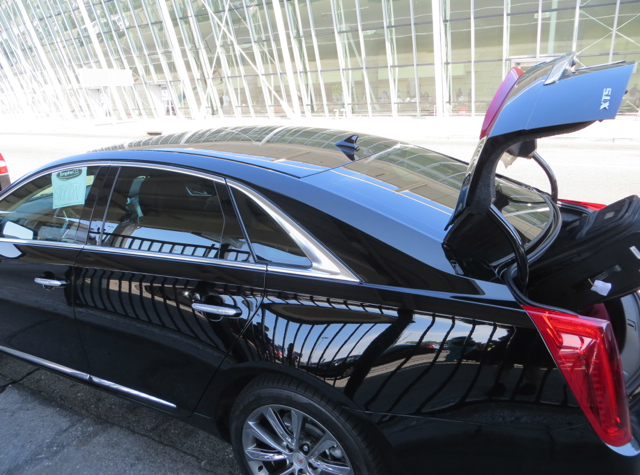 The Verdict: The Etihad First Class Suites have visual appeal, and it is nice to have more privacy when sleeping, but I actually prefer the Cathay Pacific First Class suites and cabin, with just 6 seats and a wider, more padded seat. We did enjoy having the on-board chef, who in our case added not just his own special creations to the menu (I still want the recipe for that decadent chocolate dessert) and a very friendly, outgoing personality that immediately put us at ease and helped us feel well taken care of. Food was well prepared, and there were plenty of choices for both food and beverages. I liked the women's pajamas the most of any first class cabin I've been in, and complimentary WiFi and Etihad Chauffeur are great perks that help differentiate Etihad's First Class product from many others.
If you've flown Etihad First Class, what was your experience?
Related Posts
Etihad First Class Lounge Review Abu Dhabi
Use American AAdvantage Miles for Etihad First Class
Etihad Business Class Review Male to Abu Dhabi
Complimentary Chauffeur Airport Transfers: Which Airlines and Hotels?
Need Award Booking Help? Our fee is as low as $75 per ticket if you book your hotel through us.
If you enjoyed this, join 90,000+ readers: please follow TravelSort on Twitter or like us on Facebook to be alerted to new posts.
Become a TravelSort Client and Book Your Hotel with Virtuoso or Four Seasons Preferred VIP Amenities!