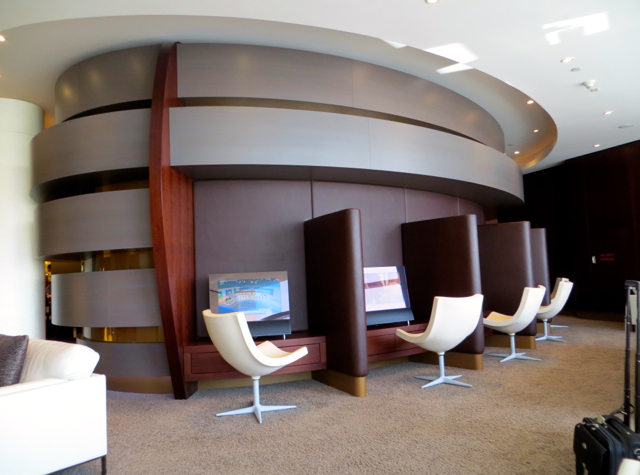 This Etihad First Class Lounge in Abu Dhabi Review is part of a Maldives trip report including Qatar Business Class, Etihad Business Class, Etihad First Class and the Park Hyatt Maldives. For prior posts please see:
Review: American Airlines Flagship Lounge in NYC, JFK
Review: Qatar Business Class NYC JFK to Doha
Review: Qatar Business Class Lounge, Doha
Qatar Business Class and Economy Class Review, Doha to Male, Maldives
Park Hyatt Maldives Hadahaa Review
Park Hyatt Maldives Island Grill Restaurant Review
Park Hyatt Maldives Water Villa Review
Park Hyatt Maldives Diving and Snorkeling
Park Hyatt Maldives Food and Menu
Park Hyatt Maldives Back of House Tour
Park Hyatt Maldives Interview with General Manager Julian Moore
Park Hyatt Maldives Activities: Top 10
Male: Plaza Premium Lounge Review
Etihad Business Class Review Male to Abu Dhabi
Yas Viceroy Abu Dhabi Hotel Review
We reached the Etihad First Class Lounge after a quick taxi from the Yas Viceroy hotel to the Abu Dhabi Airport and equally quick passport control and security. Since we already had our boarding passes from our check-in in Male, we didn't have that to worry about.
You take an elevator up to the second level, where there is reception for both Etihad's First Class and Business Class Lounges, as they are adjacent to each other: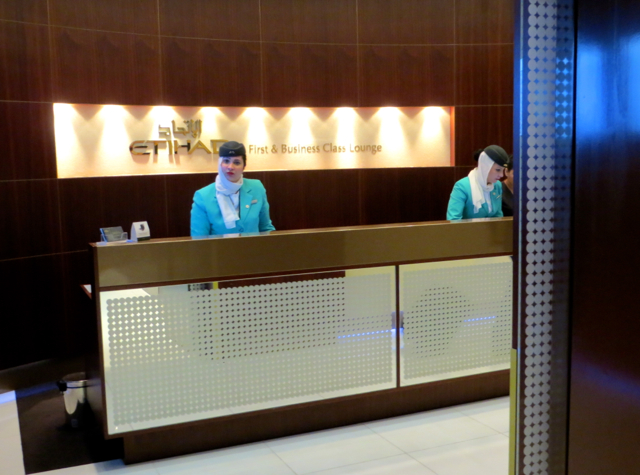 We presented our boarding passes, and were then led next door to the First Class Lounge Reception. I was a bit surprised at how crowded the first class lounge was, but it's also a function of how relatively compact it is. Because of this, I didn't feel comfortable taking as many photos as I otherwise would have.
On the right, after you enter, is a TV Lounge–it was largely empty while we were there, and it seemed to me the space was a bit wasted. It probably would have been better if Etihad had simply allocated more space to the Six Senses Spa, given how challenging it is to secure even a 15 minute massage appointment unless you arrive well before your departure time.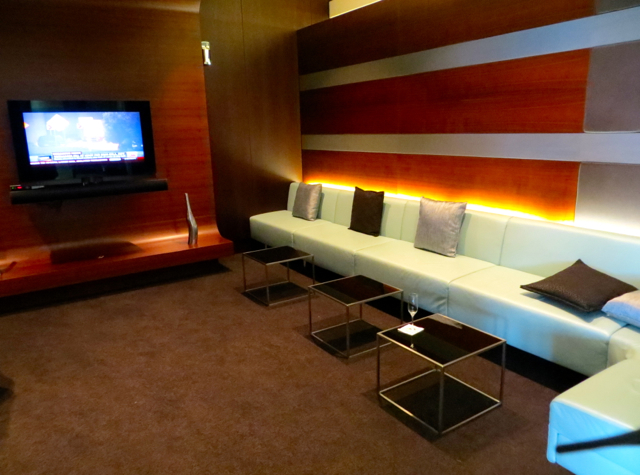 Straight in front of you is seating by the window. The seating is in white armchairs similar to the below, but as pretty much every seat was taken, I didn't take a photo of the entire area.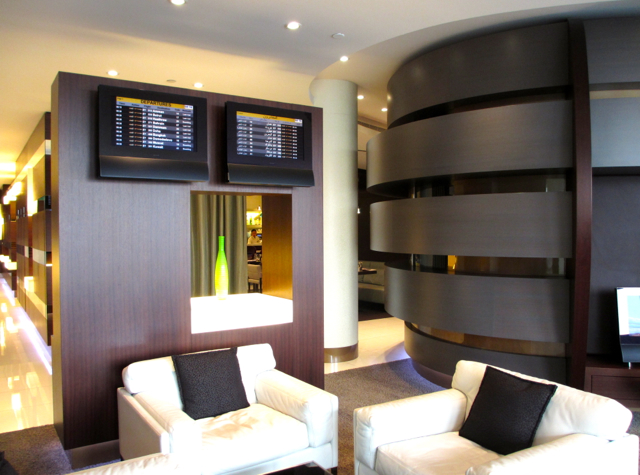 There were also individual TV "pod" seats (see first photo of this post)–again, under utilized, probably because everyone would be in front of a screen anyway on the flight itself for a good 14 hours.
I asked about the children's playroom, and as this is shared with the Etihad Business Class Lounge, it was outside the First Class Lounge and down the hall. If I thought the First Class Lounge was crowded–well, the Kids' Playroom was crazy crowded and because of this, pretty messy. Nevertheless, it did have legos, which my son was thrilled with and he happily ensconced himself and set to work building a lego recycling facility.
The Six Senses Spa initially told me that they were completely full, but they were nice enough to say they would do what they could to try to squeeze me in, should a therapist become available. In the meantime, I decided to check out the dining area, where there was seating near the kitchen.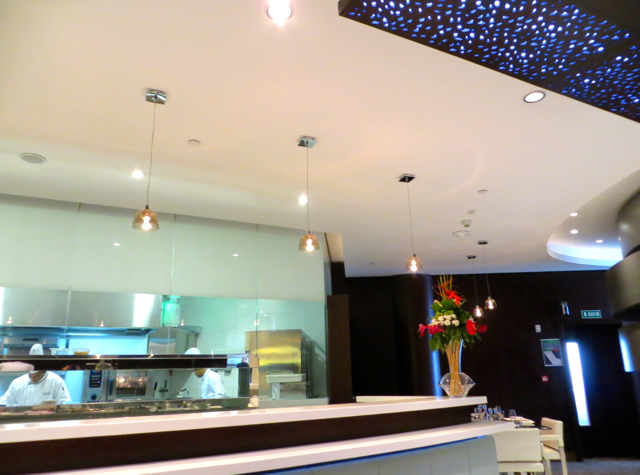 Here's the Etihad First Class Lounge breakfast menu: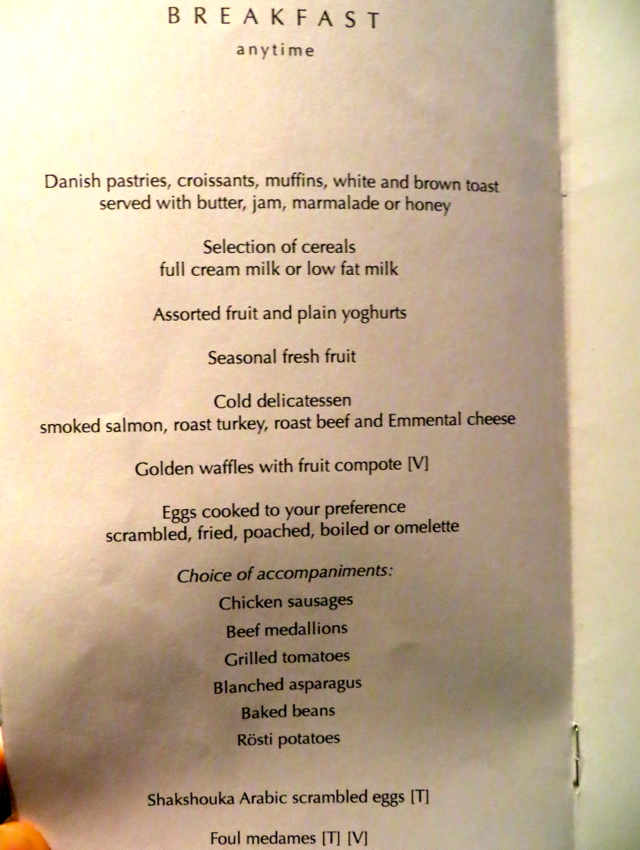 I'd purposely restrained myself at the sumptuous buffet at the Yas Viceroy so that I'd have room to sample something in the Etihad First Class Lounge, and I decided on a waffle with fruit compote. It was presented well and wasn't bad, but let's just say the Belgian waffles I make at home are much better. I didn't finish the waffle, although I did eat all of the fruit compote (although the apricots at the Yas Viceroy are much better).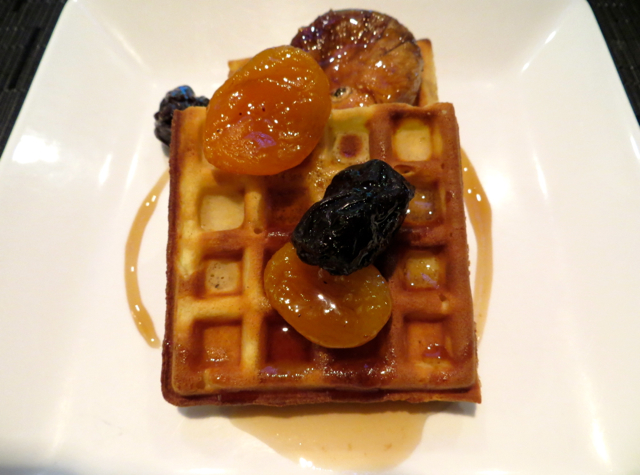 The cappuccino, however, was delicious, and came with a chocolate. Chocolates for breakfast…never a bad thing!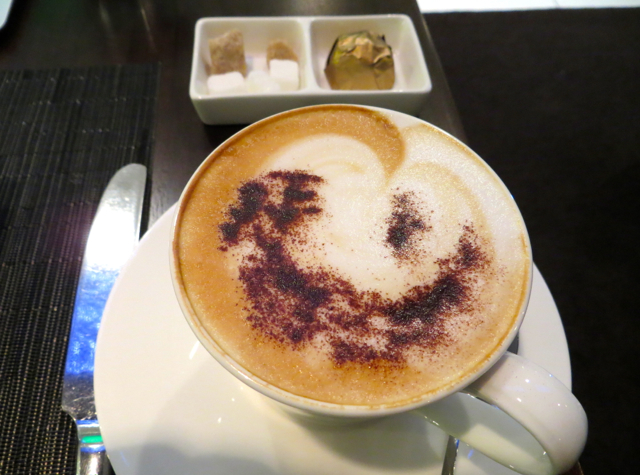 In case you're there at another time other than breakfast, here are the menus for grilled meats and the Taste of Arabia: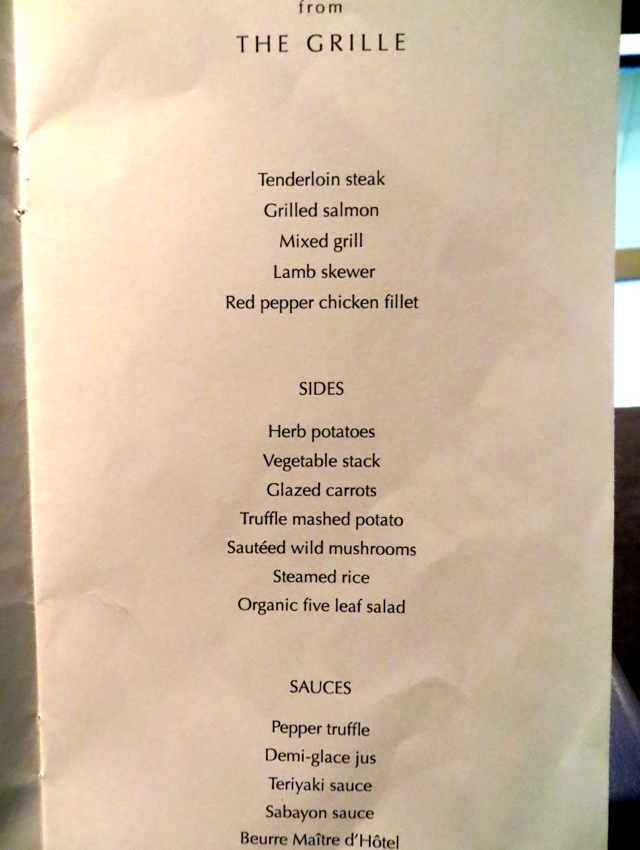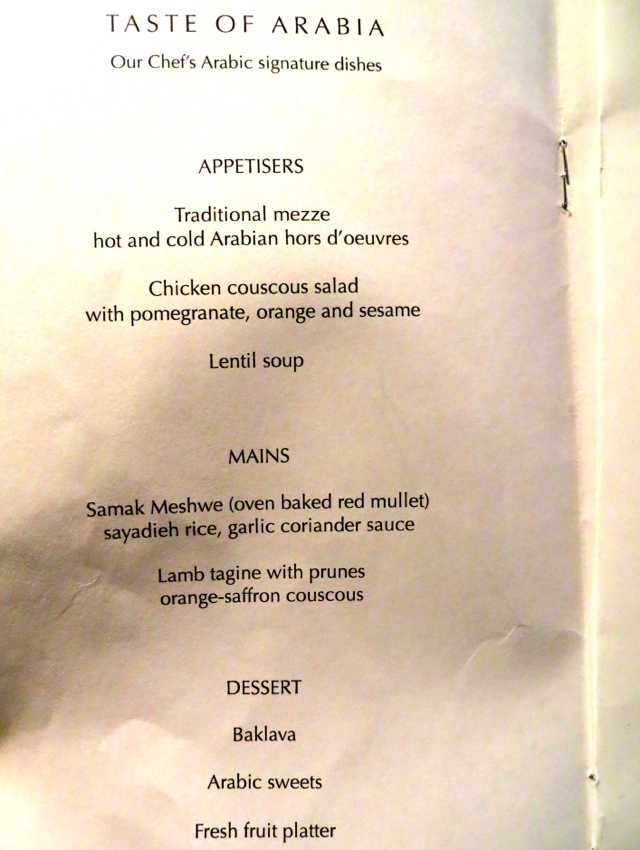 While I was finishing up, a Six Senses Spa attendant came to tell me that a therapist would be able to squeeze me in–yay! I proceeded to the spa and told the massage therapist how I had some significant pain in my neck and shoulder, probably a combination of sleeping wrong and computer work. I must say, I've never had a better short massage. Even before the 15 minutes were up, my flight was called, so we had to cut the session short, but even that 10 minute massage was incredible–the therapist was very skilled and applied strong pressure, just as I requested.
The Verdict: While I wasn't so impressed with the amount of lounge space, given how crowded it was, it was furnished nicely and service in the dining room and Six Senses Spa was attentive and courteous. I only sampled the waffle, so perhaps savory offerings are much better, but I wasn't impressed with my limited experience of the Etihad First Class Lounge food. WiFi worked fine when I was there for my purposes, although I've heard other reports of it being slow. The Kids' Lounge, shared with the Business Class Lounge, was way too crowded, although adults probably mind this more than the kids. The highlight for me by far was the Six Senses Spa, even though I only managed a 10 minute treatment before catching my flight.
If you've been to the Etihad First Class Lounge in Abu Dhabi, what was your experience?
Related Posts
Use American Airlines AAdvantage Miles for Etihad First Class
Etihad Business Class Review Male to Abu Dhabi
Park Hyatt Maldives Hadahaa Review
Best Luxury Hotels in Abu Dhabi
Yas Viceroy Abu Dhabi Hotel Review
Need Award Booking Help? Our fee is as low as $75 per ticket if you book your hotel through us.
If you enjoyed this, join 90,000+ readers: please follow TravelSort on Twitter or like us on Facebook to be alerted to new posts.
Become a TravelSort Client and Book Your Hotel with Virtuoso or Four Seasons Preferred VIP Amenities!