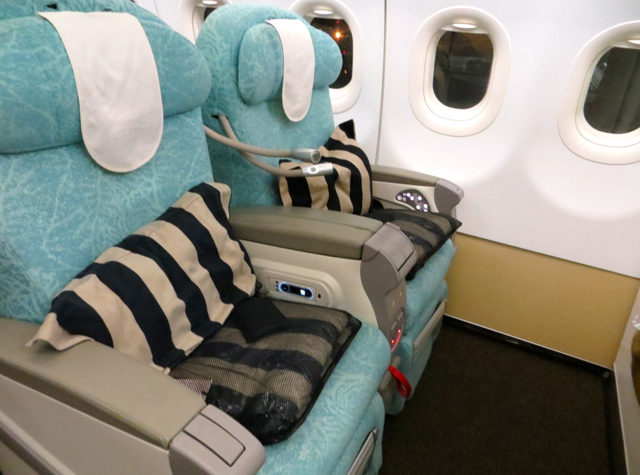 This Etihad Business Class Male to Abu Dhabi review is part of a Maldives trip report including Qatar Business Class and the Park Hyatt Maldives. For prior posts please see:
Review: American Airlines Flagship Lounge in NYC, JFK
Review: Qatar Business Class NYC JFK to Doha
Review: Qatar Business Class Lounge, Doha
Qatar Business Class and Economy Class Review, Doha to Male, Maldives
Park Hyatt Maldives Hadahaa Review
Park Hyatt Maldives Island Grill Restaurant Review
Park Hyatt Maldives Water Villa Review
Park Hyatt Maldives Diving and Snorkeling
Park Hyatt Maldives Food and Menu
Park Hyatt Maldives Back of House Tour
Park Hyatt Maldives Interview with General Manager Julian Moore
Park Hyatt Maldives Activities: Top 10
Male: Plaza Premium Lounge Review
We flew Etihad for our return from the Maldives, since it's just 1 stopover in Abu Dhabi, with Male-Abu Dhabi in Business Class and Abu Dhabi to New York JFK in First Class. At Male Airport, our check-in was in a very empty waiting area.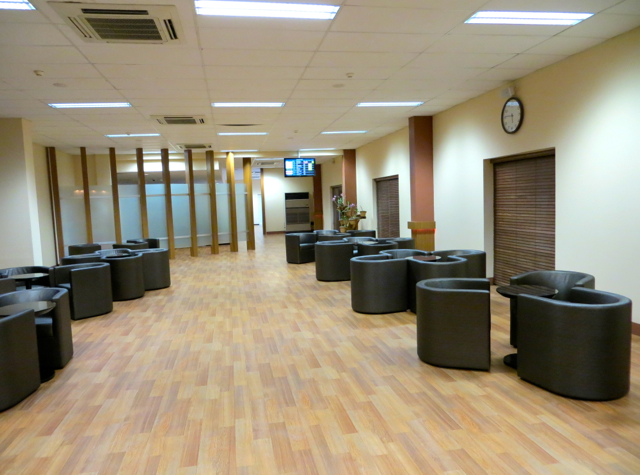 A gracious agent took our passports behind the screen, where the luggage belt also was. It seemed to take a very long time to process our check-in, but eventually she reappeared with our boarding passes and invitations to the Plaza Premium Lounge.
Our Etihad flight was announced in the Plaza Premium Lounge, and we all proceeded down some stairs to the gate, and from there out onto the tarmac. Here's our Etihad plane, an A320: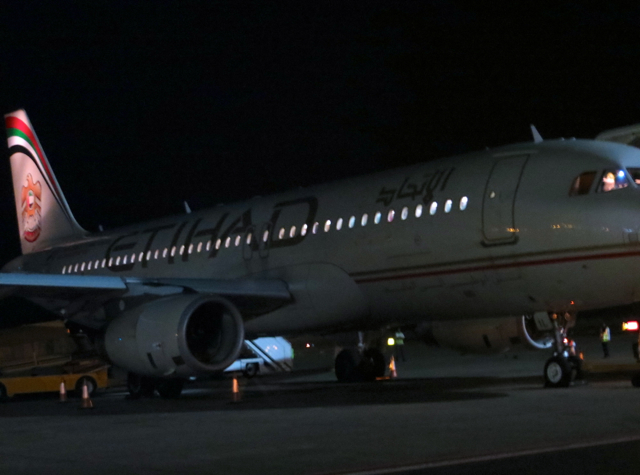 We ascended the stairs and were welcomed by the international crew. We were seated in the bulkhead. My husband was in seat 1B, although no one was in 1A, so he had plenty of space to himself (see first photo in this post).
The munchkin happily ensconced himself in Seat 1F: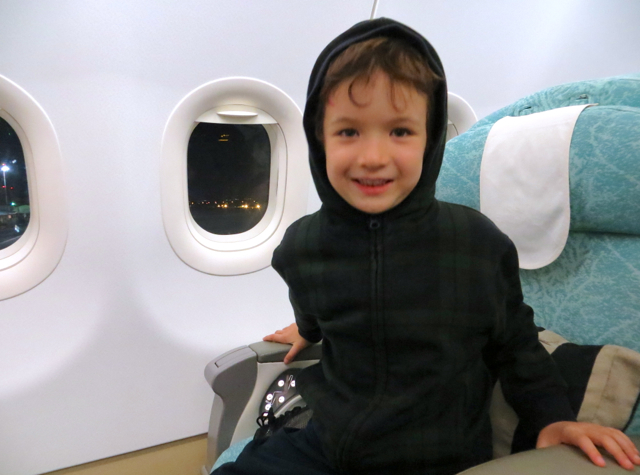 The seats are recliners, which were fine for relaxing, and the munchkin even managed to get some sleep in his, although I'd never be able to sleep in these seats. Good thing I booked a hotel for our overnight in Abu Dhabi.
We were presented with a cool towel and, for a pre-departure beverage, some of the best fresh squeezed orange juice I've ever had on a plane: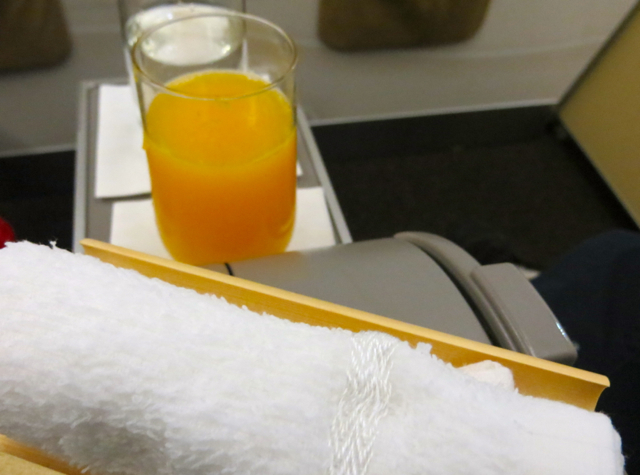 We departed on time, and once we reached cruising altitude we were asked if we'd like to begin with a drink. I opted for water. A small dish of mixed nuts and dried fruit was served–I liked the pistachios, although the dried fruit was no match for the plump Turkish apricots offered in the Qatar Business Class Lounge in Doha.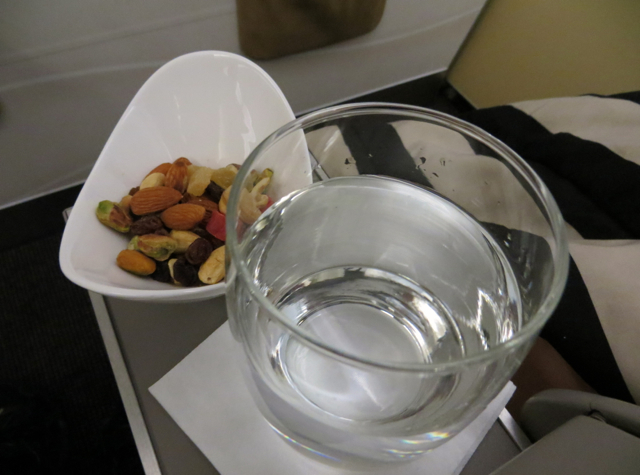 I chose the Arabic Mezze for an appetizer. The dolmas were nothing special, but the silky smooth hummus (served in a tart shell) was excellent.
For main, I was quite hungry, not having eaten anything except fruit in the Plaza Premium Lounge, so I chose the beef tenderloin. It was tender and satisfying, served with potato puree and broccoli, if not particularly memorable.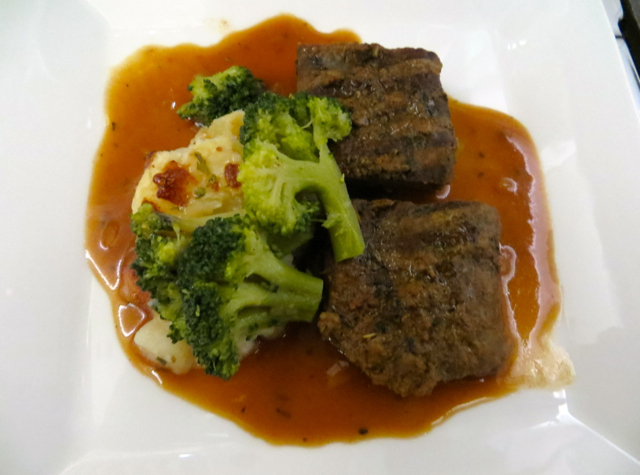 My husband just wanted a snack, so he went with the cheese plate, which included generous slices of Brie, Stilton and Cheddar, served with a bunch of grapes. Strangely it didn't come with bread, or the attendants forgot it, so I gave him some of my foccacia. It was probably very good when fresh, but was a bit on the dry side.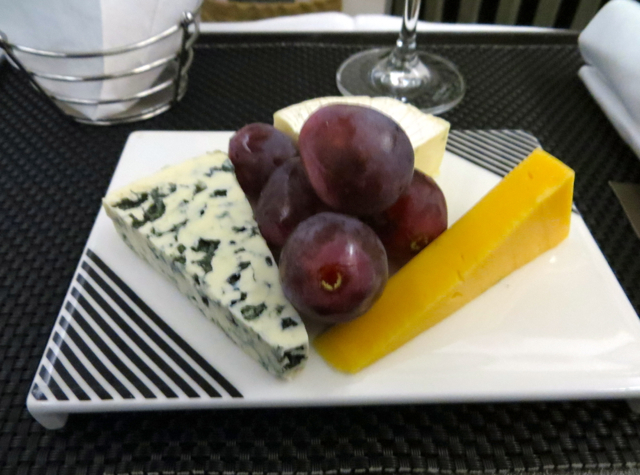 The highlight of the food was actually the Providore natural ice cream. Not the strawberry flavor, but a more unusual, slightly nutty flavor whose name escapes me–it was a fruit or nut that I'd never heard of before. Delicious–and I should have written it down, not that I'd be able to find it, even in NYC.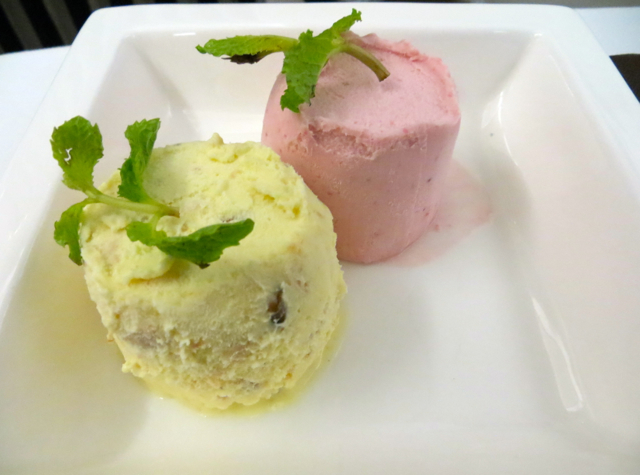 I also very much enjoyed the Moroccan Tea, served with fresh mint, sugar cubes and a chocolate: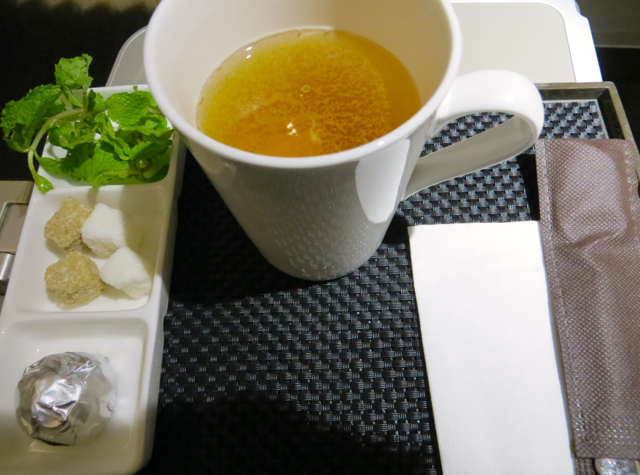 The bathroom was at the front of the plane, to the left, and was small and plain, but clean.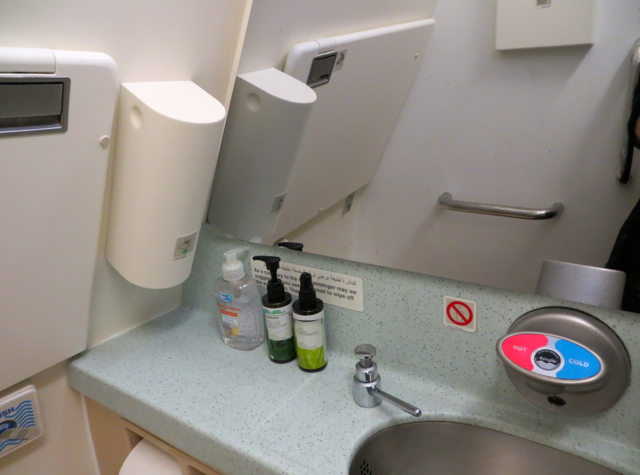 The Verdict: While the recliner seats were nothing to write home about, as expected, service was good on this short 4 hour or so flight, from helping us settle in and stow bags, through drink and meal service, apart from no bread offered for the cheese plate. My husband, who is of Czech extraction, enjoyed briefly speaking with the friendly Czech flight attendant, Robert, and other attendants were friendly as well.
There wasn't an amenity kit per se, just socks, eyeshades and ear plugs in a small cloth bag, along with the very comfortable duvet and pillow. Etihad Business Class is a good option on this route into and out of Male, even if it can't compare to their long haul business class let alone first class products.
Related Posts
Park Hyatt Maldives Hadahaa Review
Park Hyatt Maldives Diving and Snorkeling
Park Hyatt Maldives Back of House Tour
Need Award Booking Help? Our fee is as low as $75 per ticket if you book your hotel through us.
If you enjoyed this, join 90,000+ readers: please follow TravelSort on Twitter or like us on Facebook to be alerted to new posts.
Become a TravelSort Client and Book Your Hotel with Virtuoso or Four Seasons Preferred VIP Amenities!