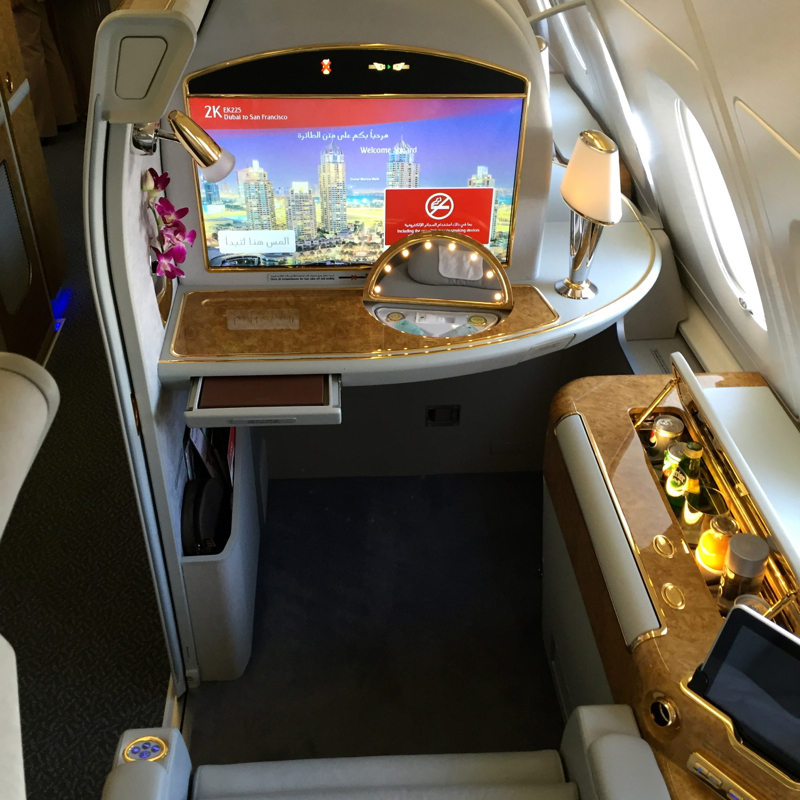 This Emirates A380 First Class Review is part of a trip report including luxury resorts in the Maldives, such as Four Seasons Landaa Giraavaru and Soneva Fushi, as well as Etihad First Class and Japan Airlines First Class.
For the prior posts, please see:
Review of Etihad's Lounge at Washington Dulles Airport (IAD)
Etihad First Class 787-9 Dreamliner Review
Review: Wingtips Lounge JFK for Etihad First Class Passengers
Review: Etihad First Class 777-300ER NYC to Abu Dhabi
Review: Etihad Business Class Lounge Abu Dhabi AUH Terminal 1
Four Seasons Maldives at Landaa Giraavaru Review
Four Seasons Maldives at Landaa Giraavaru Restaurant Reviews and Menus
Four Seasons Maldives at Landaa Giraavaru Activities: Top 10 Things to Do
Interview with Armando Kraenzlin, General Manager of Four Seasons Maldives at Landaa Giraavaru
Review: Four Seasons Maldives at Kuda Huraa
Surfing in the Maldives at Four Seasons Kuda Huraa
Review: Four Seasons Maldives at Kuda Huraa Sunset Water Bungalow
Four Seasons Maldives at Kuda Huraa Restaurant Reviews and Menus
Four Seasons Maldives at Kuda Huraa Activities and Top Things to Do
Soneva Fushi Maldives Activities and Things to Do
Soneva Fushi Breakfast, Ice Cream Room, Chocolate Room and Cheese Room
Fresh in the Garden, Soneva Fushi Restaurant Review
Trans Maldivian Airways Seaplane Review
Conrad Maldives Rangali Review: Beach Villa
Conrad Maldives Restaurant Menus and Review
Review: Conrad Maldives Superior Water Villa
Conrad Maldives Activities and Top Things to Do
Emirates First Class Lounge Dubai Review
Emirates First Class Cabin and Seat Selection
Emirates First Class on the A380 is a large cabin, with 14 first class closed suites on the upper deck. As usual, I'd recommend not selecting seats in the very first row (1A, 1E, 1F and 1K) or the last row (4A and 4K) if you can avoid it. Solo travelers will likely prefer window seats 2A, 2K, 3A or 3K, while couples who want to be able to easily talk to each other will want 2E and 2F, or failing that, 3E and 3F.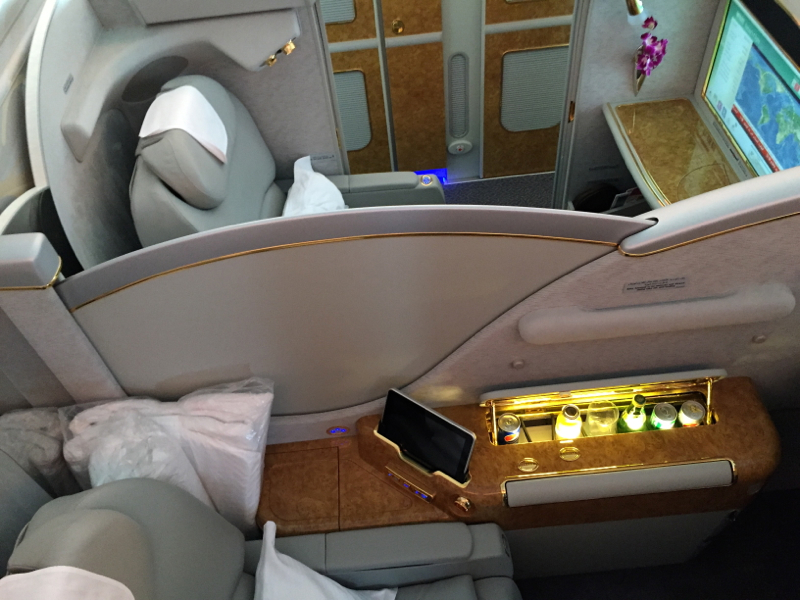 Emirates First Class Seat
I was flying from Dubai to San Francisco for a 16-hour flight, so I was very much looking forward to a beginning-to-end First Class experience, especially after thoroughly enjoying the luxury of the Emirates First Class lounge (mini-airport) in Dubai. The flight attendant greeted me by name upon boarding, and offered a drink. Because it was the morning, I asked for a simple glass of water, and was given various options (flat or bubbles, room temperature or cold).  My seat was #3K by the window.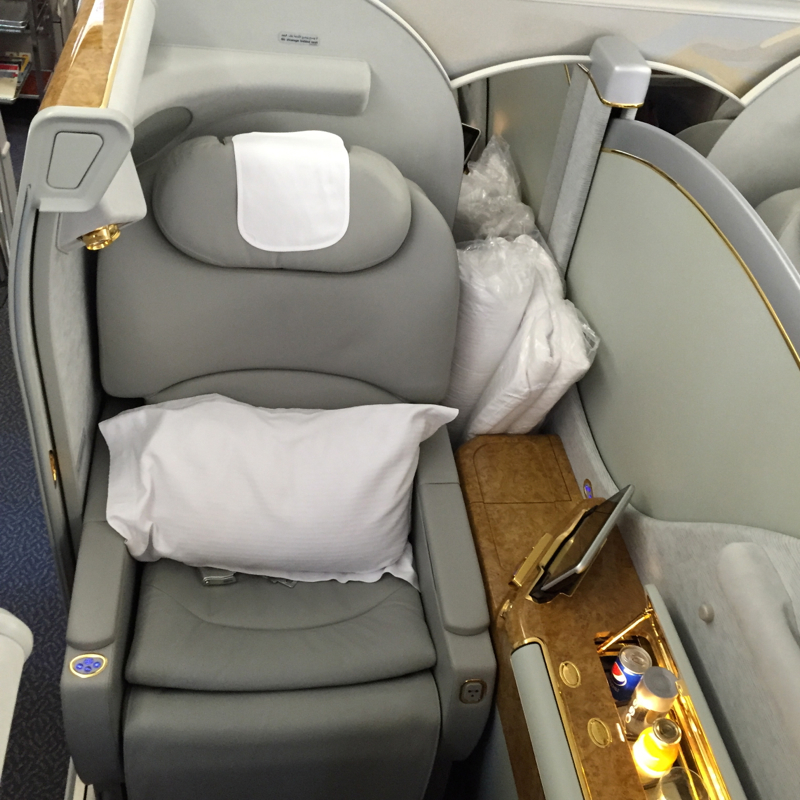 The design embellishments of this First Class flight really are quite unique: I felt like I was in a women's bathroom at a high-end Las Vegas casino. In front of the chair is a little desk/entertainment system/cosmetics counter featuring not one but two metallic gold lamps, a floral arrangement, a little basket of junk food, and a vanity mirror. While to the right of the seat, built into the window console is a mini-bar, stocked with soda, water and juice. Depending on your taste, this arrangement is either delightfully handy or gaudily garish.
Immediately after settling in, I was shown how my chair could be controlled by the usual console, or by an iPad that docked next to my seat. I don't care much for iPads, so I found having one always knocking about was generally a nuisance. But I suppose if you are someone who has a hard time remembering your name and address without using an iPad then this might be an important accessory for you. In quick succession I was next offered a newspaper, a date, Arabic coffee, a magazine, and a hot towel. My flight was delayed on the ground for about an hour so I enjoyed the date and coffee, and warily eyed the Toblerone bar in my basket of junk food.
Emirates First Class Pajamas, Amenity Kit and Slippers
I loved the pajamas, which have become my go-to pajamas I wear at home. The extra large size is long enough for me, and the fabric is very soft and warm, but breathes well. The amenity kit isn't something I used on the plane, but it was in a handsome leather case and included Bulgari amenities.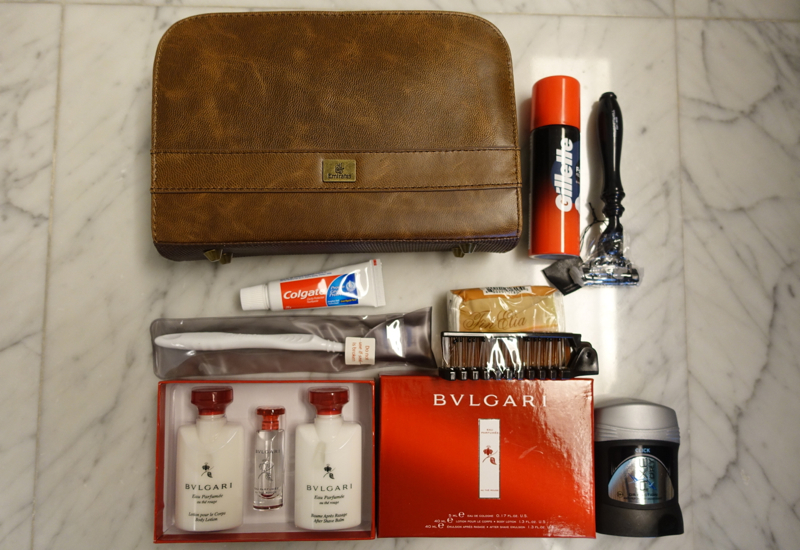 Emirates First Class Menu and Food
Before take-off, we were presented with a menu and wine list. Here are the main course menu options for my flight: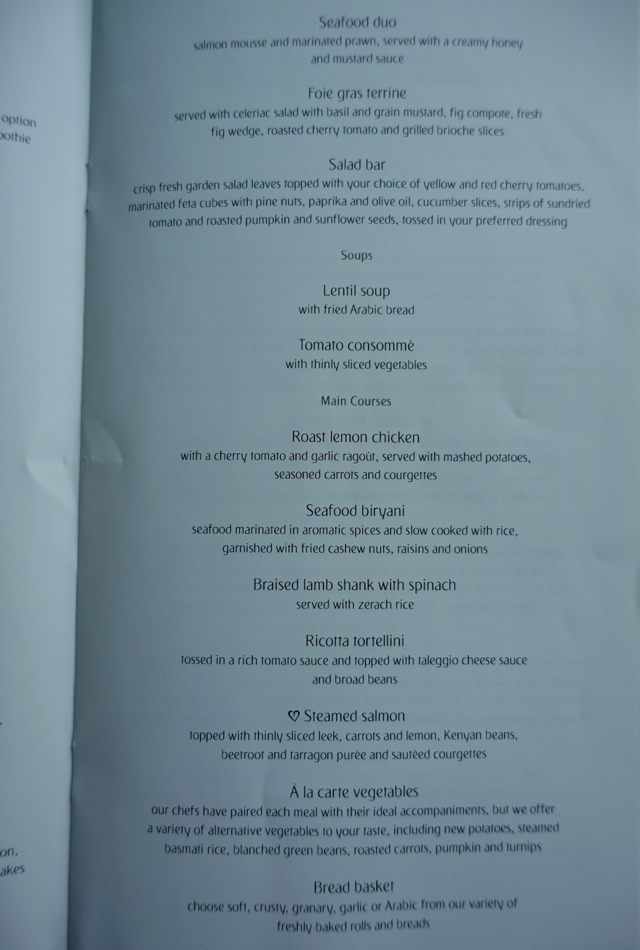 After the initial Arabic coffee and date, I chose to have breakfast shortly after takeoff.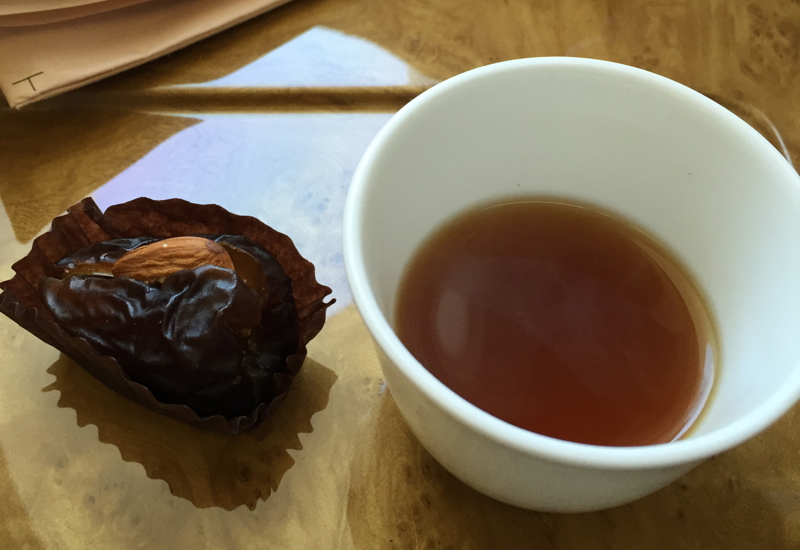 I ordered the Gruyere omelette, which was quite good. Unfortunately, the mushroom corn fritters were not very fresh, and were rather soggy and limp. On the other hand, the baked beans were spicy and rather tasty, and the roasted tomato was sweet and juicy. The bread basket was too much bread and not enough pastry for my sweet tooth, and even the almond pastry and croissant were pretty bland.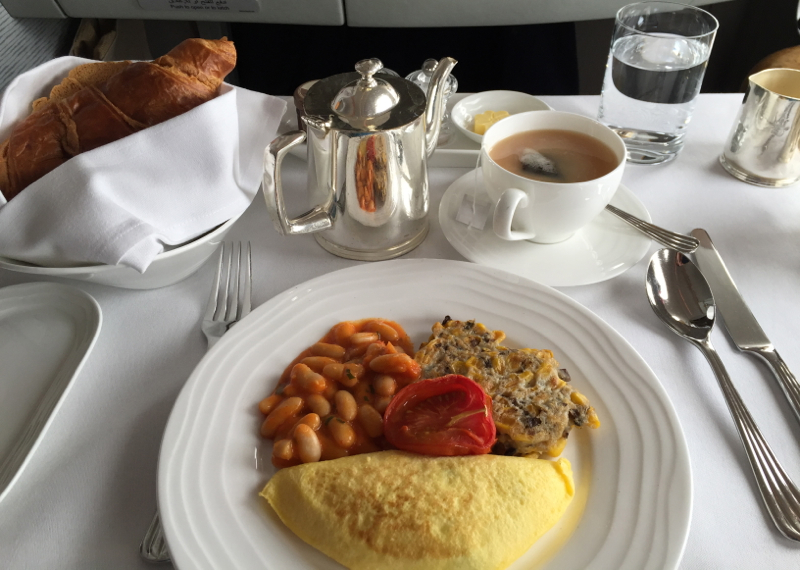 After watching my first film, I asked for the caviar plate, which was very satisfying.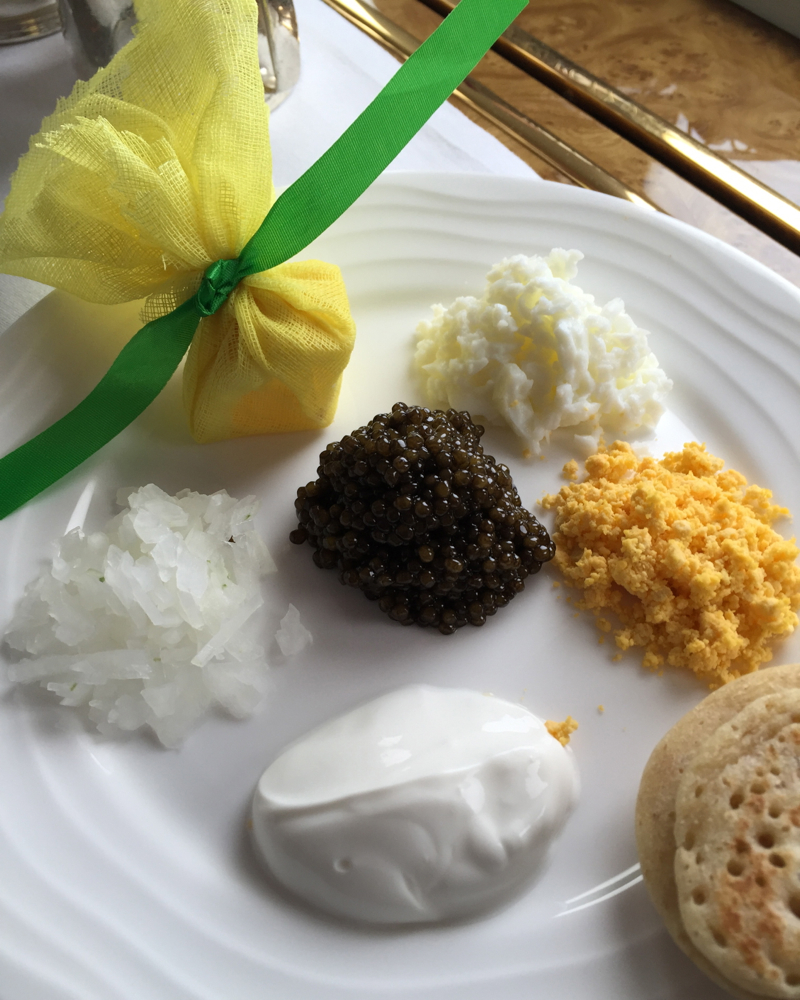 Later, a box of Godiva chocolates was brought with a fresh towel, which were both welcome.
When I asked to have my bed made up, I returned to my seat to find a small fruit plate waiting for me, which I chose to neglect, having already brushed my teeth.  After I awoke from an 8-hour sleep, I ordered the fois gras terrine with glass of 2004 Dom Perignon. The fois gras was very good, with half fig and chutney, but the accompanying bread was again too limp and not crisp, while the tomato and celery salad were better.
For my main course I ordered the braised lamb shanks, which was another disappointment: too tough, chewy and dry. The spinach side was better, but the rice was tasteless.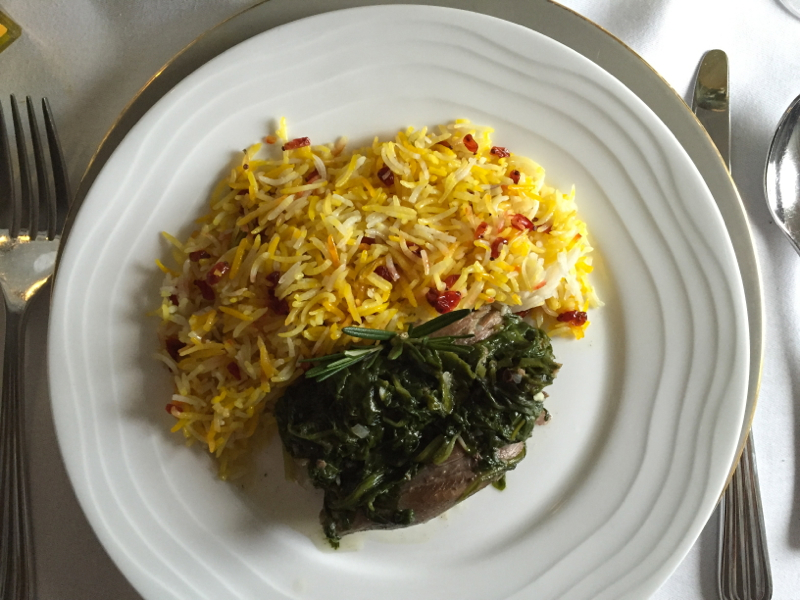 The dessert at least was better—I ordered the chocolate cheesecake, which somewhat salvaged the meal.
Emirates First Class Bed and Sleep Quality
While I headed off to the bathroom, I asked the attendant to prepare my bed. With the added pad, the bed was relatively soft. The area for the head is slightly raised, which I liked. I slept very soundly for about 8 hours, and had plenty of room to lie flat, even at my height of about 6 feet 5 inches.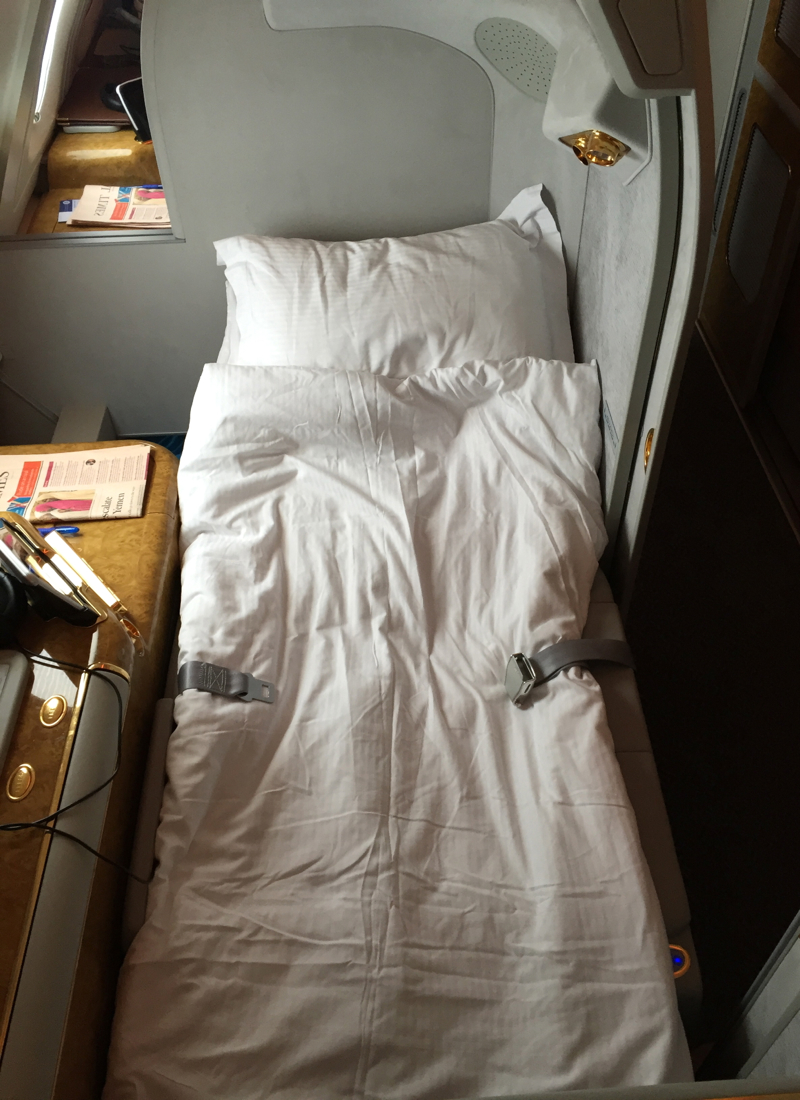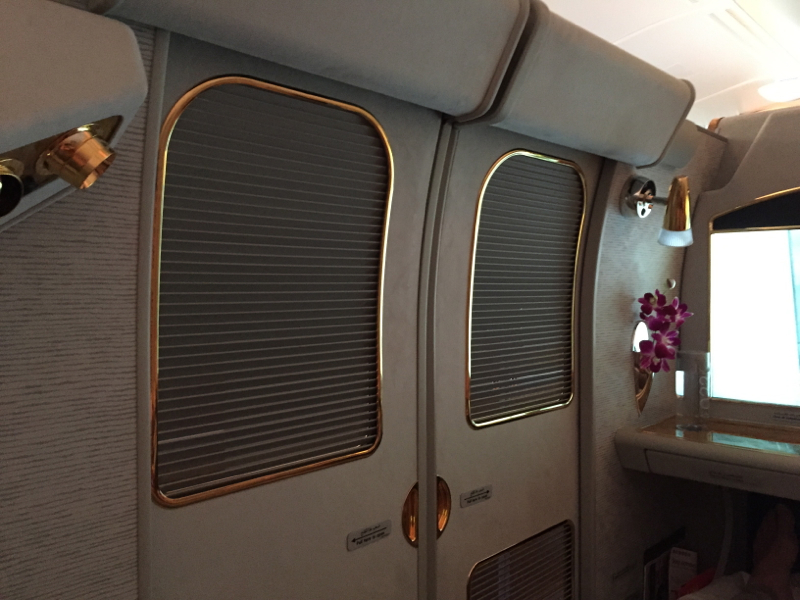 Emirates First Class Shower and Bathroom
I have to admit: the shower was heavenly. After having been airborne for 12 hours, a nice, hot shower is an exceptional feature. The bathroom was very spacious, and was always kept perfectly organized and spotless. Even the floor was heated! The staff were very helpful in explaining how the shower worked (5 minutes maximum) and in directing me to the amenities.  The water pressure was good. A delightful experience.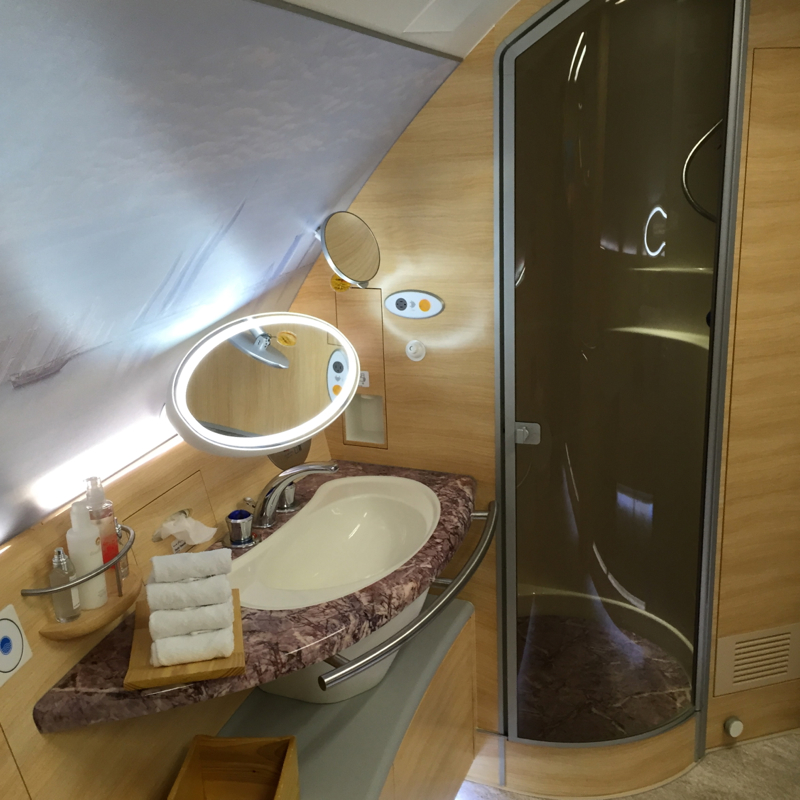 Emirates In Flight Entertainment
There was an abundant offering of in-flight films, which were usefully catalogued by film category and language. There was world cinema, new movies, film club, scary movies, Arabic cinema, Bollywood, Indian regional, classic, Disney, etc., in dozens of languages. I watched Liam Neeson and then Pierce Brosnan separately try to pretend that each is still young enough to play a tough guy and/or romantic spy. I also watched Guardians of the Galaxy, which was wonderfully entertaining, especially the talking raccoon and walking tree (who are pals). The noise-cancelling headphones were quite comfortable, even after those three full-length films.
The service was quite good. Whenever I pressed the service button, someone arrived in about five seconds. The attendants were always cheerful and very gracious, and I found it very easy to help them understand my wants, which is not always the case.
The overall experience was not quite the beginning-to-end flawless luxury I had hoped for, but the shower was an amazing experience and the overall comfort of the chair/bed help me to forget some of the shortcomings, such as the food quality and questionable design elements.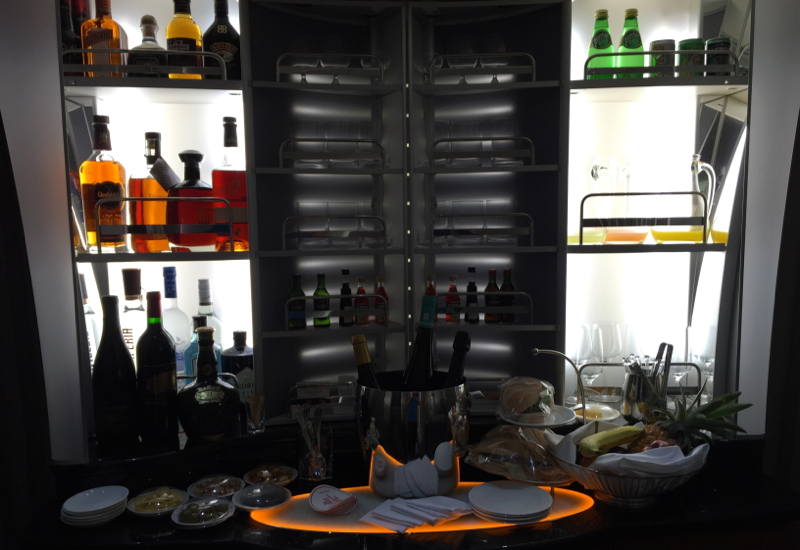 If you've flown Emirates First Class on the A380, what was your experience?
Related Posts
Emirates First Class Lounge Dubai Review
Emirates First Class A380 Review
Emirates A380 Flights to San Francisco and Houston Start December 2014
SPG and Emirates Your World Rewards and FAQ
Review: Atmosphere Lounge at Burj Khalifa in Dubai
Need Award Booking Help? Our fee is as low as $75 per ticket if you book your hotel through us.
If you enjoyed this, join 200,000+ readers: please follow TravelSort on Twitter or  like us on Facebook to be alerted to new posts. 
Become a TravelSort Client and Book 5-Star Hotels with Virtuoso or Four Seasons Preferred Partner Amenities!