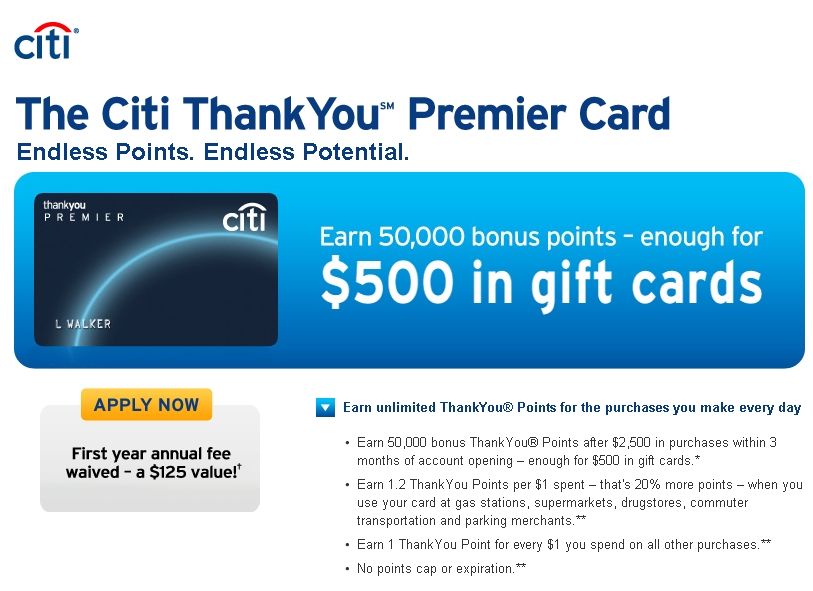 Updated: Although the first representative I spoke with confirmed this would start April 1, subsequent representatives have said "sometime in April." So date seems a bit uncertain, but it is coming.
I've long ignored the Citi ThankYou Premier Card and Citi ThankYou points, even though I see the ads for them anytime I walk through certain NYC subway stations, and when using Citi ATMs. Why? Because ThankYou points are fixed value points, similar to the Pay with Points program AMEX offers, which means you can't get much more than 1 cent per point in value-ho hum.
That's changing in April, when Citi will allow you to transfer ThankYou points 1:1 to British Airways Avios and to Singapore Airlines' KrisFlyer program. While in my view neither is as good a transfer option as the Ultimate Rewards points 1:1 transfer to United MileagePlus that the Chase Sapphire Preferred, Ink Bold Business Card and Chase Freedom cards offer, this is still good news for anyone that either has a lot of ThankYou points lying around or, as with me, is considering which Citi card to apply for next, having already earned a good number of American AAdvantage miles from the 75,000 mile signups last year.
British Airways Avios, while of course significantly devalued last year (see British Airways Avios: Goodbye First Class on Cathay, Hello Coach on American) nevertheless has some good value for short haul domestic flights, including Hawaii; business and first class on LAN to South America; flights from NYC to Montreal, and even some international premium class awards if you earned a BA Companion Ticket and can stomach the fuel surcharges. Now, there is currently a 50% AMEX Membership Rewards transfer bonus to British Airways Avios, so if you have good Avios redemptions in mind and lots of MR points, I'd definitely suggest maximizing that before transferring Citi ThankYou points. See 50% AMEX Transfer Bonus to British Airways Avios: Best Deals
Even though Singapore Airlines Business Class Awards are Bookable on United, if you have Singapore Airlines KrisFlyer miles you have access to award inventory that isn't released to United and other Star Alliance partners. The world's longest flight, Newark to Singapore, is bookable as a KrisFlyer Saver Award for 170,000, but with the 15% online booking discount, that's 144,500 miles, and this is the new business class product. For other KrisFlyer award tips, see Singapore Airlines' New Saver Awards
If you're thinking of applying for a Citi ThankYou card, the current best offer is the Citi ThankYou Premier Card, with a 50,000 point bonus and annual fee of $125 waived the first year (I don't get a referral for this link, but to my knowledge it's the best offer).
Should you apply? Here's our review:
Citi ThankYou Premier Card Specifics
50,000 bonus ThankYou Points after $2500 spend within the first 3 months
1.2 ThankYou Points per $1 spent at gas stations, supermarkets, drugstores, commuter transportation and parking merchants
1 ThankYou Point per $1 spent on everything else
Annual fee of $125 waived the first year (only with above link)
No foreign transaction fees
Earn one ThankYou Flight Point for every mile flown when airline tickets are purchased using your Card Account
Citi ThankYou Premier Card Pros
Slightly lower minimum spend to receive the bonus, compared to the Chase Sapphire Preferred minimum spend of $3000 within the first 3 months
No foreign transaction fees (same as Chase Sapphire Preferred and Ink Bold)
Citi ThankYou Premier Card Cons
Bonus categories (gas stations, supermarkets, drugstores, etc.) not as useful as "all travel and dining" of Chase Sapphire Preferred
Only 1.2 ThankYou Points for bonus categories: gas stations, supermarkets, drugstores, etc. vs. the 2 UR points per $1 of the Chase Sapphire Preferred for all travel and dining
Higher annual fee ($125 vs. $95 for Chase Sapphire Preferred)
Only 2 transfer partners as of April 1 (British Airways and Singapore Airlines) vs. more and better partner transfer options for Ultimate Rewards
ThankYou points won't transfer instantly; need to allow up to 7 business days for points to transfer to British Airways or Singapore Airlines, compared to Ultimate Rewards, which usually transfers instantly
Verdict: The Citi ThankYou Premier Card could be a nice card to get for the bonus, especially if you already have the Citi AAdvantage cards (or are waiting for a targeted offer/higher bonus). But in my view it won't earn the same place in my wallet that the Chase Sapphire Preferred has, due to the inferior bonus categories, only 1.2 points for bonus categories, inferior transfer options, and potentially non-instant point transfer.
There are also no annual fee ThankYou card options, such as the Citi Forward, which does offer 5 points per dollar spent on restaurants, books, movies and music…but it only comes with a 10,000 ThankYou Point bonus, so at least for me it's not close to being worth wasting an application on.
What are your thoughts? Do you already have ThankYou points that you plan to transfer, or plan to get the Citi ThankYou Premier for the 50,000 bonus?