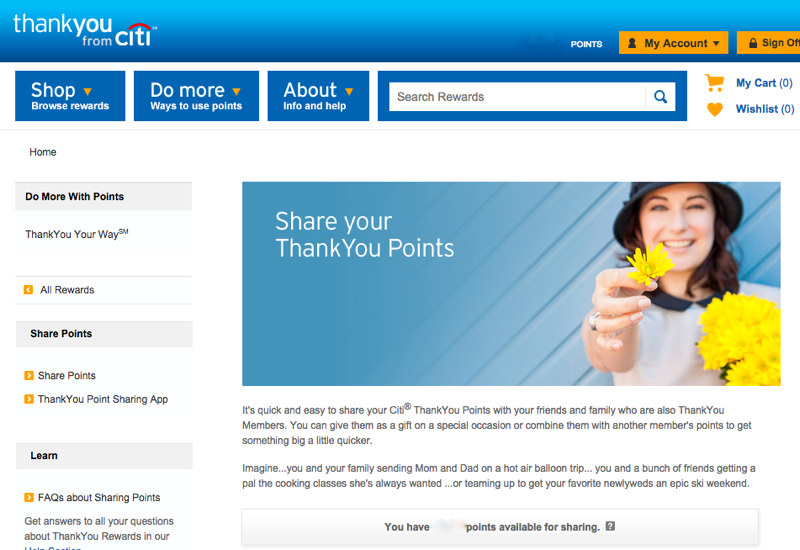 Can you transfer Citi ThankYou points to a family member's frequent flyer account or combine ThankYou points? TravelSort reader Sam writes "I got the Citi Prestige card to earn points that can transfer to Singapore KrisFlyer. When I go to the Citi ThankYou points screen, it hard codes my name so that I can only transfer points to my own Singapore KrisFlyer account. I want to transfer points to my husband's KrisFlyer account since he has more KrisFlyer miles–how do I do this?"
Citi ThankYou Points Direct Transfers to Frequent Flyer Accounts
Unlike Chase Ultimate Rewards points, which can be directly transferred to frequent flyer accounts in your name or your spouse's or domestic partner's name, Citi ThankYou points can only be directly transferred to frequent flyer programs in your name, so you'll see your name hard coded in the transfer points page.
You Can Share Points with Anyone with a Citi ThankYou Points Account
Fortunately, you can get around this restriction in points transfers to frequent flyer accounts IF the person with the frequent flyer account you want to transfer to also has a Citi ThankYou points account. In this case, you can share Citi ThankYou points. You'll need the person's full name and Citi credit card or Citi checking account number to do this. Shared points transfers are typically instant; if not, log out and log back in again.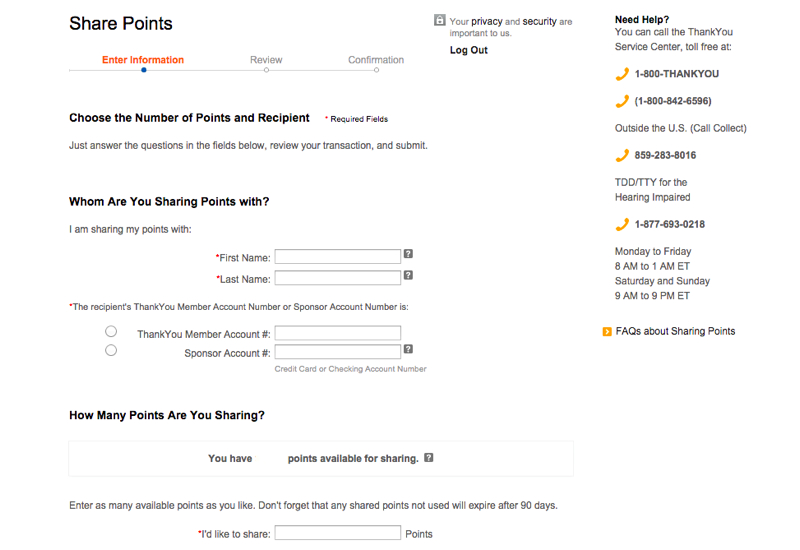 Shared Points Expire 90 Days After Sharing
It's important to remember that all shared ThankYou points expire after 90 days: so only share ThankYou points when the person you're transferring them to is about to redeem them, and ensure they understand the need to transfer or redeem them before the 90 day expiration.
Only ThankYou Points Earned from Citi Credit Cards are Eligible for Transfers and Sharing
If you're wondering why you can't transfer all your Citi ThankYou points, you may have points that were earned from Citi banking or given to you as a courtesy or as a bonus with no spend requirement. Those points are NOT eligible to be transferred or shared; only the points earned as signup bonuses or via spend on your Citi ThankYou cards such as the Citi Prestige or Citi ThankYou Premier.
How Long Do ThankYou points transfers take?
While Citi says to allow up to 14 days for points transfers to airline frequent flyer programs, fortunately the transfer times are usually much faster. In my experience, ThankYou points transfer to Singapore KrisFlyer within 1-2 Singapore business days. Anecdotal evidence from Flyertalk members for other programs:
Air France/KLM Flying Blue: 1-5 days
Cathay Pacific Asia Miles: 1 business day
Etihad Guest: 7 days
EVA Air: 1 business day
Virgin Atlantic Flying Club: 1 business day
If you've transferred or shared Citi ThankYou points, what did you redeem for?
Related Posts
Approved for Citi Prestige Card After Declined Message, No Reconsideration Call
Our 2015 Progress Towards 1 Million Frequent Flyer Miles and Points
100K Citi Prestige Card Bonus Offer (Targeted)
How to Decide to Close or Keep a Credit Card?
Need Award Booking Help? Our fee is as low as $75 per ticket if you book your hotel through us.
If you enjoyed this, join 200,000+ readers: please follow TravelSort on Twitter or like us on Facebook to be alerted to new posts.
Become a TravelSort Client and Book 5-Star Hotels with Virtuoso or Four Seasons Preferred Partner Amenities!