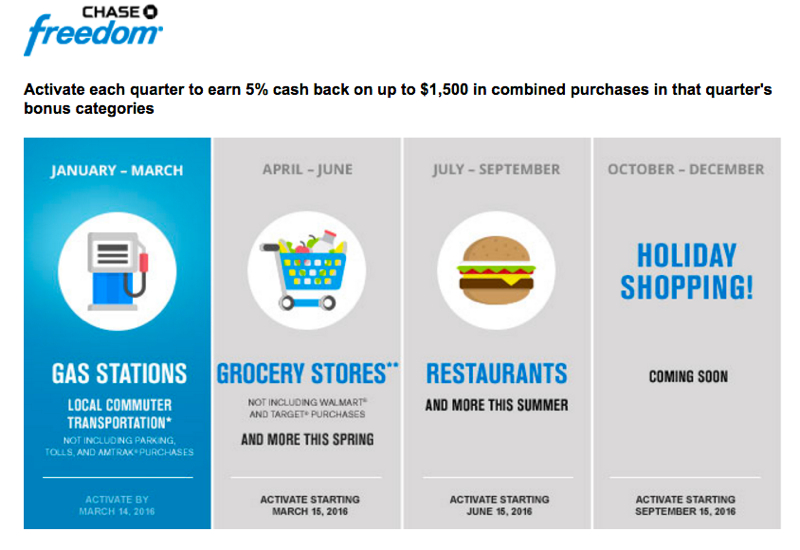 Update: per Zach, the new Chase Freedom Unlimited is in ADDITION to the current Chase Freedom and will not replace it, and both cards will continue to be able to transfer points to Ultimate Rewards partners, if you have a Chase Sapphire or Ink Plus.
—Original Post—-
A new Chase Freedom Unlimited card is rumored to be launching sometime in March 2016, per Angelina. It will have a similar signup bonus, but not have the rotating 5X bonus categories:
$150 bonus after spending $500 on the card within the first 3 months of account opening
$25 bonus after adding an authorized user and making a purchase within the first 3 months of account opening
Unlimited 1.5% cash back on every purchase
A couple questions:
Will the Chase Freedom Unlimited Earn Points That Can Be Transferred to Ultimate Rewards Partners?
While the current Chase Freedom is also marketed as a cash back card, as long as you have an annual fee card linked to Ultimate Rewards, such as the Sapphire Preferred or the Ink Plus, you can transfer Chase Freedom points to one of those cards and transfer out to Ultimate Rewards partners such as Singapore KrisFlyer, Korean Air SkyPass, etc. which are the most valuable use of Chase Freedom points, at least if you redeem for Singapore Suites or other first class or business class awards that can yield a nominal value of 10 cents or more per point. You'll never get a 10% cash back credit card, so it's a no brainer for my family.
We don't know yet whether the new Chase Freedom Unlimited will also allow earned points to be transferred to the Ink Plus or Sapphire Preferred, and then to Ultimate Rewards partners. But if so, then this could be useful for those who have very high spend in currently unbonused categories, since the card would earn 1.5 points per dollar instead of 1 point per dollar on all that spend, and their earning potential would be greater with the Chase Freedom than with other cards that only give 1 point per dollar for these unbonused categories.
Will the Chase Freedom Unlimited Replace the Current Chase Freedom 5X?
After all, Chase has already announced the
2016 Chase Freedom 5X Calendar
and I've been looking forward to the return of the Q2 5X grocery store bonus (since we do quite a bit of shopping at Trader Joe's, not just Whole Foods) and the Q3 5X restaurant bonus. And as with many readers, I'd love to see that great
10X on Amazon
offer make a reappearance.
I called Chase and was told that existing Chase Freedom cards will not be converted to any new product in 2016, so I do think that those with an existing Chase Freedom card are safe on 5X categories for at least 2016. 2017 is another question; if the Chase Freedom Unlimited does launch, I wouldn't be surprised to see existing Chase Freedom cards converted to the new product for 2017, although of course I hope I'm wrong and the two products co-exist longer than 2016.
Chase Freedom Unlimited vs. the Current Chase Freedom 5X vs. Cash Back Cards
The reason I and many others don't want to give up the Chase Freedom 5X is that the 5X categories complement other category bonuses. For example, while you can certainly use an Ink Plus card to earn 5X at an office supply store buying gift cards to certain restaurants (none of which we eat at), only the Chase Freedom, during the 3 months when Restaurants are the 5X category, enable you to earn 5X points at *any* restaurant, including the
Top 5 Best Value NYC Michelin Star Restaurants
and other fine dining.
Similarly, while it's possible to earn 4.5X at grocery stores with the AMEX EveryDay Preferred if you have earned the 50% points bonus by making at least 30 transactions in a billing cycle, there is no transaction requirement for the Chase Freedom, you just have to activate the 5X and you'll earn 5X at all grocery stores in Q2 2016.
Let's contrast that with the rumored Chase Freedom Unlimited, where you earn a straight 1.5X per dollar spent, but it's on all spend, not just certain categories. Potentially great, as I noted above, for those who have a lot of unbonused spend, since they can now earn 1.5X instead of 1X. It's also possible the average person would use the card more, since s/he wouldn't have to think about activating a 5X bonus or about which categories are bonused in a given quarter.
For those who primarily travel economy and/or domestically, however, 2% cash back cards may well be the best bet. That makes the Chase Freedom Unlimited hard to recommend as a straight cash back card, since there are other 2% cash back cards available such as the Citi Double Cash Card that earns 1% back on spend, and another 1% back when you pay your bill, or the Fidelity Rewards Visa which also earns 2% back and deposits it into your Fidelity account.
The Bottom Line
It will be interesting to see how Chase positions the Chase Freedom Unlimited if/when it debuts sometime in March, 2016. I do think that current Chase Freedom 5X cardholders will get to use to finish out 2016 with the announced 5X categories, but 2017 is more of a question mark.
Since the current Chase Freedom 5X is unlikely to be grandfathered much more than 1 year, I wouldn't necessarily say it's worth it for any non-Chase Freedom cardholders to rush out and get the current Chase Freedom, since everyone is likely to be converted in 2017 anyway.
That said, if you have a spouse or partner with a Chase Sapphire or Chase Sapphire Preferred that is rarely used (say because you always use your card and don't need two) you may want to convert it to the existing Chase Freedom card before the new Chase Freedom Unlimited is announced, if you'll benefit by having an extra Chase Freedom for your favorite 5X categories.
I understand that from Chase's perspective, the goal is to have more people use the card more often. In our case, we would use the card less often, since we primarily use our Chase Freedom cards for 5X categories. But it's only natural that Chase wants the card to appeal more to Main Street, not to customers who are maximizing the card's benefits but not using the card otherwise.
Related Posts