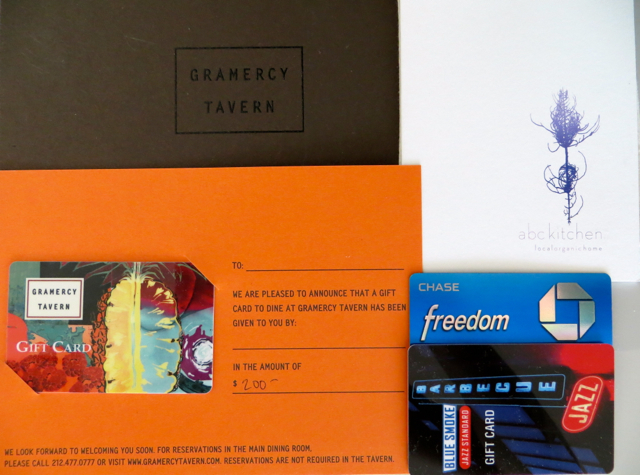 Chase Freedom 5X for Restaurants (and also Movie Theaters and Lowe's) ends tomorrow, June 30. In case you haven't maxed out your $1500 spend with your April, May and June dining spend, now's the time to pick up gift cards for your favorite restaurants, so that you can get an effective 5X on all restaurants and dining spend for the next several months.
Even if much of your restaurant spend is just at a chain, such as Pret a Manger or the like, you may as well stock up now since those small transactions won't be as rewarding with your Freedom in a few months, now that the old Chase Exclusives program with its 10 bonus points per transaction as well as 10% bonus points is being phased out and being replaced by a year end 10% dividend. See Goodbye Old Chase Exclusives for Freedom Card Even for Grandfathered Members.
The other dining promotion that we used to love, when British Airways Visa Offered $100 off 2 NYC Michelin Restaurants in 2011 and 2012, unfortunately hasn't returned, so the Chase Freedom 5X points on all restaurant spend up to $1500 is currently the best dining promotion I know of, where you get to pick the restaurant. Sure, if you happen to only eat at Applebee's, Panera and the other places you can get gift cards from at office supply stores, you can get a consistent 5X with your Ink Bold, Ink Plus etc. cards, but that doesn't help at all for fine dining or places that don't sell their gift certificates except at the restaurant itself.
So today, we picked up gift cards for a few of our favorite New York restaurants, such as Gramercy Tavern, ABC Kitchen, Blue Smoke and Num Pang. For more of our favorites in NYC, check out Where to Eat in NYC: The Best New York Restaurants Right Now.
While you're focused on your Chase Freedom, don't forget to activate your Chase Freedom Q3 5X bonus categories:
Gas Stations
Theme Parks
Kohl's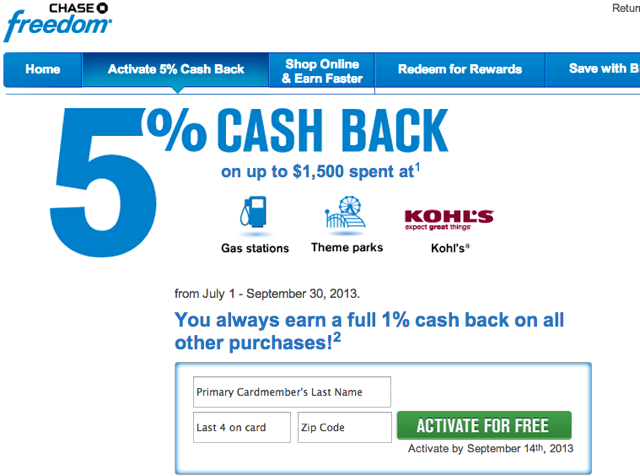 Theme parks is a dud, as far as I'm concerned, although I suppose there are families that buy season passes and if that's you, may as well put those on your Freedom card.
Gas Stations is fine for people who buy gas or gift cards, although I must say that, living in NYC without a car and with very few gas stations in convenient places, it's something of a hassle to leverage it even for gift cards.
Kohl's is a retailer I've only shopped when I can get 15X points, as you'll likely be able to if the current Ultimate Rewards Mall Kohl's 10X bonus continues into July, when the Freedom 5X on Kohl's starts. I'm pretty ambivalent about the store, since on the one hand the bonus points are good, but on the other you do really need to price check since a lot of the merchandise can be overpriced, and frankly Kohl's tends to not have high quality brands.
How did you maximize your Chase Freedom Q2 5X bonus, and what are your plans for the Q3 5X bonus categories?
Related Posts
Chase Freedom 2013 5X Bonus Categories and Calendar
Activate Chase Freedom 5X for Q2 Bonus Categories: Restaurants, Movie Theaters and Lowe's
Kohl's 15X with Ultimate Rewards Mall and Chase Freedom
Where to Eat in NYC: The Best New York Restaurants Right Now
Need Award Booking Help? Our fee is as low as $75 per ticket if you book your hotel through us.
If you enjoyed this, join 90,000+ readers: please follow TravelSort on Twitter or like us on Facebook to be alerted to new posts.
Become a TravelSort Client and Book Your Hotel with Virtuoso or Four Seasons Preferred VIP Amenities!