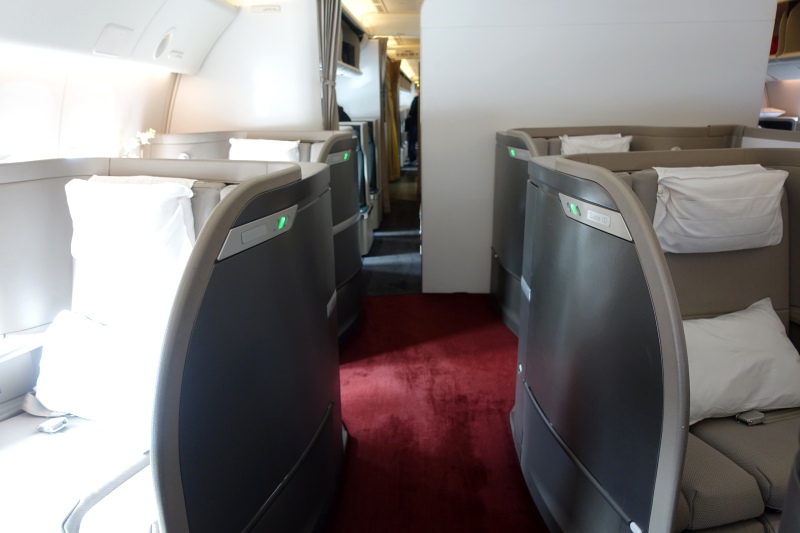 This Review of Cathay Pacific First Class from Hong Kong to Los Angeles LAX is from a recent Hong Kong trip that included Cathay Pacific First Class lounges in Hong Kong and luxury hotel stays in Vietnam and Hong Kong. Visiting Hong Kong? See all our articles tagged Hong Kong.
For other posts in this trip report, please see:
Review: The Centurion Lounge New York LaGuardia Airport (LGA)
Review: American Airlines Old A321 First Class with Recliner Seats
Qantas First Class Lounge Los Angeles LAX Review
Review: Cathay Pacific 777 First Class
Review: Cathay Pacific The Pier First Class Lounge, Hong Kong Airport
Review: Cathay Pacific The Wing First Class Lounge, Hong Kong Airport
Review: Cathay Pacific's Renovated The Pier Business Class Lounge, Hong Kong
Hotel Review: The Reverie Saigon, Ho Chi Minh City
Amanoi Restaurant Review and Menu
Yan Toh Heen Review Hong Kong, 2 Michelin Stars
Review: Ritz-Carlton Hong Kong Club Grand Victoria Harbour Room
Review: Ritz-Carlton Hong Kong Club Lounge
The Ritz-Carlton Hong Kong is a short walk through the International Commerce Centre (ICC Mall) to the Kowloon Station, and from there it's just a ~20 minute ride on the Hong Kong Airport Express, which is directly connected to Hong Kong International Airport. In no time I was checking in for my flight: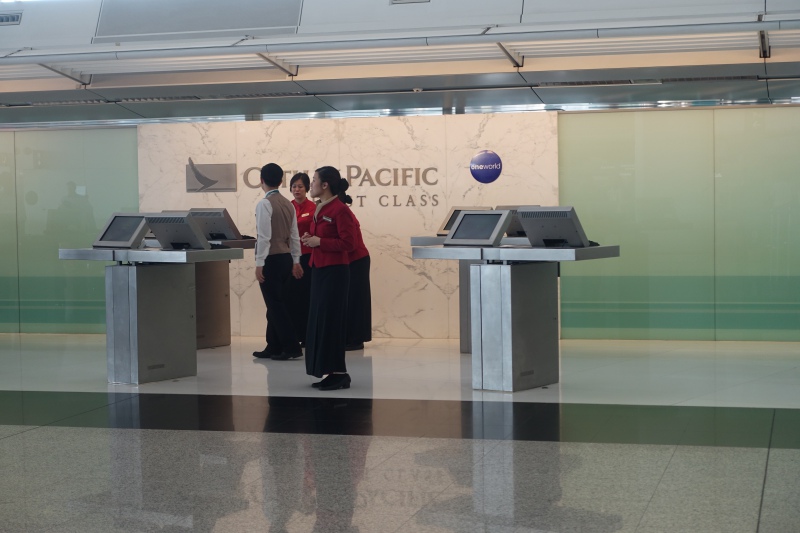 I had just enough time for a quick visit to The Pier First Class Lounge and a great shoulder and neck massage before boarding my morning flight.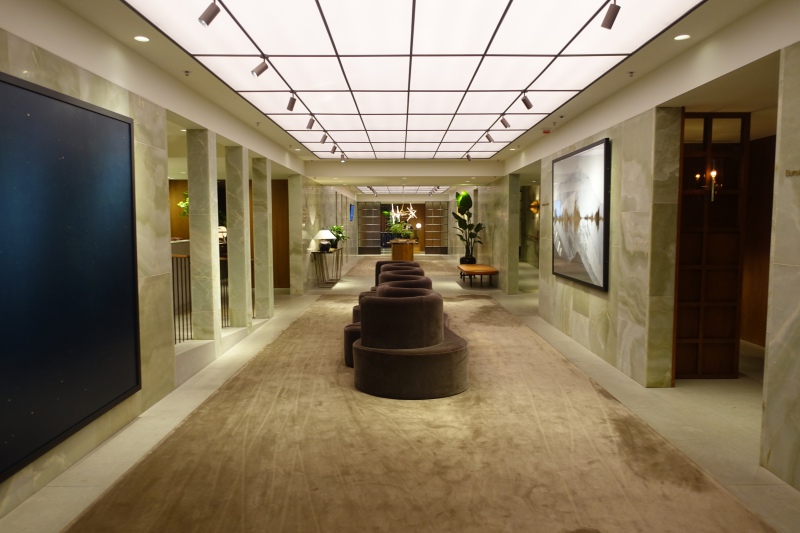 Cathay Pacific First Class Cabin and First Class Seat
I've discussed the Cathay Pacific First Class cabin and seat selection in my prior Cathay Pacific First Class Review, so I'll just share some photos from this day-time flight from Hong Kong to Los Angeles LAX. Here's the 777-300-ER, just before boarding: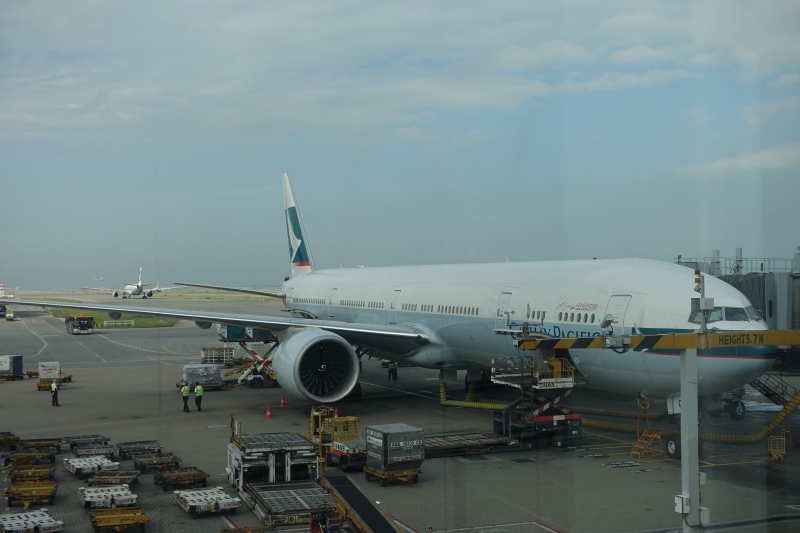 Here's the First Class Cabin, in which I was the only passenger: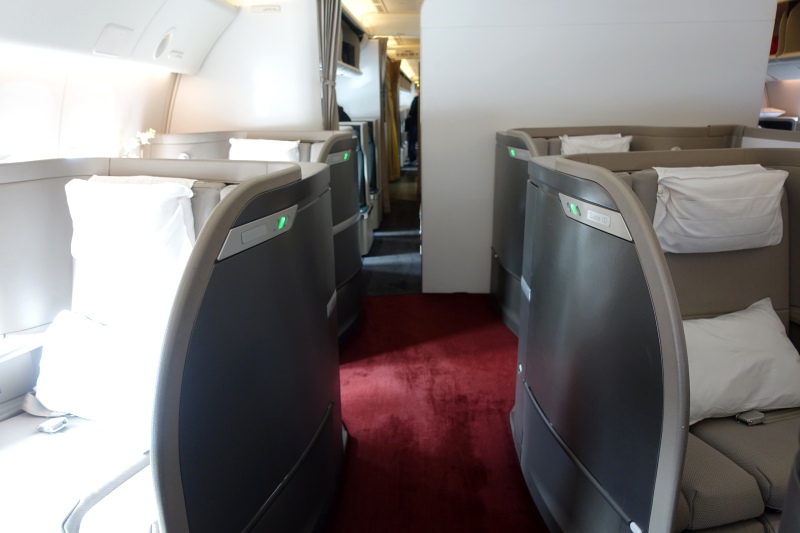 I was able to select 1A ahead of time; I prefer the privacy of 1A and 2A, but note that since 2A is a bassinet seat, there is the risk of being bumped from it if a passenger with an infant needs it.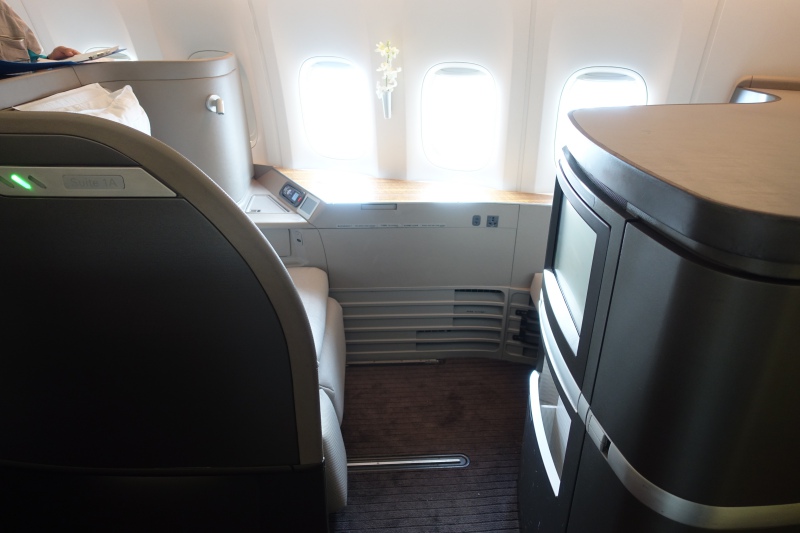 I love the roominess of the Cathay Pacific seat: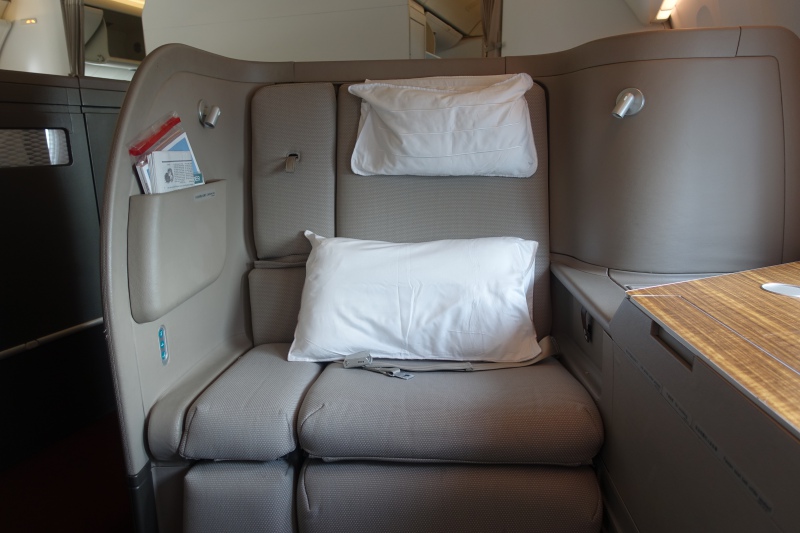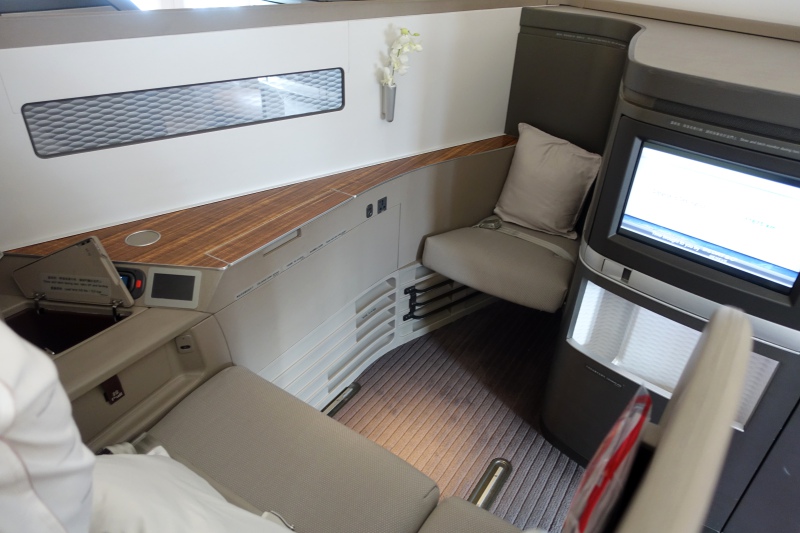 I also like that the ottoman, in addition to forming part of the fully flat bed, doubles as a companion seat so that you can dine across from each other: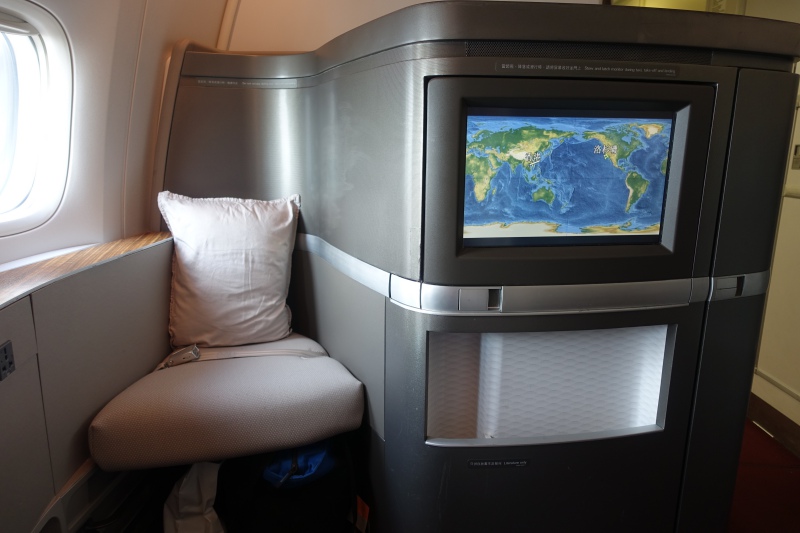 Finally, I do really enjoy the fresh orchids by the seat. Lufthansa First Class uses a red rose, while Cathay Pacific, which used to use purple orchids, now offers white orchids.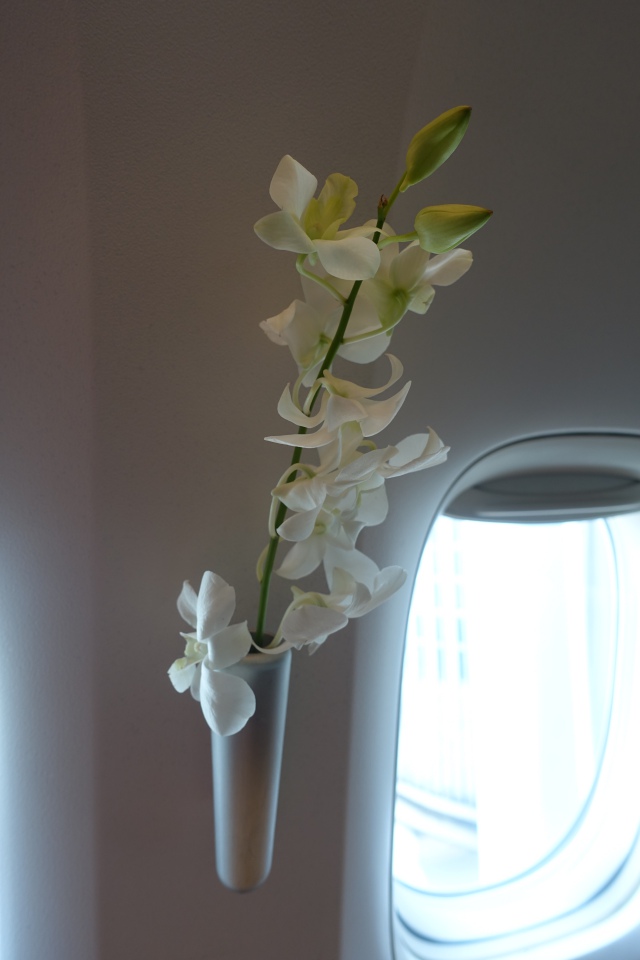 Cathay Pacific First Class Menu and Food, Hong Kong to Los Angeles LAX
After boarding, I was offered a cool towel: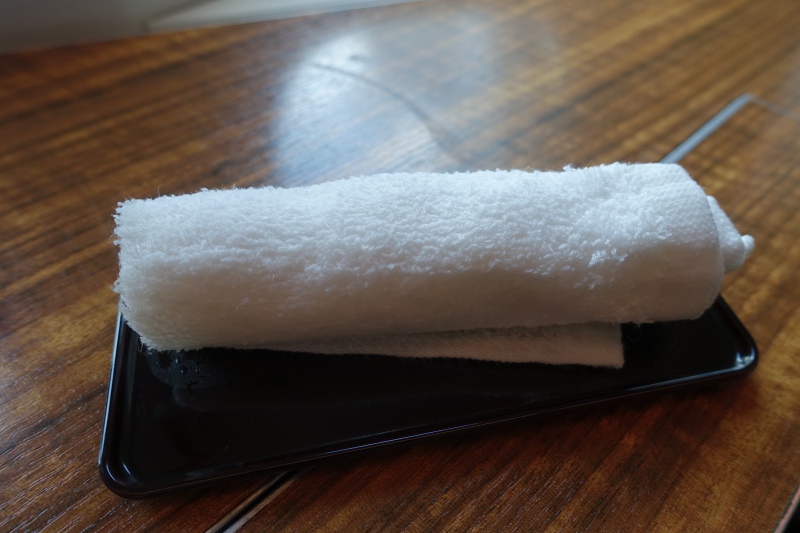 Then a pre-flight drink  was offered (I chose water, as usual) along with a canape, which consisted of mini mozzarella balls and marinated vegetables: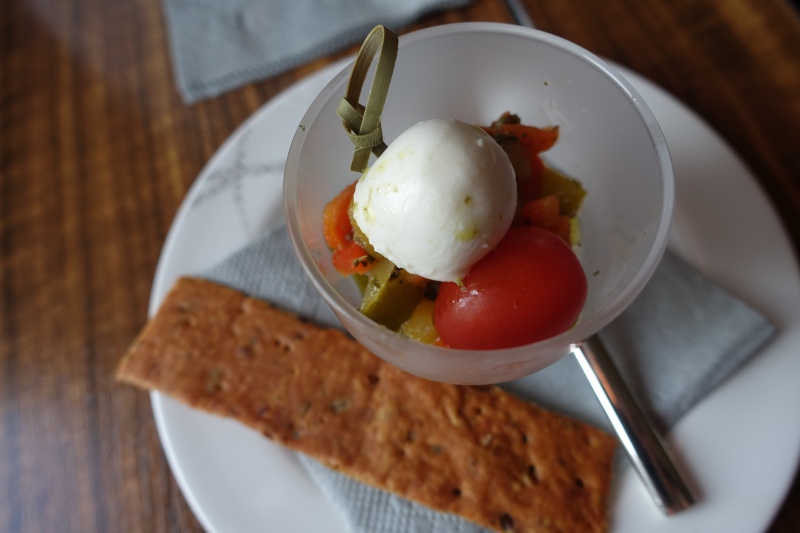 I was also given the menu. Since it was a day-time flight from Hong Kong that arrived in Los Angeles LAX early morning, the main meal was lunch, with breakfast before arrival. The lunch menu featured a Chinese option from Mott 32, as well as international choices.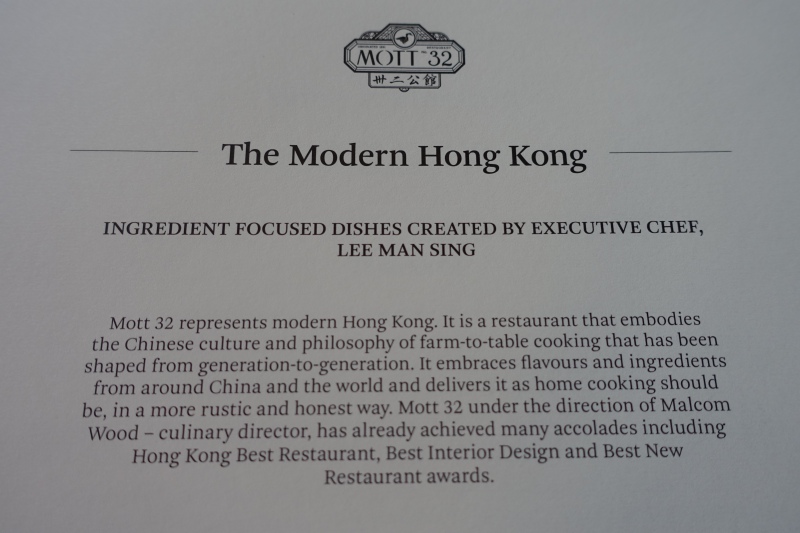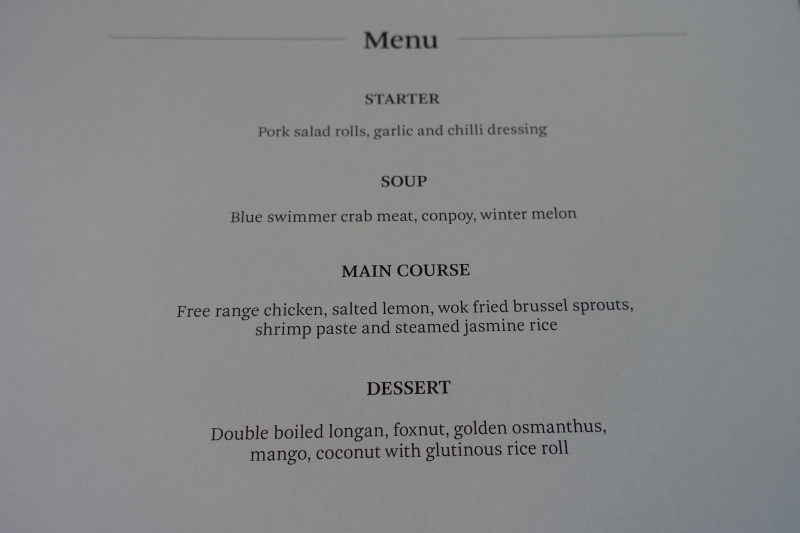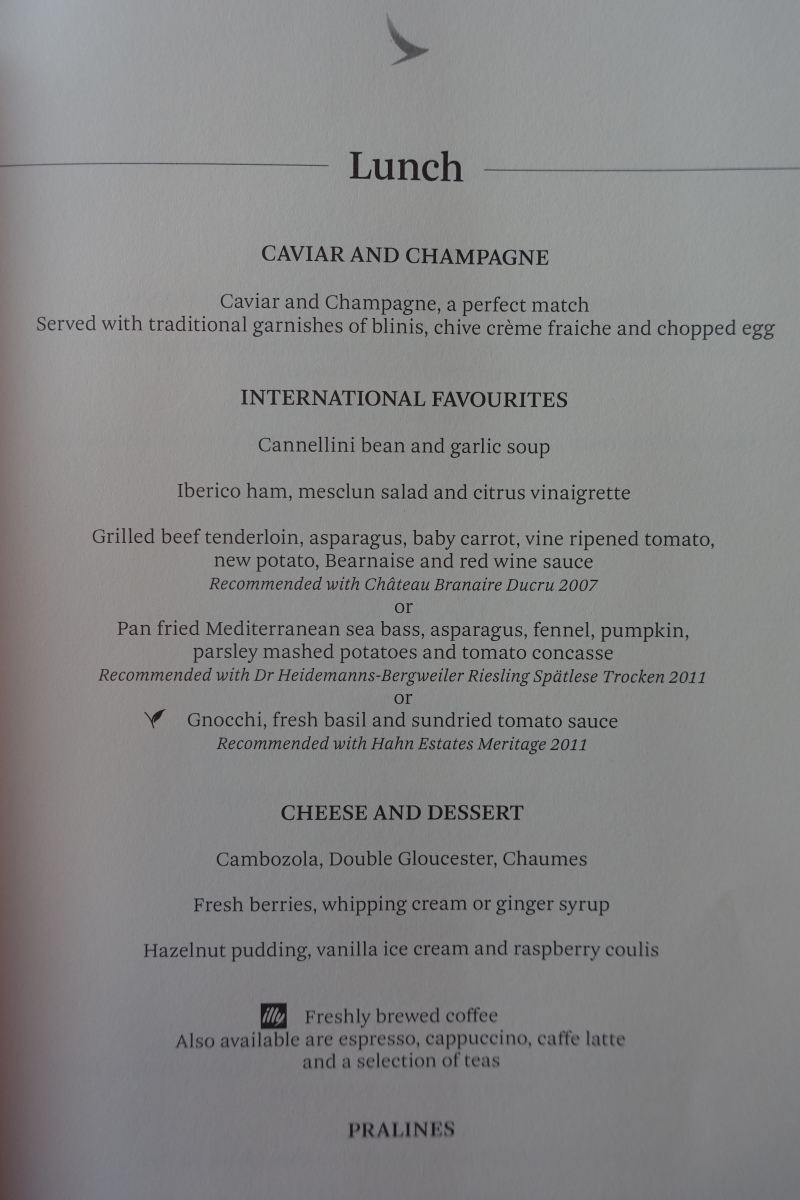 A snack menu was also offered: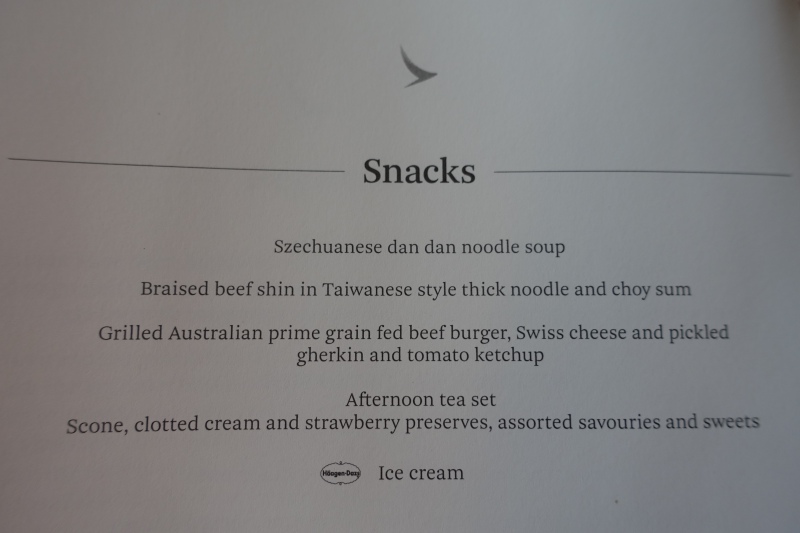 And here is the breakfast menu: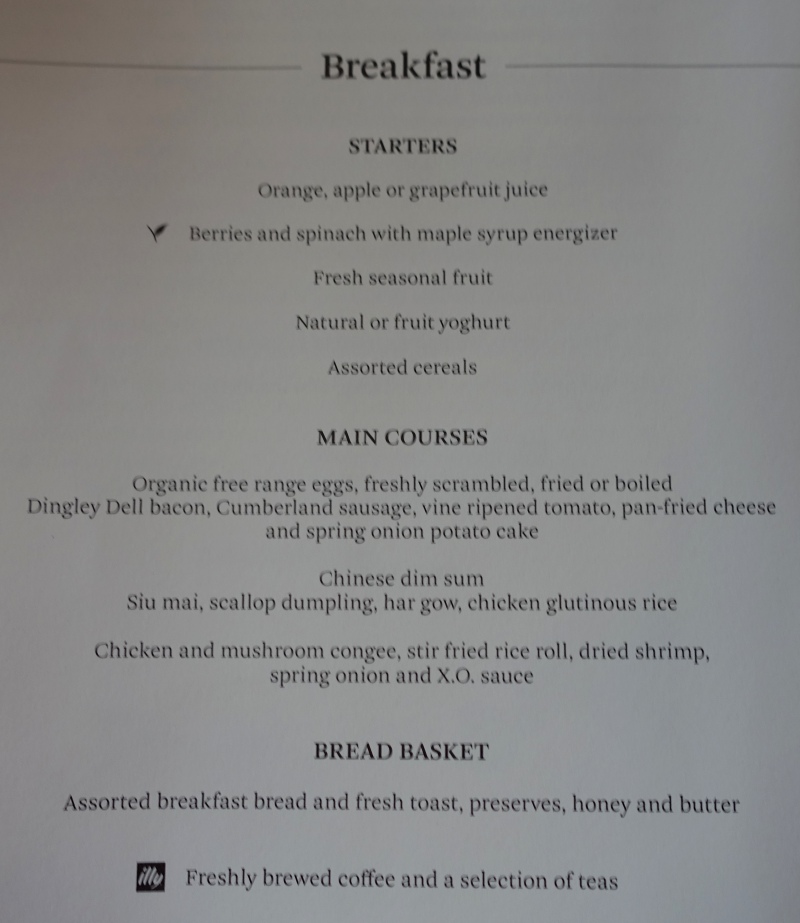 We took off on time and had a nice aerial view of Hong Kong on our climb out: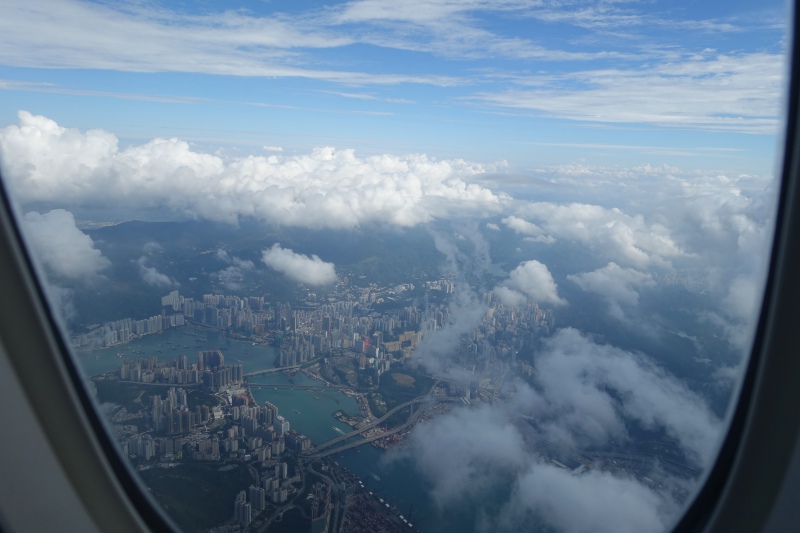 I've never eaten at Mott 32 in Hong Kong, but it bills itself as offering carefully sourced, modern Chinese cuisine, so I opted to try the appetizer and main course from the menu.
The Pork Rolls were tasty, but if I'd had them at a restaurant I wouldn't specifically seek out the restaurant to have them again.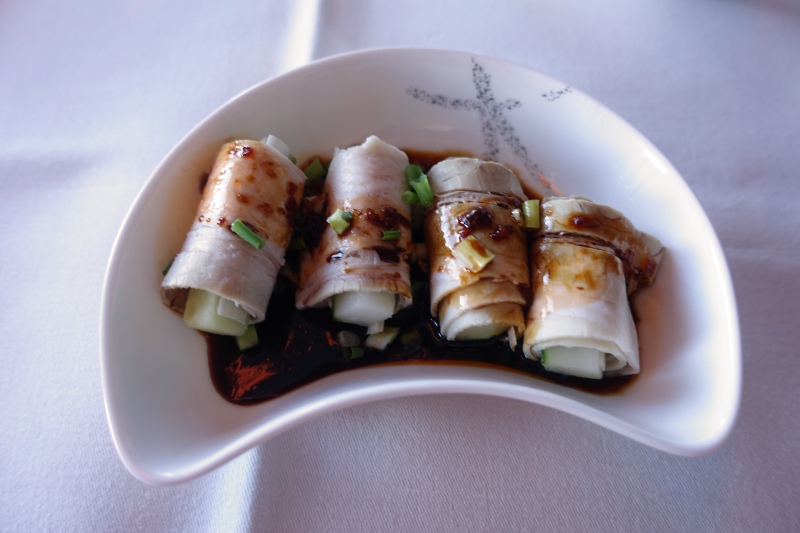 Similarly, the Chicken with Salted Lemon was fine, but completely unremarkable. It and the other Chinese dishes I've had in Cathay Pacific First Class confirm for me that Cathay's Achilles Heel in its First Class product is its food and catering.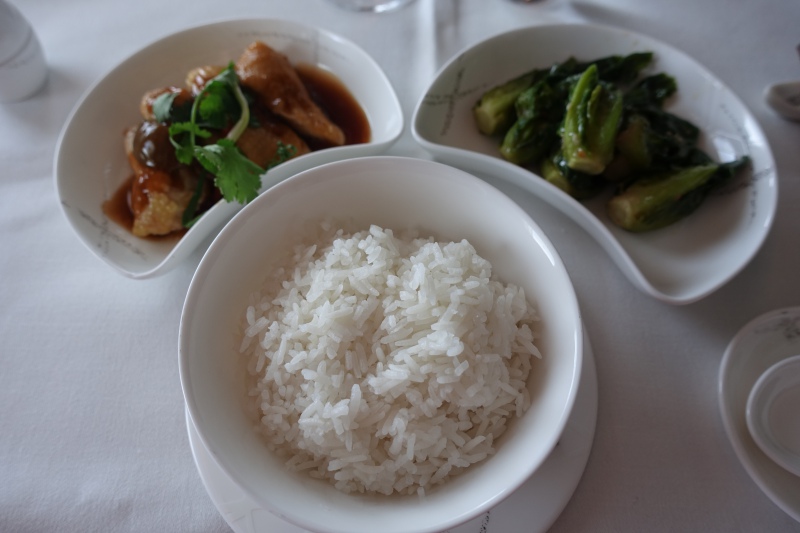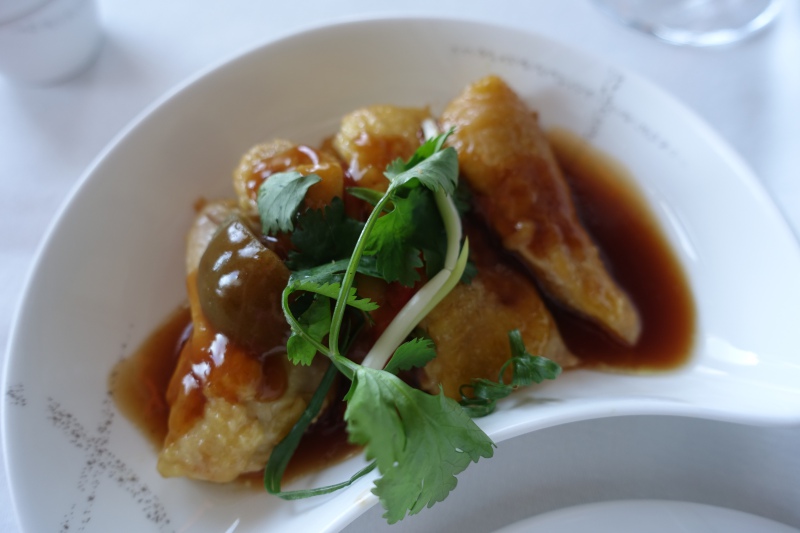 The berries that I had for dessert were nice and fresh, at least, and the dark chocolates served as pralines were delicious.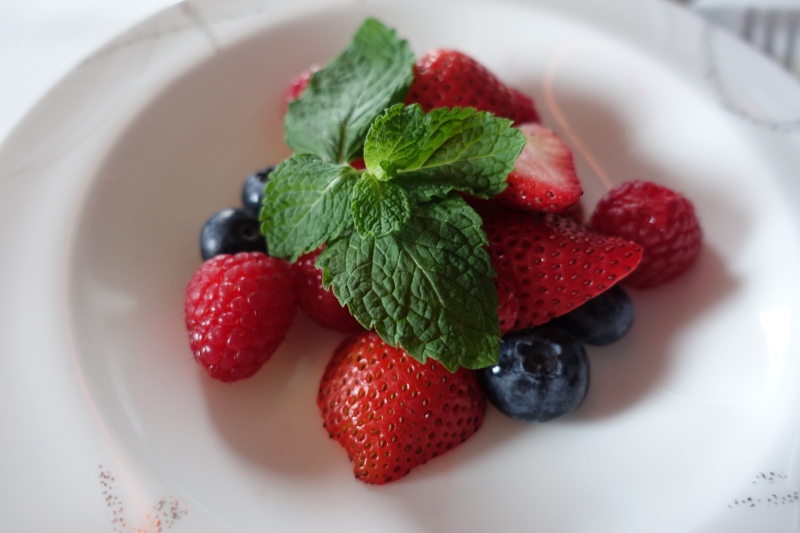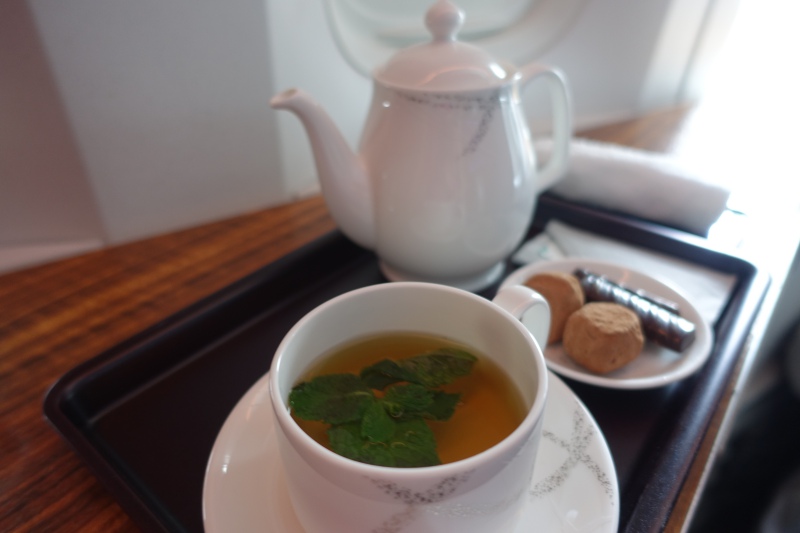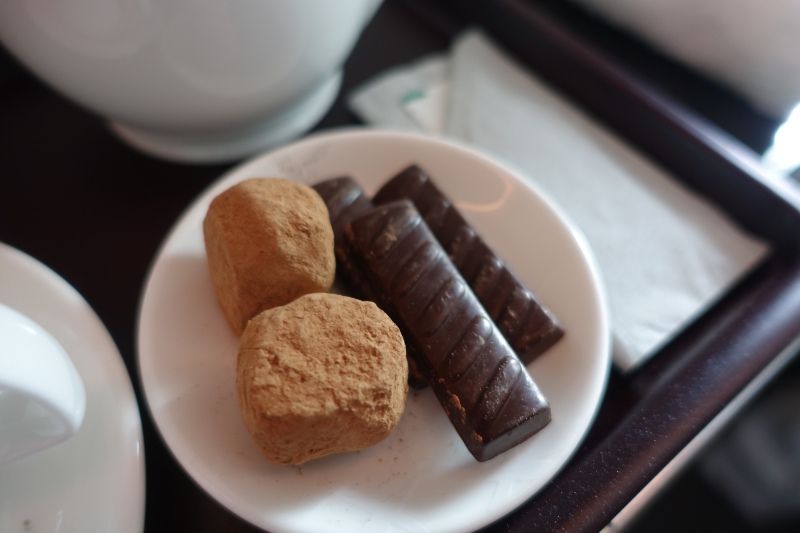 For breakfast, I started with an Energizer drink, which was a little too sweet for my taste. I would have preferred either a thicker smoothie, with berries, banana and yogurt, or some fresh squeezed orange juice.
There was Emmi plain and fruit yogurt available, and Emmi is better than the Danone yogurt out of the U.S.
The highlight of the breakfast was the caviar service–I'd asked if that could be saved for me for breakfast. Some Krug Champagne washed it down nicely!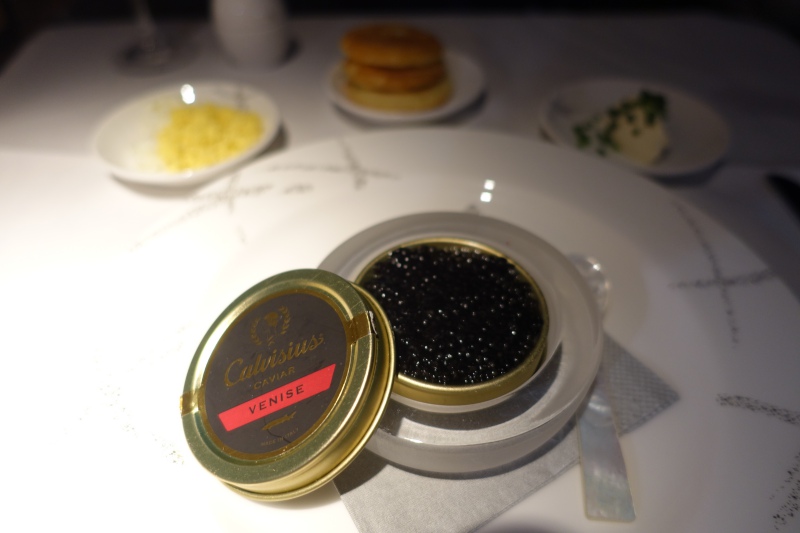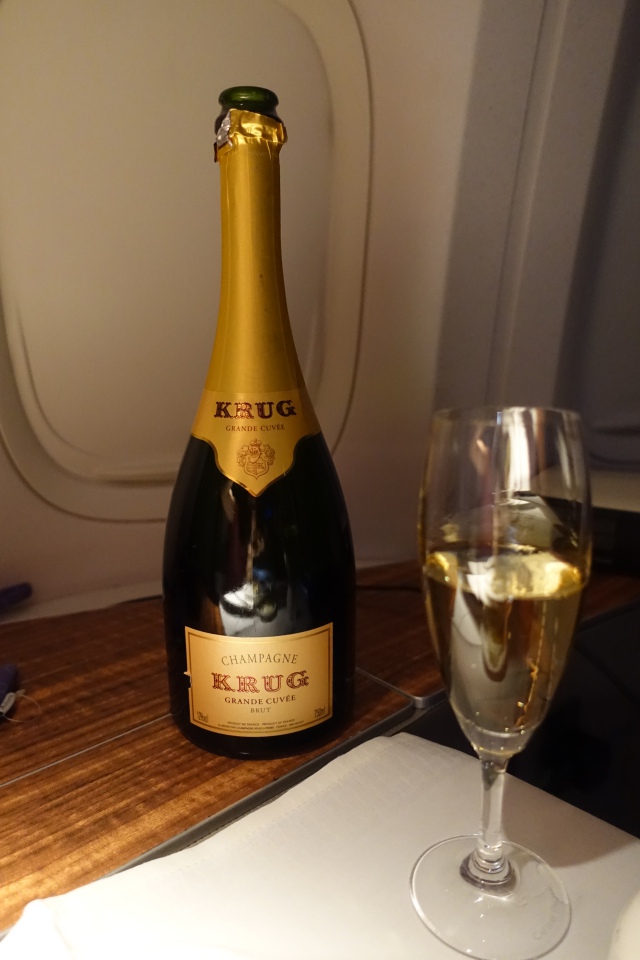 Apart from the caviar service, what I most enjoy food-wise on Cathay is the dim sum. It's of course not like having dim sum at one of Hong Kong's better dim sum places, but it's still a treat to have on a flight. I especially like the roasted chili sauce that comes with it.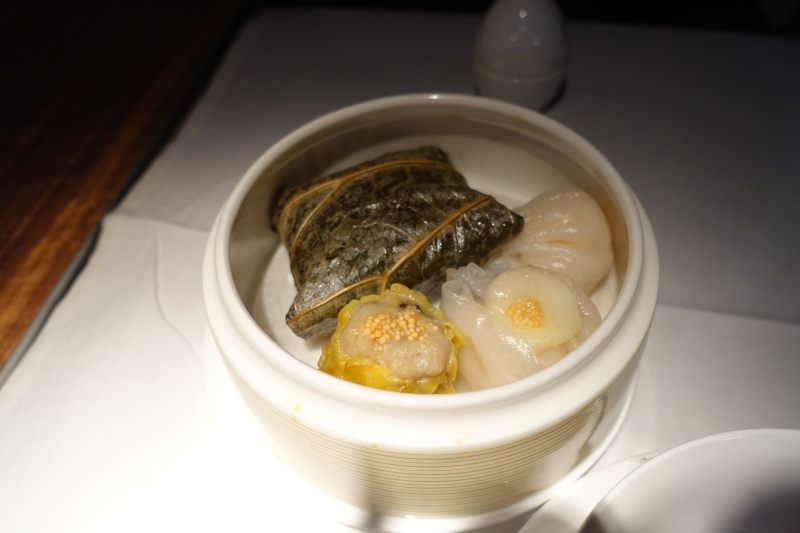 Cathay Pacific First Class Bed and Sleep Quality
After lunch, I requested turn down service so that I could try to get some sleep, since I had long layovers in LAX and San Francisco before a red eye back to NYC. As you can see, the bed duvet was fairly wrinkled and not quite like the Cathay Pacific promotional images: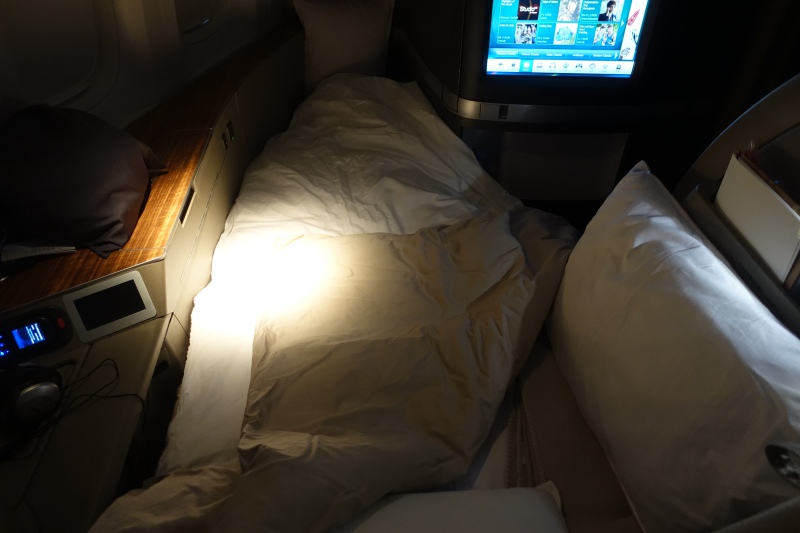 The bed itself is nice and wide at the shoulders, although as I've mentioned before, the mattress pad is quite thin. I ended up using the duvet to provide a little extra padding and lying on top of it, since the cabin was warm enough to not require a blanket. With a sleep aid, I was able to get 5-6 hours of sleep, which is good for me on a flight.
Cathay Pacific IFE: Studio CX
Studio CX, Cathay's in-flight entertainment system, offer a wide array of films, TV series and games. For some reason I watched "Me Before You," a romantic drama with Emilia Clarke (best known for her role in "Game of Thrones") and Sam Claflin. The acting was decent, and I admired that it didn't try to force a happy ending, but I disliked that it makes euthanasia for a disabled person seem heroic. The real heroes are those that, despite disabilities, keep living, even though our society doesn't provide nearly enough support or acceptance of those living with disabilities.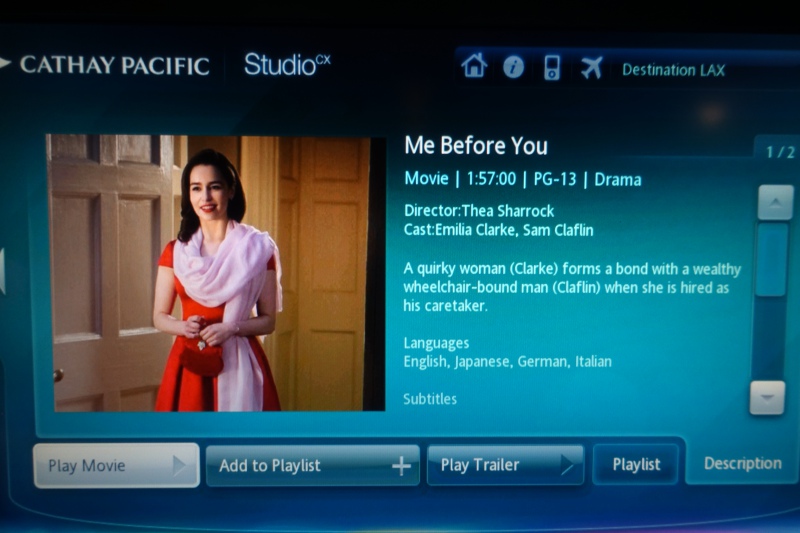 I also watched some of The Night Manager–Hugh Laurie remains one of my favorite actors.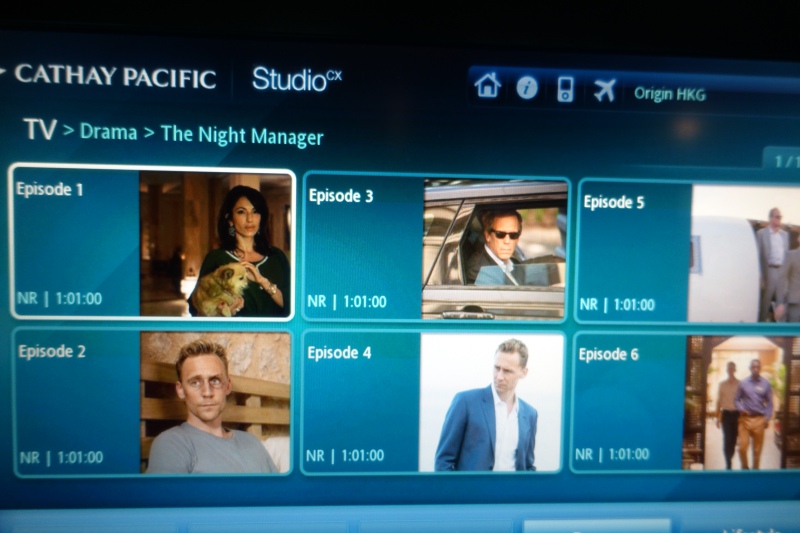 The Verdict
Having flown two Cathay Pacific flights only a few days apart allowed me to compare and confirm a few things about the product. The hard product is excellent, in that it's really one of the most private and exclusive first class cabins as there are only 6 very wide open suites, and two first class lavatories. And when the first class cabin isn't full or you're the only passenger in the cabin, as I was on this return flight from Hong Kong, it's very private indeed.
The soft product is, however, a little more mixed. On the one hand, I love the choice of Aesops skincare for amenity kits and the lavatories, and I also like that organic cotton is used in the pajamas. And staff on the whole is very good, even if not quite up to the standard of Singapore Airlines. But it's a shame Cathay doesn't use a thicker, more comfortable mattress pad, as if it did, it would have one of the best beds in the sky, thanks to it being extra wide at the top. And apart from the caviar service (which isn't hard to implement, since it's not a cooked product) Cathay's catering is very lackluster compared to the choices offered by Singapore Book the Cook and the quality of JAL First Class, Qantas First Class, Etihad First Class, and Emirates First Class.
Related Posts
Cathay Pacific First Class: 6 Things I Love and 2 That I Don't
Best Seats in Cathay Pacific First Class?
Cathay Pacific First Class Awards: Earn Asia Miles or AAdvantage Miles?
Oneworld Change: No Separate Tickets Protection, No Through Checked Bags
Best Airline First Class Lounges to Access When Connecting to Business Class
Need Award Booking Help? Our fee is as low as $75 per ticket if you book your hotel or cruise with us.
If you enjoyed this, join 200,000+ readers: please follow TravelSort on Twitter or  like us on Facebook to be alerted to new posts. 
Become a TravelSort Client and Book luxury hotels with Virtuoso or Four Seasons Preferred Partner Benefits!