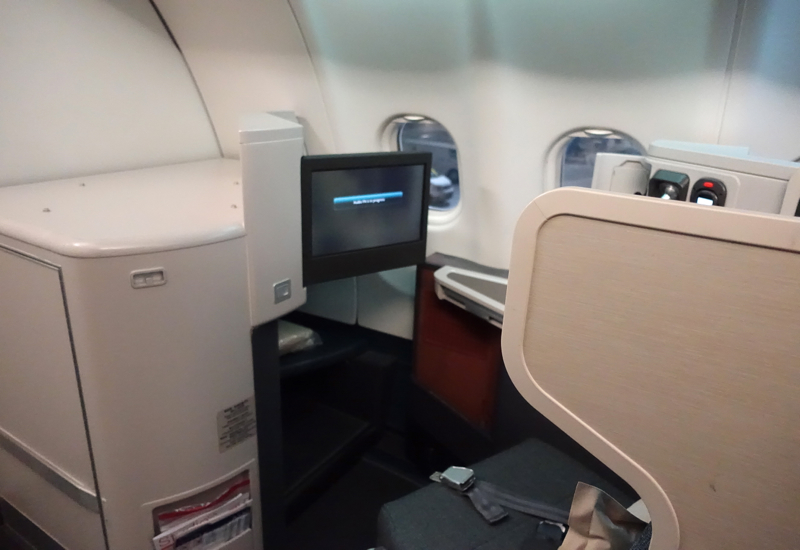 This Cathay Pacific Business Class Review, A330-300 from Dubai to Hong Kong is part of a round the world trip report including first class and business class flights, luxury hotel stays in London and Asia, and restaurant reviews.
For the prior posts, please see:
Review: British Airways Concorde Room Lounge NYC JFK Terminal 7
Review: British Airways Business Class on the 747-400 JFK-LHR
Best Seats in British Airways New First Class 747-400
Review: British Airways Arrivals Lounge in LHR and Heathrow Express to London
Launceston Place London Restaurant Review
London Tips: British Museum with Kids
Review: Rivea at Bulgari London Hotel
Review: British Airways First Class Lounge London Heathrow Terminal 3
Qantas First Class A380 Review London to Dubai
Review: Atmosphere Lounge at the Burj Khalifa Dubai
Armani Hotel Dubai Photos and Virtuoso Client Review
Dubai Fountain by Burj Khalifa Photos and Video
Review: British Airways Galleries Lounge in Dubai (DXB)
We had a late flight out of Dubai that was supposed to depart just after midnight, so it was a very good thing, given that I was traveling with my 6-year old, that we had been able to catch up on some sleep at the Park Hyatt Dubai earlier that day.
I was also glad that our 7 hour Cathay Pacific business class flight was on an A330 with fully flat bed seats in reverse herringbone configuration, and not on one of Cathay's regional flights with angled flat seats (although we did have one of those flights later in our trip, review in a future post).
Cathay Pacific Business Class Seat Selection on the A330-300
Cathay Pacific business class on the A330-300 features 39 flat bed seats in reverse herringbone configuration, each seat with direct aisle access. It's great for privacy, so even if you're traveling solo for business and end up in one of the "companion" seats in the middle, there's nothing to worry about, since you'll barely see your neighbor.
By the same token, however, it's not as easy to be social if you are traveling with a partner, since you have to actually both lean forward to be able to see each other. I opted to try out the companion seats for purposes of this review, but I regretted it every time I needed to help the munchkin with something, whether with his seat, his food, etc., since I had to go around through the galley to his seat, it was too hard to help him from my seat, and you'd have to be a Chinese gymnast to jump from one seat to the other over the center divider.
I would suggest avoiding the very front row, row 11, due to its proximity to the galley and lavatories and also has designated bassinet seats for 11A and 11K, as well as row 18, which is also close to a galley and lavatories, and the last row of business class, row 21, which is close to Premium Economy bassinet seats.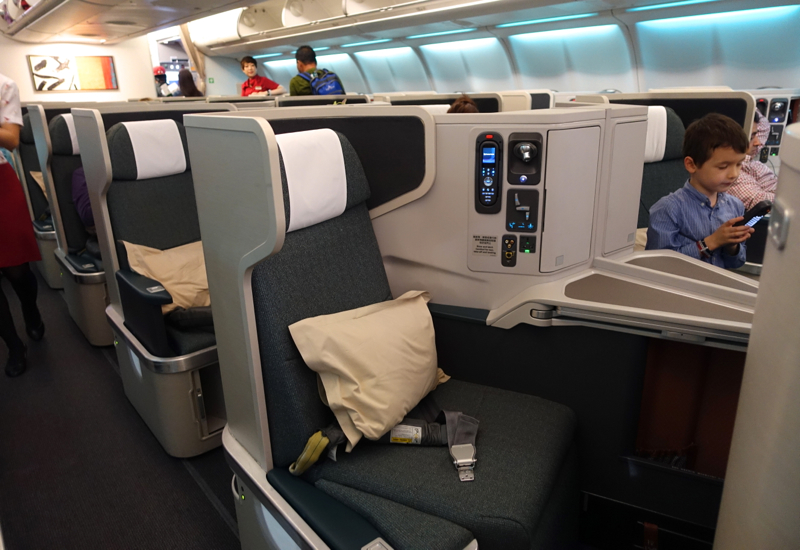 Cathay Pacific Business Class Seat
Cathay Pacific has one of the best business class seats, as long as you get its flat bed business class in reverse herringbone configuration, found on the A330-300 three class (33G), Boeing 747, and Boeing 777-300ER. As mentioned above, these are very private seats, with a tall shell around them and direct aisle access, since each seat angles away from the aisle, so there's never any issue with stepping over your neighbor.
The main complaint tends to be that, as with most business class seats (apart from Singapore Business Class) the seats are narrow, so some folks do get claustrophobic in these seats. And due to how private they are, they really don't lend themselves all that well to traveling with a partner, even the middle "companion" seats.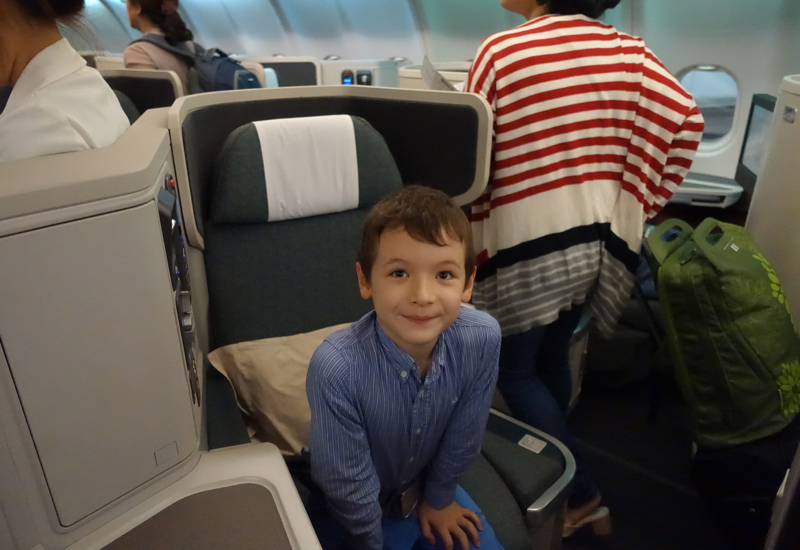 Here's a view of the in-flight entertainment screens, and ottoman that forms part of the bed, when you recline the seat into bed-mode: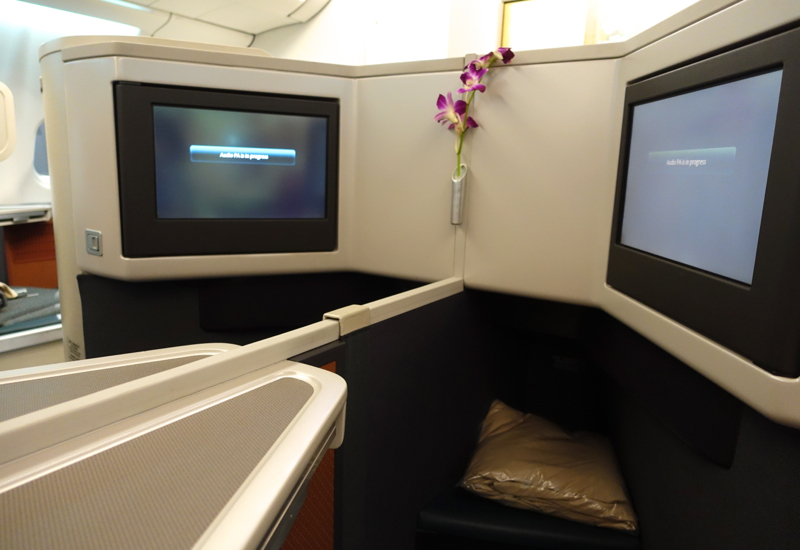 Personally, I'm happy that the seat controls are manual and not touchscreen. It takes seconds to recline your seat into bed mode–more on the comfort of that later.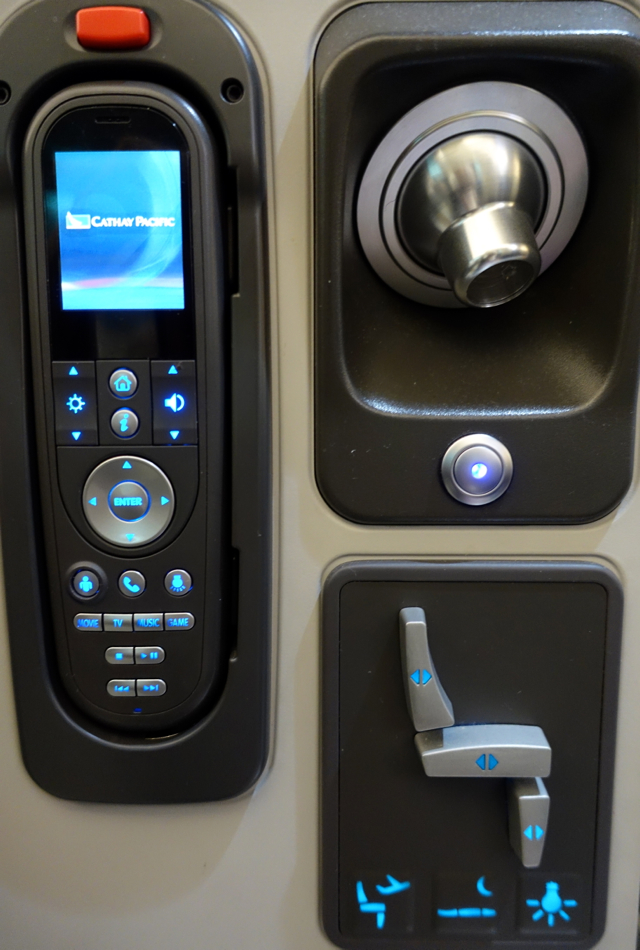 Cathay Pacific Business Class Menu and Food
Before takeoff, we were offered a choice of welcome drinks–orange juice, water, and a sunrise hued drink that I tried and was quite good, although the flight attendant wasn't sure what was in it: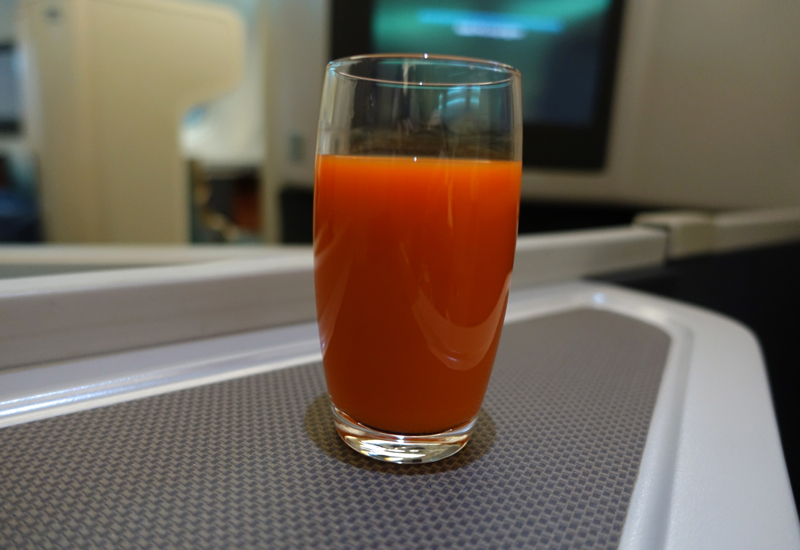 We were quite delayed in taking off due to one of the passenger's medical issues, and this is when I really started to regret not eating even the decidedly mediocre food offerings in the British Airways Galleries Lounge. I asked one of the flight attendants, who were all clustered in the gallery, if there was anything we could eat. She looked confused, but conferred with one of her colleagues and agreed to give me some soup. I asked if there was any cheese, and she agreed to bring some of that too, as well as a small fruit plate.
The soup tasted like an instant soup mix, but it was hot (scalding, in fact) and I was famished.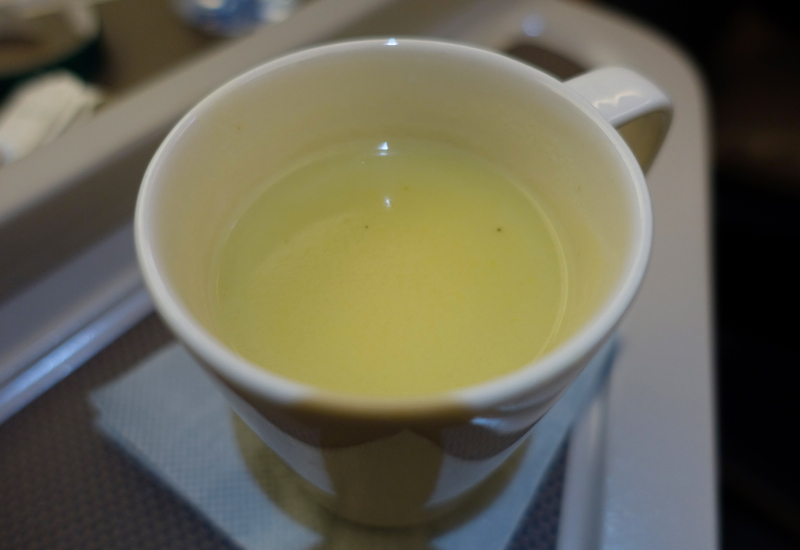 The cheese plate featured Red Leicester, Cambozola and Chevre, and since the last two were too strong tasting for the munchkin, I had those and he had the Red Leicester.
The fruit was ok, although neither of us eat cantaloupe or honeydew melon, which seem to always make up half or more of the fruit on airplanes, perhaps because it's so cost-effective relative to other fruit options.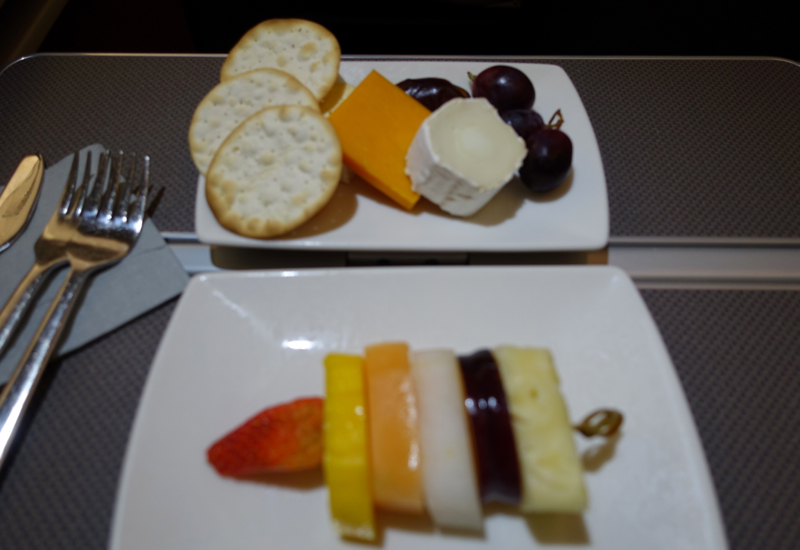 From her confusion, I briefly worried that there was very little catered for this flight, since it was such a late night flight, but it was, after all, 7 hours, so there had to be something. Fortunately, menus were passed out, which put my worries to rest. There were supper choices as well as breakfast: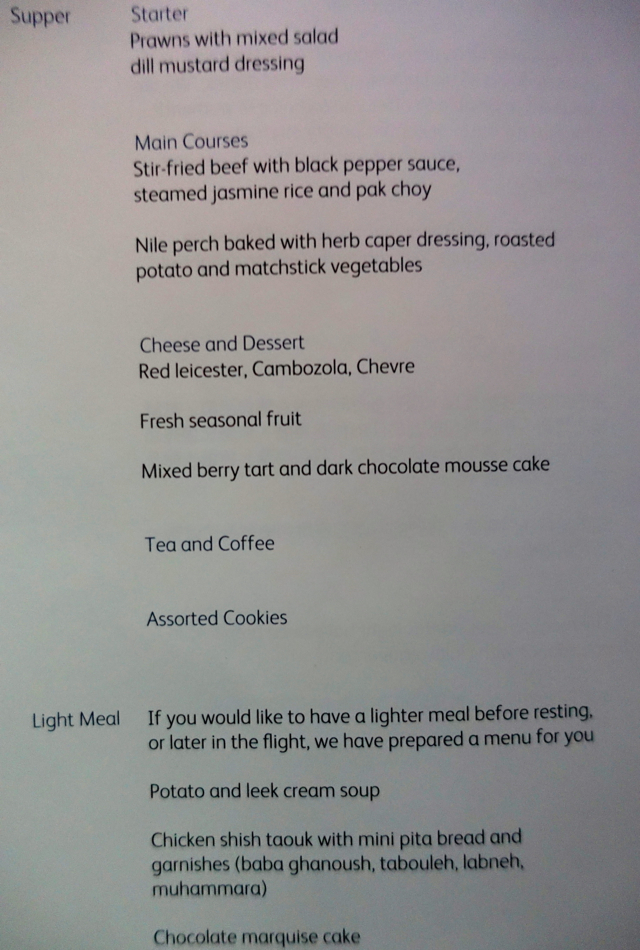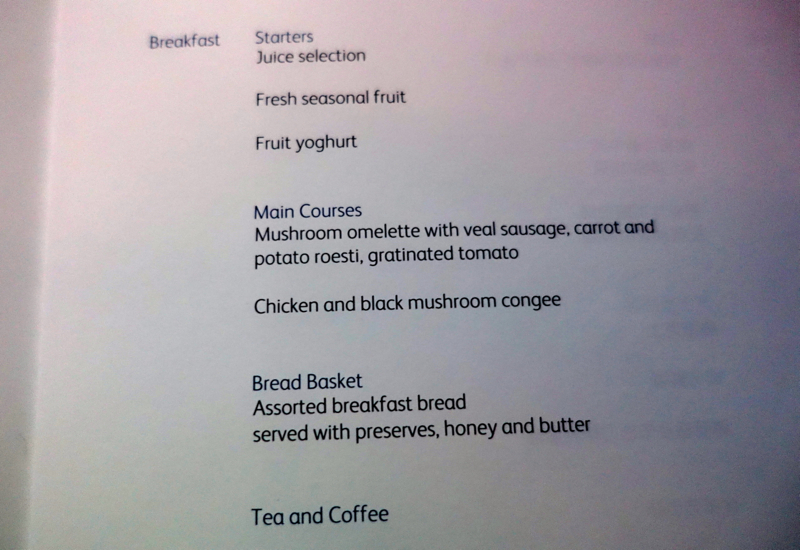 This was the wine list, although I didn't have any since I was focused on just having enough food to be able to get to sleep and then sleeping.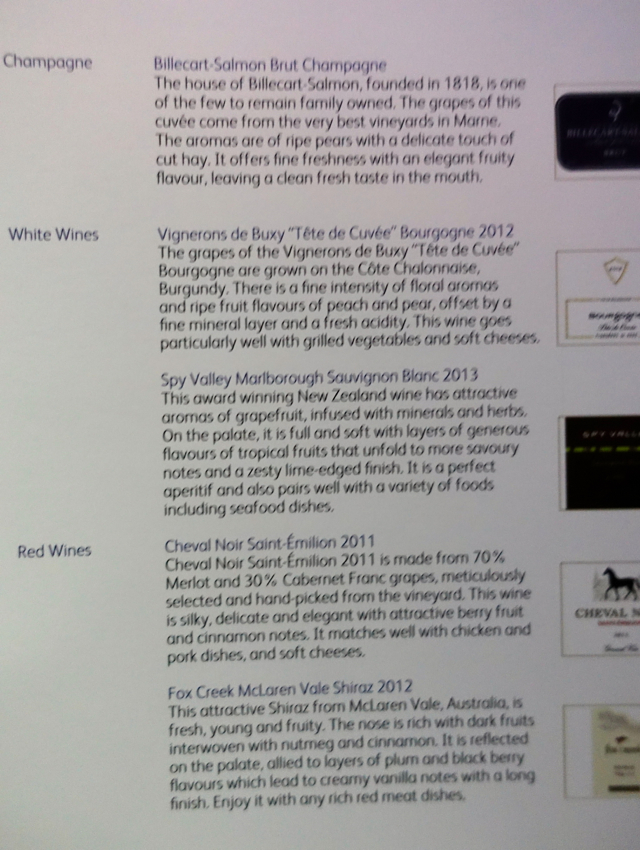 I figured it would be fastest to go with just the starter and the light meal option of mezze, which was also served with a chicken skewer (initially forgotten, but later brought to me) and with garlic bread: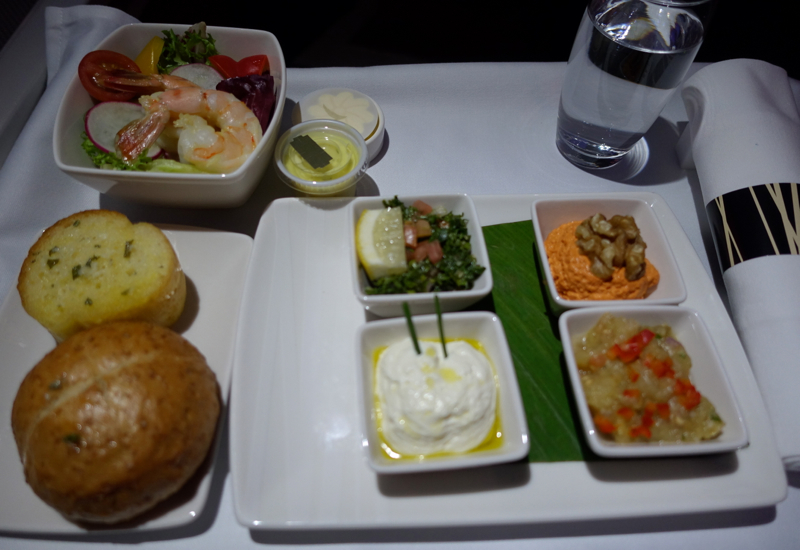 The Middle Eastern dips included baba ghanoush, tabouleh, labneh, and muhammara. I'd never heard of muhammara dip, but later looked it up. It's originally from Syria and includes Aleppo peppers, ground walnuts, breadcrumbs and olive oil. It was actually my favorite of the dips, although the thick yogurt labneh was also very good. I've had better tabouleh and baba ghanoush, however.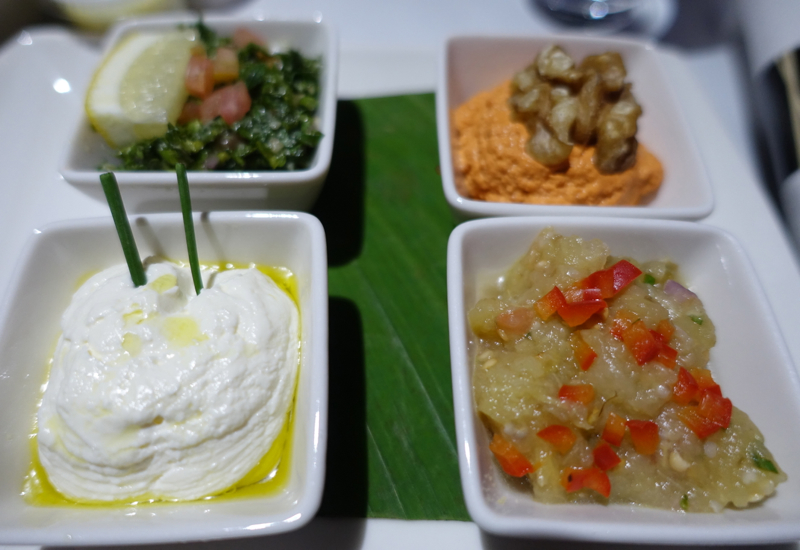 I finished with a dessert of berry tart and chocolate mousse cake which were nicely plated but forgettable. Cathay Pacific Business Class, as with most business class cabins, does not excel in dessert.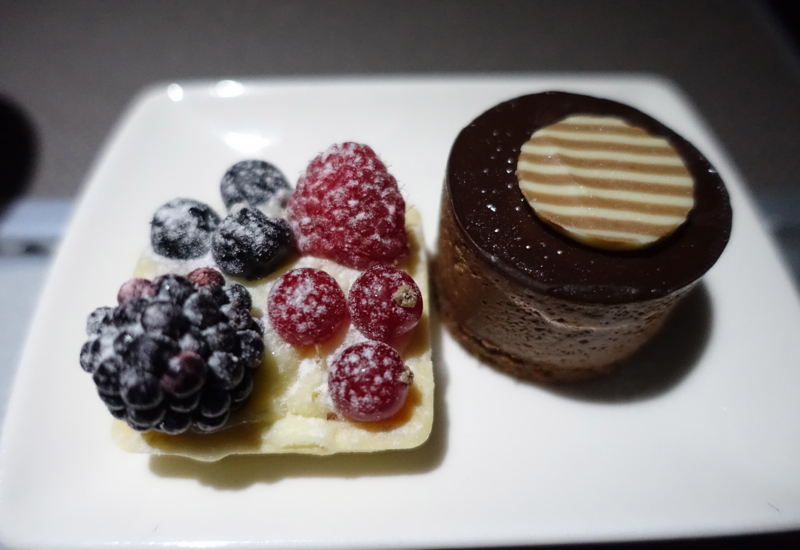 In the morning, breakfast included juice, yogurt, and croissant, and I chose the Western option of a mushroom omelette with sausage, potato rosti, and tomato. The yogurt was the best part, since it was Swiss Emmi, which is creamy and good, if not as delicious as La Ferme du Manege, which we've enjoyed in Cathay Pacific First Class.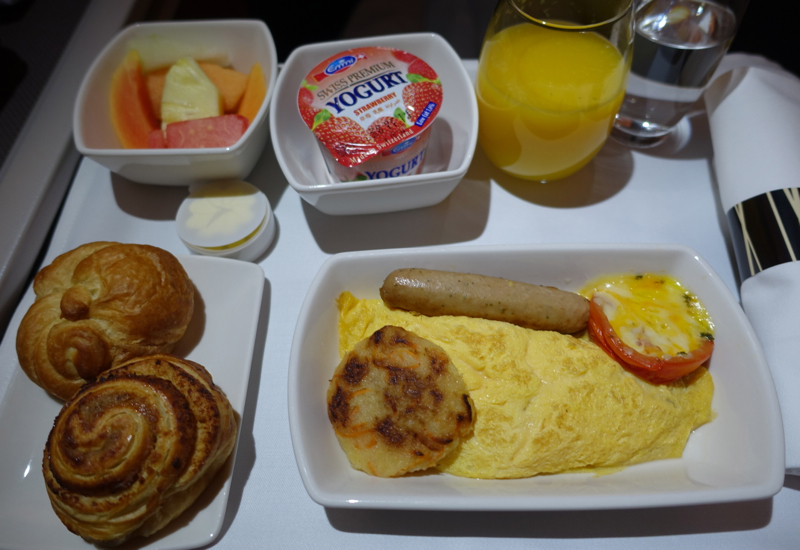 I noticed the munchkin's orange juice tasted fresh squeezed whereas mine was definitely not fresh squeezed, so apparently not enough fresh squeezed orange juice was catered for the flight and they had to supplement. Another aspect was that there was no jam on the tray, so I had to ask for it. It was Bonne Maman strawberry jam, the same as I'd had a few years back on a Cathay Pacific Business Class flight to Hong Kong. Lack of fresh squeezed orange juice notwithstanding, overall a solid breakfast offering for a business class flight.
Cathay Pacific Business Class A330 Bed and Sleep Quality
Cathay Pacific Business Class in bed mode has a usable bed length of 75 inches, which won't accommodate very tall folks who want to stretch out, but works quite well for most travelers. While I do find Cathay Pacific's old business class seat on the 747-400 to be a bit better padded, the current Cathay Pacific Business Class seat is still one of the more comfortable business class seats I've flown, after the JAL Sky Suite Business Class seat, which has its own mattress pad.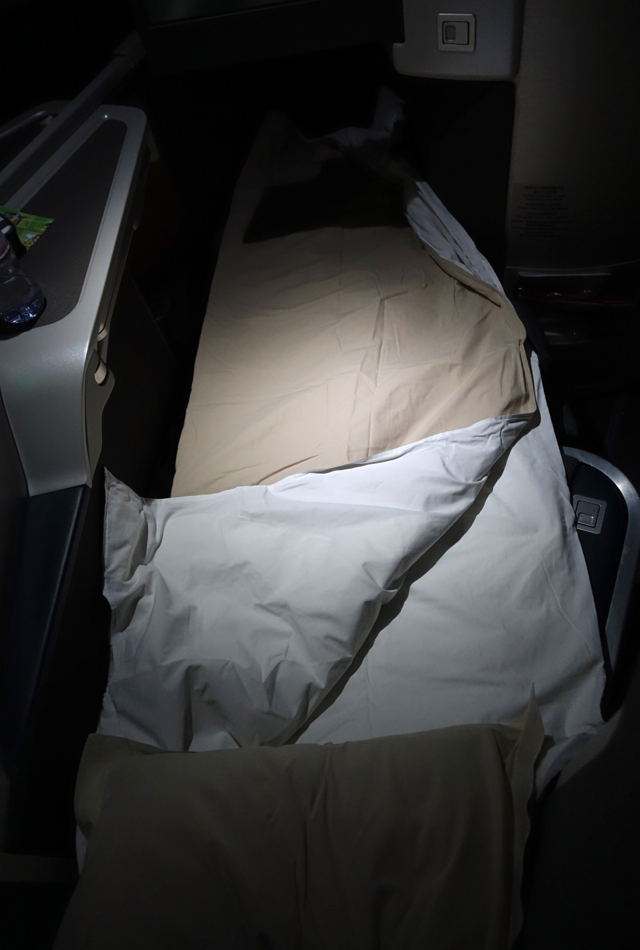 I was able to sleep nearly 5 hours, although I did use my own sleep mask rather than the less comfortable one from the Cathay Business Class amenity kit. Here is the women's amenity kit, with Jurlique products: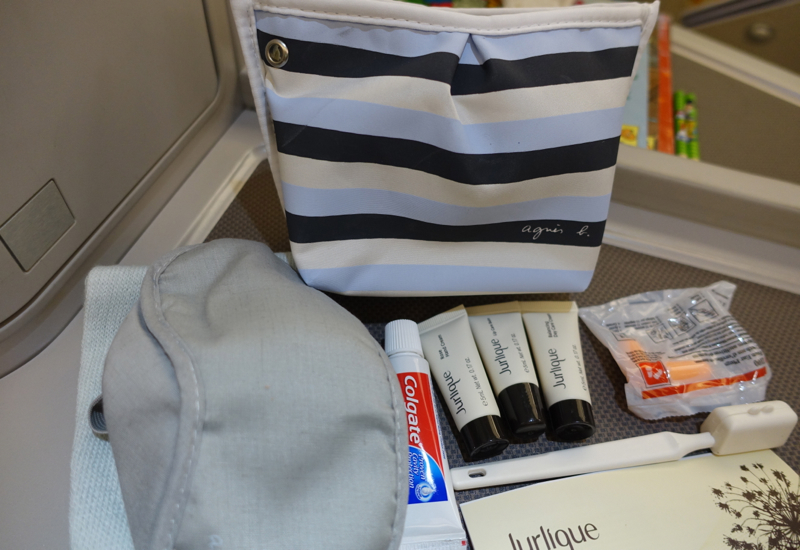 And the men's amenity kit that my son received: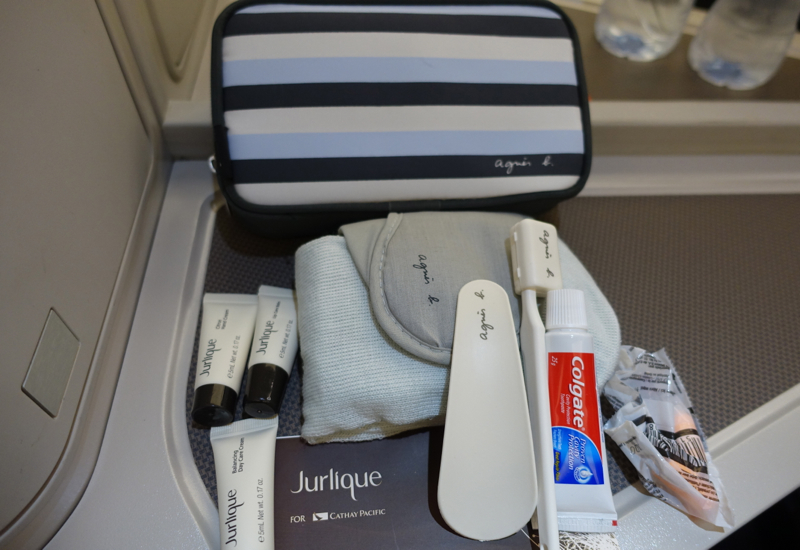 Cathay Pacific Business Class Service
I've come to have fairly modest expectations where business class service is concerned. In my view, if you want excellent service, you need to fly first class, ideally on a top airline that offers first class, such as Singapore Suites, Qantas First Class or Cathay Pacific First Class.
Even so, I was a little concerned by the business class flight attendants' reaction when I asked for something to eat due to our long delay prior to take-off. It was clearly something "off script" that they hadn't anticipated, and they had that deer in the headlights look. In the end all was fine, since they did provide some food for us.
I've already mentioned a couple other things that were forgotten, such as the chicken part of my light meal until I asked for it, and jam until I asked for it. I also had to ask for breakfast, even though flight attendants were busily going up and down the aisle serving some other passengers. I'm ok with this, but it's just important to set expectations to not expect proactive service in Cathay Pacific Business Class. Fly Cathay First if you want a more seamless experience.
That said, it was nice that they did give my son a Disney themed kids' welcome amenity. It helped occupy him during our delay on the tarmac.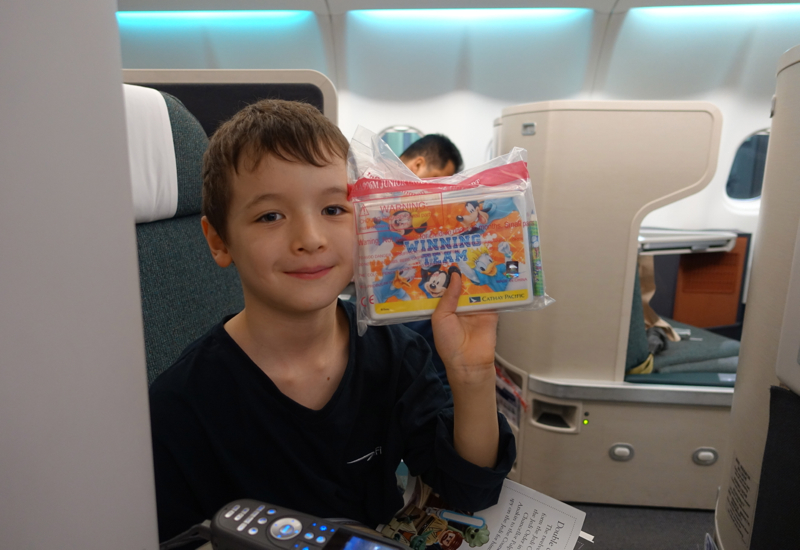 The Verdict
Apart from our delayed departure, which of course was beyond the control of the pilot and crew, our Cathay Pacific Business Class flight was what I've come to expect from Cathay Pacific Business Class: an excellent hard product including a private and comfortable seat, but hit and miss soft product with somewhat inattentive service and forgettable food, although the kid's Disney welcome amenity was a nice touch.
If you've flown Cathay Pacific Business Class on the A330, what was your experience?
Related Posts
Cathay Pacific Business Class Review 777-300ER NYC to Hong Kong
Sleeping at Hong Kong Airport: Which Lounges?
Best Business Class Airline Seats for Couples
Singapore First Class vs. Cathay Pacific First Class: Which Is Better?
When Buying US Airways or AAdvantage Miles is Worth It
Need Award Booking Help? Our fee is as low as $75 per ticket if you book your hotel through us.
If you enjoyed this, join 150,000+ readers: please follow TravelSort on Twitter or like us on Facebook to be alerted to new posts.
Become a TravelSort Client and Book Luxury Hotels with Virtuoso Amenities and Preferred Partner Amenities!
Disclaimer: Note that some cards in this post offer credit to me if you're approved using my links. The opinions, analyses, and evaluations are mine. This content is not provided or commissioned by Chase, Barclays, American Express, Citibank, US Bank, Bank of America, or any other company. They have not reviewed, approved or endorsed any of my articles.