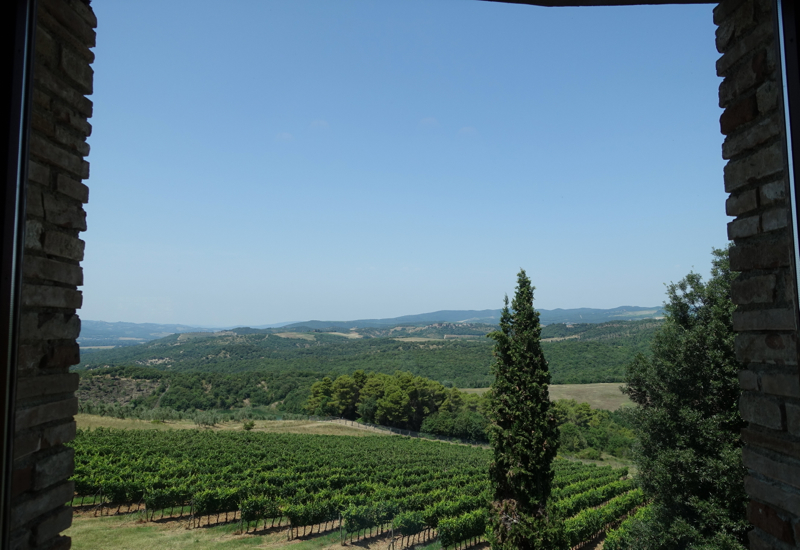 This Castello Banfi Winery Tour and Wine Tasting Review in Tuscany, Italy is part of a trip report featuring the Amalfi Coast, Tuscany, Florence, Rome, Singapore Suites, Air Berlin Business Class, and luxury hotel stays, dining and activities in Berlin and Italy.
For the prior posts, please see:
Review: Air Berlin Business Class A330 JFK to Berlin
One of Europe's Best Hidden Secrets: Guess the Place
Review: Virgin Atlantic Clubhouse, New York JFK Airport
Review: Singapore Suites A380 New York JFK to Frankfurt with a Kid
Katz Orange Berlin Restaurant Review
Marzapane Rome Restaurant Review
Emma Pizzeria Rome Review: Great Pizza in Rome
Review: Pompeii with Private Tours of Pompeii
Review: Monastero Santa Rosa Hotel and Spa, Amalfi Coast
Paestum's Greek Temples: A Must See While Staying on the Amalfi Coast
Review: Ristorante Il Refettorio at Monastero Santa Rosa
Herculaneum Photo Tour: Better Preserved Than Pompeii
Review: Castello Banfi Il Borgo in Tuscany, Italy
Review: La Sala dei Grappoli and Dining at Castello Banfi Il Borgo, Tuscany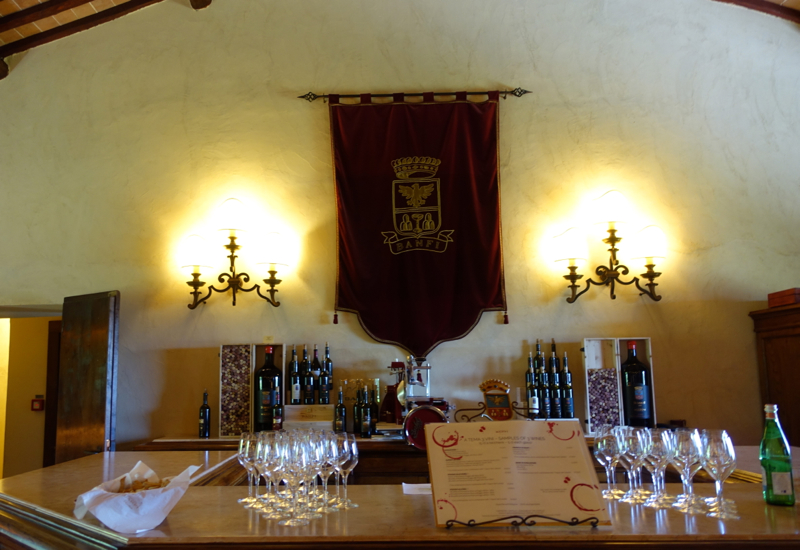 Castello Banfi Wine Tasting at L'Enoteca
If you're a TravelSort Client staying at Castello Banfi Il Borgo, you'll enjoy a complimentary wine tasting for two, accompanied by fresh bread and a plate of Tuscan cheeses and cured meats (a 64 EUR value).
You have a choice of tasting either three Sangiovese wines (including two Brunellos) or three Supertuscans, which are blends. If you're simply visiting Castello Banfi, you can pay for a tasting of three wines without the cheese and meat plate for EUR 15.
The three of us enjoyed the very generous cheese and cured meat plates. My husband and I, who generally drink full-bodied and fruit-driven Cabernet Sauvignon, Zinfandel, Malbec or Syrah, liked the Cum Laude best, followed by the Brunello 2009.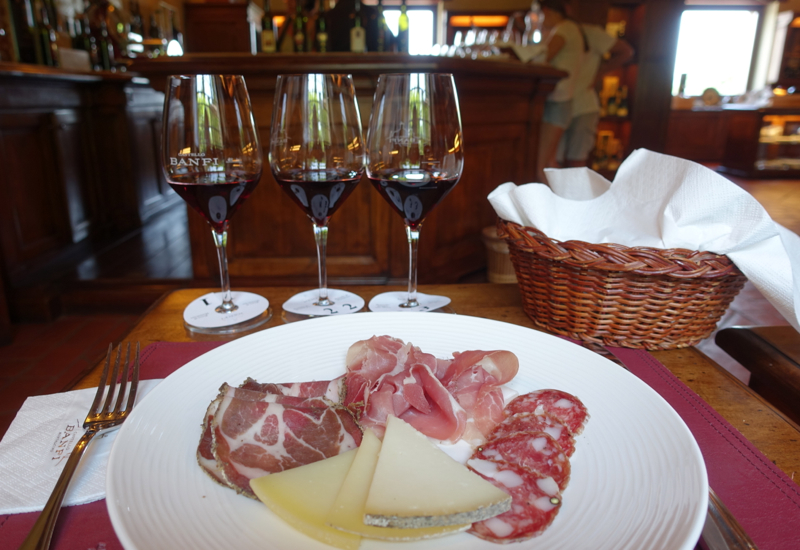 Castello Banfi Winery Tour Details
Castello Banfi offers a 1 hour complimentary winery tour Monday to Friday at 4pm (March 1-October 31 except holidays; tour is offered at 3:30pm January 7-February 28 and November 4-December 20, except holidays). To make an appointment, email reservations@banfi.it or call +39 0577 877 505.
Note that you will need to take your own car from the meeting point by the Enoteca to the winery, following the guide in his/her vehicle.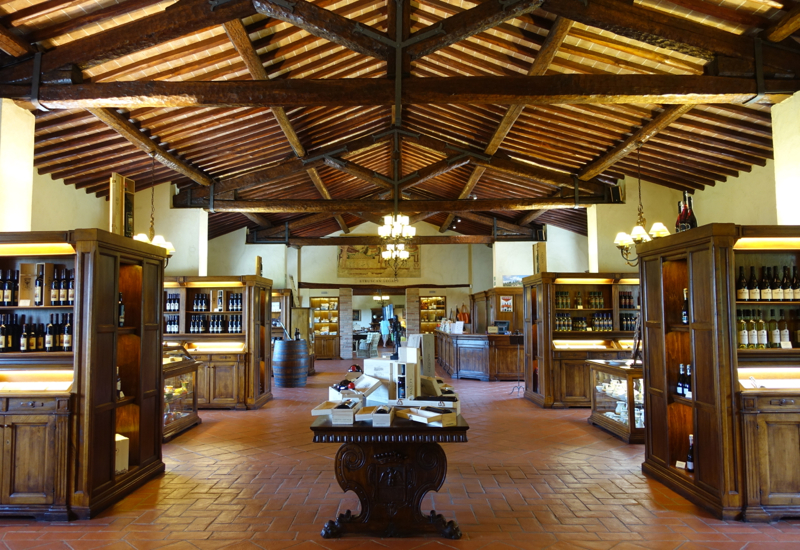 Castello Banfi Winery Tour
The meeting place for the Banfi Winery Tour is the Enoteca, and we were a group of about 15 or so. We followed our guide by car to the winery, which, once we got back to the main road, was the next right. We were given visitor badges before entering the fermentation part of the winery. Castello Banfi won "Winery of the Year, Europe" in the 2015 Winemaker Challenge, so this honor was proudly displayed: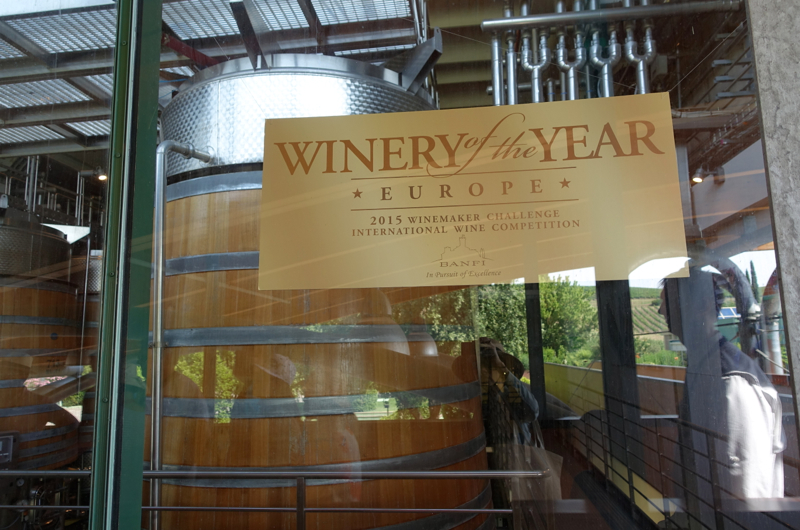 The fermentation area was one of the most interesting parts of our tour, since Banfi holds a patent on its hybrid oak and stainless steel fermentation tanks. The oak imparts flavor, but the stainless steel at the bottom makes them easier to clean.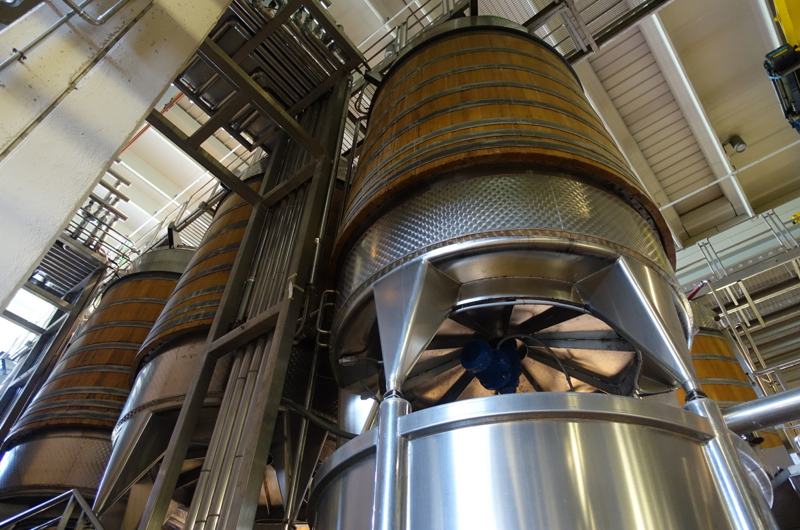 After fermentation, the grapes are pressed and the resulting wine filtered, although none of this was in use during our July visit, since harvest doesn't take place until August-October, with the white grapes harvested first, then the red grapes. About half the grapes are harvested by hand (all of the grapes for Banfi's more exclusive vintages) and about half the grapes are harvested by machine. During the harvest, about 500 people are employed by Castello Banfi–double the usual number.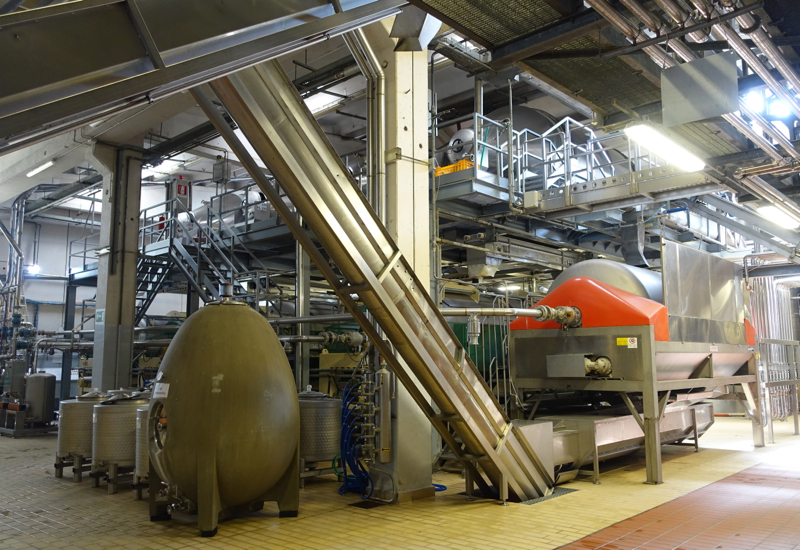 We then walked to the aging area, where barrel upon barrel of wine was aging in French oak. The casks bear both the stamp of the Italian cooper and the French forest where the wood comes from, as well as a bar code to track the exact wine inside. The oak barrels are replaced every 5 years, since at that point the oak no longer imparts much flavor to the wine.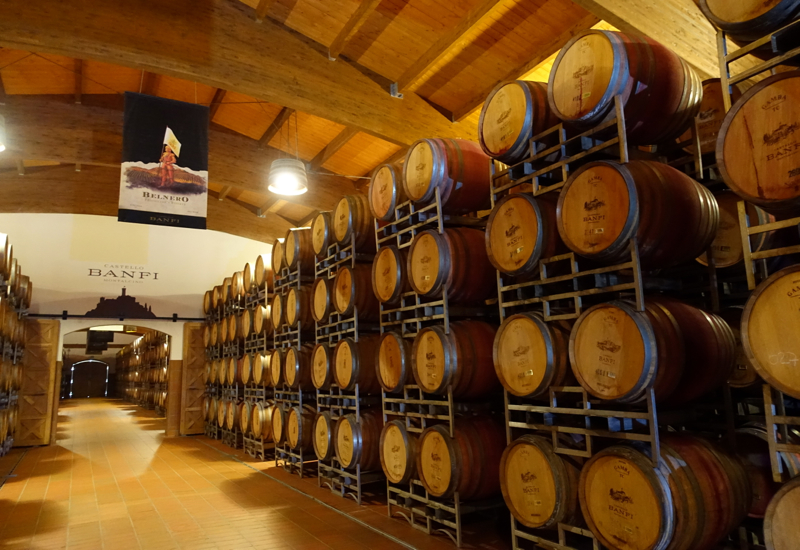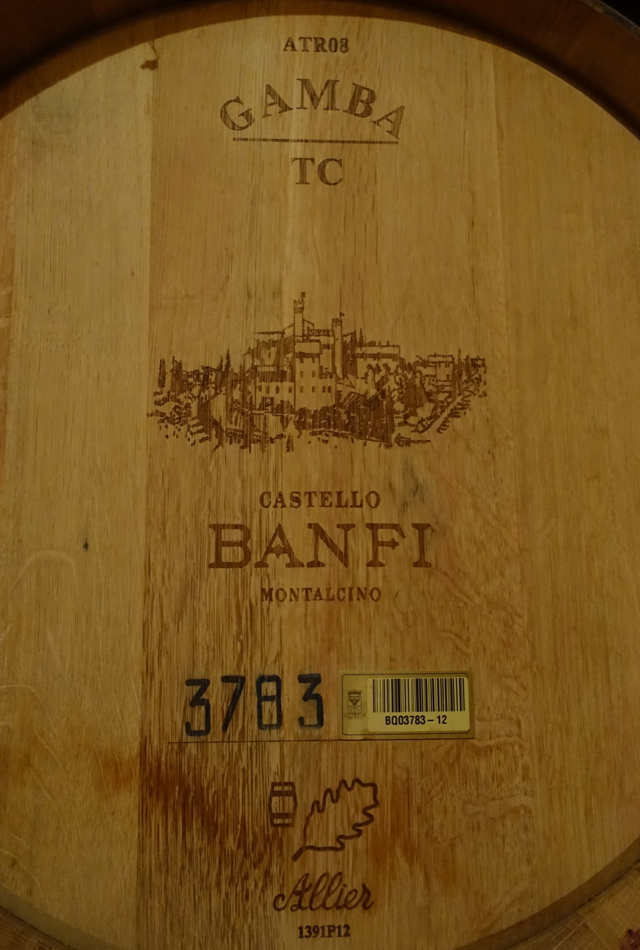 In the cellar, no air conditioning is needed–it's the perfect cool temperature year round. Here we saw some even larger oak barrels, and some of the decor was, appropriately enough, fashioned out of wine bottles.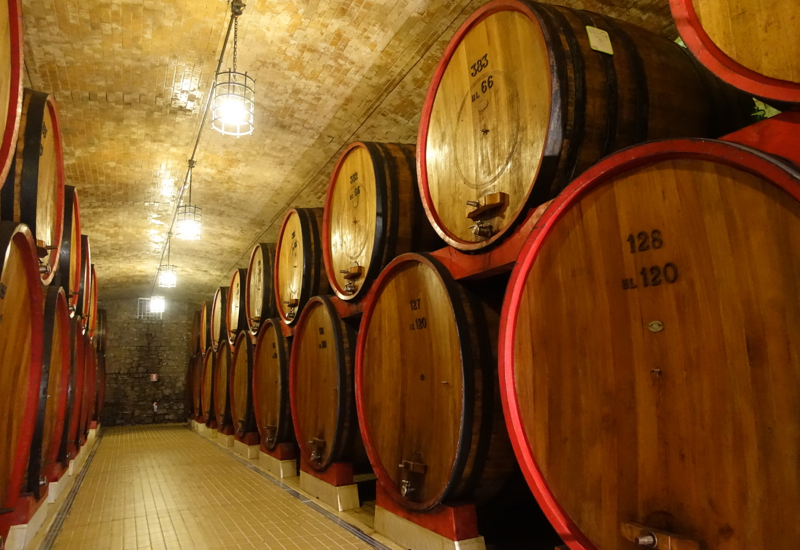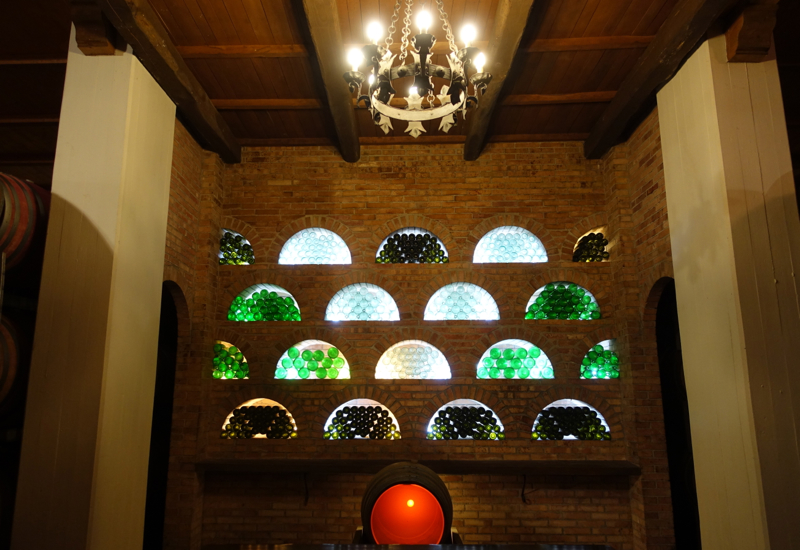 Especially eye-catching was this wine bottle chandelier: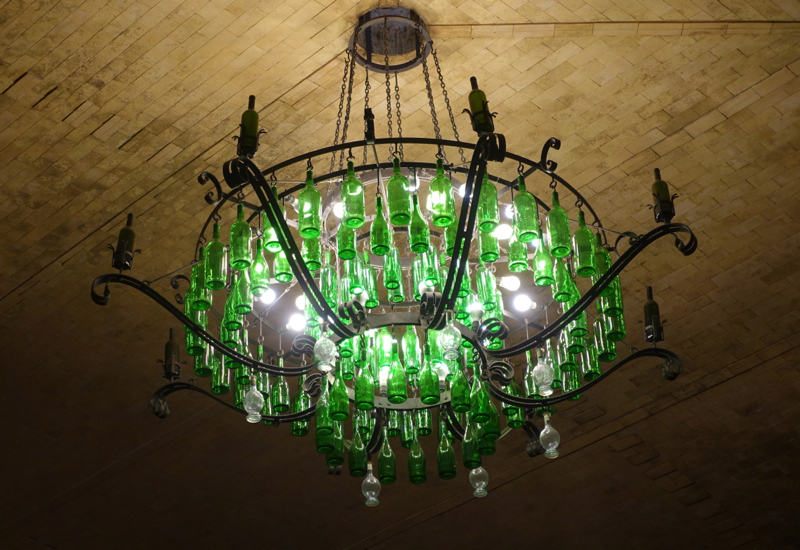 The Verdict
After several busy days in the Amalfi Coast area, viewing Pompeii, Paestum and Herculaneum, we were happy to enjoy a relaxing stay at Castello Banfi, including this brief but interesting winery tour. Castello Banfi has the largest production of Sangiovese grapes in the Montalcino area and produces the majority of Montalcino Brunello, so it has quite an advantage relative to smaller producers in being able to use only the best grapes from its vineyards in more challenging growing seasons.
We also enjoyed our complimentary Virtuoso wine tasting, with cheese and meat platter, at the L'Enoteca. The wine glasses were helpfully labeled with a card stating the wine's name and vintage, and there was no problem at all to share the cheeses and meats with our son, or to obtain drinking water.
If you've taken Castello Banfi's winery tour or done a tasting at the L'Enoteca, what was your experience?
Related Posts
Review: Castello Banfi Il Borgo in Tuscany, Italy
Review: La Sala dei Grappoli and Dining at Castello Banfi Il Borgo, Tuscany
Florence: Gourmet Dining and Foodie Delights
Emirates A380 Between U.S. and Europe and How to Book Awards
Need Award Booking Help? Our fee is as low as $75 per ticket if you book your hotel through us.
If you enjoyed this, join 200,000+ readers: please follow TravelSort on Twitter or like us on Facebook to be alerted to new posts.
Become a TravelSort Client and Book 5-star hotels with Virtuoso Perks and Four Seasons Preferred Partner Benefits