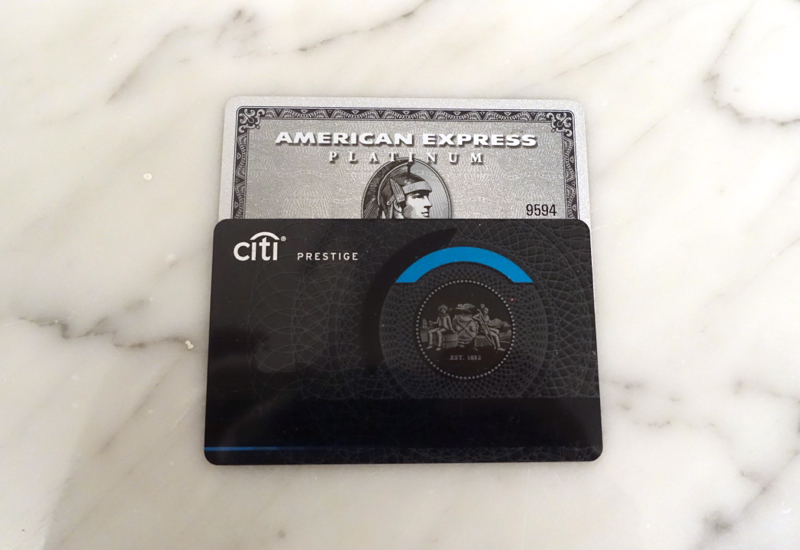 Should you cancel the Citi Prestige or AMEX Platinum if you don't want to pay the annual fee for both cards? TravelSort reader James writes "I was fortunate to sign up for a targeted offer for the 100K AMEX Platinum and also signed up for the 50K Citi Prestige around the same time, and my annual fees on both cards will hit in about a month. Even with the airline fee credits, I just can't see paying $900 in annual fees in order to keep the two cards, and am having trouble deciding which one to keep.
On the one hand, I really like the AMEX Centurion Lounges and even the smaller Centurion Studio (I live in Seattle), which I use a number of times each year for both business and leisure travel. On the other hand the Citi Prestige airfare credit is easier to use. I liked the bonuses, but honestly apart from the lounge benefits I don't use the other benefits much; for example I've never had occasion to use the 4th night free hotel benefit since most of my hotel stays are 3 nights or fewer and I don't play golf. Which card should I keep?"
James' question is a relevant one to many of us who have both cards and aren't sure that we want to pay the annual fees for both. I'll discuss the various considerations here, which of course could come out differently for readers depending on their travel patterns and preferences.
Annual Fee: $450 for Both Cards
Both the Citi Prestige and the AMEX Platinum carry a $450 annual fee. The only exception for the Citi Prestige is if you have a Citi Gold account and signed up for the card in a Citi branch, in which case you should be entitled to a $350 annual fee. Since we don't want the hassle of another bank account (our primary bank is First Republic, which provides fantastic customer service, refunds all our ATM fees and also gave us by far the best mortgage offer) we haven't bothered with a Citi Gold account, but for those who did have a Citi Gold account, they have a $350 annual fee.
For the AMEX Platinum, there is normally no reduced fee in the 2nd year (even for the Ameriprise AMEX Platinum with no annual fee the first year, since subsequent years are $450 per year), although sometimes a retention offer will provide a statement credit; see the retention discussion below.
Winner: Tie, unless you're a Citi Gold customer and got a $350 annual fee for the Citi Prestige or you get an AMEX Platinum retention offer of statement credit that helps reduce the annual fee.
Airfare Credit
The AMEX Platinum airline incidental fee credit is $200 per calendar year and is supposed to be used for incidental purchases only, such as baggage fees and lounge passes. Airline tickets, upgrade fees, frequent flyer mile purchases, points transfer fees, duty free purchases and gift cards are explicitly excluded. You also must first select your chosen airline *before* you make an eligible airline incidental purchase, and you are only allowed to change your selection annually, in January. You can get value by buying airline gift cards in small denominations; see AMEX Platinum Airline Fee Credits Posted: $400 Off American Airlines Flights
The Citi Prestige gives you $250 airline credit from your December to December billing cycle. The great thing about the Citi Prestige airline benefit is that it can be used for any airline (assuming it codes purchases correctly as air travel) for charges that include air fares. The airline benefit fee on its own justifies getting the Citi Prestige at least for the first year, since you actually make $50 from the card assuming you use both $250 airline credits, for a total of $500 in airline credits.
Winner: Citi Prestige
Transfer Partners
It's always important to consider not just how many frequent flyer miles or points you're earning, but also your own valuation of these miles or points, which can vary from person to person based on how you use them. Whatever you do, don't use "Pay with Points" or redeem for merchandise or gift cards, since these are the lowest value use of the points.
In general, transferable points currencies such as AMEX Membership Rewards points, Citi ThankYou points, Chase Ultimate Rewards points and SPG Starpoints are most valuable when transferred to airline partners and used to book first class or business class award travel.
If you don't have the flexibility to be able to redeem for first class or business class award tickets, don't travel internationally, or barely travel period, you may want to reconsider whether a travel rewards card even makes sense for you; a 2% cash back card or card with rotating 5% cash back categories such as the Chase Freedom may be a better bet for you.
I find AMEX Membership Rewards points more valuable than Citi ThankYou points for 3 reasons: 1) more transfer partners; 2) more transfer partners that I consider valuable; and 3) the ability to keep points alive even after closing the card, as long as another Membership Rewards-linked card is still open.
Specifically, with AMEX Membership Rewards, the airline partners my clients most offer transfer to are:
Aeroplan (Air Canada)
Flying Blue (Air France / KLM)
Asia Miles (Cathay Pacific)
British Airways Avios
Delta SkyMiles
Singapore KrisFlyer
With Citi ThankYou points, the main partners that clients transfer to are:
Asia Miles (Cathay Pacific)
Flying Blue (Air France / KLM)
Skingapore KrisFlyer
Winner: AMEX Platinum
Category Bonus Points
There's no question that the Citi Prestige has category bonuses, whereas the AMEX Platinum has none. Specifically, the Citi Prestige provides a 3X bonus on air travel and hotels, and 2X on dining/entertainment.
Winner: Citi Prestige
Lounge Benefits
Both cards give you a Priority Pass Select membership, which gives you complimentary access to over 700 Priority Pass lounges, regardless of the airline you're flying that day. The Citi Prestige also grants complimentary access to either two guests or your immediate family members, while the AMEX Platinum, to my knowledge, only grants access to the card member; only the AMEX Centurion grants complimentary guest access.
The Citi Prestige gives you access to American Admirals Club lounges (update: only until July 23, 2017; after that date this benefit is eliminated), when you have a same day ticket on American. Note that you do NOT receive lounge access if you're flying another airline that day (you would need the Citi Executive AAdvantage card if you want Admirals Club lounge access regardless of the airline you're flying that day).
The AMEX Platinum, in addition to Priority Pass Select (for which, let's be honest, the lounges are generally nothing to write home about) also gives you complimentary access to AMEX Centurion Lounges. These are much better quality-wise than the Priority Pass lounges and American Admirals Club lounges, but are in only a few locations, so your benefit here depends very much on how often your travels take you to where there is an AMEX Centurion Lounge:
AMEX Centurion Lounge at Dallas/Fort Worth DFW
AMEX Centurion Lounge at Houston IAH
AMEX Centurion Lounge at Miami MIA
Winner: AMEX Platinum if you can make use of the Centurion Lounges. Citi Prestige won't provide complimentary access to American Admirals Club lounge after July 23, 2017. And for Priority Pass, the Chase Sapphire Reserve allows you to bring accompanying travel companions. See Chase Sapphire Reserve Priority Pass Select Lounge Access and FAQ.
Hotel Benefits
American Express' Fine Hotels & Resorts program offers benefits such as complimentary daily breakfast (typically continental), upgrade based on availability, guaranteed 4pm late checkout (one of the most valuable benefits) and a property specific amenity such as a $100 food and beverage credit or spa credit.
Virtuoso benefits are very similar to AMEX FHR, although the property-specific benefit can vary. Generally, if it's a hotel with a preferred partner program, that is the best way to book the hotel, since the preferred partner programs prioritize upgrades for guests booked this way over upgrades for guests booking via AMEX FHR or Virtuoso.
For TravelSort Clients with the AMEX Platinum or AMEX Centurion, I book via the preferred partner program if there is one, or for a boutique hotel without a preferred partner program, I can reserve either via AMEX FHR or via Virtuoso depending on the benefits that the client prefers for the stay.
The Citi Prestige offers a 4th night free at hotels, but only if you book via Citi's concierge partner, which is not a Virtuoso member or a member of most preferred partner programs, so you don't receive these additional benefits, although there are some MasterCard Luxury Hotel and Resort collection benefits you can receive for mid-tier hotels (these don't include luxury hotels such as Aman Resorts, Mandarin Oriental, Peninsula, Rosewood, Belmond, Dorchester, Rocco Forte etc.)
Note also that you have to wait at least 1 billing cycle to receive a statement credit for the 4th night free; with Virtuoso 4th night free, AMEX FHR 4th night free and preferred partner 4th night free offers, your 4th night free is deducted when you pay the hotel, so there is no waiting period.
Also keep in mind the value of working with TravelSort or a luxury travel advisor who will personally advocate on your behalf for an upgrade and should anything go awry during your stay. While it isn't often, even stays at the best luxury hotels can experience a service lapse, and when it happens to a client, I'm in direct contact with the GM to ensure a service recovery for my client.
Winner: Citi Prestige, but being a TravelSort Client or working with a Luxury Travel Advisor yields greater benefits for Aman Resorts, Four Seasons, Peninsula, Mandarin Oriental, Rosewood and other 5-star luxury hotel reservations. And for those with shorter hotel stays, the AMEX Platinum wins since it broadens your options when it comes to hotel perks, via AMEX FHR.
Refer a Friend Bonus Points
It's possible to refer a friend to your AMEX card for the AMEX Platinum and AMEX Business Platinum (see AMEX Refer a Friend: Up to 55K Bonus Points) but as far as I know, there's no opportunity to earn bonus ThankYou points by referring friends to the Citi Prestige card. In fact, I haven't seen any Citi Refer a Friend opportunities for credit cards.
Winner: AMEX Platinum
Retention
As of this writing, there are no Citi retention offers because it's impossible to get through to what used to be Citi's Retention Department, as they sort out the Costco Citi cobranded card mess.
AMEX Platinum retention bonuses have definitely gotten stingier, but at least they still exist. See AMEX Retention Offers: Business Gold Rewards, AMEX Platinum and AMEX Business Platinum.
Winer: AMEX Platinum
Other Benefits
James has already mentioned he doesn't golf, but for those who do, the Citi Prestige golf benefit is very popular; it provides 3 complimentary rounds of golf for the primary cardmember. See the Citi Golf Hub and create an account. Note that not all golf courses are included, particularly if they're connected to a resort; for example if you're looking to play at the Four Seasons Hualalai Jack Nicklaus Golf Course or the gorgeous course at The Farm at Cape Kidnappers in New Zealand, neither is eligible.
Meanwhile, the AMEX Platinum has a Cruise Privileges Program that similarly will only benefit card members who cruise. The benefit ranges from $100-$300 shipboard credit per stateroom, with a cruise line specific amenity, and applies to sailing of at least 5 nights. TravelSort Clients who are U.S. AMEX Platinum or AMEX Centurion members can also enjoy these benefits when booking with TravelSort, they just need to mention that they have the card, will be using it for their cruise, and want to take advantage of the Cruise Privileges Program.
Naturally both cards also offer insurance benefits, many of which are similar (although the Citi Prestige also offers trip cancellation and interruption protection which the AMEX Platinum does not). Note that air travel insurance only applies when the entire amount is paid for with the card (so paying taxes/fees on an award ticket doesn't count, for either card).
Winner: Depends on what you value.
Customer Service
AMEX used to easily have some of the best customer service among credit card issuers, although that's less true these days, as AMEX has cut costs. Still, I generally find there are shorter wait times when I call the number on the back of my AMEX Platinum than when I call the number on the back of my Citi Prestige, and also that the AMEX reps generally are more helpful than for the Citi Prestige. AMEX also tends to be more pro-consumer when it comes to merchant disputes.
Winner: AMEX Platinum
Churnability
AMEX credit card bonuses are once in a lifetime, so from the perspective of being able to earn the signup bonus again, it's best to close a Citi Prestige. Yes, current terms are that you'll have to wait 24 months until being eligible for a signup bonus again, and of course anything could happen in that time. But if current Citi and AMEX policies hold, then you'd be able to apply and earn another signup bonus for the Citi Prestige in 2 years, whereas you won't be able to earn a signup bonus for the same AMEX card again, ever. Just be sure to transfer your Citi ThankYou points either before closing your Citi Prestige, or at least within 60 days of closing as they expire after that, even if you have another ThankYou points card. See Where to Transfer AMEX Points and Citi ThankYou Points Before Closing Credit Cards?
Winner: Citi Prestige (so best to close it)
Verdict
In James' situation, since he's based in Seattle and makes good use of the Centurion Lounges and the Centurion Studio in Seattle, keeping the AMEX Platinum likely makes the most sense. Day passes to the Centurion Studio for other AMEX card members are sold for $50 on a space available basis, and at least during one of my visits there, I saw an AMEX card member being denied a day pass because the lounge was already at capacity.
He'll also have more choices in terms of Membership Rewards transfer partners, the possibility of a retention offer that will either reduce his annual fee with a statement credit or provide some extra Membership Rewards points, and the ability to refer friends to earn extra bonus points. Meanwhile, he's giving up category bonuses (but if he has a ThankYou Premier card he'll have even better category bonuses) and also the more flexible airline fee credit, as well as benefits that he personally doesn't use, such as the 4th night free at hotel and golf benefit.
In my case I will most likely also cancel the Citi Prestige, which was a no brainer for the first year but which I've scarcely used since getting it, since I also have the Citi ThankYou Premier, which gets 3X on all travel and only has a $95 annual fee. It's true I don't put much spend on the AMEX Platinum either, so I may also cancel it as well, and rely instead on my Business Gold Rewards AMEX to keep my Membership Rewards points alive, at least until I get the AMEX EveryDay Preferred card. That said, I plan to first visit the new Centurion Lounge in Houston IAH…
Related Posts
Chase Sapphire Preferred or Citi ThankYou Premier: Which Travel Credit Card?
Expedite AMEX Membership Rewards Points via Live Chat
AMEX Refer a Friend: Up to 55K Bonus Points with AMEX Business Platinum, SPG Business AMEX
Which Travel Credit Card for AA Flights and Other Business Travel?
Citi ThankYou Points Transfer Rules
Need Award Booking Help? Our fee is as low as $75 per ticket if you book your hotel through us.
If you enjoyed this, join 200,000+ readers: please follow TravelSort on Twitter or like us on Facebook to be alerted to new posts.
Become a TravelSort Client and Book 5-Star Hotels with Virtuoso or Four Seasons Preferred Partner Amenities!