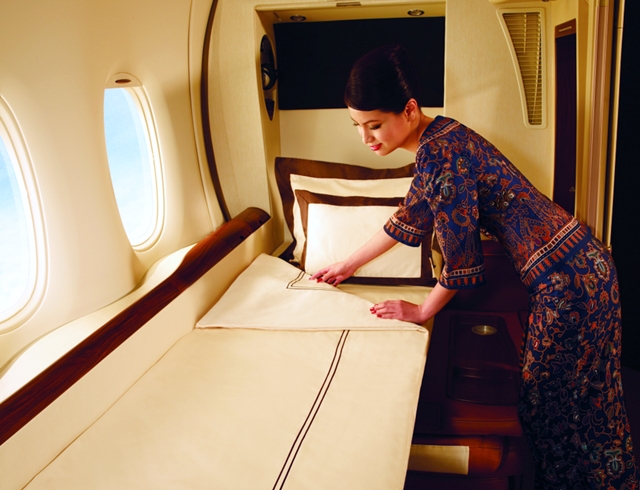 Is buying Singapore miles from KrisFlyer ever worth it? Although this isn't a cheap option, it can be worth it if you just need a few more miles to top up your account, or if you need to travel on certain dates and the awards may disappear by the time you've earned Singapore KrisFlyer miles in a cheaper way.
How to Buy Singapore KrisFlyer Miles
In order to buy Singapore KrisFlyer miles, you need to have in your account at least 50% of the miles required for the award you want to redeem. If you do, then when you search for the award, you'll be given the option to buy the remaining miles needed to book your award. The 50% of the miles needed is calculated based on the actual number of miles you would pay for the award, taking into account the 15% discount when booking online.
For example, let's say you have just shy of 18,000 miles in your KrisFlyer account and you want to book Singapore Suites on the A380 between Singapore and Hong Kong and check out the Singapore Private Room prior to your flight. If a Suites Saver Award is available, it will cost 31,875 miles + SGD 41.90. You would need to buy 14,000 KrisFlyer miles at a cost of SGD 748.61 (~USD $560) to book the award.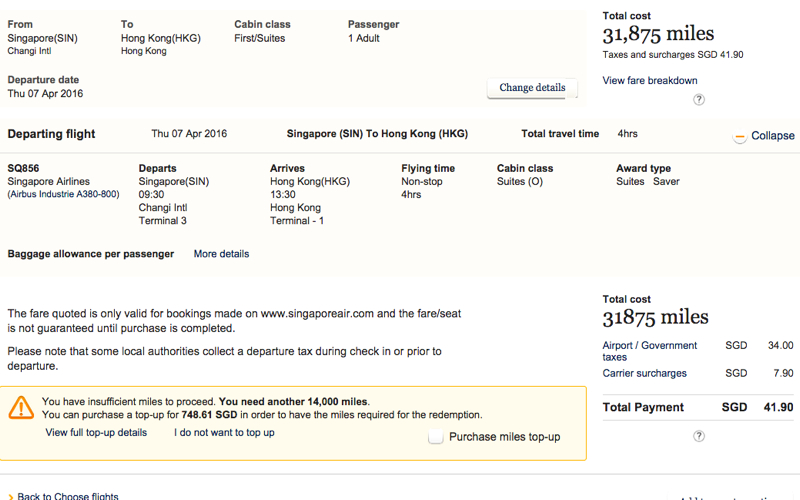 Can You Buy Singapore KrisFlyer Miles to Waitlist a Flight?
Unfortunately no. You do need to have enough KrisFlyer miles in your account for the most expensive award you waitlist, and you are not given the option to buy miles if you are only waitlisting a flight, rather than actually ticketing an award.
What If You Cancel the Award?
If you cancel an award where you bought some of the KrisFlyer miles, the miles will go back into your account. It's not an attractive option to build up miles, however, given the cost of $40 per 1000 miles, which is 4 cents per mile.
Cheapest Ways to Earn Singapore KrisFlyer Miles
If you don't fly regularly on paid Singapore Airlines tickets, the cheapest ways to earn Singapore KrisFlyer miles are with signup bonuses and category spend bonuses from U.S. credit cards that are linked in Chase Ultimate Rewards points, AMEX Membership Rewards points, or Citi ThankYou Preferred points.
The cards I'd recommend are:
Category Spend Bonuses
After credit card signup bonuses and excluding manufactured spend (which isn't always that cheap when you consider the time and effort required), category bonuses can help you earn KrisFlyer miles faster:
Ink Plus 5X bonus for office supply store spend, including gift cards (5X on all Amazon spend, 5X on all Whole Foods spend)
Chase Freedom 5X categories; Q2 2015 is 5X on all restaurants, so it's a great time now to stock up on gift certificates to your favorite restaurants
AMEX Premier Rewards Gold 3X on airfare
Sapphire Preferred 2X on all travel and hotel spend
How Long Does it Take to Transfer Points to Singapore KrisFlyer?
Another factor in deciding whether to buy miles to top up your Singapore KrisFlyer account is how long it takes to transfer points to Singapore KrisFlyer, since the saver award you want could be booked while you wait for the transfer to go through. The advantage of buying Singapore miles if you have nearly the amount you need is that the process is instant, whereas transfers are never instant.
Chase Ultimate Rewards points: Chase says to allow up to 2 business days, but typically points transfer within 1 Singapore business day
AMEX Membership Rewards: Allow up to 2 business days, but typically points transfer within 1 Singapore business day
Citi ThankYou Points: Citi says to allow up to 14 (!) days for the transfer, but typically points transfer within 1-2 business days
Have you ever bought KrisFlyer miles to book an award ticket on Singapore Airlines?
Related Posts