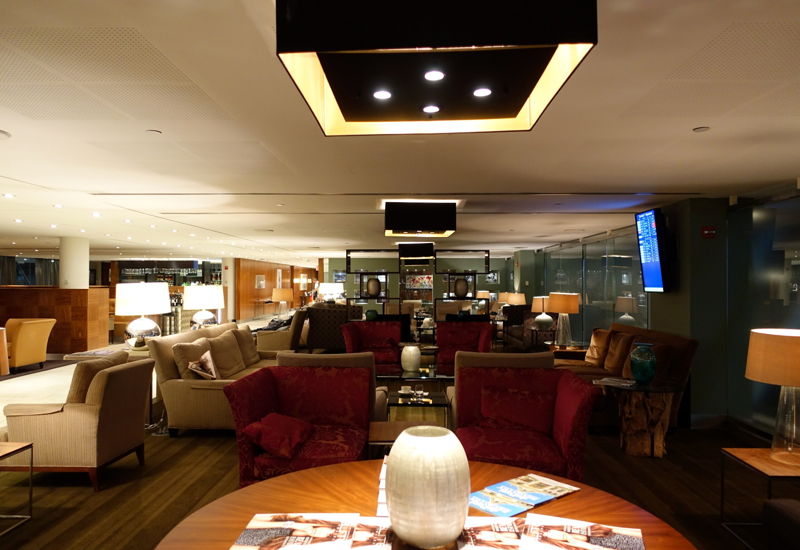 British Airways' New First Class Seat will be on its 787-9 Dreamliner launching next year, in 2015, but the details are top secret. The Financial Times reports that "a single, top-secret prototype of the product BA hopes will secure its status as an industry leader – a brand new first-class seat" is in British Airways' Technical Block C on the 4th floor and is outfitted in soft "raven black" leather and, per British Airways Cabin Interiors Manager Kathryn Doyle, will be "an evolution rather than revolution."
In other articles, British Airways Managing Director of Brands and Customer Experience Frank van der Post has noted that the BA New First in the 787-9 "many not be a full cabin of 12 – 14 seats, it will be a little bit smaller" and will "feel exceptionally elegant and beautifully British–exactly what our customers ask of us."
While it's great to hear a new product is being developed for British Airways' new 787-9 Dreamliners, it scarcely sounds industry leading from what has been alluded to thus far. British Airways is lucky it doesn't compete head to head on most of its routes against the top Asian carriers, many of which have not only better first class seats and cabins, but more compelling first class products overall.
Here are the top things I wish British Airways would improve for First Class, based on British Airways First Class flights and other first class flights I've flown:
1. More Comfortable Bed
Business class is about a flat bed seat, but first class should be about a more comfortable bed. The thin mattress pad that British Airways uses doesn't compare favorably to Singapore Airlines or Japan Airlines, which use memory foam type mattress pads that provide significantly greater comfort. If I could change only one thing about British Airways New First Class, it would be to make the bed more comfortable.
2. Wider Bed
Along with a more comfortable bed, British Airways First Class should really have a wider bed. Cathay Pacific First Class seats are 36 inches wide, significantly wider than the 22 inches British Airways First Class offers.
3. Better Service
While I've been fortunate to have had mostly pleasant service on my British Airways First Class flights, there's no denying that service levels are nowhere near those found on most Singapore Airlines Suites / First Class or Cathay Pacific First Class flights, or of my stellar Qantas First Class flight.
If I was British Airways, I'd ensure that managers and pursers responsible for first class in-flight experience all have experienced Singapore Suites class and ensure sufficient flight attendant training time for those attendants selected to serve in First Class. But even more important than training time is the right attitude. To truly provide a first class experience, airlines and hotels could learn a great deal from Aman Resorts, which hires most front line team members based on their innate hospitality. While the finer points of service in terms of how to recommend or pour champagne or wine, when to ask if a guest would like assistance, etc. can be learned, innate hospitality and desire to serve well and graciously cannot be taught.
4. Pre-Order Meal Service and Dine on Demand
In my view all airline first class cabin experiences should include dine on demand–the passenger may choose when to dine, there is no regimented service of all passengers at the same time, as there must be for logistical reasons in Economy or Business Class.
And to do dine on demand well, it's helpful to provide airline pre-order meal service, since that allows passengers to pre-select the meals they actualy want, improve their satisfaction with their meal, and ensure that at least the main meal served to each passenger is one that they want (and is reserved for them, even if they opt to sleep first and dine later).
5. Better Ground Experience, Especially Elemis Massage
While I won't deride the entire Concorde Room Lounge experience the way some have, and have actually enjoyed being able to reserve a private cabana ahead of time and the food served in the Concorde Room (well, except for the truly horrible burger) there is definitely room for improvement. The Cabanas could use a refresh, to have their furnishings match the expected sleeker, more luxurious look of the new cabin.
Also, Elemis massages should be improved. The one I tried was easily the worst massage I've ever experienced, and I nearly cut the 15 minute time short because it was painful and the therapist insisted it had to be done that way (!!)
Complimentary chauffeur airport transfers, as Etihad, Emirates and Qantas offer, would also help bring the ground service to the next level.
What are you hoping for with British Airways' New First Class on the 787-9?
Related Posts
Best Seats in British Airways New First Class, 747-400 JFK-LHR
British Airways New First Class 777 Review
Review: British Airways Concorde Room Lounge NYC JFK Terminal 7
British Airways Concorde Room and Cabana Heathrow Review
Need Award Booking Help? Our fee is as low as $75 per ticket if you book your hotel through us.
If you enjoyed this, join 150,000+ readers: please follow TravelSort on Twitter or like us on Facebook to be alerted to new posts.
Become a TravelSort Client and Book 5-Star Hotels with Virtuoso or Four Seasons Preferred Partner Amenities!