Whew, 2012 has been quite a year! I feel fortunate to have shared some fantastic travel experiences with family and via this blog with TravelSort readers. I figured I'd round up some of my very favorite travel experiences of 2012. Naturally, these are subjective and all in the context of my other travel experiences of 2012. I'll also cover how to get these experiences for yourself.
So here we go:
Best First Class Seat: Cathay Pacific
There are certainly more private first class products than Cathay Pacific, but what I loved about Cathay Pacific was being able to dine across from your companion, and an extra wide seat that enable me to sit right next to my son and read stories to him. As with most other international first class seats, there's a turndown service, and your seat is made into a full flat and comfortably wide bed.
Fly Cathay Pacific with Miles and Points: For long haul flights on Cathay Pacific, the best deal is using American Airlines miles, although note that the calendar for redeeming American AAdvantage miles opens later than for Cathay Pacific's own frequent flyer members and for British Airways Avios redemptions, so you do risk award seats already being booked by the time you book using American miles.
You can earn American AAdvantage miles even without flying with credit card applications (see Best Travel Credit Cards for current links) and via BankDirect.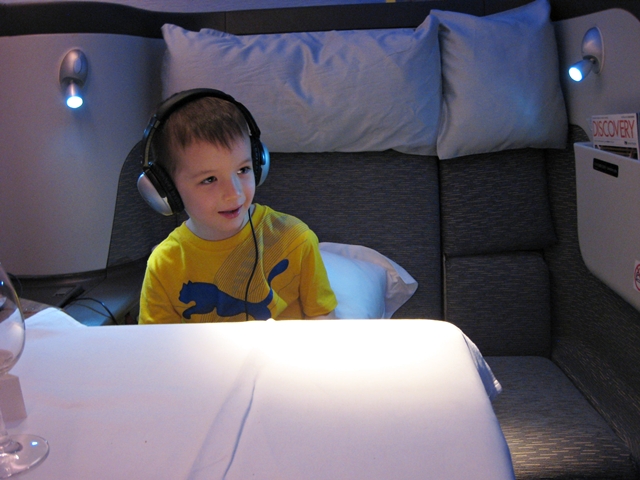 Best First Class Service: Singapore Airlines
Don't get me wrong, I had excellent service in Cathay Pacific first class. But what I enjoyed on my recent first class flight in Singapore was that the flight attendant, while very professional and attentive, was also very personable. She took the time to talk with me about more than the flight and the food, such that we also spoke about our families, kids, and places we'd traveled to with them. It may not be for everyone, but I'm pretty sure that if I'd indicated I just wanted to work or sleep and be left alone, that would have been fine too–the choice is yours.
Fly Singapore Airlines with Miles and Points: While you can easily redeem United miles for Singapore economy awards, your best bet at redeeming for Singapore First Class and Suites is by transferring SPG points or AMEX Membership Rewards points to Singapore KrisFlyer, which gives you access to Singapore's own frequent flyer award space.
If you're not yet an AMEX cardmember, check to see if you've been targeted for 75,000 points for the AMEX Premier Rewards Gold card or even a 100,000 offer for the AMEX Platinum card. Not targeted? Sign up for the Mercedes-Benz Platinum AMEX for 50,000 points (see Best Travel Credit Cards for current link).
Best First Class Food: Cathay Pacific
It could be that I chose unluckily from the first class menus on Lufthansa and Singapore, but I was in general more impressed with the food in Cathay Pacific First Class from Hong Kong to New York (although not in Cathay Pacific Business Class). My favorite was the caviar and Balik salmon served as an appetizer, but I also enjoyed the King Prawns with Garlic Butter, Hong Kong Egg Tarts, and the chance to have dim sum for breakfast.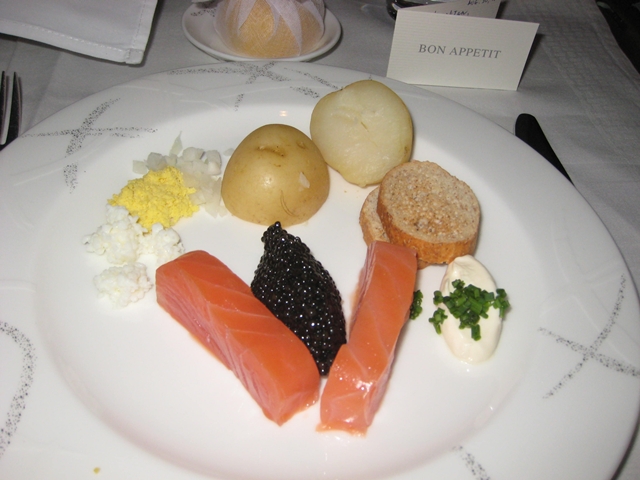 Best First Class Airport Lounge: Lufthansa
While I've yet to experience Lufhansa's First Class Terminal in Frankfurt, I was still impressed by the Lufthansa First Class Lounge in Munich, with its spacious shower rooms, a la carte fine dining including a delicious venison dish with chocolate pepper sauce and gnocchi, Mozart chocolates everywhere, buffet with fresh passion fruit and tons of salads, cheeses, breads and desserts, and well equipped office rooms. And I somehow managed to miss the sleeping rooms, as readers pointed out. And the lounge, at least when I was there, was never that crowded–plenty of space and very tranquil. Now if only every airport lounge could be this good…
Fly Lufthansa with Miles and Points: Lufthansa first class awards can be booked up to 15 days in advance, and you should plan to use United MileagePlus miles because US Air blocks Lufthansa first class award availability.
First Class one way on Lufthansa is 67,500 United miles, which you can earn from a combination of credit card signups and spend:
Ink Bold: 50,000 points = 50,000 United miles
Ink Plus: 50,000 points = 50,000 United miles
Sapphire Preferred: 40,000 points = 40,000 United miles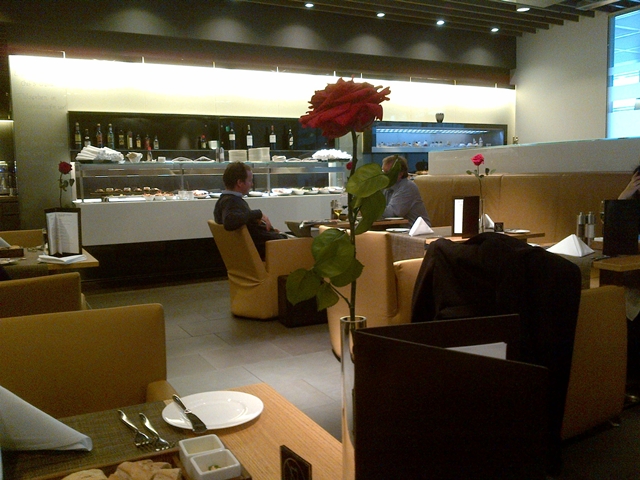 Best Business Class Flight: Swiss
I wouldn't say Swiss has the best business class beds, since I preferred those on my Cathay Pacific Business Class flight from New York to Hong Kong, but I did think my overall flight in Swiss Business Class from Bangkok to Zurich was better, taking into account the service (more attentive) and the food (definitely better).
Fly Swiss with Miles and Points: Swiss Business Class awards are only available about 14 days in advance, using partner miles such as United MileagePlus miles.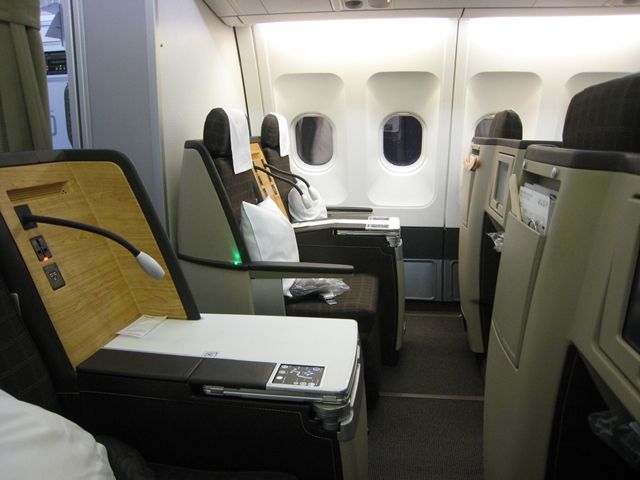 Best Change to a Hotel Loyalty Program: Starwood Preferred Guest
I'm no longer Starwood Platinum, but even as an SPG Gold Member, there was an important positive change to SPG in March 2012: Cash & Points as well as free night award stays now count toward elite status, both yearly qualification and lifetime elite status. This is pretty key, since it makes it much more feasible for many folks to achieve mid or top tier elite status without having to rely exclusively on paid stays.
Best Hotel Room and Views: Amankila, Bali
We loved the warm wooden Balinese interiors of our Ocean Suite at the Amankila, and the design since it enabled our son's bed to be in an adjoining room, so that we didn't have to go to bed at the same time. There was a pleasant day bed and outdoor dining area, as well as sun loungers.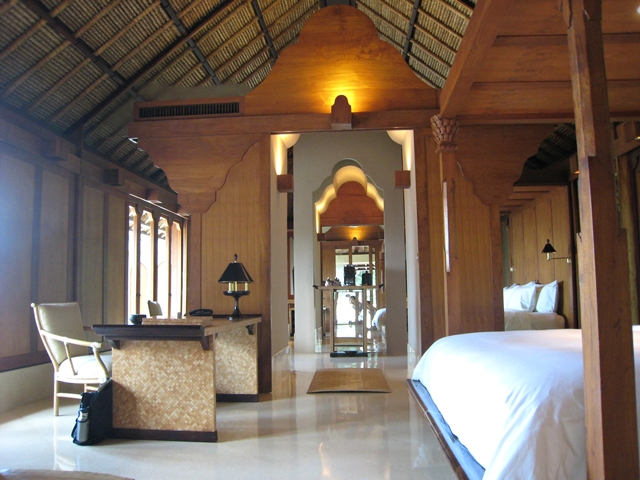 Oh, and the view of those tiered pools and the Indian Ocean? Enough said.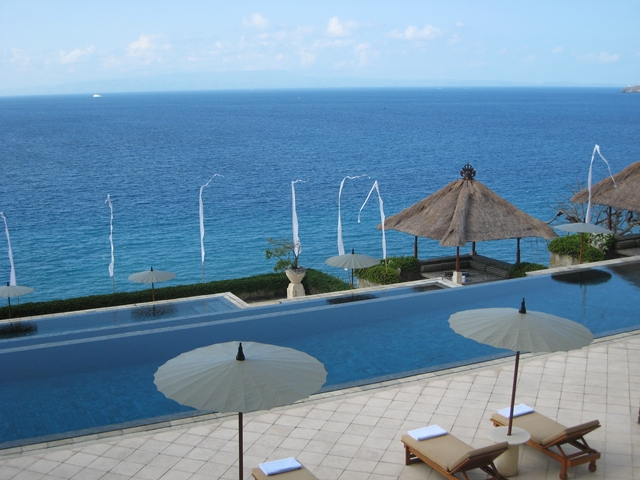 Best Hotel Service: Four Seasons Bali at Jimbaran Bay
While we preferred our room and the views at the Amankila, we actually found service to be a bit more professional and friendlier at the Four Seasons Bali at Jimbaran Bay. From going out of their way at Warung Mie to bring something my son could eat, due to his allergy, to the best kids' tennis instructor ever and a charismatic Cooking Class chef, the service was unparalleled.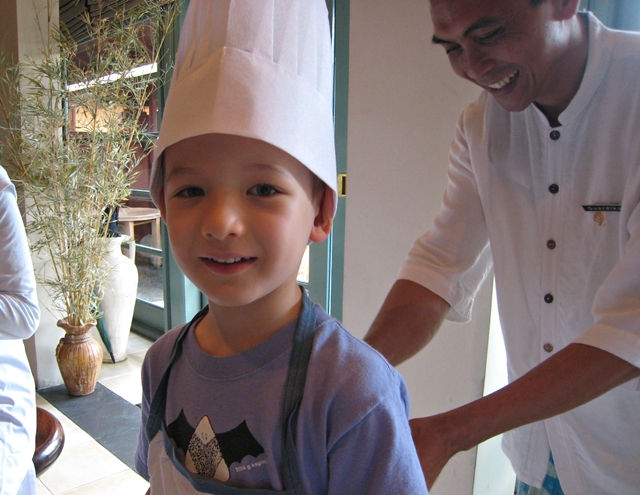 Best Hotel Club Lounge: Four Seasons Hong Kong
I'm not a stranger to some pretty nice hotel club lounges, at the Ritz-Carlton, InterContinental and Ayana Resort in Bali, but the Four Seasons Hong Kong took the cake in 2012. My son couldn't get enough of the freshly squeezed watermelon juice and freshly made pastries, while I loved the duck noodles made to order, the quality of the wines on offer, dim sum at breakfast, and macarons.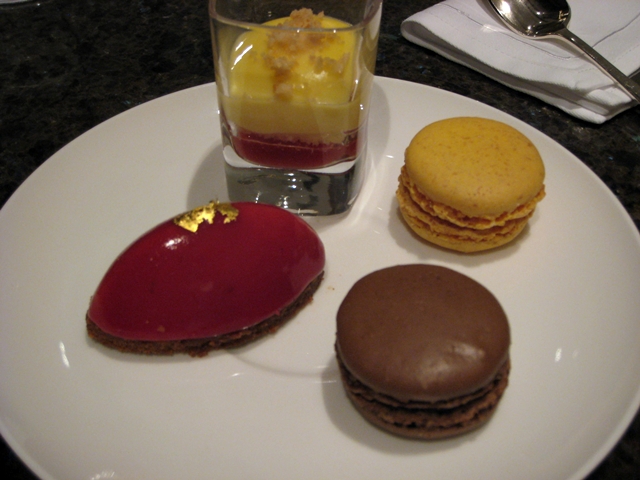 Best Hotel Breakfast Buffet: Mandarin Oriental Singapore
The Mandarin Oriental Singapore has such a grand, extensive breakfast buffet that you'll wish you had a bigger appetite. I couldn't believe I could help myself to as many glasses of fresh squeezed guava juice as I wanted, along with a vast array of smoked fish and Indian, Chinese, and Malay specialties, not to mention housemade pastries and yogurts. Delish.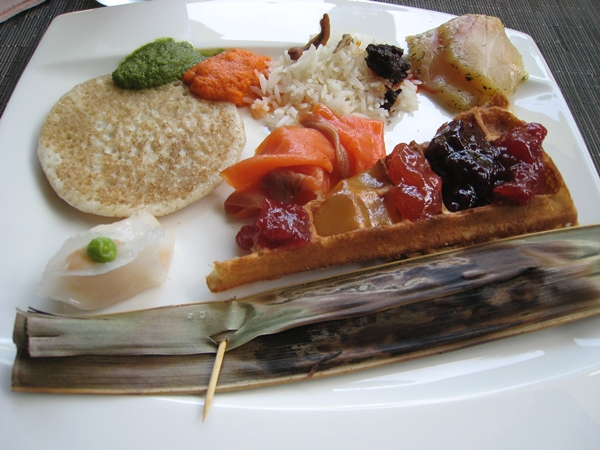 Best Bakery in New York: Maison Kayser
Ok, technically this isn't travel, but since Maison Kayser is a French export to NYC, I think it qualifies. I first discovered Eric Kayser's amazing breads and pastries at his Moscow location, known as Volkonsky Bakery, which has fantastic black currant pastries and almond croissants (see 8 Things to Eat in Moscow). Now that Maison Kayser has opened in NYC, I'm over the moon. I go there at least once a week to discover new breads and pastries, and it pretty much has eclipsed all other bakeries in NYC for me. Sure, I'll occasionally get to Levain Bakery for its cookies or Bouchon for pistachio twists, but the best new foodie opening in NYC in 2012 is Maison Kayser, as far as I'm concerned.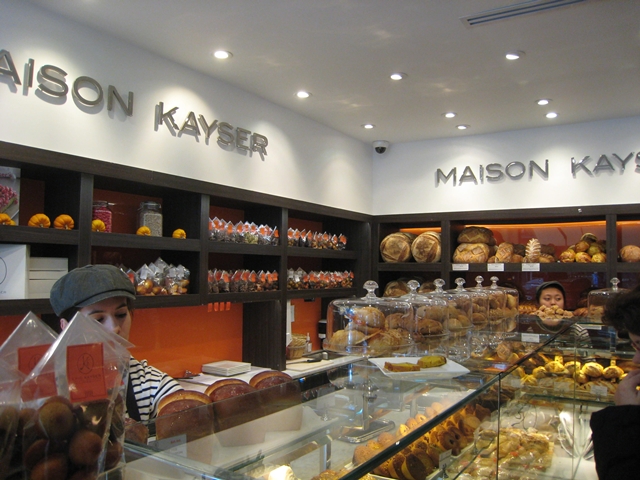 How about you, what were your best travel experiences of 2012?
Oh, and Happy New Year!
Related Posts
Ben Schlappig's Best and Worst in Travel 2011
The 15 Best First and Business Class Airline Awards in 2012
Earn 1 Million Miles and Points in a Year Without Flying
Best First Class Airline Seats for Couples
Need Award Booking Help? Our fee is as low as $75 per ticket if you book your hotel through us.
If you enjoyed this, join 90,000+ readers: please follow TravelSort on Twitter or like us on Facebook to be alerted to new posts.
Become a TravelSort Client and Book Your Hotel with VIP Amenities!