TravelSort reader Robert writes "I am pretty new to airline frequent flyer programs and wanted to know what your thoughts are for churning credit cards that can help with travels to mainland China. To travel to China, I will likely fly Air China or Asiana, or even United. Which frequent flyer program would be best for award travel? Which credit cards offer the best sign up bonuses? I've read that SPG transfers to United at 2:1 which is not very good at all. Thus far, I've narrowed down to the following cards: Chase Ink bold to allow 1:1 transfer to United, Chase United MileagePlus Explorer, and AMEX Premier Rewards Gold. In your opinion, which frequent flyer program should I go with and which other cards are out there that can help me with this goal?"
Great questions Robert. Having specific award redemptions in mind helps when focusing on the best frequent flyer programs for your needs, and the credit cards that can get you the miles you need to redeem for those award flights. I'll break my answer into two parts, the best frequent flyer programs to get to China in business class and first class, and the best credit cards to earn the miles and points needed.
Best Frequent Flyer Programs for First Class and Business Class Awards to China
1. Cathay Pacific via Hong Kong
Best Frequent Flyer Program for the Award: American AAdvantage
Pros:
Cons:
No direct flights to Beijing or Shanghai; will need to connect in Hong Kong. HKG-PVG flight is about 2.5 hours, and HKG-PEK flight is about 3 hours 15 minutes, but there's the connection time as well.
Award availability for first class and business class can be tough to find if not booked well in advance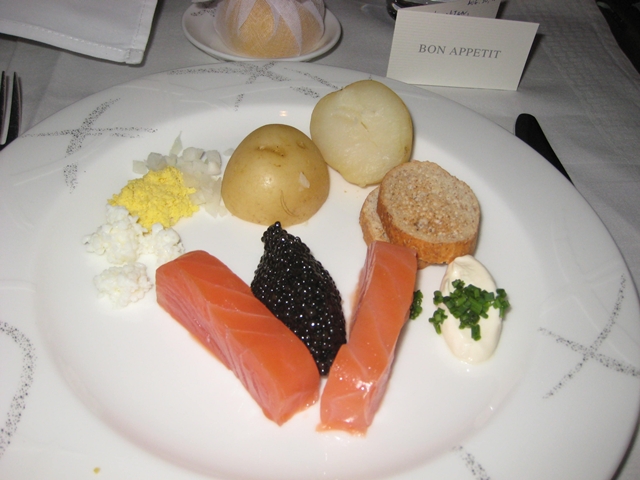 2. Asiana via Seoul
Best Frequent Flyer Program for the Award: United MileagePlus
Pros:
Cons:
Not a direct flight; must connect in Seoul (ICN)
Asiana Business Class is angled flat
Tough to find award availability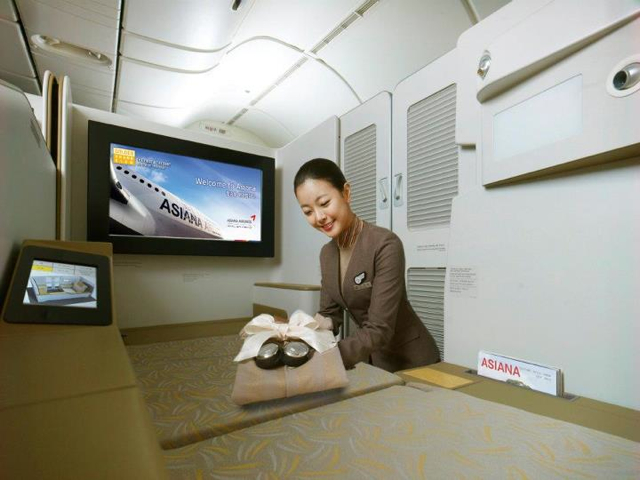 3. Air China First Class from LA to Beijing
Best Frequent Flyer Program for the Award: United MileagePlus
Pros:
Nonstop flight
New first class on the 777-300 is an excellent flat bed seat and hard product
Low taxes and fees when booking with United miles
Generally good award availability when booking a few months out
Cons:
First class food and service can't compete with Cathay Pacific or Asiana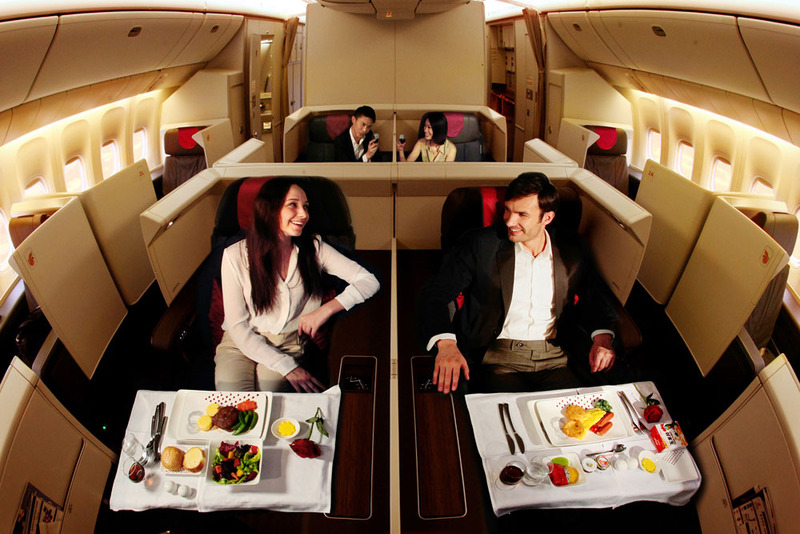 4. China Southern Business Class from LA via Guangzhou (CAN)
Best Frequent Flyer Program for the Award: Delta SkyMiles
Pros:
One of the few flat bed business class products to mainland China
Usually plenty of award availability
Low taxes and fees
One of the better uses of Delta SkyMiles
Cons:
Not a direct flight; must connect in Guangzhou (CAN) typically with a 3 hour 40 minute layover to Shanghai (PVG) or 2 hour 40 minute layover to Beijing (PEK)
No first class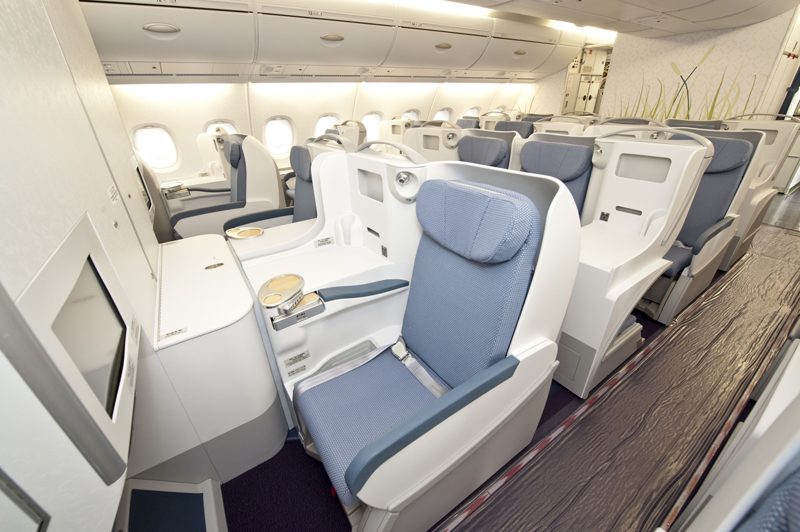 Best Credit Cards and Ways to Earn the Miles
Depending on which award you choose, you'll focus on accruing AAdvantage miles, United MileagePlus miles, or Delta SkyMiles.
Cathay Pacific Awards using American AAdvantage Miles
Given the changes with Citi AAdvantage card applications that have reduced the number of AAdvantage miles you can earn in a short time from credit cards (see Citi AAdvantage Credit Cards: New Rules to Earn 130K AA Miles) my favorite current way to earn AAdvantage miles is with BankDirect. I've referred as many people as I could, so if you would like a referral that will earn you and the referrer each an additional 1000 bonus miles, please see this Flyertalk thread and request a referral.
You could also apply for a US Airways credit card, since these will eventually become AAdvantage miles, although there's not a set date for that yet.
Asiana or Air China using United MileagePlus Miles
Here's what I'd recommend for earning United MileagePlus miles:
55K United Miles: United MileagePlus Explorer *if* you are targeted for the 55,000 miles offer. Pls. see http://travelsort.com/blog/united-mileageplus-explorer-65000-bonus-miles-offer-tips 50K is from signup bonus, 5K is from adding an authorized user
40K UR Points = 40K United Miles: Sapphire Preferred
50K UR Points = 50K United Miles: Ink Bold
50K UR Points = 50K United Miles: Ink Plus (unless you have 2 businesses, will likely need to wait some months after Ink Bold to apply for this)
If you had and cancelled the Sapphire Preferred Visa, you could apply for the Sapphire Preferred MasterCard for another 40K UR Points = 40K United miles.
You can generally get approved for 2-3 Chase cards at a time; for example, 2 personal, 1 personal and 1 biz, or sometimes 2 personal and 1 biz, though will likely to need to call reconsideration and move credit lines around. See
How Many Chase Cards Can You Have
?
Then, once you have either the Ink Bold or Ink Plus, would leverage that for Amazon and other 5X points or even more bonus points, going through the UR Mall. See
Ultimate Rewards Mall April 2013 Deals
.
China Southern using Delta SkyMiles
As regular readers know, I don't collect Delta SkyMiles at all, but there are some options:
As for the AMEX Premier Rewards Gold Card, I'd only get this if you manage to get a good bonus offer, 50K or more points, and want to use the points to transfer to Singapore to fly Singapore Airlines, and keep in mind the connection in Singapore and flight times to Beijing and Shanghai. While you can transfer to Aeroplan, Aeroplan imposes fuel surcharges on Asiana and the award chart is more expensive than United's. There have in the past been targeted offers for the AMEX PRG, so look for those.
Related Posts
Best Beijing 5-Star Luxury Hotels
Top Tips for Using Delta SkyMiles for Asia Award Tickets
Airlines and Routes with First and Business Class Award Availability to Asia
Need Award Booking Help? Our fee is as low as $75 per ticket if you book your hotel through us.
If you enjoyed this, please follow TravelSort on Twitter or like us on Facebook to be alerted to new posts.
Become a Member to find your perfect luxury or boutique hotel at wholesale prices: TravelSort Hotels