TravelSort reader Rebecca asks "What are the best first class seats for couples? We're starting to plan our honeymoon and are saving up miles and points for a (hopefully) amazing trip."
First, congratulations Rebecca! Flying first class is a great way to begin your honeymoon, and several airline first class seats work very well with couples, even though it can be tough to get two first class award seats on the bsame flight unless you plan far in advance.
Here are my picks, along with how to earn the miles or points and specific seat recommendations. You'll notice that I have specifically excluded Lufthansa First Class, which is available at most 15 days in advance, and Swiss First Class, which has pretty much disappeared for award bookings, even for solo tickets. I haven't included Jet Airways either, for lack of availability for two award tickets, but would be happy to be proven wrong by those with experience to the contrary. Don't have time or need help with booking? Check out our Award Booking service, exclusively available to TravelSort Hotels clients.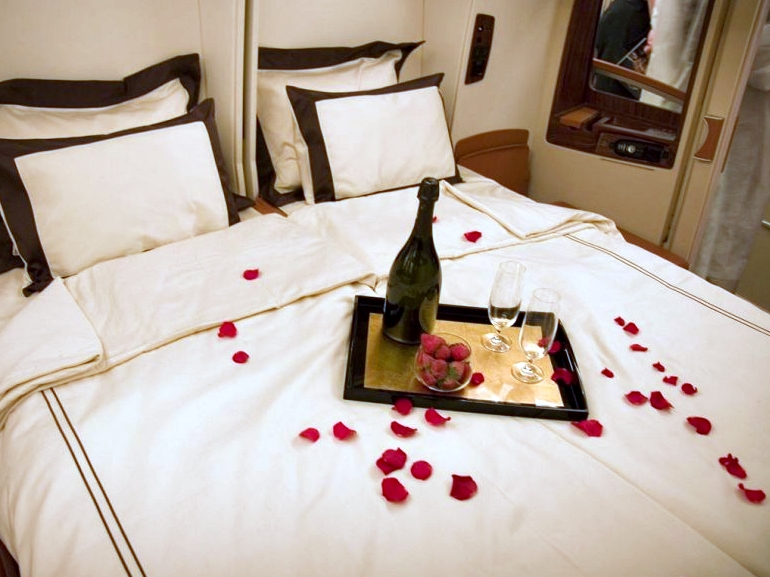 1. Singapore Airlines Suites Class on Airbus 380: Seats 3C and 3D
Singapore Suites offers the only double bed on a commercial aircraft. True, you do have to give up on a window seat, since only the center seats in rows 2 and 3 can be made into double beds. I'd recommend choosing 3C and 3D since there's a bit more privacy; rows 1 and 2 are a bit exposed as people going up or down the staircase can potentially see in (remember that the suites are not enclosed at the top).
In addition to the novelty of the double bed, Singapore First Class and Suites service is regarded as among the very best–professional and attentive yet friendly and personable, not slavish. Enjoy a choice between Dom Perignon or Krug for champagne,
Availability: Typically Singapore only releases 1 suites class award seat in advance, although occasionally you'll see 2 award seats available close to the date of departure. You could potentially use more KrisFlyer miles to book the second seat, or, if you have the miles, make a few bookings at different dates and hope that a second award seat opens close to the departure date and if not, cancel it.
How to Book: Transfer SPG points or AMEX Membership Rewards points to Singapore KrisFlyer and book Saver Awards online to save 15%.
See:
Singapore Airlines Suites Award Tips and FAQ
Singapore Airlines Suites Class Available at Saver Award Level on KrisFlyer
2. Cathay Pacific First Class on 777-300ER: 1A and 2A or 1K and 2K
First Class on 747-400: 1A and 1K
Now, Cathay Pacific First Class won't be the top choice for some couples, who will view the suites as too private (none are right next to each other on the 777-300ER), but I really enjoyed it, even though my son and I sat one behind another in order to both have window seats. The spaciousness is great–if you're both slender, you could even sit side by side in one of the seats. And dining is perfectly set up for two, with one guest in the ottoman and facing the passenger in the seat. You don't even have to go back to your own seat if there's turbulence, since the ottoman seat has its own seatbelt.
Cathay dining is also some of the best I've had, although ironically, I find their Western options to be tastier than Asian fare (at least if you're used to really good Chinese food). Their caviar presentation, with silky Balik salmon, is a 10/10.
Availability: Availability for two in Cathay Pacific First Class is usually decent if you're not booking for peak times. Usually it's best soon after the calendar opens, and then some availability also gets added in the week or so prior to the flight.
How to Book: Here, you have a dilemma: using British Airways Avios, you have access to the calendar at about the same time Cathay's own AsiaMiles members do, but the award chart is much more expensive than if you use American miles. If you're flexible with dates and can stomach possibly getting your second first class award seat just in the week prior to when you fly, I'd recommend American miles, which you can earn cheaply with Citi AAdvantage credit card signup bonuses and/or BankDirect.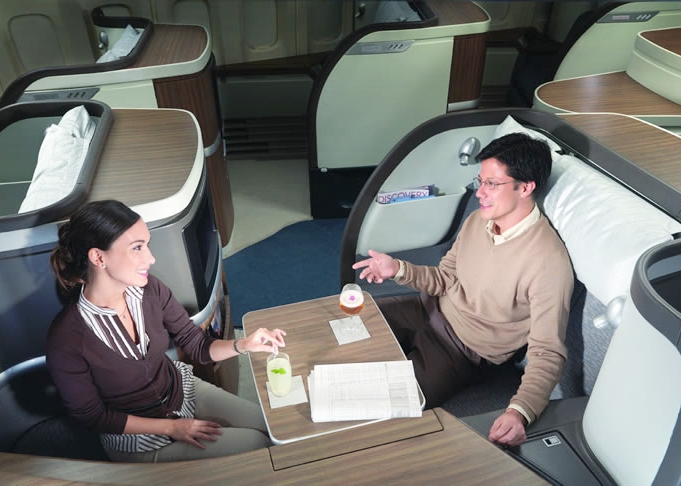 3. Etihad First Class: Any
Since writing this post I've flown Etihad First Class, and plan to again. The suites are very private, so your idea of the best first class seats for a couple will depend on whether you want to have seats together in the center, or whether you both want window seats and prefer to have seats on the right or left hand side and visit each other, with one sitting on the ottoman or having dinner together, similar to Cathay Pacific. I do rank this below Cathay Pacific as I've heard the food and service can be a bit less polished and consistent.
Availability: Availability for two is often very good if you book far ahead enough in advance–I was able to get three of us in first class for our Etihad flight.
How to Book: Etihad can be booked with American miles. See our post Use American Airlines AAdvantage Miles for Etihad First Class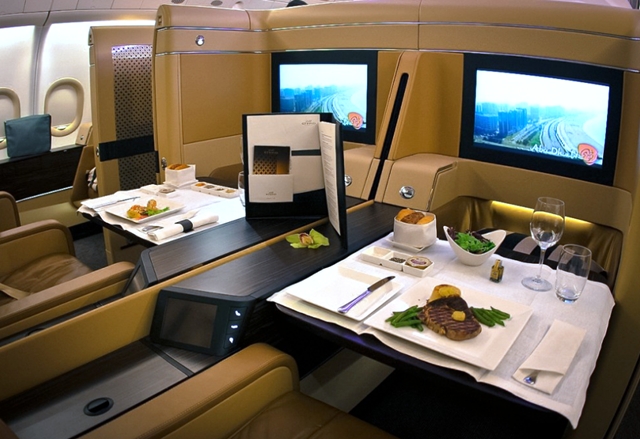 4. British Airways New First Class: Seats 1A and 1K, or 2A and 2K
British Airways is often avoided due to high fuel surcharges to and from London, but it does offer one of the few first class configurations that allow a couple to each have a window seat and yet also talk to one another, if you're lucky enough to get 1A and 1K. Nevertheless, I rank British Airways, even British Airways New First, below Cathay and Etihad due to the rather narrow first class seats and the high surcharges on tickets. Service is often good, but food can be a bit hit or miss.
Availability: Availability for two in British First is quite good if you plan far enough in advance, when the calendar opens, although of course it can be tougher to get specific seats, such as 1A and 1K. Some couples even prefer 2A and 2K, due to the sometimes bothersome traffic accessing the main closet space near 1A and 1K and the lack of dedicated overhead space for 1A and 1K.
How to Book: Earn 50,000 to 100,000 British Airways Avios from the British Airways Visa and/or transfer Membership Rewards points or SPG to Avios, taking advantage of a transfer bonus. Until January 14, 2013 there's a 30% transfer bonus from AMEX Membership Rewards to British Airways.
See:
British Airways Visa 100,000 Bonus Avios Points Back But Worth It?
SPG: Up to 56 Percent Transfer Bonus to British Airways Avios
[Sorry guys, Rachel Weisz not included…and already taken in any case by Daniel Craig :)]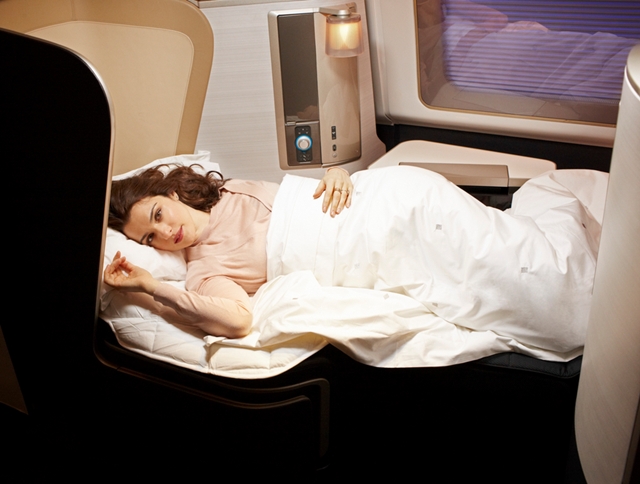 5. Emirates First Class on the A380: Any Seats Except Row 1
Much is made of the Emirates on board shower and very private suites, so if you haven't experienced it and have the miles, this could be excellent for a couple. Since originally writing this post, I have flown Emirates First Class and I do rank it lower on my list because to me, it just wasn't as comfortable a bed as other first class products I've flown, plus service quite honestly wasn't as good as on Singapore Airlines, Cathay Pacific or Asiana. Plus, not everyone has lots of Alaska miles, and it can be tough without flying to acquire a lot of Alaska miles cheaply, unlike American miles or even AMEX Membership Rewards points that can be transferred to Avios, often with a transfer bonus.
The other thing to note is that Emirates first class seats aren't perfectly flat; there tends to be a very slight angle to them towards the foot.
Availability: Alaska Airlines recently released its New Emirates Award Chart but the jury is out a bit until award booking actually opens on January 16 and we can see how available award tickets actually are using Alaska miles.
How to Book: Either book with Alaska MileagePlan miles or Japan Airlines Mileage Bank miles. You'd need to call in both cases, the awards cannot be booked online.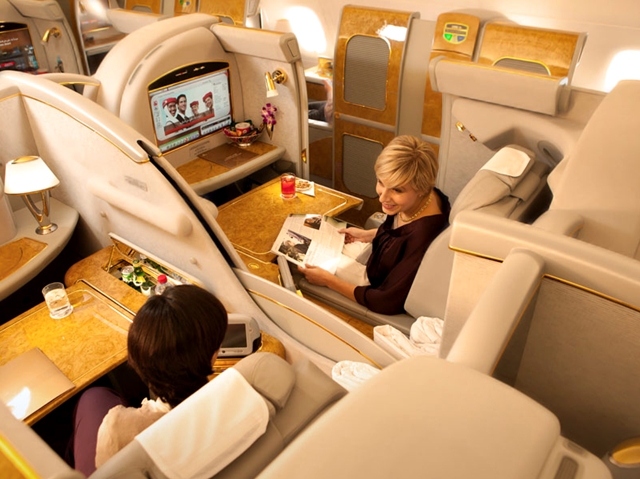 Have other favorite first class seats? Share in the comments!
Related Posts
Top 20 Luxury Honeymoon Destinations
Cathay Pacific First Class Review
British Airways New First Route Tracker
Need Award Booking Help? Our fee is as low as $75 per ticket if you book your hotel through us.
If you enjoyed this, join 150,000+ readers: please follow TravelSort on Twitter or  like us on Facebook to be alerted to new posts. 
Become a TravelSort Client and Book Your Hotel with Virtuoso or Four Seasons Preferred VIP Amenities!