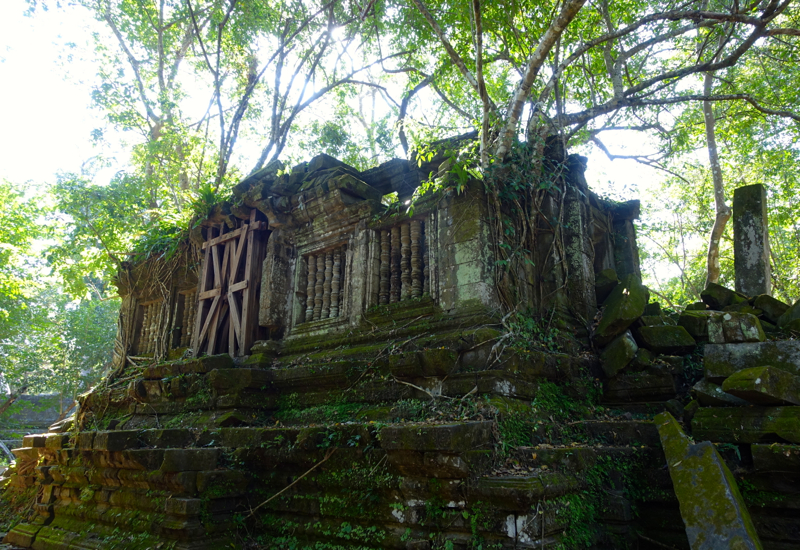 Beng Mealea is a jungle temple I'd been wanting to see for several years. I didn't manage to make it out there the first time I was in Siem Reap, as it is over an hour's drive each way to get there from Siem Reap. Unlike most Angkor temples, Beng Mealea has not undergone any significant restoration, so it remains in a ruined state. In fact, it was only in 2003 that the last land mines were cleared from the area.
For the previous posts in this trip report, including Asiana First Class and luxury resorts and dining in northern Thailand and Cambodia, please see:
SWISS Lounge JFK Terminal 4 Review
Review: Asiana First Class Suite NYC JFK to Seoul ICN
Review: Cornerstone Restaurant, Park Hyatt Seoul
Lounge Review: Asiana Business Class Lounge Seoul Incheon
Asiana Business Class A330 Review
Review: Novotel Bangkok Airport Hotel Suite
Review: Anantara Golden Triangle Elephant Camp and Resort
Anantara Golden Triangle Sala Mae Nam Restaurant Review and Menu
Mahout Experience at Anantara Golden Triangle Elephant Camp
Dining By Design at Anantara Golden Triangle Elephant Camp
Hotel Review: Park Hyatt Siem Reap
Getting to Beng Mealea
Beng Mealea is about 45 miles east of Angkor by road, and as the last stretch is on narrow roads, it takes about 1 hour or a little more each way.
Guided Tour of Beng Mealea and Cost
While you could just hire a driver to get you to Beng Mealea and back, I recommend hiring a guide so you can gain better insight into what you're seeing, and go on a path that minimizes seeing it with the hordes of tourists from the tour buses that now regularly visit the temple.
I recommend our guide, Kanha of Angkor Journeys, whose cost was a total of $100 for her guide services, air conditioned mini van, and gas for the journey. Note that there is also a $5 per adult ticket charge (no charge for our son). Kanha ensured we got an early start, which turned out to be crucial to our enjoyment of Beng Mealea and talked with us not only about the archaeological features of the temple but also about Cambodian history and life in present day Cambodia. She also engaged our son, who enjoyed his visit:
What We Enjoyed About Beng Mealea
1. Space to Explore On Our Own, Without the Tourist Hordes
Thanks to Kanha's recommendation, we departed at 7am and got to Beng Mealea a bit after 8am. Initially we were the only visitors around, which made for a much better experience than seeing it as part of a group tour or arriving there to find the place mobbed. I highly recommend that you make every effort to visit the temples of Angkor with as few other people around as possible. These beautiful ruins, gradually being taken over again by nature, are so much more enjoyable in peace and tranquility.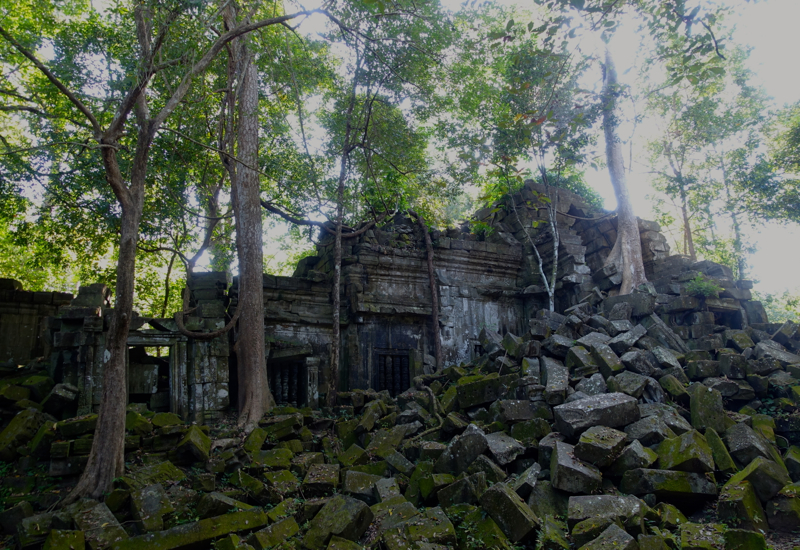 Taking a break: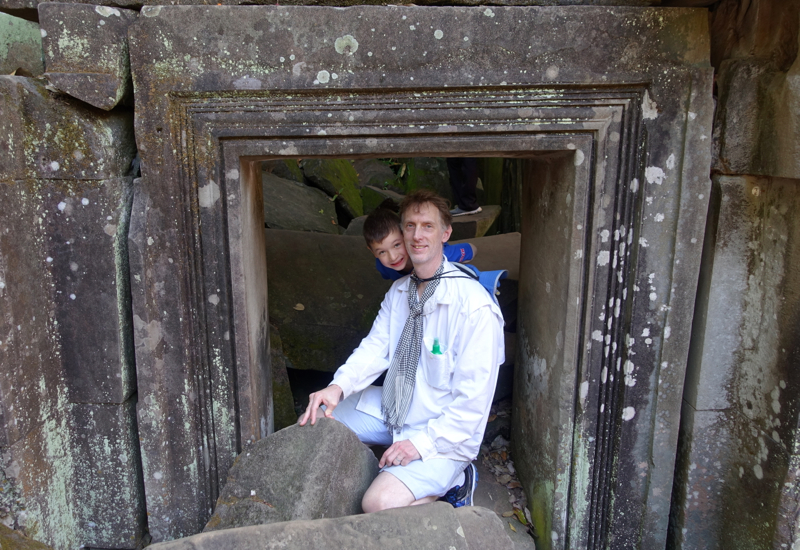 Kanha also took us on a "backwards" route to maximize the time we could spend with the few other visitors that were there that early, and only later, as we worked our way toward the main entrance, did we encounter the busloads of Chinese tourists.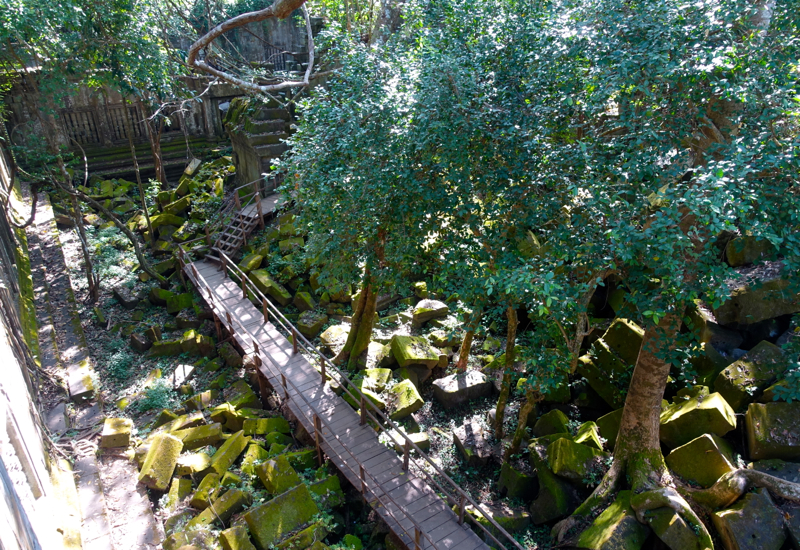 2. Well Preserved Intricate Carvings, Such as the 5 Headed Nagas
While much of Beng Mealea is in ruins, there are also many instances of intricate carvings that have survived. See for example these intricate carvings around doorways: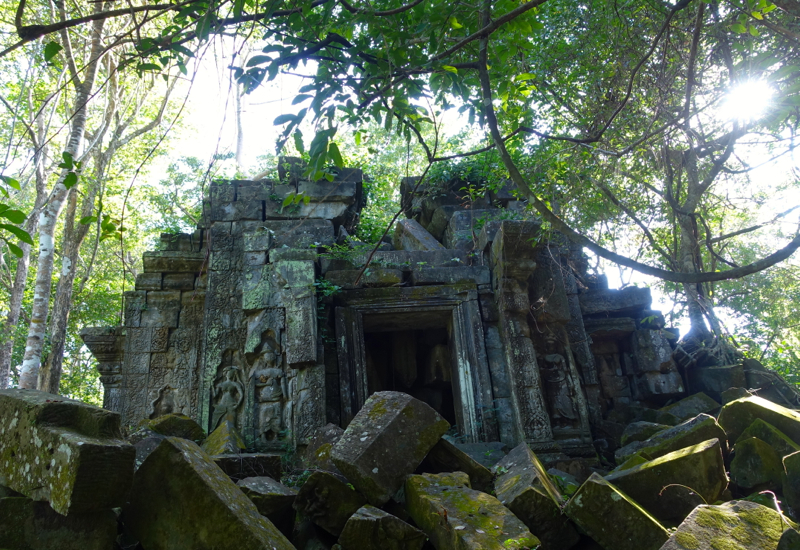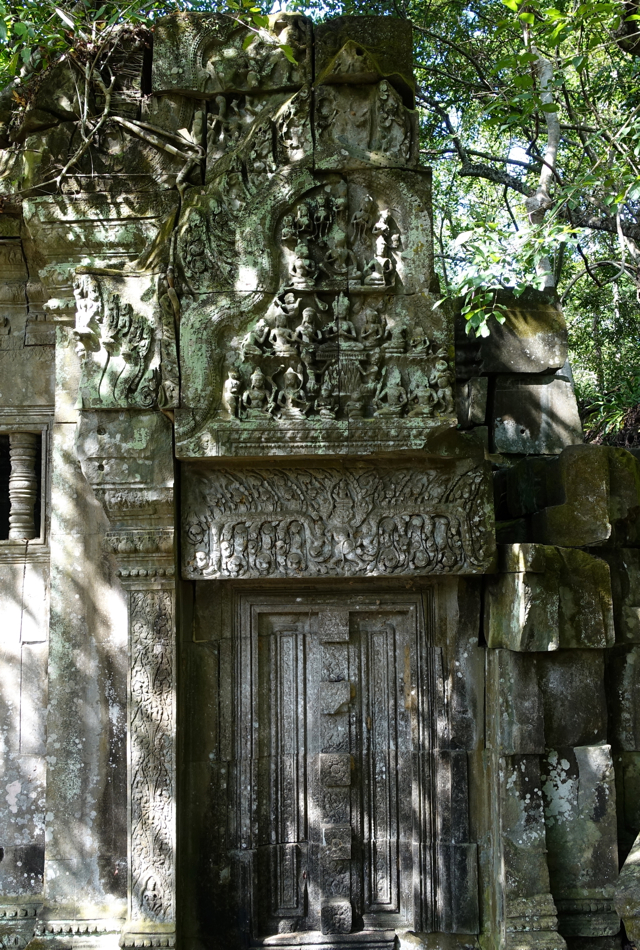 Or the "Churning of the Ocean of Milk" (Samudra manthan) carving: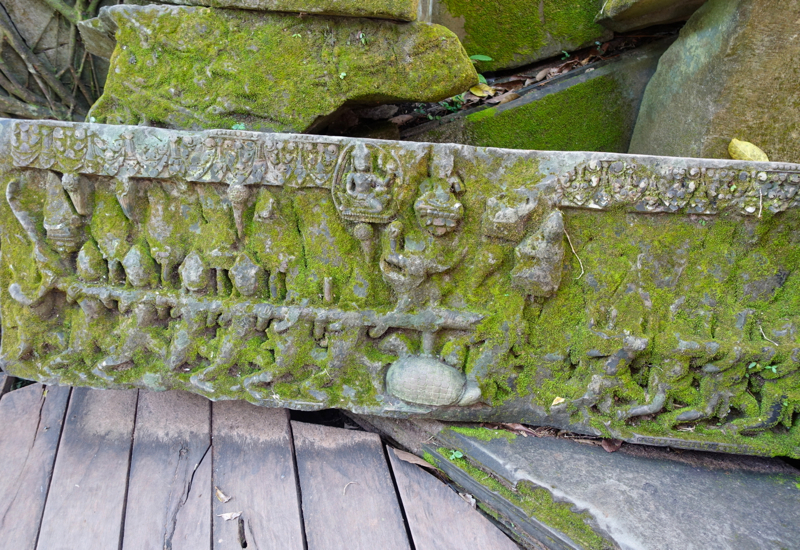 Or the 5-Headed Nagas that flank the entrance: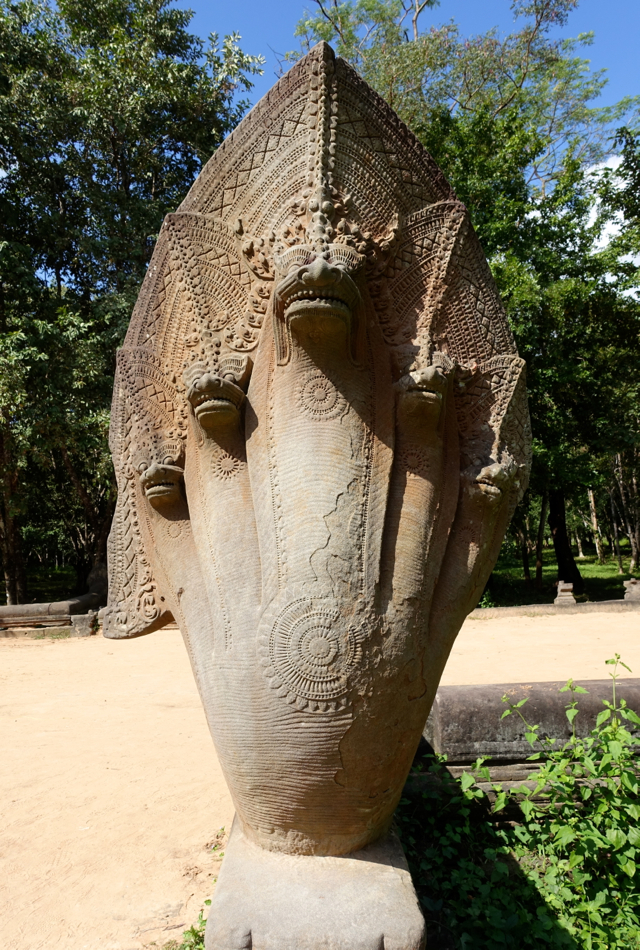 3. Tree Roots Taking Over the Ruins
While Ta Prohm is perhaps most known for the way the tree roots are taking over the temple ruins, there are places where you have to wait patiently if you want to photograph a particularly photogenic tree roots + ruins composition. You can see the same phenomenon at Beng Mealea all over the temple, and it really is very atmospheric.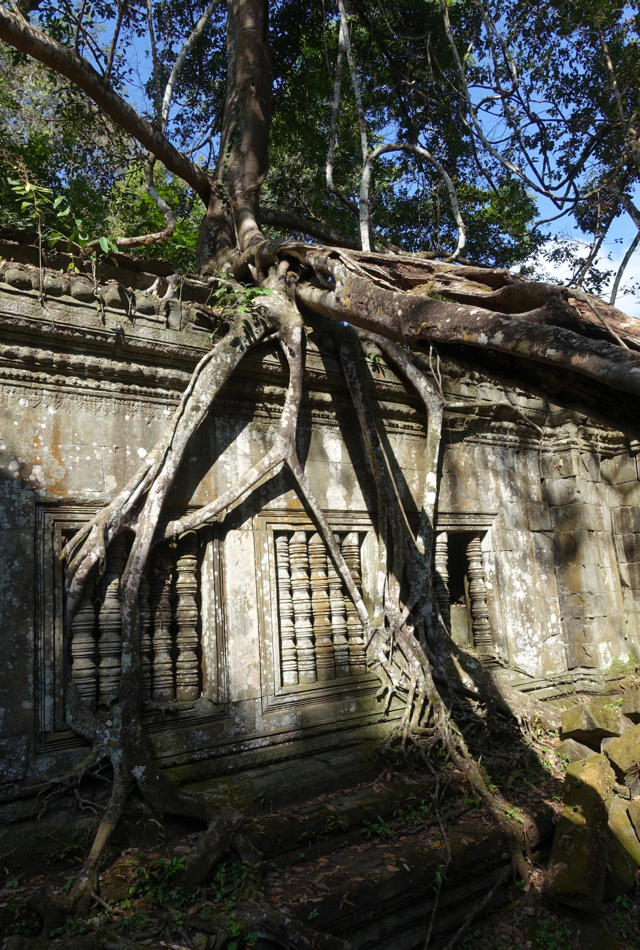 In some cases the roots seemed eerily like arms in the way they were embracing and growing around the stones: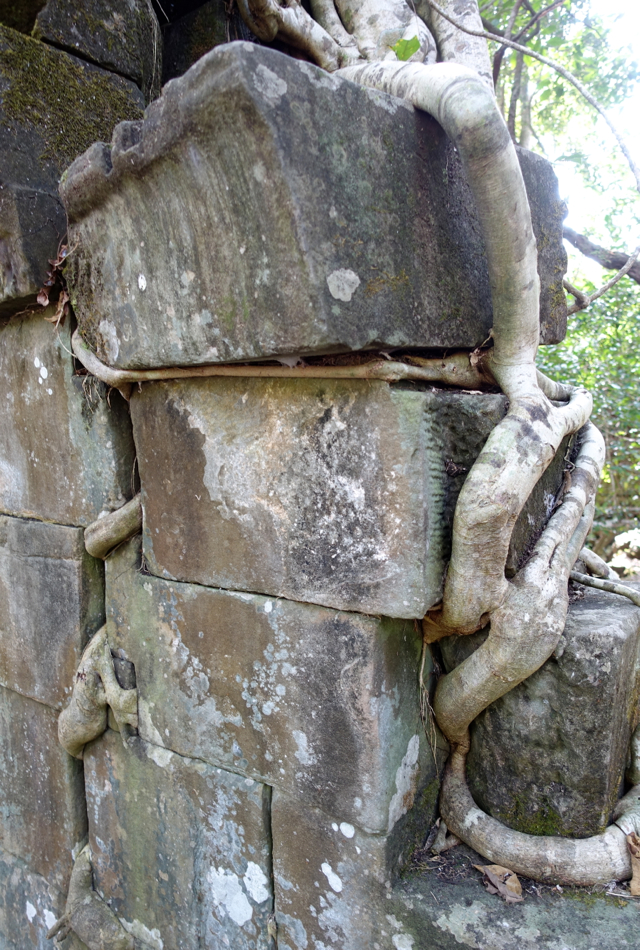 One tip/plea: Please *don't* stand on or climb any of the roots that are wrapped around the carved ruins, not only for your own safety and that of others, but also because you could damage the ruins and/or roots. I saw some Chinese tourists doing this and found it incredibly disrespectful.
4. The Temple Corridor
The munchkin is a big fan of tunnels and caves, so he was delighted that there's a long dark temple corridor that you can clamber down into: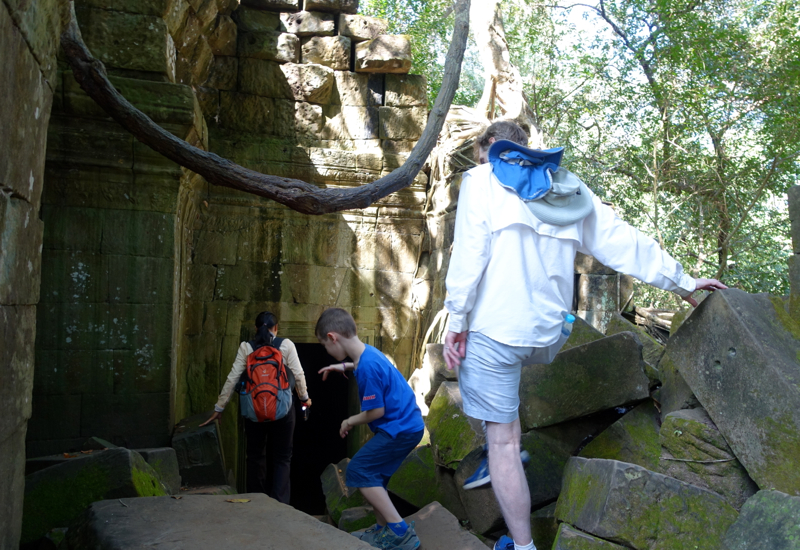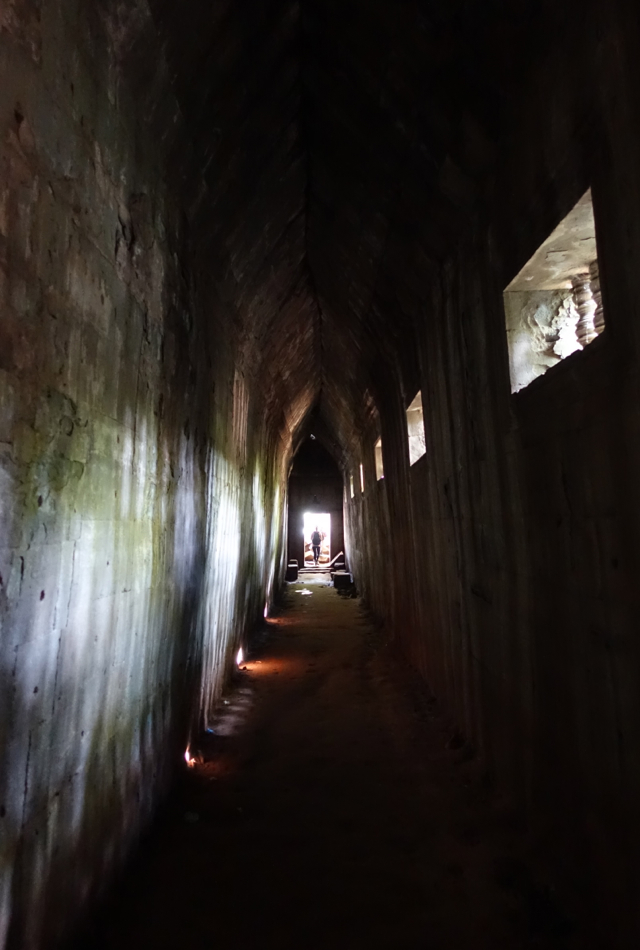 If you've explored Beng Mealea, what was your experience?
Related Posts
Hotel Review: Park Hyatt Siem Reap
Need Award Booking Help? Our fee is as low as $75 per ticket if you book your hotel through us.
If you enjoyed this, join 150,000+ readers: please follow TravelSort on Twitter or like us on Facebook to be alerted to new posts.
Become a TravelSort Client and Book 5-Star Hotels with Virtuoso or Four Seasons Preferred Partner Amenities!