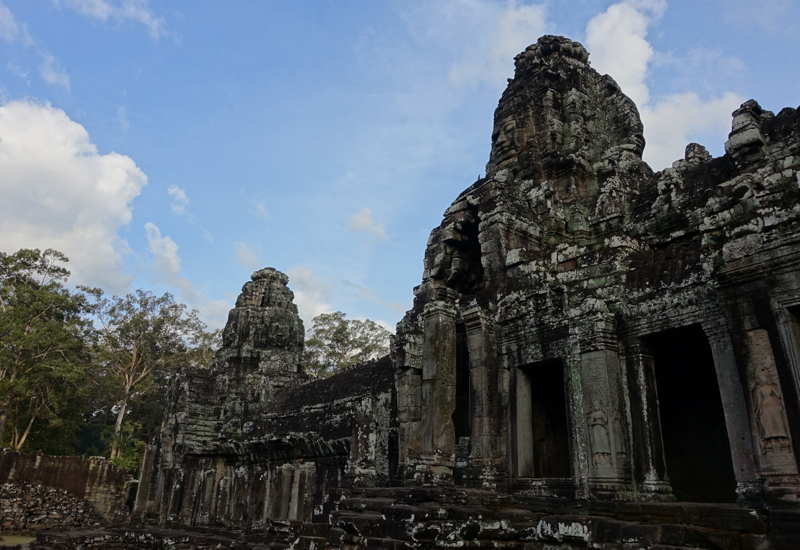 This Bayon Temple Photo Tour was organized by Amansara–the best luxury boutique hotel in Siem Reap, Cambodia.
The posts are part of a trip report including Asiana First Class, Thai First Class, and luxury resorts and dining in northern Thailand. For the previous articles, please see:
SWISS Lounge JFK Terminal 4 Review
Review: Asiana First Class Suite NYC JFK to Seoul ICN
Review: Cornerstone Restaurant, Park Hyatt Seoul
Lounge Review: Asiana Business Class Lounge Seoul Incheon
Asiana Business Class A330 Review
Review: Novotel Bangkok Airport Hotel Suite
Review: Anantara Golden Triangle Elephant Camp and Resort
Anantara Golden Triangle Sala Mae Nam Restaurant Review and Menu
Mahout Experience at Anantara Golden Triangle Elephant Camp
Dining By Design at Anantara Golden Triangle Elephant Camp
Hotel Review: Park Hyatt Siem Reap
Beng Mealea Jungle Temple Photo Tour, Siem Reap Cambodia
Touich Restaurant Siem Reap Menu and Review
Ta Prohm and Preah Khan Temple Photo Tour, Siem Reap
Angkor Wat Photo Tour and Breakfast at Amansara's Khmer Village House
Amansara Restaurant Review and Menu
Amansara Tonle Sap Boat Cruise
Amansara is a Virtuoso hotel, so TravelSort Clients receive these benefits when booking a qualifying rate:
Upgrade on arrival to Pool Villa, subject to availability
Continental breakfast daily, for up to two in room guests (included as part of mandatory half board and touring charge)
One 45 mins foot massage per person once during stay
Early check-in/late check-out, subject to availability
Getting to Bayon Temple and Angkor Entrance Fee
Bayon Temple is about a 15-20
minute ride by Amansara remork (moped-powered trishaw), and the entrance fee is included as part of the Angkor Pass.

The most popular pass is for 3 days and costs $40, while a 1 day pass is $20 and a 7 day pass is $60.
Tour Bayon Temple While Avoiding the Crowds
As with Amansara's other Angkor Temple Tours, Bayon can be visited either early morning or late afternoon, which helps avoid most of the crowds. We departed at 6:30am, although if you take the afternoon option, you'll likely depart around 3pm.
What We Enjoyed About Bayon Temple
1. The Heads!
The Bayon is the Angkor Temple my son was most excited about seeing. When paging through one of Amansara's books on Angkor, he was riveted by the photos of The Bayon's massive stone faces, four on each tower, 216 in total. As the faces are so similar in features, many experts believe these represent King Jayavarman VII, who had The Bayon built towards the end of the 12th century, and/or represent the bodhisattva of compassion, Avalokitesvara.
2. The Richly Detailed Bas-Relief Carvings
One of the interesting features of the still well preserved bas-relief carvings of The Bayon is the mixture of historical, mythological, and everyday life scenes. There are scenes of Khmer fighting their enemies, the Cham: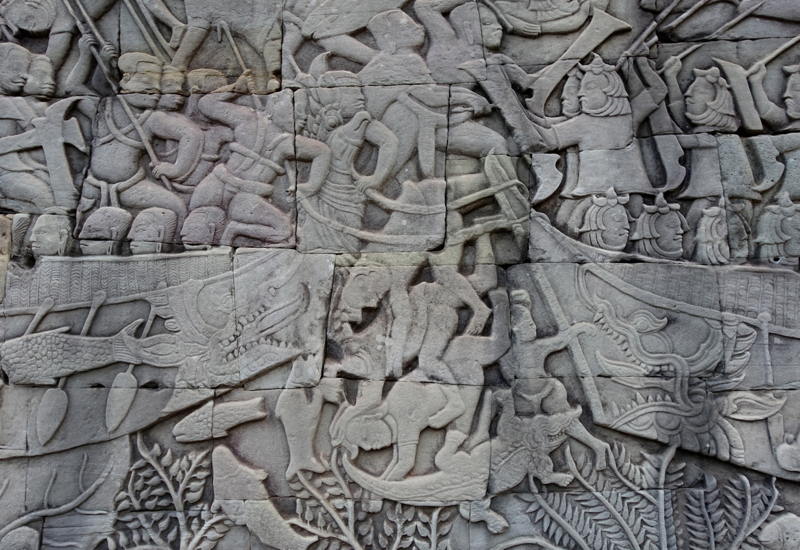 Then, having defeated the Cham, the Khmer are depicted celebrating with a victory feast: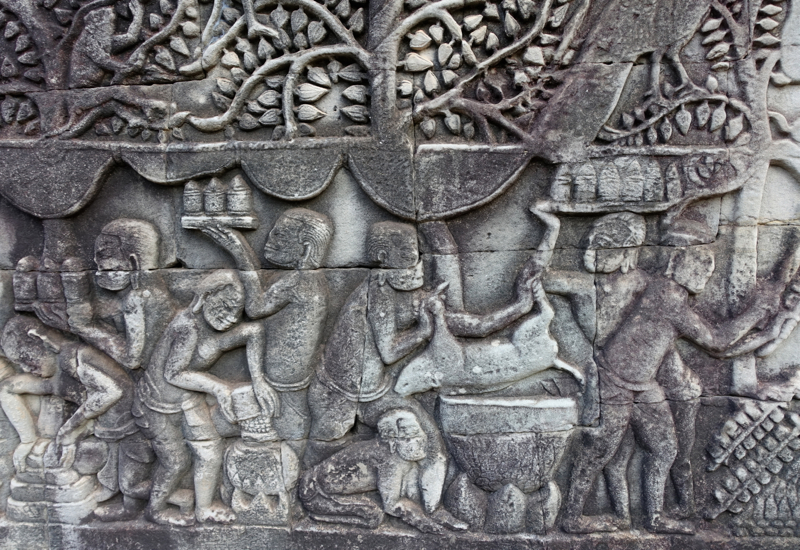 Yet there are also everyday scenes, such as women helping a woman giving birth: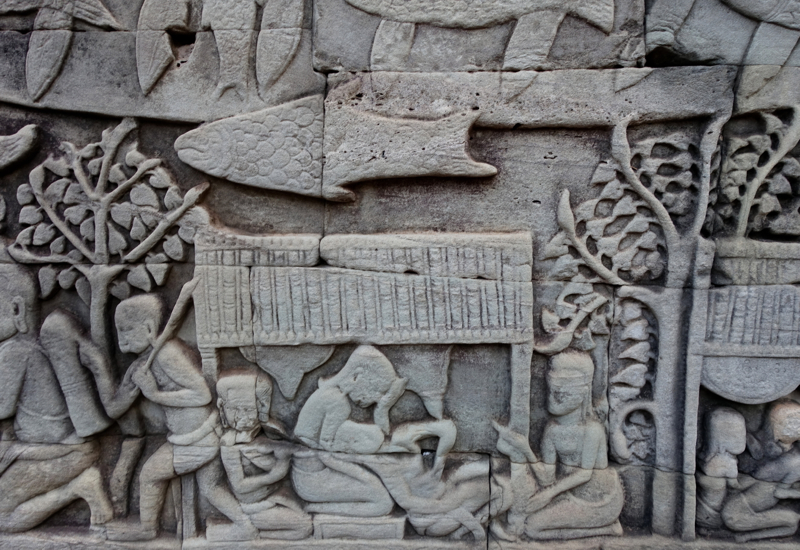 And cock fighting: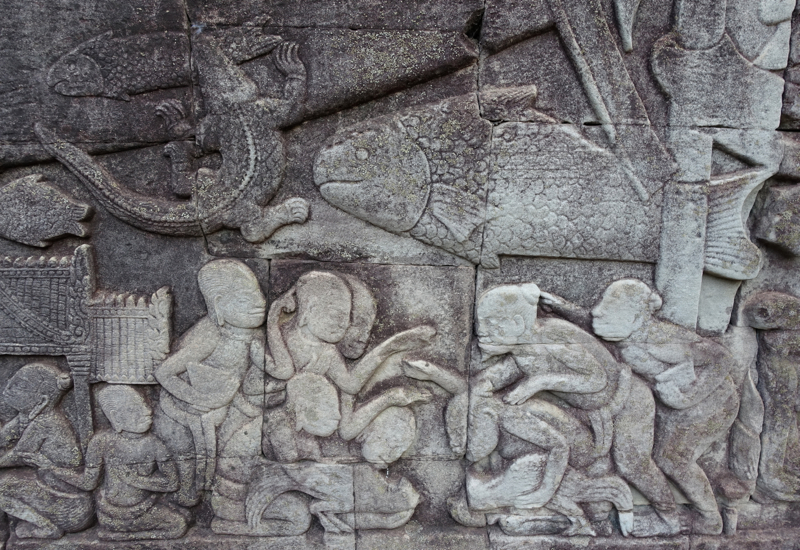 We also saw some of the loveliest apsara dancer carvings of our visit: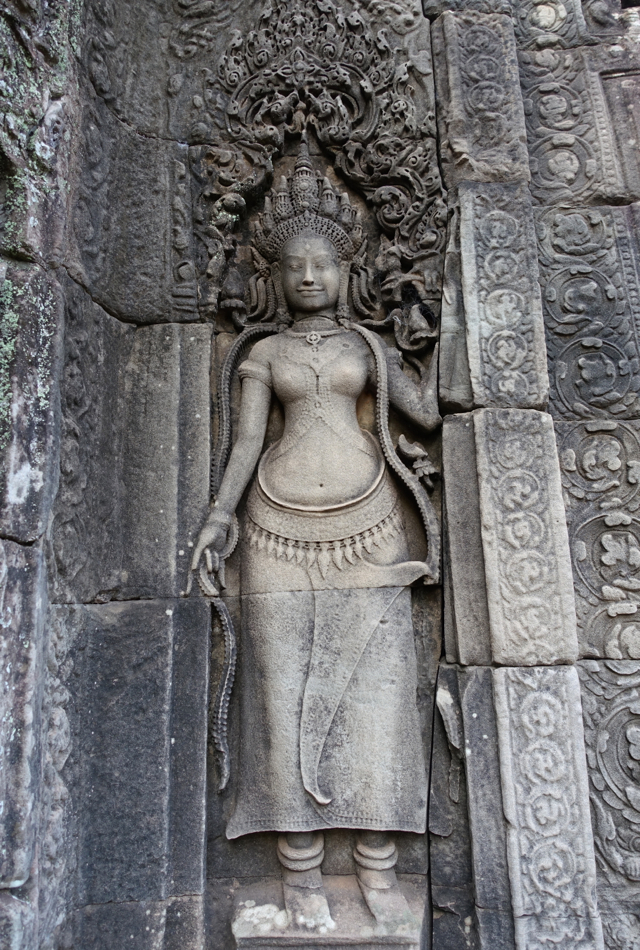 3. Few Other Visitors
As with all of our Amansara temple tours, we loved being able to explore the temple with very few other visitors. The ambience and experience was what we were hoping for, whereas if you come later, you'll be contending with crowds of other tourists.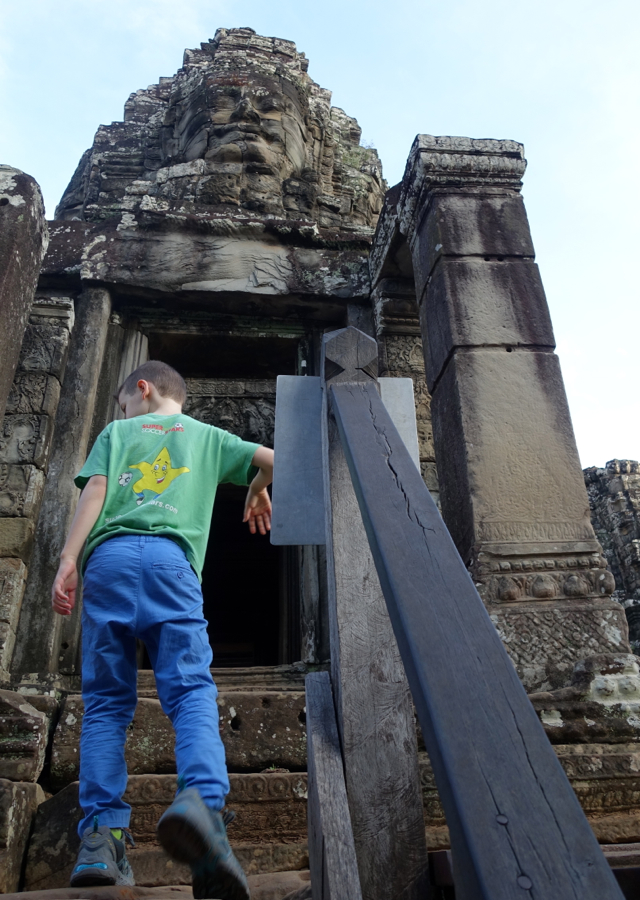 4. View of Baphuon Temple on Our Way Back
We enjoyed a glimpse of the exterior of Baphuon Temple on our way back from The Bayon. Since the guard does not allow children under 12 in the temple due to the steep climb, we didn't venture further, but otherwise, ever since restoration was completed in 2011, it is possible to climb up for a great view, and also see a large reclining Buddha.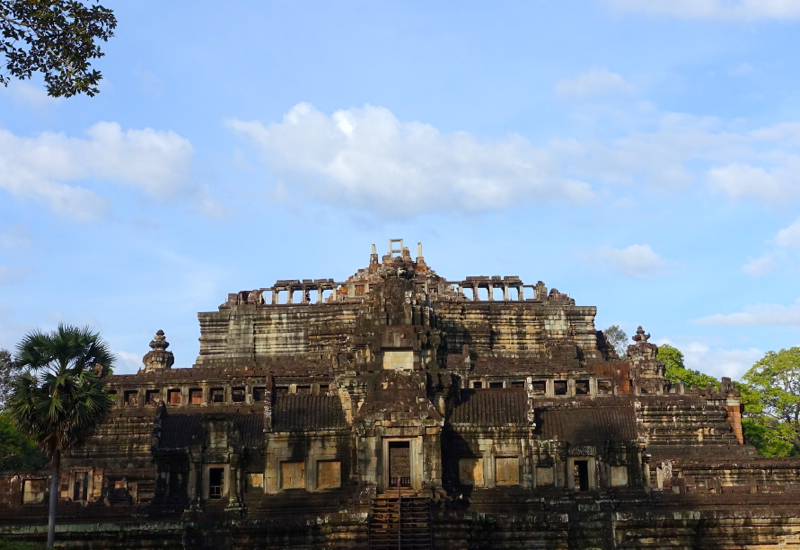 5. A Monkey on Our Way to The Bayon
There are of course a number of monkeys in and around the Angkor temples, so at some point you'll likely see one in a similar position to this one, perched on top of one of the heads lining a bridge: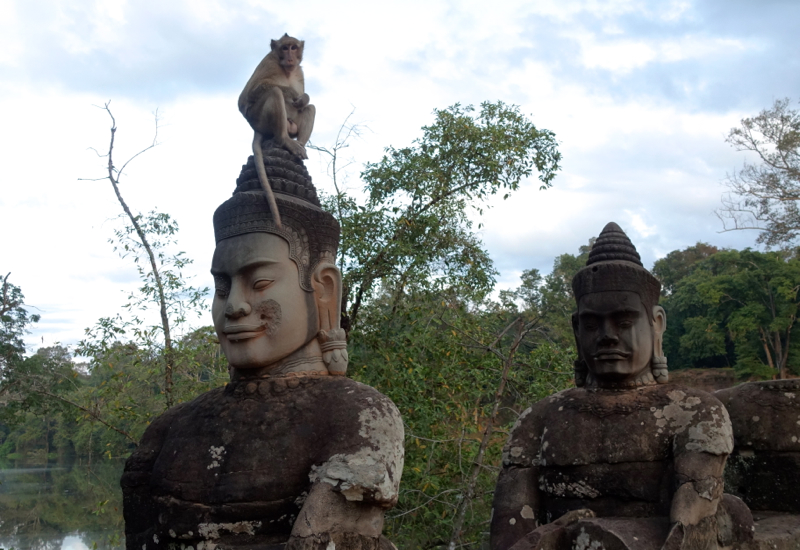 6. Elephant Trunks as Part of the Gates to Angkor Thom
There are 5 gates marking the entrances to Angkor Thom, the capital city of King Jayavarman VII–one each for north, south, east and west, plus the Victory Gate just north of the East Gate, which led to the Royal Palace. Look closely and you can see that the columns on either side are in fact elephant trunks: