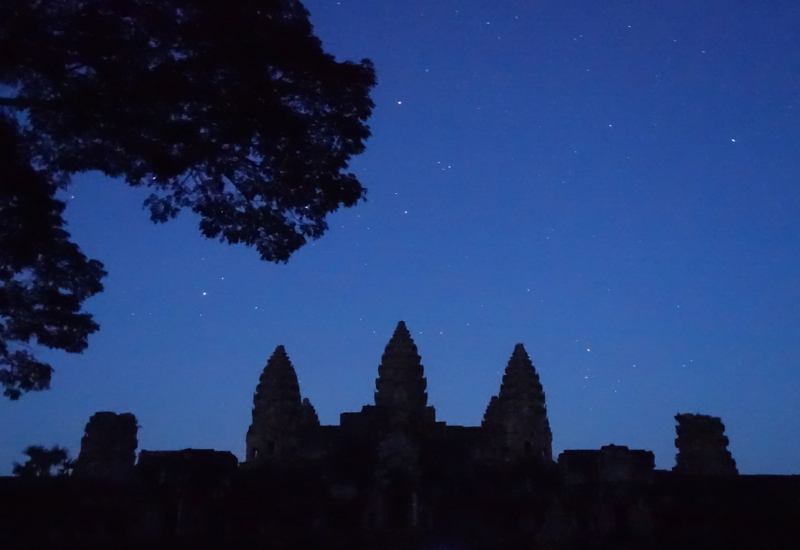 This Angkor Wat Photo Tour and Breakfast at Amansara's Khmer Village House is part of a trip report on Siem Reap, Cambodia, including Asiana First Class and luxury resorts and dining in northern Thailand.
For the previous posts in this trip report please see:
SWISS Lounge JFK Terminal 4 Review
Review: Asiana First Class Suite NYC JFK to Seoul ICN
Review: Cornerstone Restaurant, Park Hyatt Seoul
Lounge Review: Asiana Business Class Lounge Seoul Incheon
Asiana Business Class A330 Review
Review: Novotel Bangkok Airport Hotel Suite
Review: Anantara Golden Triangle Elephant Camp and Resort
Anantara Golden Triangle Sala Mae Nam Restaurant Review and Menu
Mahout Experience at Anantara Golden Triangle Elephant Camp
Dining By Design at Anantara Golden Triangle Elephant Camp
Hotel Review: Park Hyatt Siem Reap
Beng Mealea Jungle Temple Photo Tour, Siem Reap Cambodia
Touich Restaurant Siem Reap Menu and Review
Ta Prohm and Preah Khan Temple Photo Tour, Siem Reap
How to Tour Angkor Wat While Avoiding the Crowds
There are a couple secrets to visiting Angkor Wat while avoiding the crowds. One is to get a *very* early start: for us, this meant departing Amansara at 4:30am. Due to how early we left, we decided to request a babysitter for our son, so that he could get extra sleep and not be exhausted later that day. The night before, we pretty much went to sleep at the time he did, which worked out.
The second tip is to stay at Amansara so that you have access to one of the best guides and can access the temple from the East. Unusually for Angkor temples, Angkor Wat's main entrance is oriented toward the West, symbolizing with the setting sun its intended use as a burial place and funerary temple for King Suryavarman II. So the Western main entrance is where the hordes of tourist groups enter.
Contrast that with our peaceful approach via the East, where it was just us and one other couple with their guide, all of us speaking in hushed tones or simply enjoying the night view of Angkor Wat against a starry sky: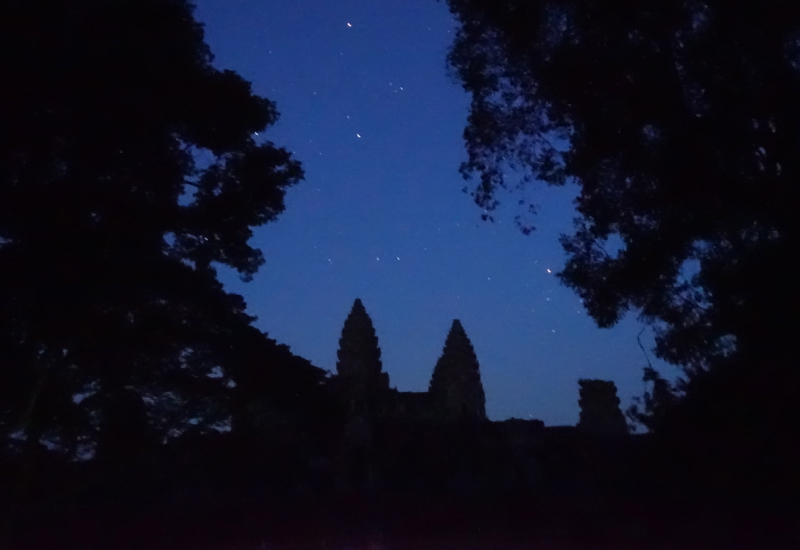 Slowly the sky lightened until the stars disappeared from view, and we entered Angkor Wat.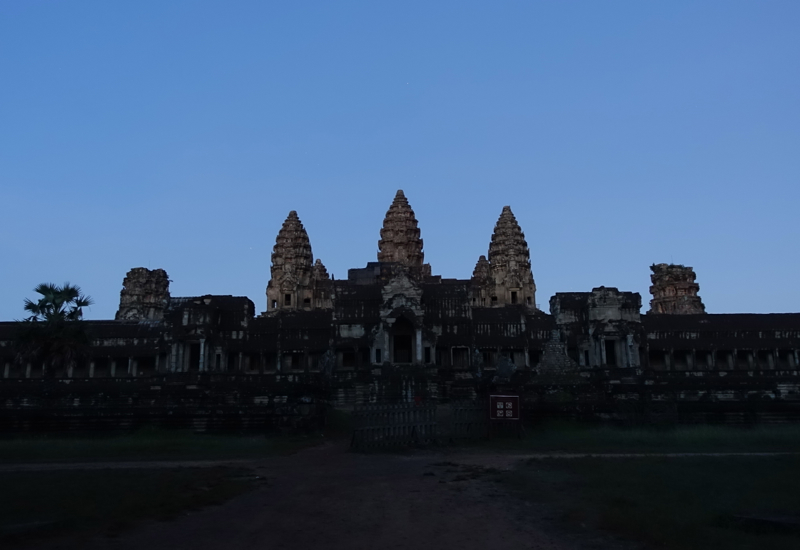 Another benefit of having the experienced guide we had via Amansara was that he had been around so long he know pretty much everyone. He was able to get us access to one of the steep staircases that led up to the top of the temple, where we were able to walk around with only a couple of other visitors. Our guides didn't come up with us, wanting us to savor the moment on our own, which I appreciated. I never remember all that our guides tell us about specific historical events, but those can often be researched and read later. What can't be so easily replicated is how you feel walking among the ruins on your own, in quiet contemplation. To us at least, being able to explore undisturbed and away from the crowds was priceless.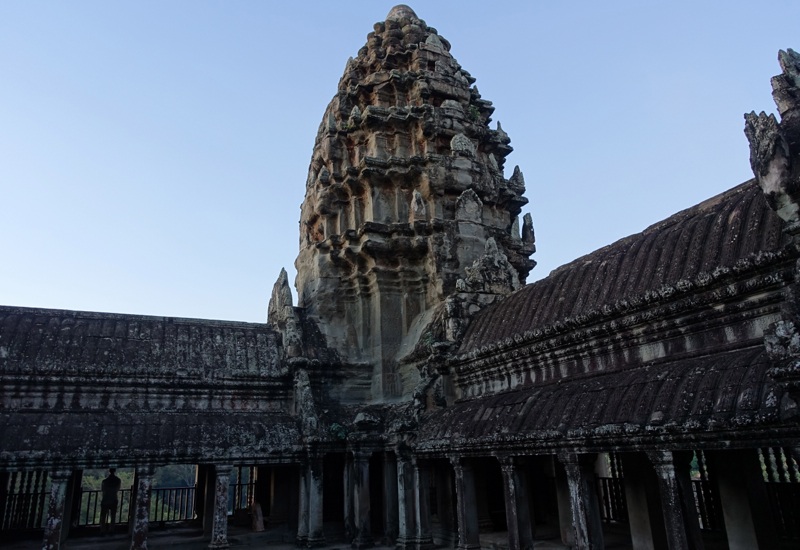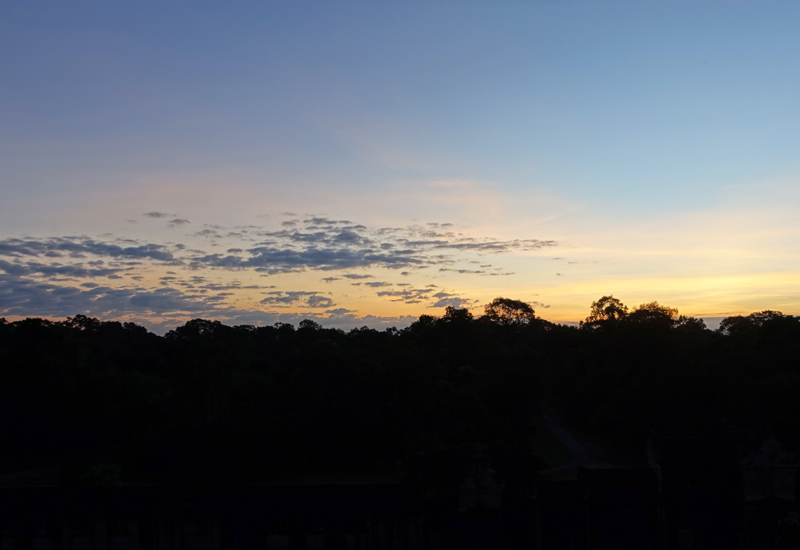 After we descended, our guide showed us all around Angkor Wat, and of course this part was far more crowded, but still worthwhile as he explained the carvings such as the Churning of the Sea of Milk (which incidentally includes 183 figures, the number of days between the winter solstice and the summer solstice), Vishnu conquering the demons, Battle of the gods, and the very vivid Heaven and Hell Gallery, with carvings that depict 37 heavens and 32 hells (note: the depictions of the 32 hells are not for the squeamish!)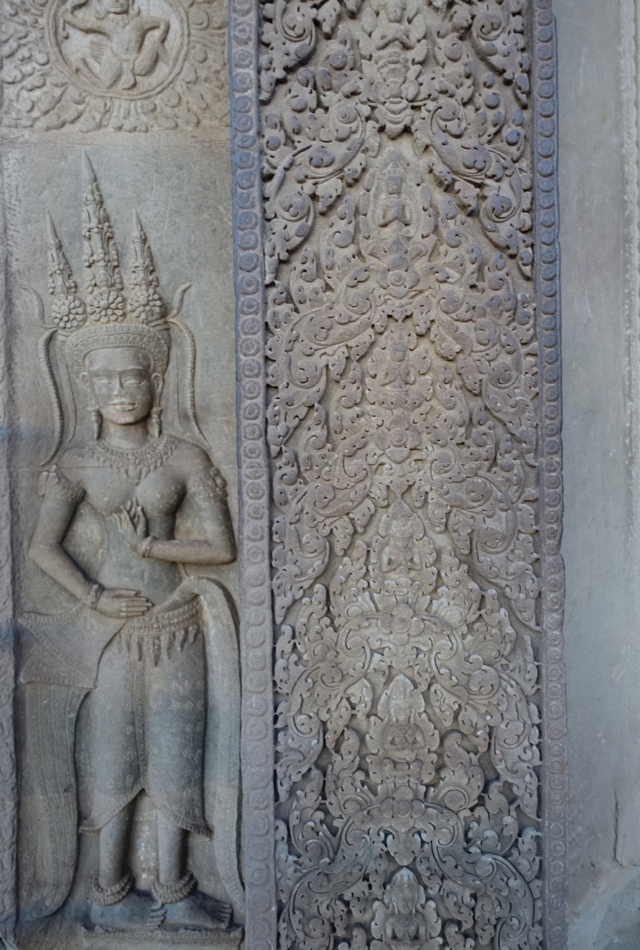 Breakfast at Amansara's Khmer Village House
After Angkor Wat, our remorks took us to Amansara's Khmer Village House, where we met up with the munchkin for a traditional Cambodian breakfast. The handsome wooden house, built on stilts in Cambodian style, is set in a lush garden: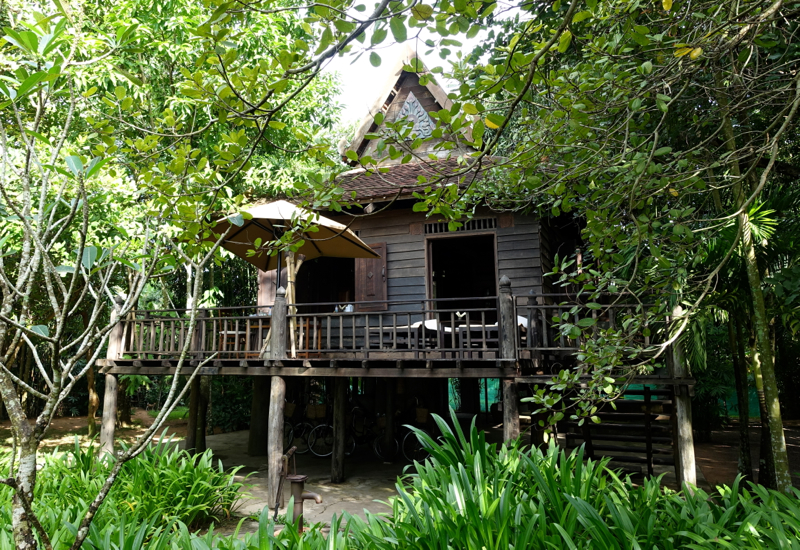 It offered a peaceful view of the water, since it faces the Srah Srang reservoir: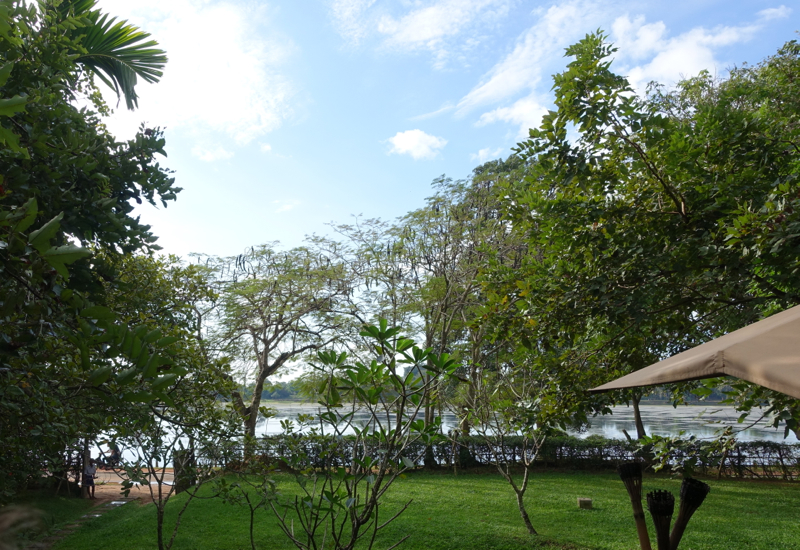 Outside is a deck and table and chairs shaded by an umbrella, while inside, there's a day bed for lounging and another table and chairs, which is where we had our breakfast.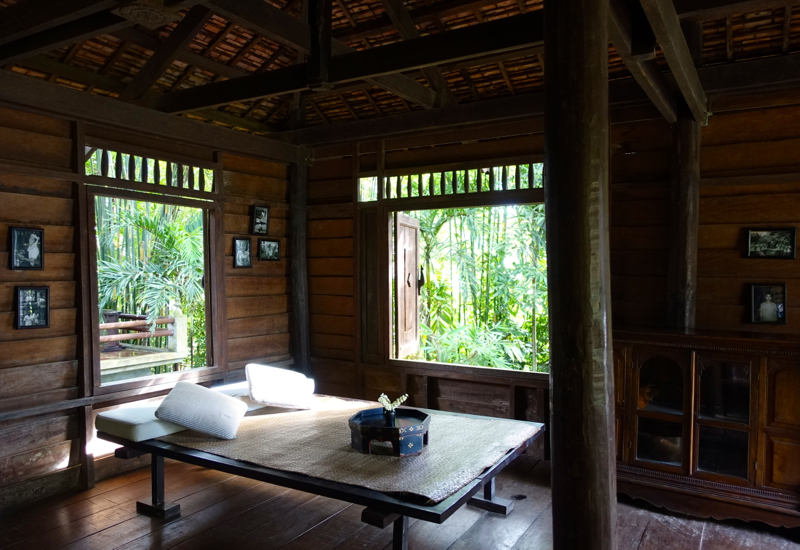 Breakfast began with a brilliantly colored fruit plate of mango, pineapple, papaya and magenta dragonfruit: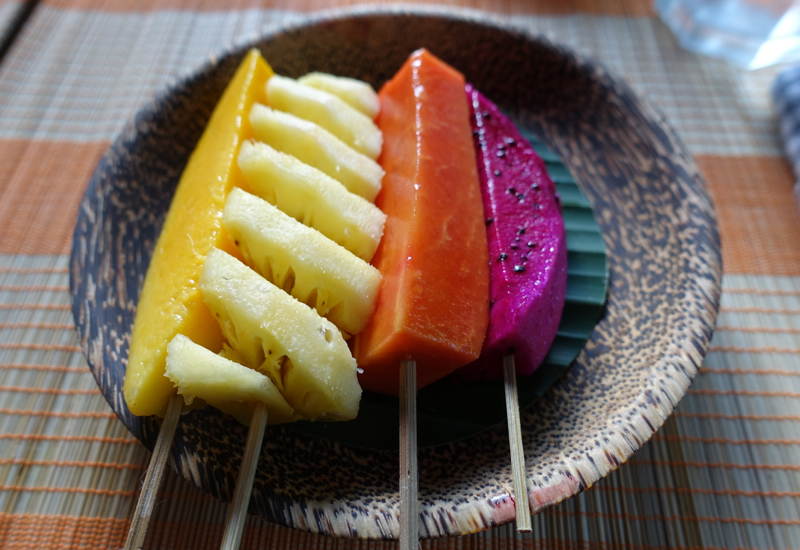 Traditional Cambodian pastries were next; I especially liked the caramelized crust of the nom korng doughnut, although my husband preferred the coconut lentil non kroch: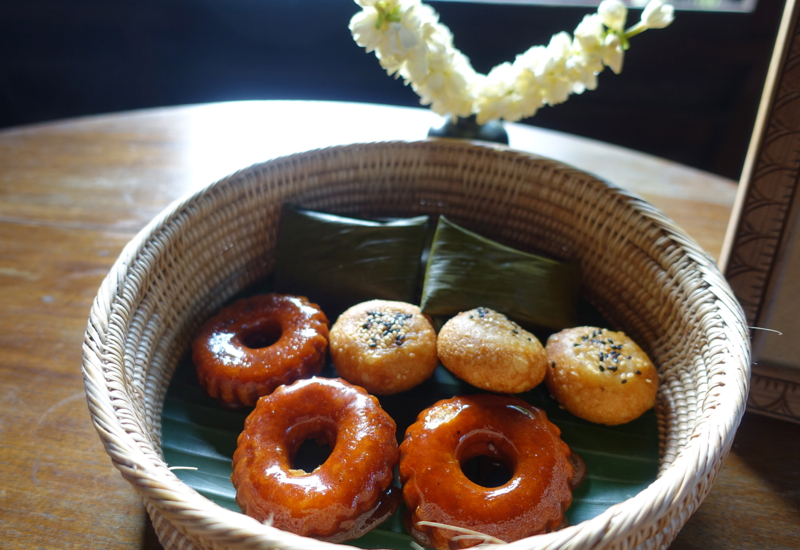 There were three choices for the entree, so we tried all three. Our son wanted scrambled eggs and crispy bacon: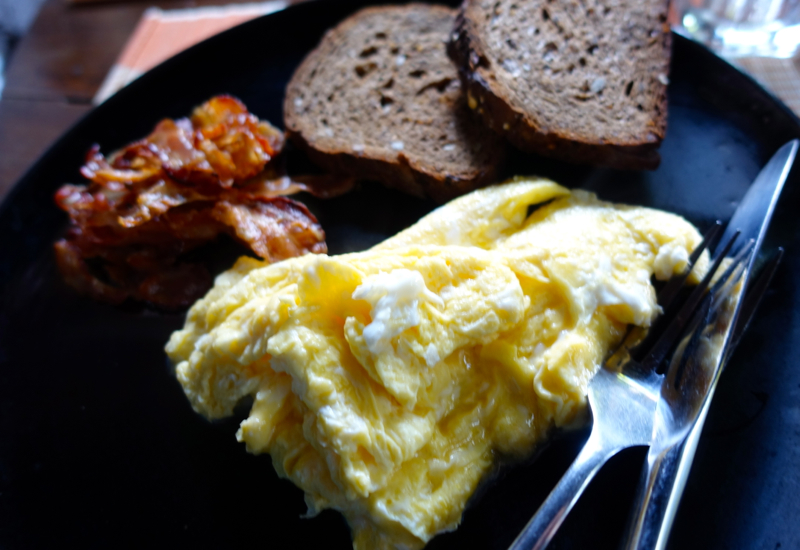 I tried a piping hot noodle soup with a delicate broth, meatballs, and condiments of hot chilis which spiced it up nicely: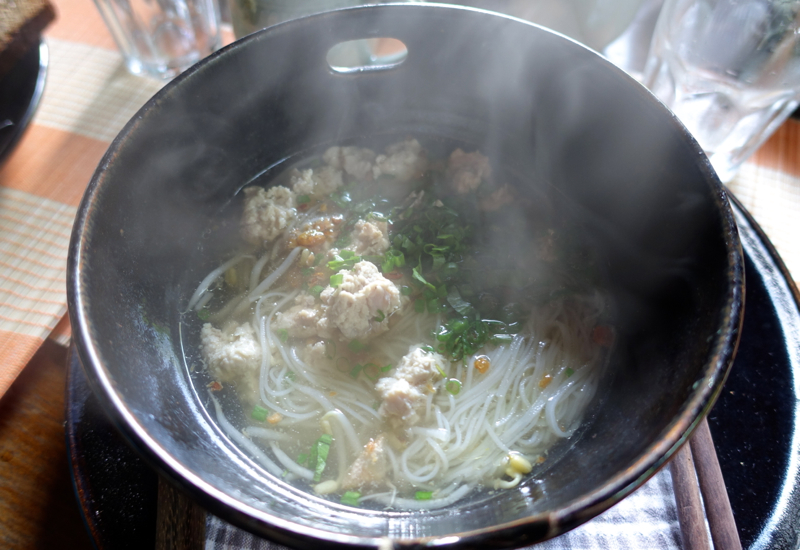 My favorite, however, was my husband's dish of Nom Ben Chok, with its flavorful green curry coconut broth, fresh rice noodles, chicken and vegetables–yum! I was happy to find it on Amansara's regular breakfast menu as well.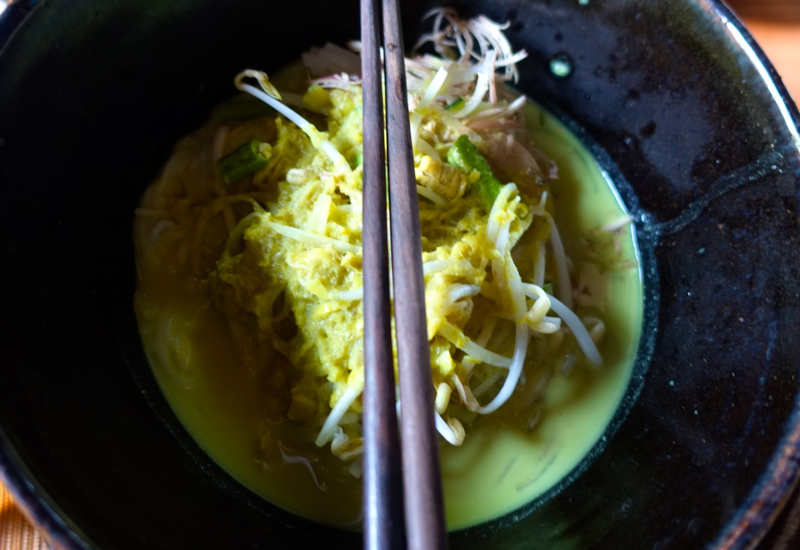 The combination of Angkor Wat with breakfast at Amansara's Khmer Village House was fantastic. Or, if you opt to simply return to Amansara for breakfast, another way to experience the Khmer Village House is as part of a cooking class. If you choose this option, you'll visit the local market first to shop for ingredients, then be taken to the Khmer Village House to pick fresh organic herbs and chillis, before using them to prepare a delicious lunch, traditional style, using a mortar and pestle and over hot coals.
Have you experienced Angkor Wat and Amansara's Khmer Village House?
Related Posts
Ta Prohm and Preah Khan Temple Photo Tour, Siem Reap
Beng Mealea Jungle Temple Photo Tour, Siem Reap Cambodia
Disclosure: I paid a travel professional rate for Amansara, however the views expressed in this post are my own.
Need Award Booking Help? Our fee is as low as $75 per ticket if you book your hotel through us.
If you enjoyed this, join 150,000+ readers: please follow TravelSort on Twitter or like us on Facebook to be alerted to new posts.
Become a TravelSort Client and Book Amansara with Virtuoso Amenities!