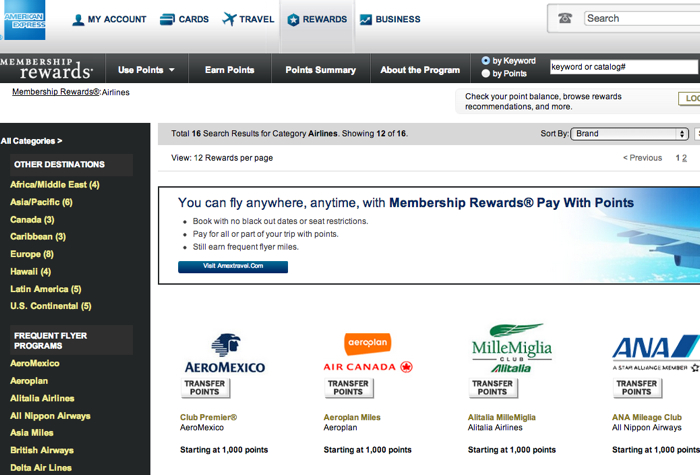 Today I did another AMEX points transfer, including an AMEX points advance (ends June 30) to another frequent flyer account, my husband's, and was nicely told that normally AMEX Membership Rewards points transfers can only be done to the account of the primary cardholder or an authorized user. My husband isn't an authorized user of my account, and the representative was willing to make a one-time exception, but wanted to make me aware of this limitation going forward.
As I covered in How to Transfer Points Between Frequent Flyer Accounts, American Express has historically allowed you to transfer AMEX Membership Rewards points to pretty much anyone's frequent flyer account (although NOT to another AMEX Membership Rewards account) so this came as a bit of a surprise to me.
The rep maintained that the rule is not new, but that it is being enforced more strictly as a security measure, due to some situations where points were transferred to another's frequent flyer account without permission, and then there was an effort to try to get them back from the airline (which of course is not allowed–all points transfers are final).
So, if you plan to transfer AMEX Membership Rewards points to a friend or even a spouse or partner, be aware that you may need to add them as an authorized user prior to doing the transfer. Of course, it doesn't hurt to first try and ask nicely for an exception.
Now, many folks like to add extra authorized users anyway, for the sake of AMEX Small Business Saturday, since you can earn $25 statement credit per card. And as long as the primary card holder has a strong credit score and the authorized user is responsible, and doesn't rack up high bills that the primary card holder can't pay, it can be fine to add authorized users. But personally, I recommend only adding as an authorized user a spouse or partner that you trust. See How Does Adding An Authorized User Affect My Credit Score and That of the Authorized User?
Have you encountered AMEX's stricter policy when transferring points to another's frequent flyer account?
Related Posts
How to Transfer Points Between Frequent Flyer Accounts
AMEX Membership Rewards Points Advance Ends June 30
AMEX Small Business Saturday 2012
Need Award Booking Help? Our fee is as low as $75 per ticket if you book your hotel through us.
If you enjoyed this, join 90,000+ readers: please follow TravelSort on Twitter or like us on Facebook to be alerted to new posts.
Become a TravelSort Client and Book 5-Star Hotels with Virtuoso or Four Seasons Preferred Partner Amenities!