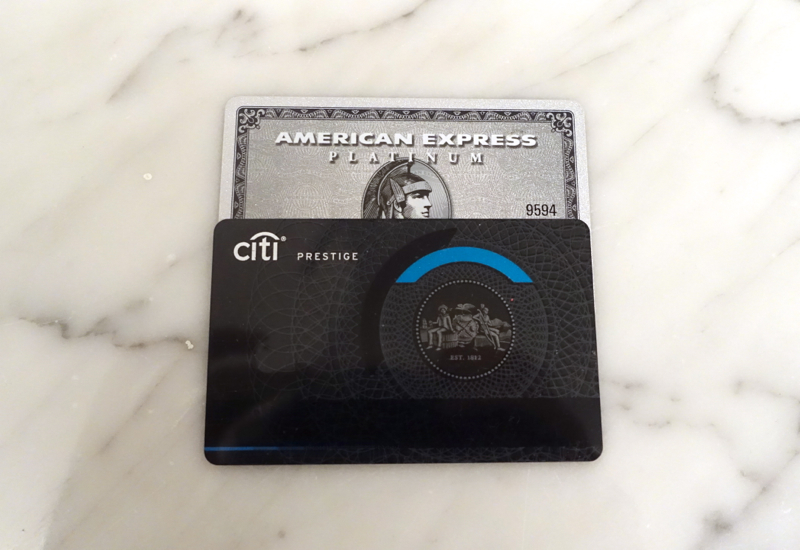 The American Express Platinum or the Citi Prestige: which is the better travel credit card? Previously I compared the Chase Sapphire Preferred to the Citi ThankYou Premier, both of them good travel credit cards which also waive the annual fee the first year. Since many luxury travelers have or are considering getting the AMEX Platinum and Citi Prestige, I though it would make for another interesting comparison.
Signup Bonus, Minimum Spend and Annual Fee
The public offer is for the 50K Citi Prestige card after $3000 spend within the first 3 months, although last year there were some targeted 100K Citi Prestige card signup bonuses, primarily to prospects who had no Citi credit cards. The annual fee of $450 is not waived the first year.
For the AMEX Platinum, the public offer is the 40K AMEX Platinum after $3000 spend within the first 3 months, although there have been higher targeted offers. Keep in mind that if you've had the AMEX Platinum personal card before, you're not eligible to receive the signup bonus again, due to AMEX Signup Bonuses Becoming Once in a Lifetime. Similar to the Citi Prestige, the $450 annual fee is not waived the first year.
Both cards have the same $3000 minimum spend requirement and $450 annual fee. The Citi Prestige 50,000 signup bonus is higher than the AMEX Platinum's 40,000 signup bonus, but read below for more on Citi ThankYou Rewards points vs. AMEX Membership Rewards points. And if you receive a high targeted offer for either card, that of course changes the equation considerably.
Winner: Citi Prestige (based on public offer)
Airport Lounge Benefits
Airport lounge benefits are a key reason many travelers get a premium travel rewards card such as the AMEX Platinum or Citi Prestige. So how do they compare?
The Citi Prestige gives you access to American Airlines Admirals Club lounges, if you are traveling on American Airlines, American Eagle, or an American Connection carrier flight number. You're able to bring your spouse/domestic partner and children under 18, or up to two traveling companions, as guests with you into the lounge. The Citi Prestige also gives you complimentary Priority Pass Select Lounge access, plus complimentary access for up to two guests, via the Priority Pass card that is automatically mailed after you receive your Citi Prestige card.
The AMEX Platinum requires you to actually request Priority Pass Select (call the number on the back of your AMEX Platinum card to request it) and the Priority Pass Select membership from the AMEX Platinum only gives you, the cardholder, complimentary Priority Pass lounge access (as well as to any authorized users, but note that you'll pay $175 per year for up to three authorized users.
The AMEX Platinum also gets you complimentary access to Delta Sky Club, although it no longer gets you complimentary guest passes; you'll have to pay $29 per person for your spouse/domestic partner and child under 21, or up to two other traveling companions. The AMEX Platinum also gets you access to Airspace Lounges, and you can bring two guests for free. But don't get too excited about tiny Airspace Lounges; see my Airspace Lounge at JFK Terminal 5 Review.
The best AMEX Platinum lounge benefit is the Centurion Lounge, which is considerably better than other U.S. domestic lounges, although sadly there are just a few of them:
AMEX Centurion Lounge at Dallas/Fort Worth DFW
AMEX Centurion Lounge at Miami MIA
AMEX Centurion Studio at Seattle-Tacoma SEA
AMEX Centurion Lounge at San Francisco SFO
You're allowed to bring in immediate family (spouse or domestic partner and up to two children under 18, or up to two travel companions, with the exception of the smaller AMEX Centurion Studio in Seattle, where only up to one travel companion is granted access with you.
Winner: AMEX Platinum, IF you're able to regularly use any of the Centurion Lounges. But if you value American Admirals Club Access or the ability to bring complimentary guests into Priority Club Lounges, the winner is the Citi Prestige.
Airline Benefit
The Citi Prestige gives you $250 airline credit from your December to December billing cycle (so don't leave your $250 credit until the last minute in December, otherwise you may miss the cutoff!) The great thing about the Cit Prestige airline benefit is that it can be used for any airline (assuming it codes purchases correctly as air travel) for charges that include air fares. The airline benefit fee alone makes the Citi Prestige worth getting for the first year, since you actually make $50 from the card assuming you use both $250 airline credits, for a total of $500 in airline credits, even if you use no other benefits of the card.
The AMEX Platinum airline incidental credit is $200 per calendar year and is more restrictive: it is supposed to be used for incidental purchases only, such as baggage fees and lounge passes. Airline tickets, upgrade fees, frequent flyer mile purchases, points transfer fees, duty free purchases and gift cards are explicitly excluded. You also must first select your chosen airline *before* you make an eligible airline incidental purchase, and you are only allowed to change your selection annually, in January.
Winner: Citi Prestige
Bonus Categories
The Citi Prestige offers 3X points on air travel and hotels and 2X points on dining/entertainment, with 1 point per dollar for all other spend.
The AMEX Platinum, meanwhile, has no bonus categories, making it a much less rewarding card for actual spend.
Winner: Citi Prestige
Airline and Hotel Transfer Partners
The American Express Platinum card earns Membership Rewards points, which transfer to the following programs. I've highlighted the best transfer partners in bold font, although some would add Aeroplan, Asia Miles, Delta SkyMiles or other programs to the list, even though I find those awards expensive in miles or surcharges.
Aeromexico
Aeroplan (Air Canada)
Flying Blue (Air France / KLM)
Alitalia
ANA
Asia Miles (Cathay Pacific)
British Airways Avios
Delta SkyMiles
El Al
Emirates Skywards
Hawaiian Airlines
Iberia
JetBlue
Singapore KrisFlyer
Virgin America Elevate
Virgin Atlantic Flying Club
Choice Privileges
Hilton HHonors
SPG (transfers at rate of 1000 Membership Rewards points to 333 Starpoints)
Citi ThankYou Rewards points also transfer to a variety of partners, although the only two I've found useful are Singapore KrisFlyer and Air France Flying Blue:
Cathay Pacific Asia Miles
EVA Air Infinity MileageLands
Etihad Guesdt
Air France/KLM Flying Blue
Garuda Indonesia
Malaysia Airlines
Qantas
Qatar
Singapore KrisFlyer
Thai Airways
Virgin Atlantic Flying Club
Winner: AMEX Platinum
Hotel Benefits
American Express offers the Fine Hotels & Resorts program, with benefits such as upgrade based on availability, complimentary continental breakfast daily, 4pm late check-out, and a resort-specific amenity such as one $100 dining credit during your stay. These benefits are similar to Virtuoso hotel benefits, although note that with Virtuoso you can use any credit card you wish, including the Citi Prestige or Citi ThankYou Premier, both of which earn 3X on hotel spend, or the Chase Sapphire Preferred, which earns 2X on hotel spend.
The Citi Prestige offers 4th night free, but only if you book through Citi's contracted provider, Carlson Wagonlit travel. Booking this way means you're not eligible for Virtuoso, Four Seasons Preferred Partner, or other preferred partner upgrades, complimentary breakfast and other VIP perks, plus you have to wait a billing cycle or two to get your 4th night credit back. A much better option is to take advantage of Virtuoso or preferred partner 3rd night free or 4th night free offers that also include upgrades and benefits, for example:
Top 10 Four Seasons 3rd Night Free Offers, Fall 2015
Peninsula Hotels PenClub 3rd Night Free Offers
Aman Resorts 4th Night Free with Virtuoso Benefits Extended
Winner: Citi Prestige, but being a TravelSort Client or working with a Luxury Travel Advisor yields greater benefits for Aman Resorts, Four Seasons, Peninsula, Mandarin Oriental, Rosewood and other 5-star luxury hotel reservations.
Insurance and Other Benefits
While some benefits are the same or similar, such as the Extended Warranty protection and Lost Baggage protection, overall the Citi Prestige offers some benefits that the AMEX Platinum does not, such as Trip Cancellation and Interruption protection of up to $5000 per person per trip, and emergency evacuation covered up to $100,000 per person (secondary to any other insurance policy), while with the AMEX Platinum emergency evacuation medical treatment is only covered if the provider presents a unified bill. In cases where the provider breaks out separate medical and transportation costs, AMEX only reimburses the transport part of the emergency evacuation. Keep in mind that these benefits only apply if you paid for your entire trip with yoiur Citi card, and won't apply if you just used your Citi Prestige card for the taxes and fees on an award ticket.
That said, many loyal AMEX cardmembers swear by AMEX's clout when it comes to disputes with merchants over products or services.
The Verdict
The Citi Prestige makes money for you in the first year, so I believe it makes sense for everyone who will have at least $500 in paid airfare costs within the next 12 months to sign up for the card, even if they choose not to renew it after that. I do give AMEX Membership Rewards points a slight edge in terms of the number of airline transfer partners, which is useful when topping up for an award. And with the imminent 2016 AAdvantage Award Chart devaluation, the ability to transfer AMEX Membership Rewards points to Asia Miles may become more attractive if your goal is to snag Cathay Pacific First Class awards.
AMEX Centurion Lounges tend to be the best U.S. domestic lounges, but are in only a few cities, so the lounge access benefits could favor either card, depending on your travel patterns.
For hotels, I don't find either a particularly compelling card for luxury hotels, compared to the value a luxury travel advisor can provide, and haven't had occasion to use the hotel benefits of either card.
While travel and purchase protection benefits are rarely used, on paper, the Citi Prestige provides greater value, with benefits the AMEX Platinum lacks, although the real test is in how claims are handled. i'd love to hear from readers that have had occasion to make travel protection or purchase protection claims with Citi or AMEX.
Related Posts
Redeeming 800K Miles and Points: Why We Don't Save Our Miles
Chase Ultimate Rewards Points Transfer Rules
Citi ThankYou Points Transfer Rules
Need Award Booking Help? Our fee is as low as $75 per ticket if you book your hotel through us.
If you enjoyed this, join 200,000+ readers: please follow TravelSort on Twitter or like us on Facebook to be alerted to new posts.
Become a TravelSort Client and Book 5-Star Hotels with Virtuoso or Four Seasons Preferred Partner Amenities!