Update: Deal is Dead. Don't forget to follow @TravelSort on Twitter and like TravelSort on Facebook to be alerted to future deals and other great luxury travel tips.
Finally–an AMEX Platinum 100,000 bonus points offer that almost anyone can get. The current publicly available bonus is only 25,000 AMEX Membership Rewards points, and even the Mercedes-Benz Platinum AMEX that I recently got is 50,000 bonus points, so this is a lot better, and as good as any current targeted offer I'm aware of.
Now, before you jump in, note that AMEX does in its terms specifically exclude cardholders who have had either this card within the last 12 months or any consumer Zync, Green or Gold Card account within the last 90 days. The AMEX Platinum is a different product from the Mercedes-Benz AMEX Platinum, so you can get bonuses for both. So in my case, I'm looking forward to 150,000 Membership Rewards points after completing spend for both the AMEX Platinum and the Mercedes-Benz Platinum.
Also note there is a hefty $450 annual fee, not waived. The good thing is that you can get $400 of it back with airline fee credit; that's because the airline fee credit is per calendar year, so you can get $200 this year, and $200 next year. See Maximizing the AMEX Platinum Airline Fee Credit
Of course, the reason I'm more focused now on collecting Membership Rewards points is that you can transfer them to Singapore KrisFlyer to book Singapore Airlines First Class, which I just reviewed, and now even Singapore Suites Awards.
But back on point, here's how to get your AMEX Platinum 100,000 bonus points offer:
1. Go to creditcards.com and click on "Offers Matched for You"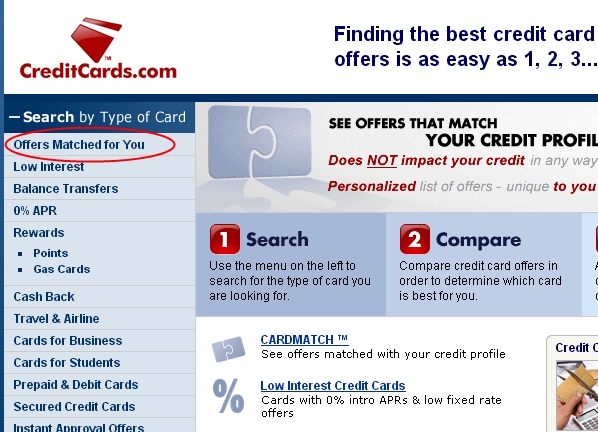 2. Enter Your Name and Address
You actually don't have to enter your social security number; I didn't at this point, although you still do need to enter it on the application itself.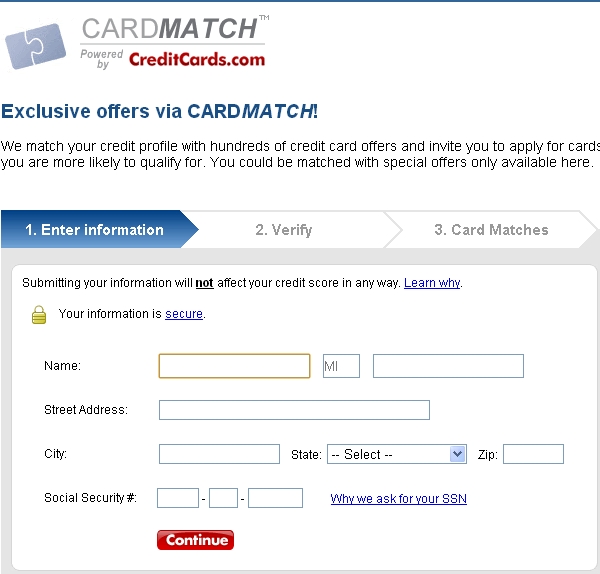 3. Verify Your Info
4. View Your Preapproved Offers
The 100,000 AMEX Platinum Offer was right at the top, at least for me: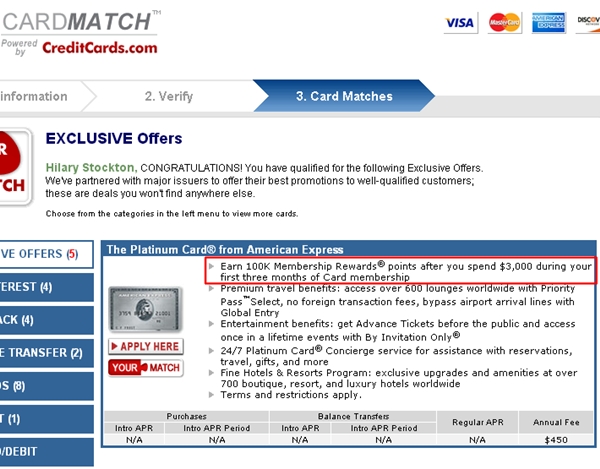 5. Fill Out the Application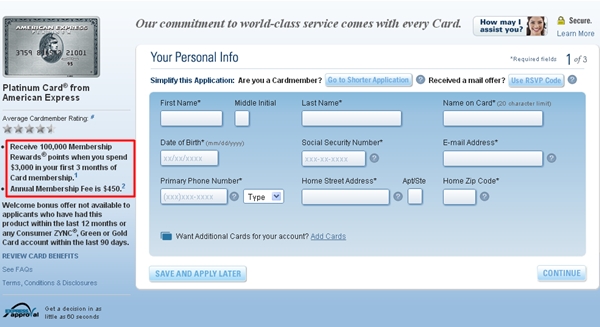 6. View Instant Approval, or Call Reconsideration
To my surprise, given that I'd just applied and been approved for several cards in late December, I was instantly approved. If you're not, don't fret–call AMEX reconsideration at 877-399-3083. See Credit Card Denied? Call These Reconsideration Phone Numbers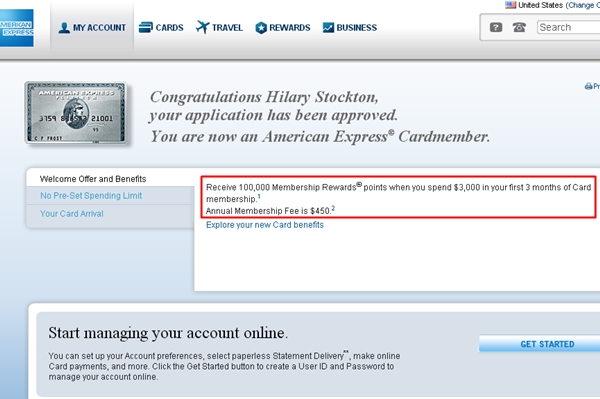 Will you be applying for the AMEX Platinum 100,000 bonus points offer?
Related Posts
Maximizing the AMEX Platinum Airline Fee Credit
AMEX Platinum Card Global Entry Benefit Tips
HT: Travel Summary