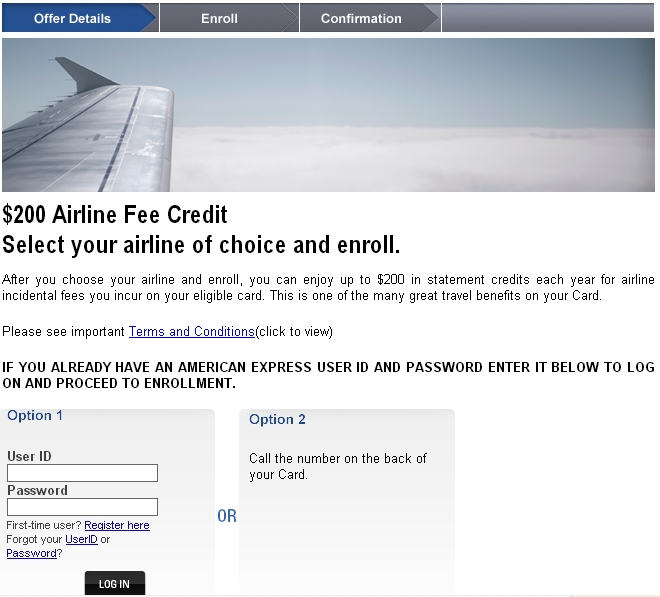 A quick reminder that January 31 is the last day to change your American Express Platinum airline selection for the $200 fee credit. You can make your airline selection here or just call the number on the back of your card.
As I noted in Maximizing the AMEX Platinum Airline Fee Credit, you probably don't want to pick Airtran, Frontier, Hawaiian, JetBlue, Spirit, Southwest or US Airways.
The most viable options are United and American, where many folks have been able to purchase airline gift cards and get them reimbursed. Remember that you can only use one gift card per ticket transaction.
Between United and American, more people seem to have reported success with one $200 gift card from United, but if you plan several ticket purchases it won't matter–you should pick the airline you're actually planning to fly.
But an intriguing third option for Delta is documented in Dan's Deals Forums. No, it's not about gift cards, which would have to be bought at the airport.
Instead, it entails the following:
Purchase a non-refundable international Delta ticket departing a U.S. airport that has either 3 segments, or purchase international tickets for 3 passengers. You can use another card to purchase the tickets, need not be the AMEX Platinum as that's not what you'll be getting a fee credit for.
Go to "My Reservations" and purchase three Economy Comfort seat upgrades using your AMEX Platinum Card. Make sure that the total of your 3 Economy Comfort seat upgrades is at least $200, if you want to receive the full $200 airline credit.
Since even non-refundable tickets are refundable within 24 hours, anywhere from 1 hour to less than 24 hours after purchase, call Delta to cancel the ticket(s) and request a refund. Note that you also need a refund for the Economy Comfort seat upgrade purchases.
The underlying ticket purchase may just show as pending and not even post before disappearing, but if it does, a credit will ultimately appear on whichever credit card you used to purchase it.
The Economy Comfort charge on your AMEX Platinum will be credited.
If you successfully do this, you can thank "Platinum Guy" from the forums.
Now, I personally plan to just go with a United airline credit, which seems easier to me, and we'll use it at some point. But I'm guessing the above will appeal to anyone who has no plans to fly United or American and can't use the gift cards, or simply wants a cash credit.
Whatever you end up doing, make sure to select the airline you intend to use before end of business on January 31!
Which airline did you pick for your AMEX Platinum airline fee credit benefit?
Related Posts