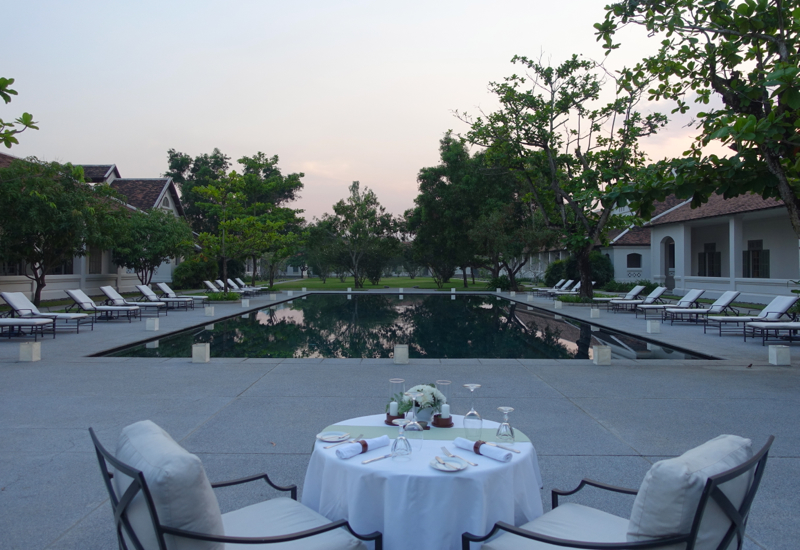 This Amantaka Restaurant Review and Menus post is part of a trip report including luxury resorts in Asia and the Maldives, such as Four Seasons Landaa Giraavaru and Soneva Fushi, as well as Etihad First Class and Emirates First Class.
For the prior posts, please see:
Review of Etihad's Lounge at Washington Dulles Airport (IAD)
Etihad First Class 787-9 Dreamliner Review
Review: Wingtips Lounge JFK for Etihad First Class Passengers
Review: Etihad First Class 777-300ER NYC to Abu Dhabi
Review: Etihad Business Class Lounge Abu Dhabi AUH Terminal 1
Four Seasons Maldives at Landaa Giraavaru Review
Four Seasons Maldives at Landaa Giraavaru Restaurant Reviews and Menus
Four Seasons Maldives at Landaa Giraavaru Activities: Top 10 Things to Do
Interview with Armando Kraenzlin, General Manager of Four Seasons Maldives at Landaa Giraavaru
Review: Four Seasons Maldives at Kuda Huraa
Surfing in the Maldives at Four Seasons Kuda Huraa
Review: Four Seasons Maldives at Kuda Huraa Sunset Water Bungalow
Four Seasons Maldives at Kuda Huraa Restaurant Reviews and Menus
Four Seasons Maldives at Kuda Huraa Activities and Top Things to Do
Soneva Fushi Maldives Activities and Things to Do
Soneva Fushi Breakfast, Ice Cream Room, Chocolate Room and Cheese Room
Fresh in the Garden, Soneva Fushi Restaurant Review
Trans Maldivian Airways Seaplane Review
Conrad Maldives Rangali Review: Beach Villa
Conrad Maldives Restaurant Menus and Review
Review: Conrad Maldives Superior Water Villa
Conrad Maldives Activities and Top Things to Do
Emirates First Class Lounge Dubai Review
Emirates A380 First Class Review
Amantaka Luang Prabang, Laos Review
TravelSort Clients receive these Virtuoso benefits when reserving Amantaka:
Upgrade on arrival, subject to availability
Continental breakfast daily, for up to two in room guests
A complimentary lunch or dinner for up to two people per room, once during stay, excluding alcohol, taxes and gratuities
Early check-in/late check-out, subject to availability
Amantaka Restaurant
Amantaka's Restaurant has an indoor dining room for when weather is inclement, but, while we dined there our first night, we enjoyed having our breakfast al fresco on the outdoor veranda, with a view of the grounds. Our second dinner we enjoyed outside by the illuminated pool, with beautiful flowers at each table and candlelight. Afternoon tea is served each afternoon in the Library, and one evening after putting my son to bed I enjoyed dessert there, while working. You can also opt for the convenience of in-suite dining.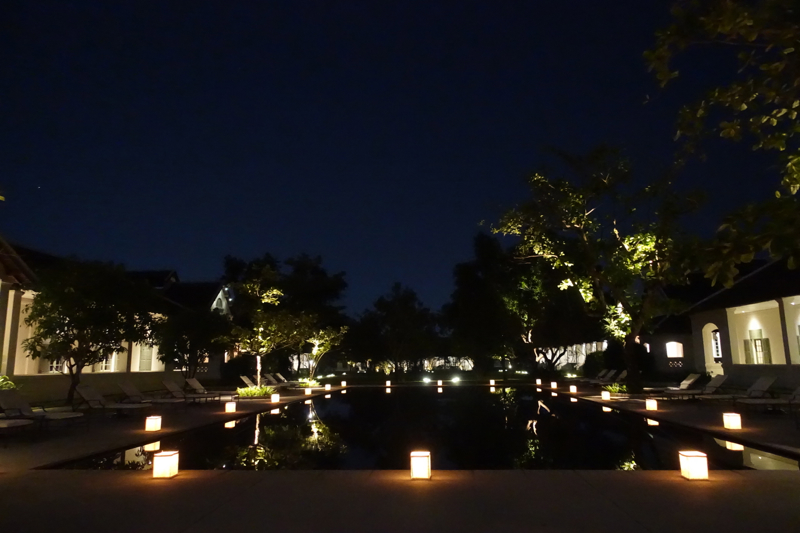 Amantaka Breakfast
Amantaka's breakfast menu offers all the Western options you'd expect, plus several Lao choices: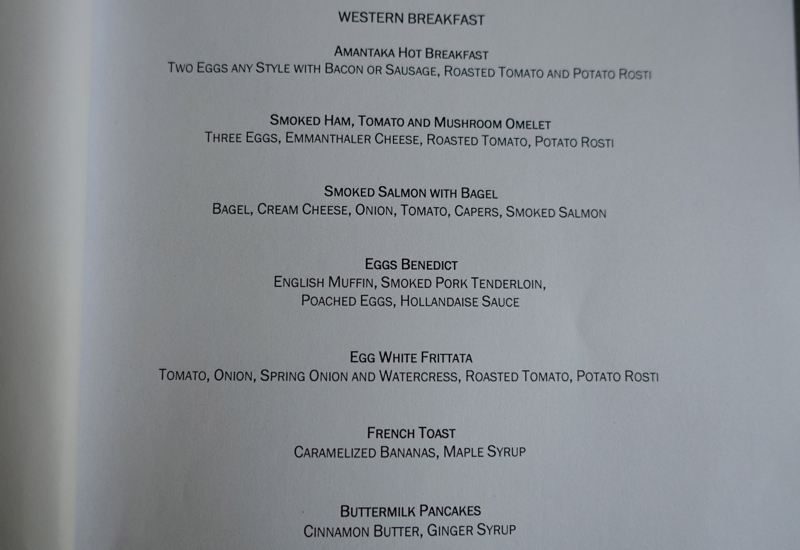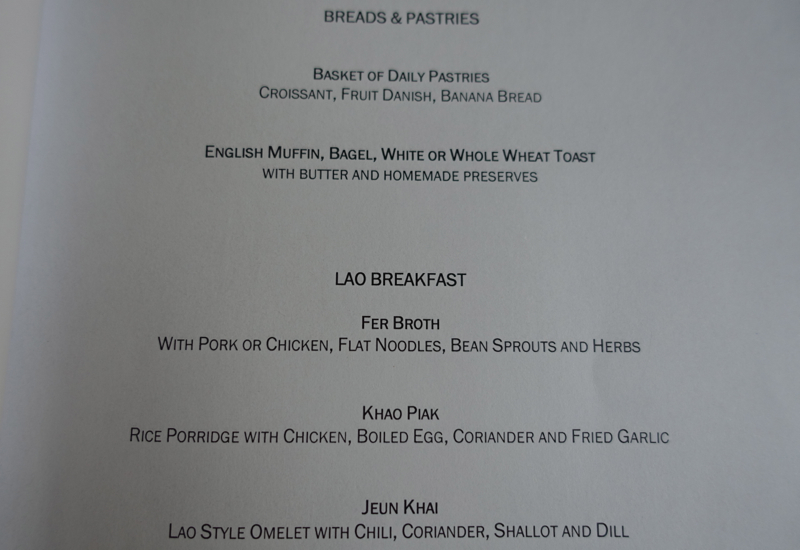 Our favorite breakfast items were:
1. Lao Noodle Soup with Chili and Fresh Herbs
Noodle soups are integral to many Southeast Asian breakfasts, and this Lao noodle soup, with a fragrant broth, rice noodles, a choice of pork or chicken, and an abundance of fresh herbs and chili, as well as chili sauce to provide an extra kick, was superlative. Very satisfying as well–it will likely hold you over until afternoon tea.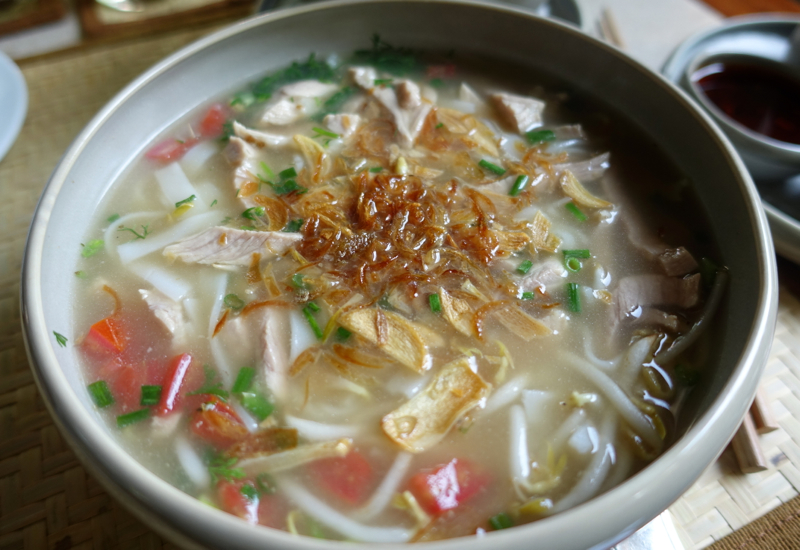 2. Bagel with Smoked Salmon
While it's something of coals to Newcastle for us as New Yorkers to order bagel with smoked salmon for breakfast, the munchkin insisted that was what he wanted one of our mornings–and it was surprisingly great. The salmon was very fresh (perhaps house cured?) and the tomatoes were much riper and better than New York versions–perhaps hardly surprising, given the many vegetables that are grown locally.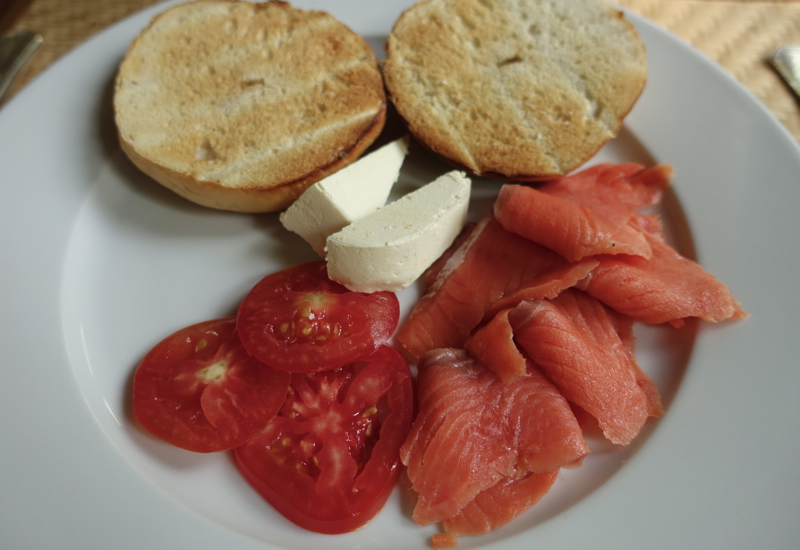 3. Housemade Toasted Muesli
Aman Resorts have some of the best housemade toasted muesli and granola, and Amantaka was no exception. I happily added some as a crunchy topping to my bowl of yogurt and fruit.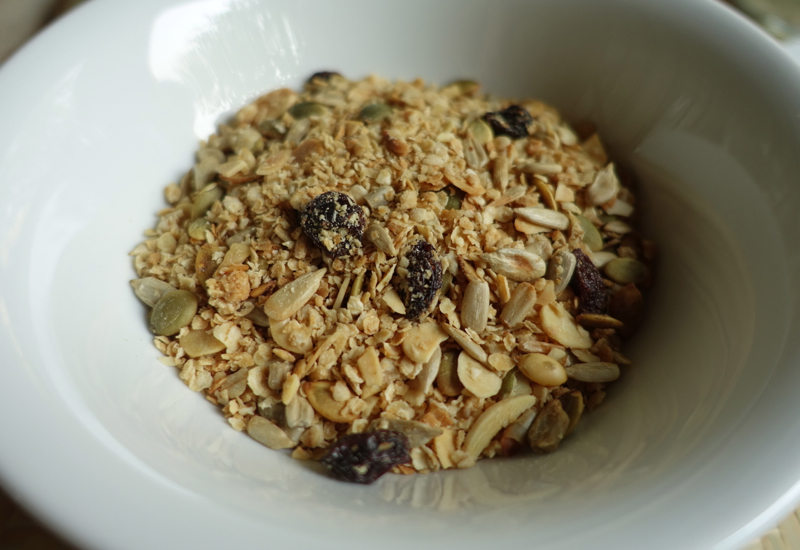 4. Homemade Yogurt with Fresh Fruit
Amantaka's homemade yogurt was creamy and mild, and I asked for it with mango, although it can come with any fresh fruit, or simply plain, with slices of apple banana and local honey to sweeten it to taste.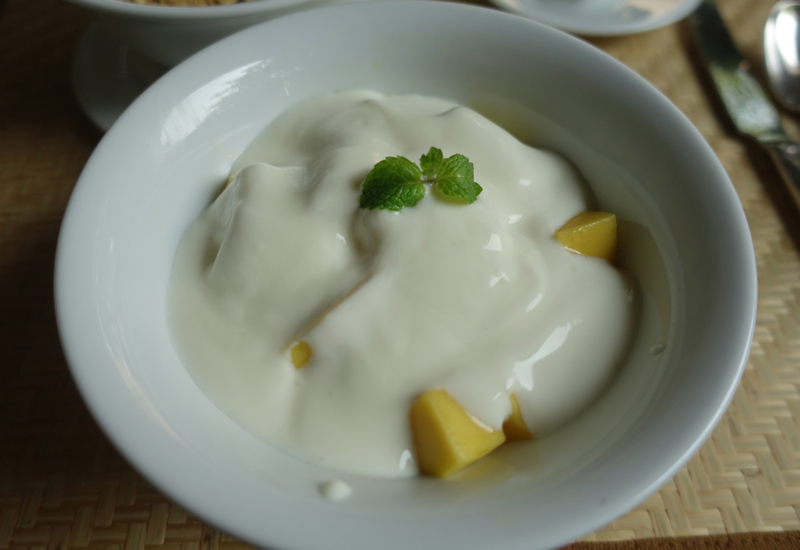 5. Breakfast Pastries
Breakfast pastries are fresh made and hit the spot for anyone with a taste for something sweet at breakfast. Our basket came with an assortment of a croissant, pain au chocolat, and a danish.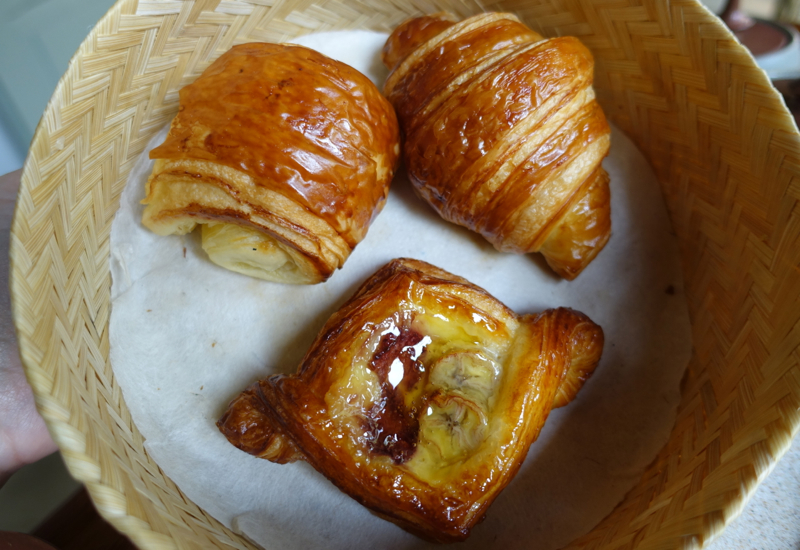 6. Fresh Squeezed Juices
After the anemic and very poor quality "fresh squeezed juices" at the Conrad Maldives, it was great to again have high quality fresh squeezed fruit juices at Amantaka. Orange, pineapple, watermelon, mango, and papaya are all offered, and vegetable juices are also possible.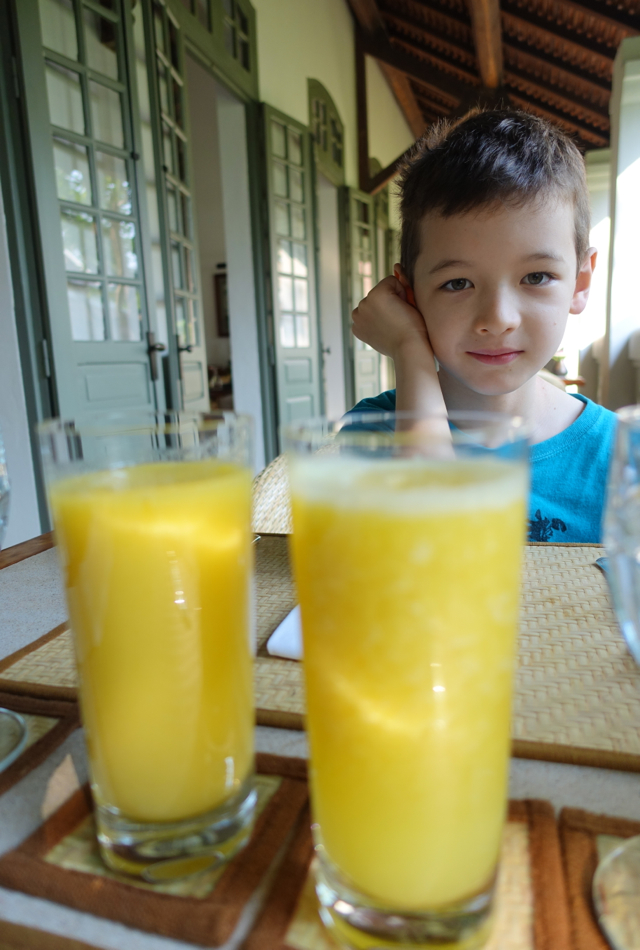 Amantaka Dinner
For dinner, Amantaka offers both a Western Set Menu and a Lao Set Menu. The first night I tried the Lao menu, and the second night the Western menu.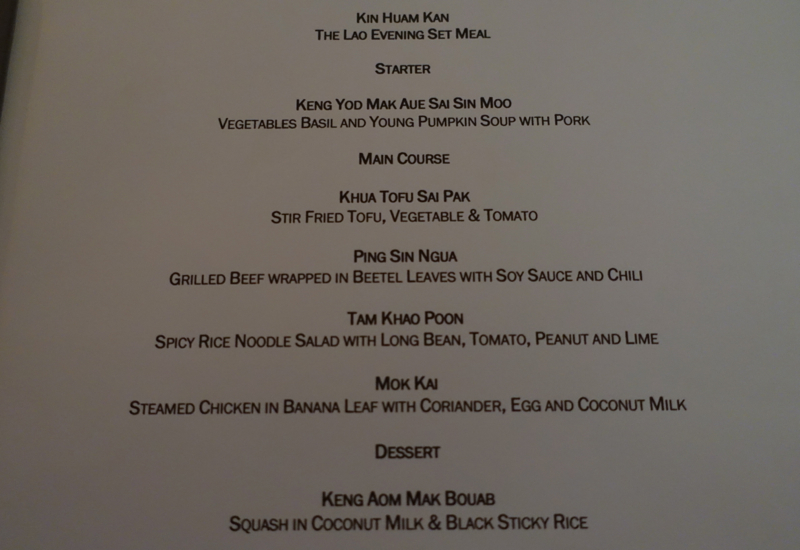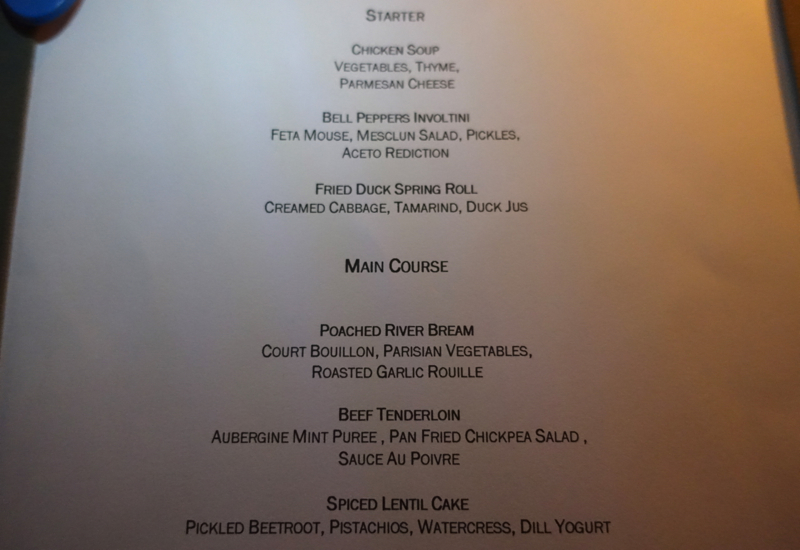 There's also a kids' menu, which the munchkin approved of since it included pasta and a grilled cheese sandwich as choices. There are even baby purees offered for families traveling with their infant.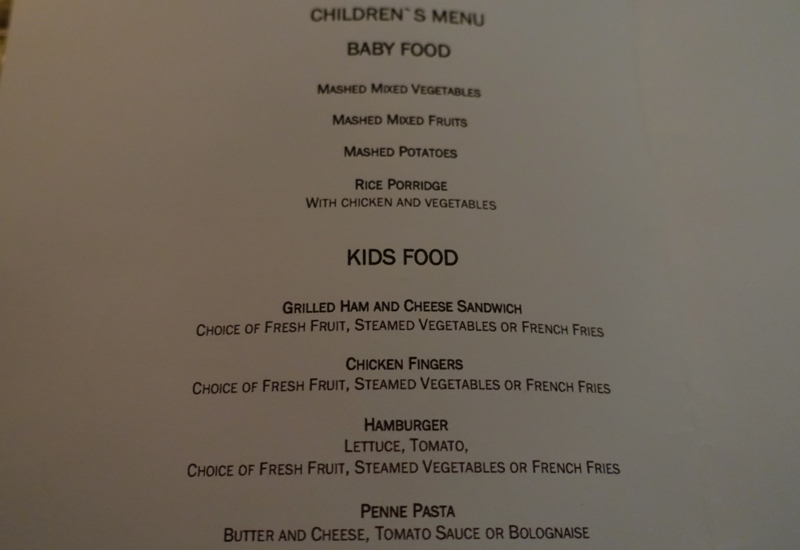 And don't overlook the dessert menu–the items I tried were excellent.
Here are my favorites from the dishes we tried:
1. Chocolate Fondant with Coffee Ice Cream and Caramel Sauce
The chocolate fondant dessert is really a molten chocolate cake, so it does require 15-20 minutes of lead time. It's worth it–or, if you don't want to wait, order it soon after your main courses arrive. Sure, this is hardly original as desserts go, but it was executed perfectly, with high quality chocolate, a molten center, Lao coffee ice cream, and caramel sauce. A must for any chocolate and coffee lover.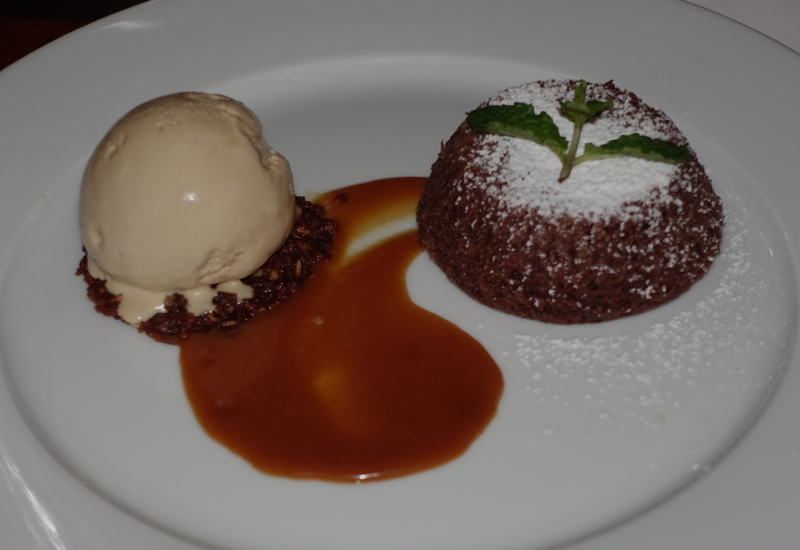 2. Duck Spring Roll
Amantaka's duck spring roll dish was inspired–a great combination of fried duck in a crispy wrapper, served atop creamed cabbage and accented with tamarind sauce. While I was less taken with the somewhat tough beef tenderloin main course that followed this on the Western menu, the duck spring roll was so sublime it made up for the less stellar entree.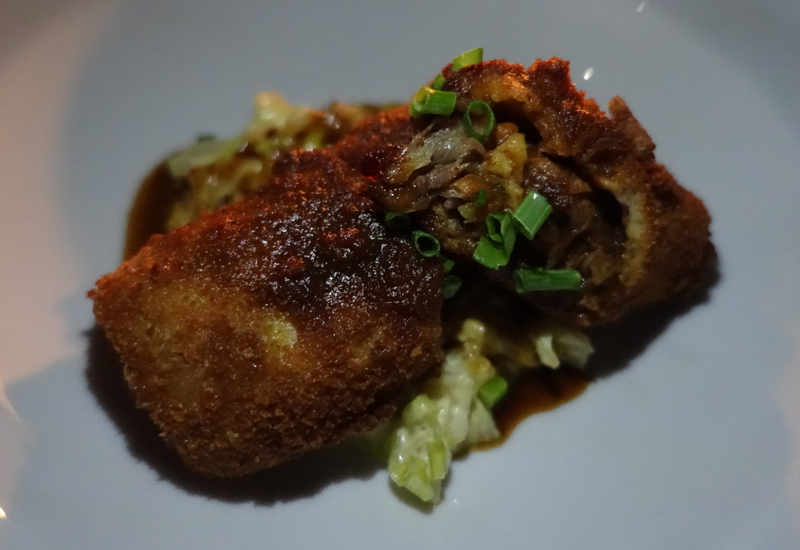 3. Profiteroles with Mint Chocolate Chip Ice Cream and Warm Chocolate Sauce
Profiteroles don't appear all that often on dessert menus, so when I see them, I order them. This was a lovely version, with refreshing mint chocolate chip ice cream and a silky warm chocolate sauce.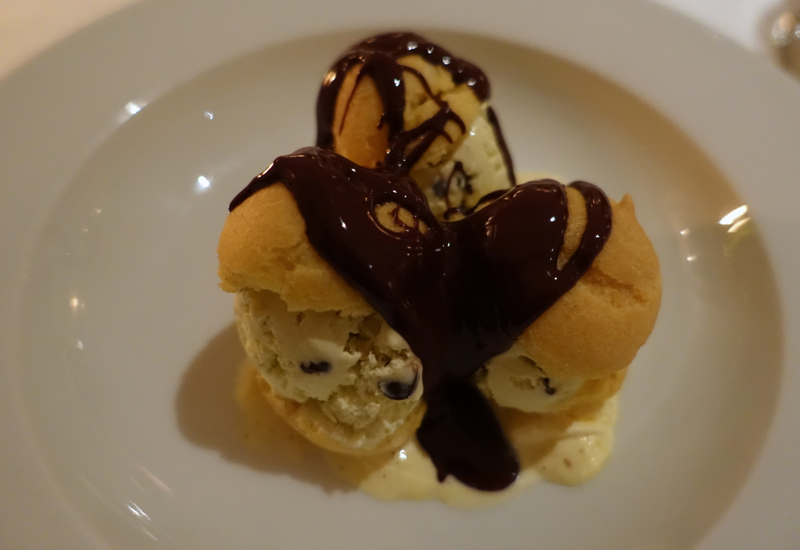 4. Grilled Beef Wrapped in Betel Leaves
This Laotian beef wrapped in betel leaves reminded me of Vietnamese Bo La Lot (Beef in Betel Leaf), which I used to get as part of a Bo 7 Mon (7 course beef) dinner at my favorite Vietnamese restaurants in the Bay Area. This was my favorite part of the Lao set dinner I enjoyed at Amantaka.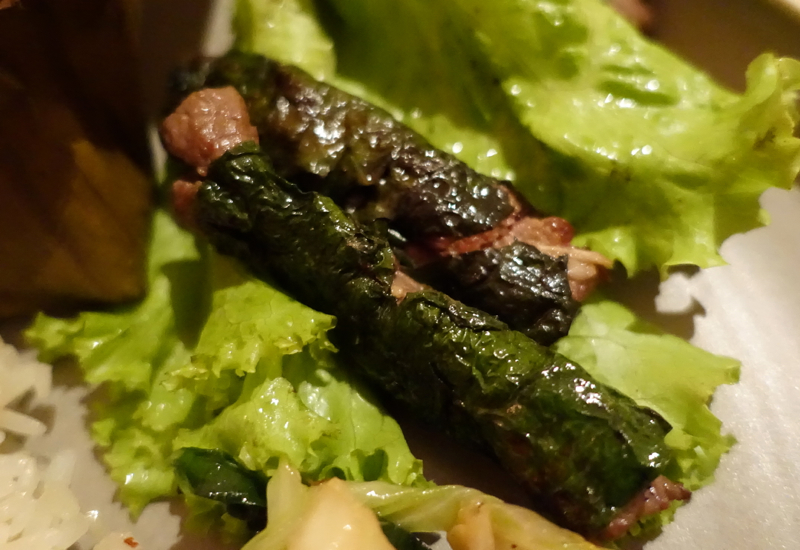 5. Mok Kai (Chicken Steamed in Banana Leaf)
Mok Kai is similar to Cambodian Amok: a fragrant coconut milk, meat and herb mixture is steamed in banana leaf packets, then opened and enjoyed with sticky rice. It may not look like much in the photo, but it was delicious. It's also mild, so even if you can't tolerate spicy food, you can enjoy this dish.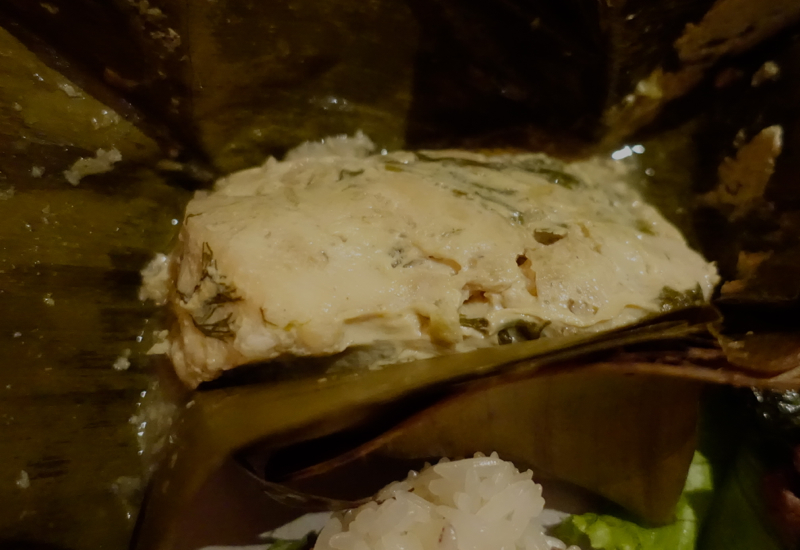 6. Lemon Napoleon
The Lemon Napoleon had some great homemade lemon curd, and it's hard to beat the combination of flaky pastry, sweet-tart lemon curd, and raspberry sauce. It would have been great adorned with some fresh raspberries, but they're undoubtedly hard or impossible to get in Laos, so can't fault the kitchen for not including them.
7. Kids' Penne Pasta with Bolognese Sauce and Cheese
My son gave his seal of approval to the penne pasta with bolognese sauce and parmesan cheese. It's simple but satisfying for kids, who may not be up for the more adventurous offerings of the Lao or Western menus.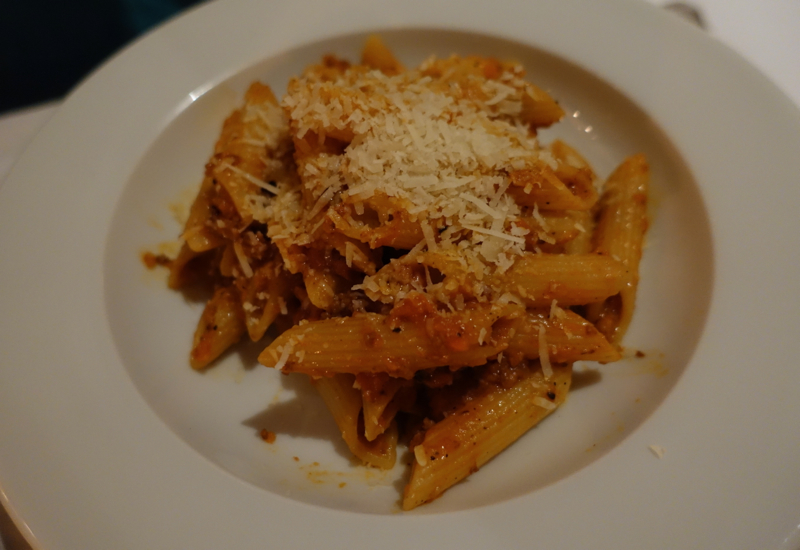 If you've dined at Amantaka, what were your favorite dishes?