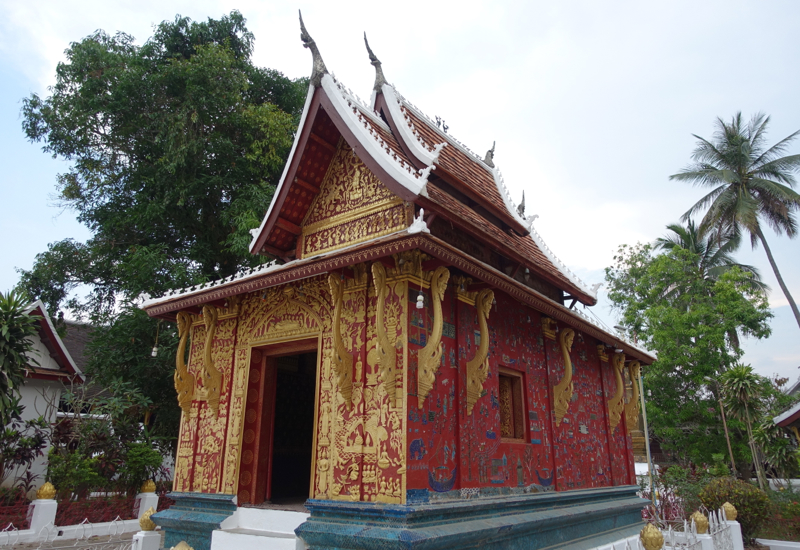 This Amantaka Activities and Top Things to Do in Luang Prabang post is part of a trip report including luxury resorts in Asia and the Maldives, such as Four Seasons Landaa Giraavaru and Soneva Fushi, as well as Etihad First Class and Emirates First Class.
For the prior posts, please see:
Review of Etihad's Lounge at Washington Dulles Airport (IAD)
Etihad First Class 787-9 Dreamliner Review
Review: Wingtips Lounge JFK for Etihad First Class Passengers
Review: Etihad First Class 777-300ER NYC to Abu Dhabi
Review: Etihad Business Class Lounge Abu Dhabi AUH Terminal 1
Four Seasons Maldives at Landaa Giraavaru Review
Four Seasons Maldives at Landaa Giraavaru Restaurant Reviews and Menus
Four Seasons Maldives at Landaa Giraavaru Activities: Top 10 Things to Do
Interview with Armando Kraenzlin, General Manager of Four Seasons Maldives at Landaa Giraavaru
Review: Four Seasons Maldives at Kuda Huraa
Surfing in the Maldives at Four Seasons Kuda Huraa
Review: Four Seasons Maldives at Kuda Huraa Sunset Water Bungalow
Four Seasons Maldives at Kuda Huraa Restaurant Reviews and Menus
Four Seasons Maldives at Kuda Huraa Activities and Top Things to Do
Soneva Fushi Maldives Activities and Things to Do
Soneva Fushi Breakfast, Ice Cream Room, Chocolate Room and Cheese Room
Fresh in the Garden, Soneva Fushi Restaurant Review
Trans Maldivian Airways Seaplane Review
Conrad Maldives Rangali Review: Beach Villa
Conrad Maldives Restaurant Menus and Review
Review: Conrad Maldives Superior Water Villa
Conrad Maldives Activities and Top Things to Do
Emirates First Class Lounge Dubai Review
Emirates A380 First Class Review
Amantaka Luang Prabang, Laos Review
Amantaka Restaurant Review and Menus
Amantaka Guest Experiences
Amantaka, similar to Amansara, does have a mandatory half board and touring charge that includes one tour or experience each day of your stay. Choices include:
Luang Prabang City Tour from 8am-11am
Temple and Village Walk 8am-11am
Morning Cooking Class at Amantaka's Organic Farm with a market tour 7am-8:30am and a cooking class and lunch 10:30am-1:30pm
Morning Pak Ou Caves 8am-12:30pm
Sunset Cruise 4-6pm
Mekong Cruise and Hoy Khua Waterfalls 8am-12noon
Kuang Si Waterfall and Bear Sanctuary 10:30am-1:30pm
Mountain Tour to Ban Long Lao Village 8am-11:30am
Tak Bat, the daily alms offering to the monks, is also offered and does not count as one of the daily activities.
Here were our favorite things to do in Luang Prabang during our brief stay:
1. Cooking Class at Amantaka's Organic Farm
Lao cuisine shares similarities with aspects of Cambodian, Vietnamese and Thai cuisine, and there's no better way to learn this first-hand than through a cooking class. If you have any interest in food (and who doesn't?) Amantaka's cooking class is a must. Earlier in the morning you tour the morning market (more on that below), then you enjoy breakfast back at Amantaka before being taken to Amantaka's organic farm, just a 10-15 minute drive away.
Make sure you wear light and comfortable clothing, as the cooking class is outside, in a pavilion with a scenic view of the farm. There was a beautiful display of the vegetables and herbs we'd be chopping: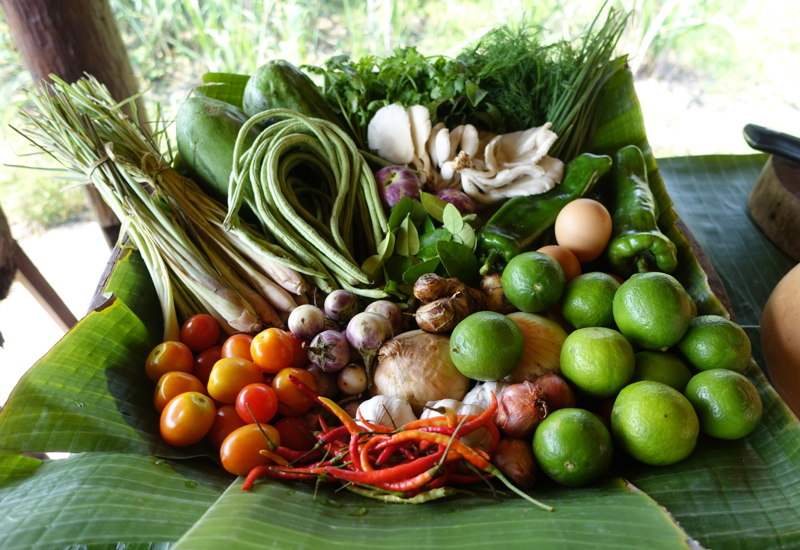 And our chef had already set out trays of some of the other ingredients we'd be using: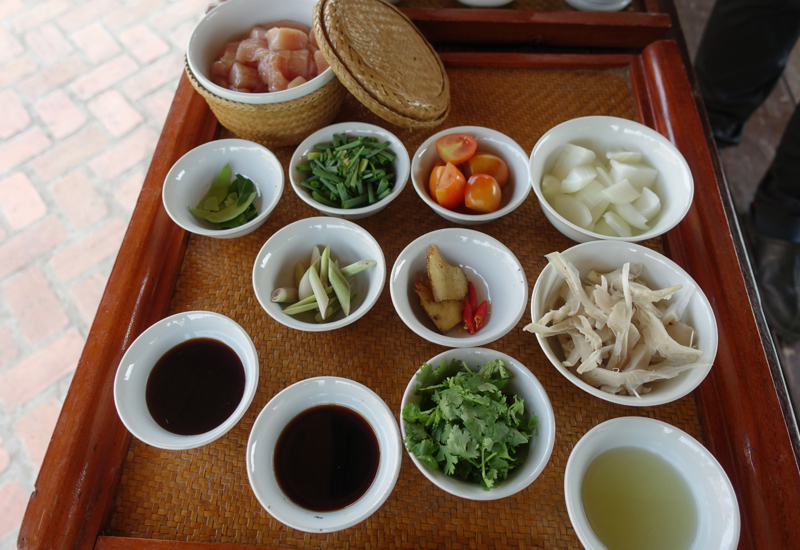 My son, who enjoys helping me cook at home, was happy to learn some new recipes, and plucking stems out of the kaffir lime leaves and mixing with gusto: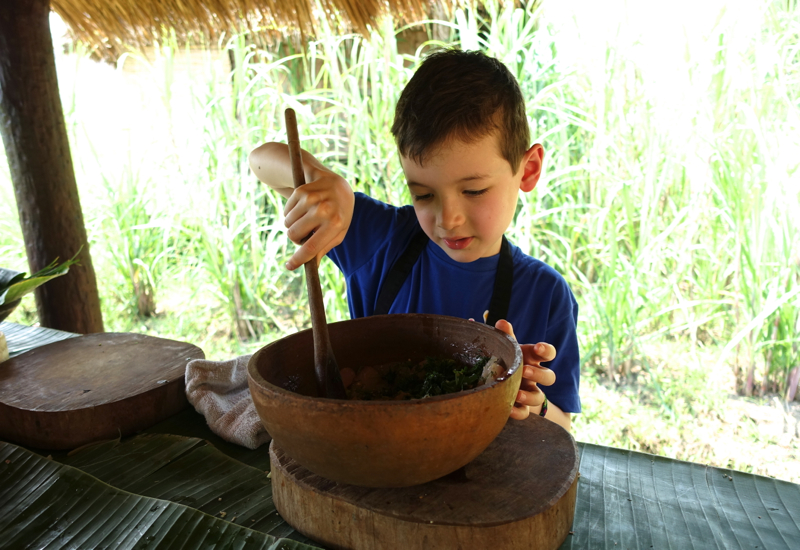 Afterwards, the lunch we had prepared was beautifully laid out in a nearby thatched roof bale by a little pond, and we enjoyed the fruit of our (modest) labors: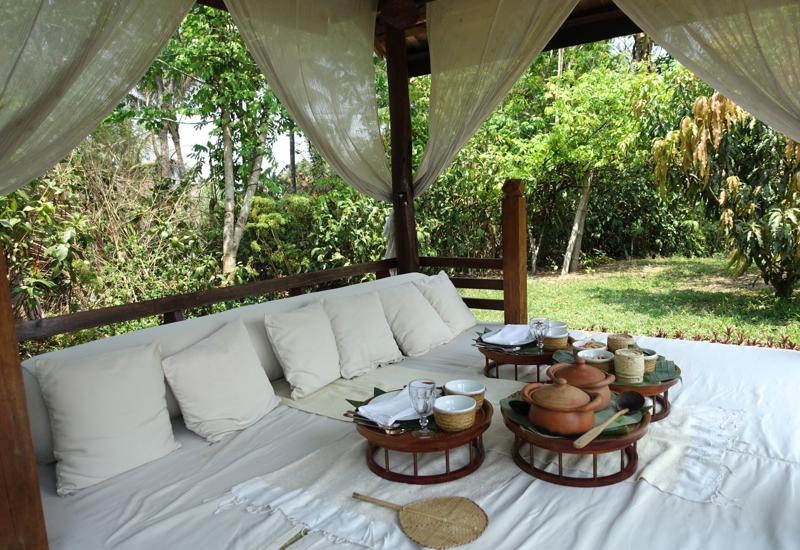 2. Wat Xieng Thong
You'll see a number of temples in Luang Prabang, since there are at least 30 of them in this UNESCO World Heritage site. A must-see is Wat Xieong Thong, which was built in the mid 16th century by Lao King Setthathirath, and unlike most of the other temples was not damaged during the sacking of Luang Prabang in 1887 because the Black Flag leader Deo Van Tri had studied at Wat Xieng Thong as a young monk.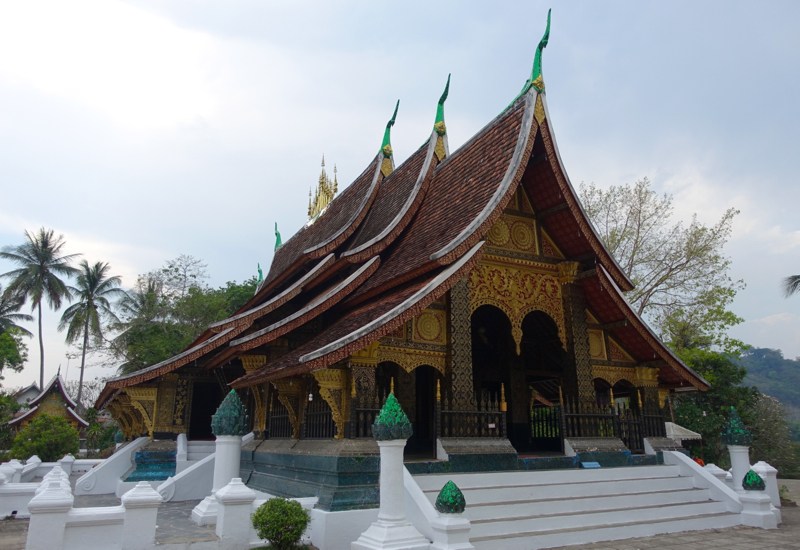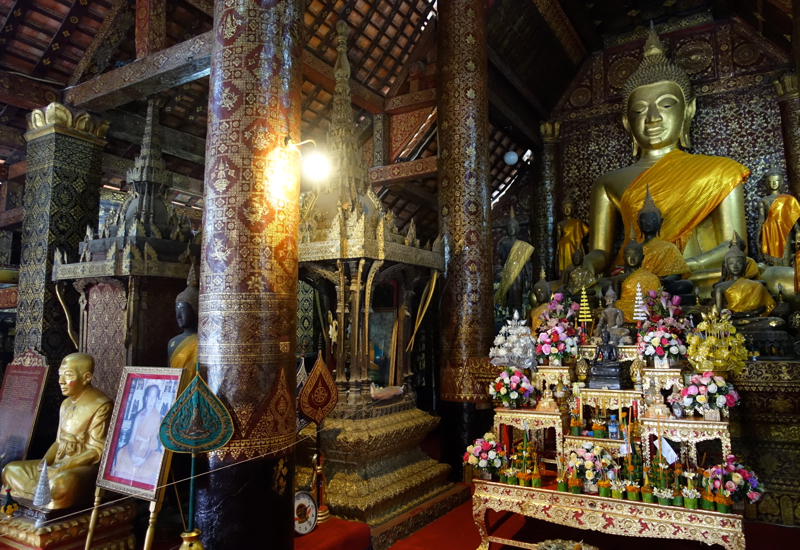 Don't miss the small Red Chapel, which dates to the temple's construction and houses a rare reclining Buddha: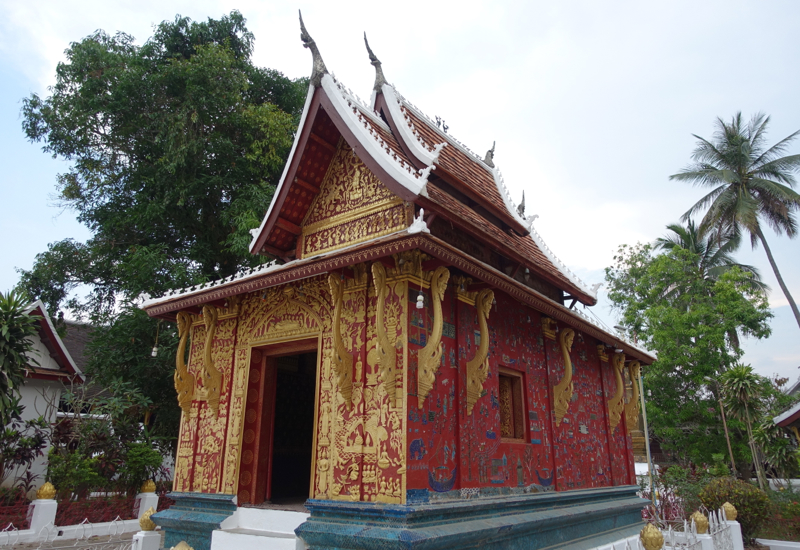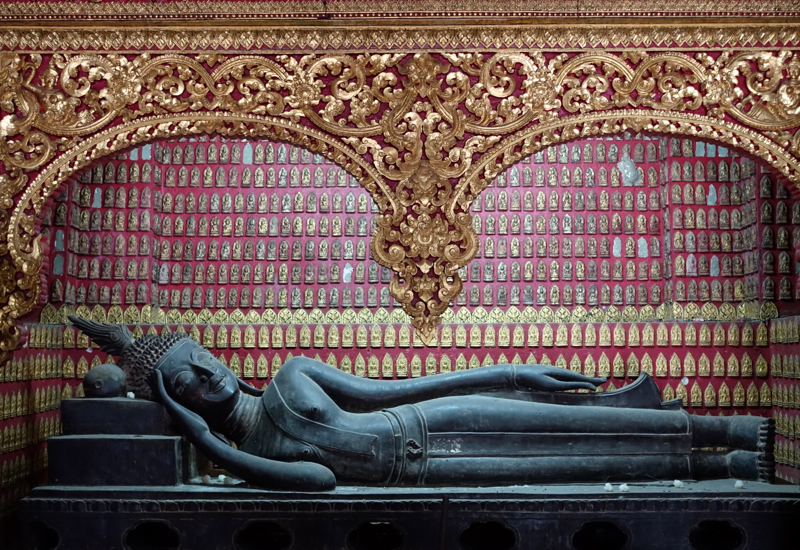 3. Morning Market Tour Followed by Lao Coffee
At least once during your stay in Luang Prabang, visit the Morning Market. This is included as part of Amantaka's Cooking Class, and we enjoyed following our guide and seeing the array of herbs and vegetables being sold, as well as more unusual things such as eels.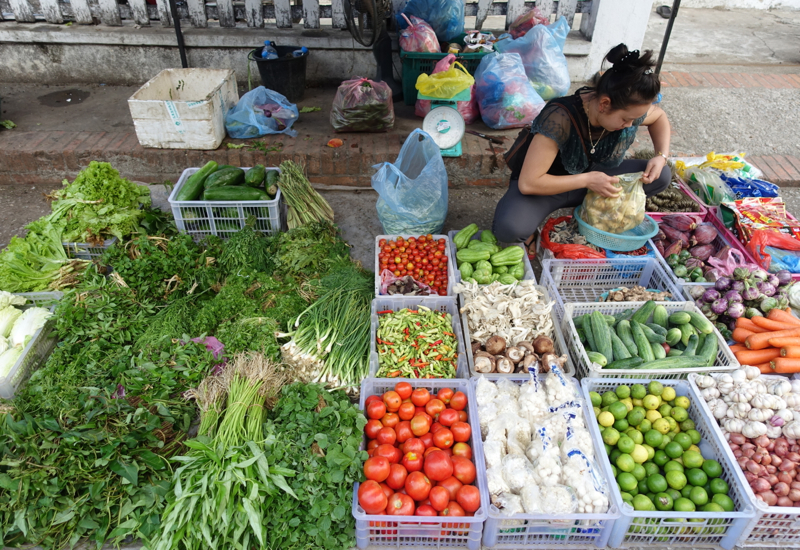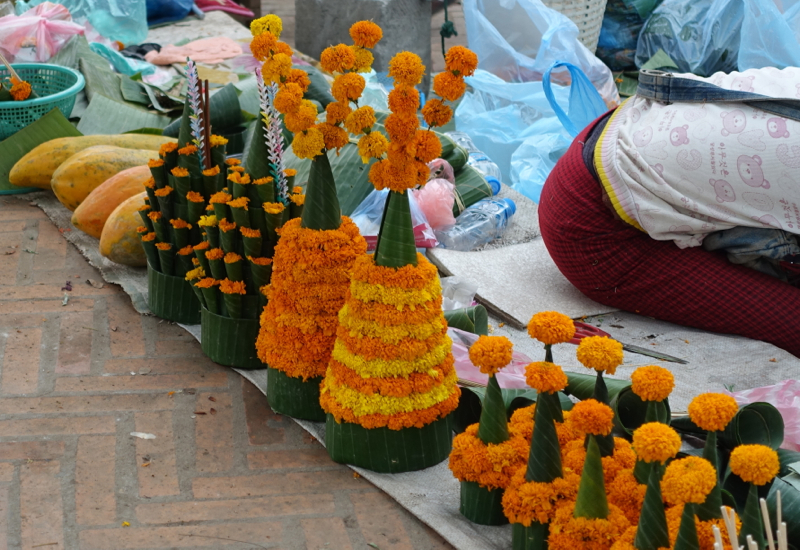 The munchkin's favorite vendor was the one making Lao coconut cakes in a giant pan that reminded me of a Danish aebleskiver pan. The very hot, very fresh coconut cakes were placed in a banana leaf holder and were delicious with strong Lao coffee, which we enjoyed at the end of our tour.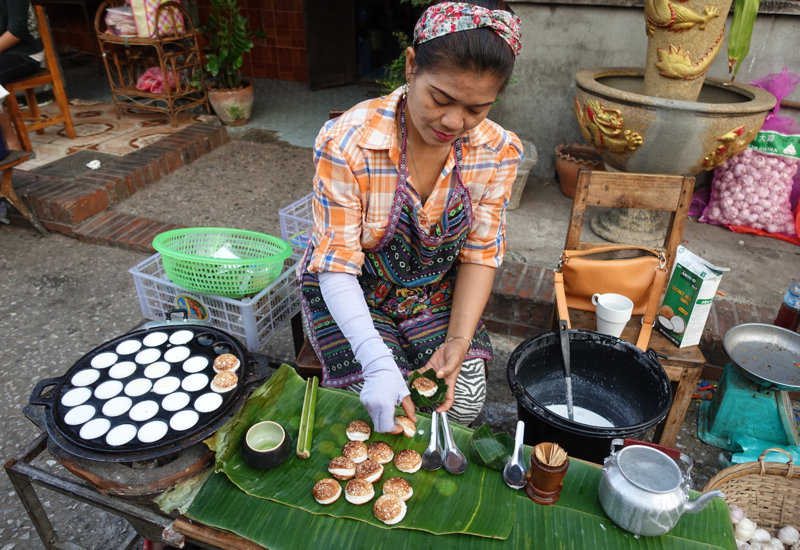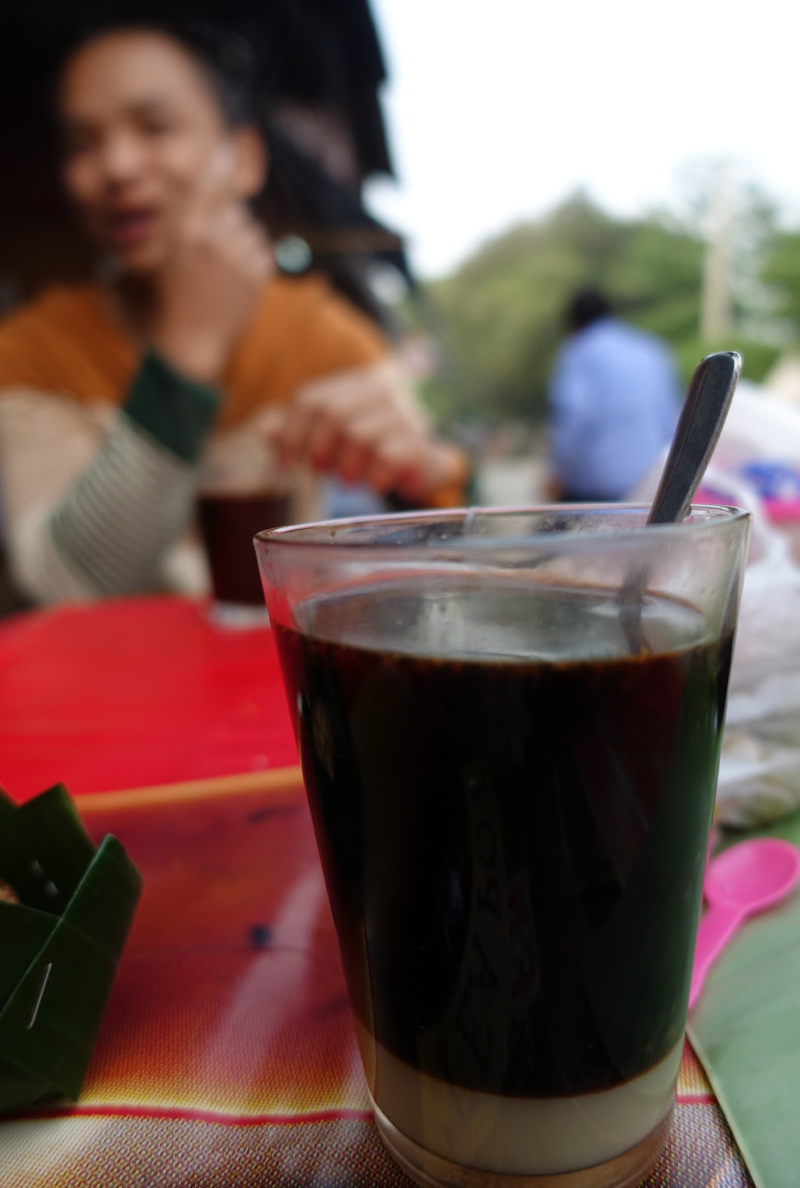 4. Walking Around Luang Prabang
Since I wasn't sure if my son would be up to a full morning guided tour, we enjoyed exploring Luang Prabang on our own, meandering around the temples, including Wat Nong Sikhounmuang, with this 5 nagas sculpture: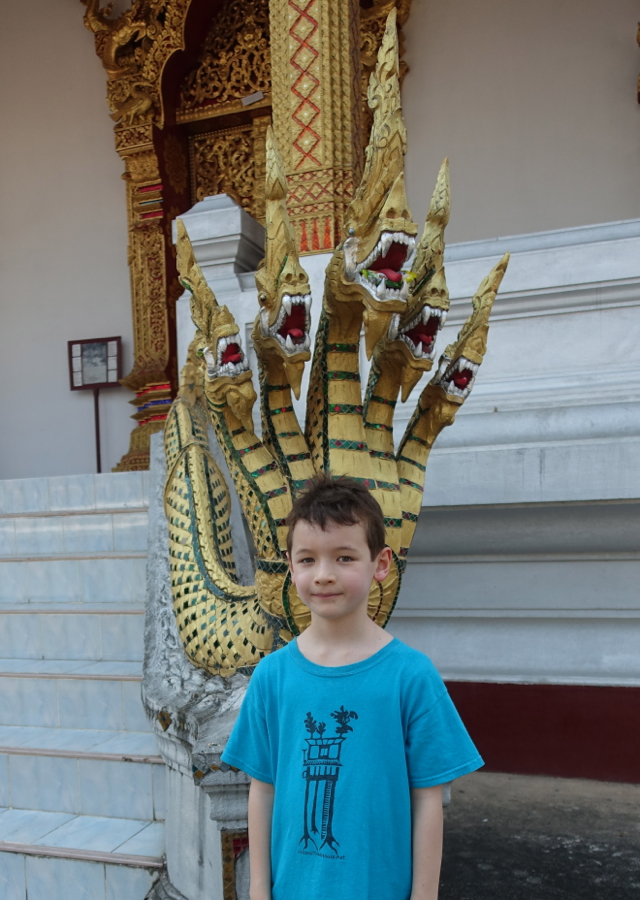 Often seeing monks going to and from temples, sometimes shading themselves with umbrellas: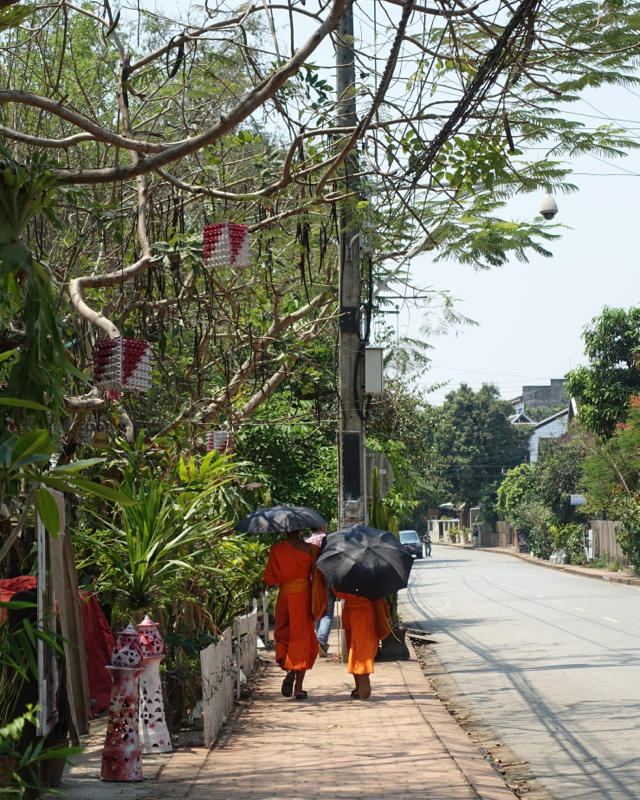 And noticing the Communist sickle and hammer flag fluttering from many a shop front: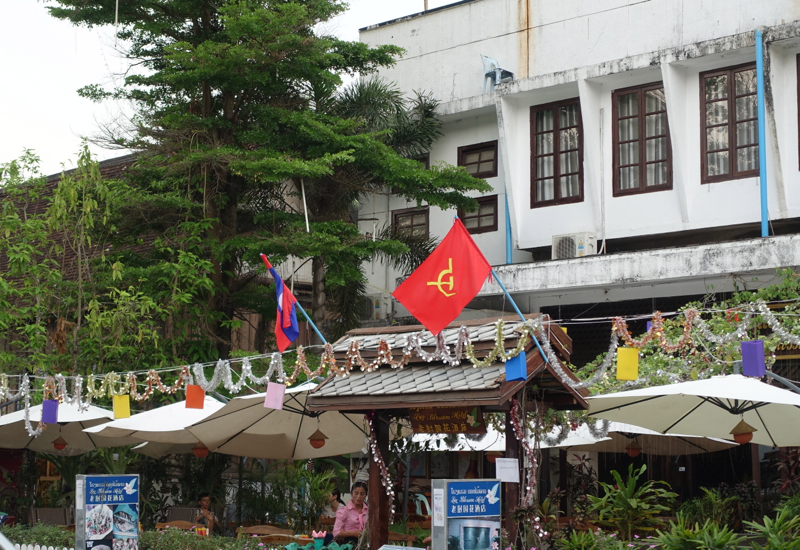 5. Tak Bat (Alms Offering to the Monks)
I'm definitely not an early riser, but I did want us to participate in the tradition of Tak Bat, giving alms to the monks. A few things to keep in mind:
Your shoulders, chest and legs should be covered. Also make use of the traditional Lao scarf that Amantaka provides as a welcome gift, draping it over one shoulder.
You'll be kneeling on the mat Amantaka provides, since it is disrespectful to stand higher than the monks.
Do not make physical contact with the monks. You'll be placing sticky rice in the monks' bowls.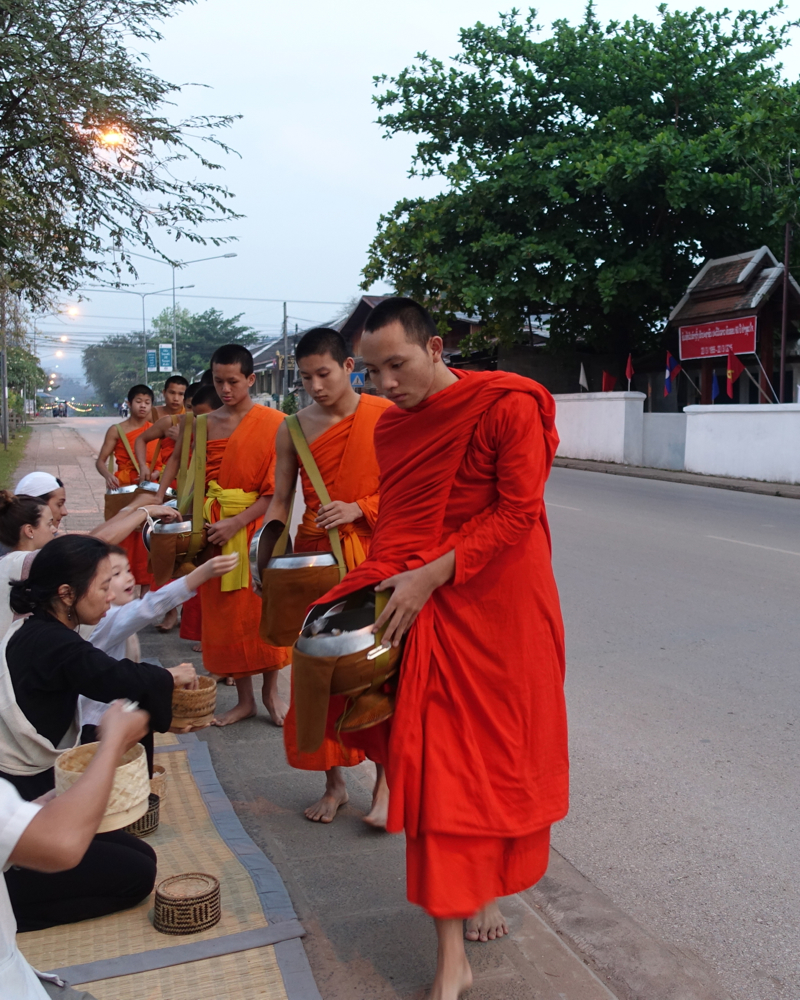 6. Sunset Cruise on the Mekong River
Originally I'd wanted to do the Mekong Cruise to Ban Saeng, with a bicycle ride to Hoy Khua Waterfalls. That said, my son isn't yet a strong bike rider, so we decided to just do the sunset cruise on the Mekong River. This was a nice way to relax after a busy day, taking in the view of kids playing on the river banks, colorful river boats, and finally the sunset: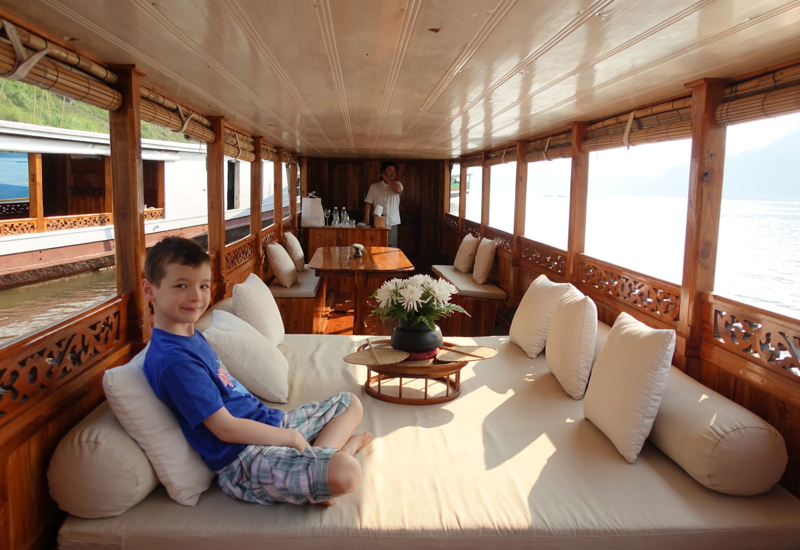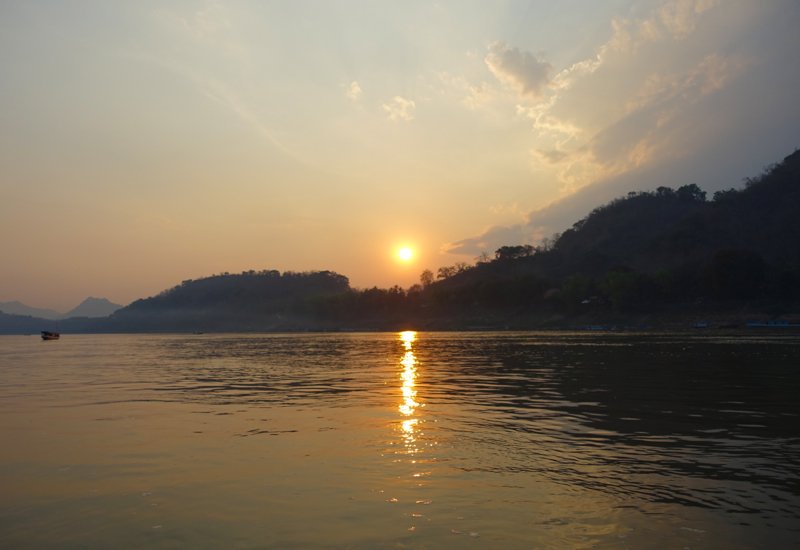 Wine, juice, and snacks were also served, with my favorite being the rice paper wrapped herb rolls with dipping sauce: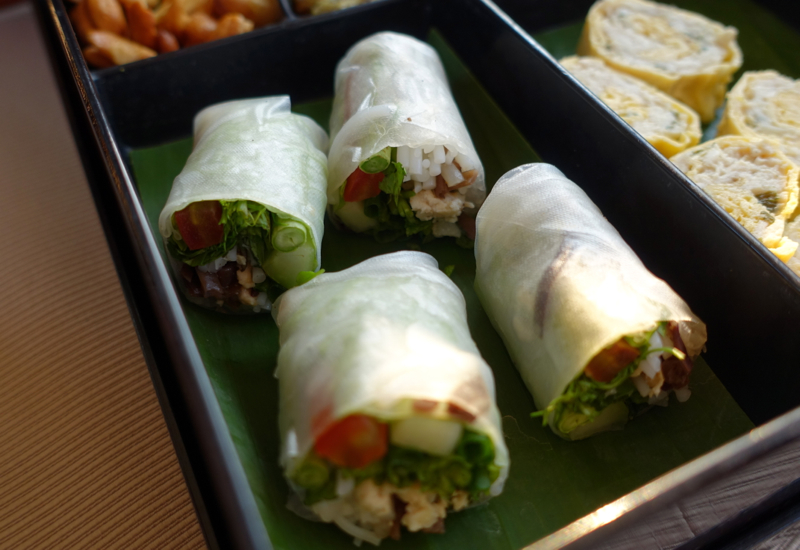 7. Visiting the Night Market
Luang Prabang's Night Market is larger now than it was 10 years ago when I last visited, but still focuses on textiles and woven items.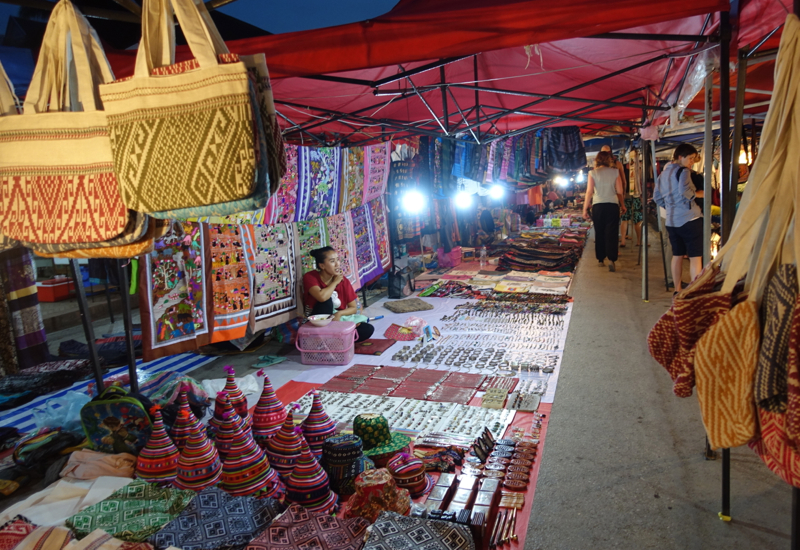 Many of the clothes, bags and weavings sold, however, now are imported, so we were happy to finally find a vendor with hand woven pillowcases, made locally in Luang Prabang by the woman's sister.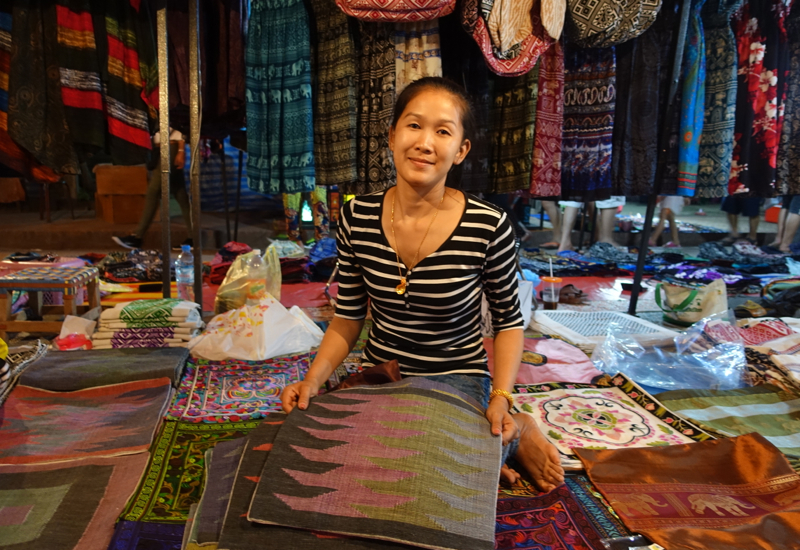 If you've stayed at Amantaka, what were your favorite things to do in Luang Prabang?
Related Posts
Amantaka Luang Prabang, Laos Review
Amantaka Restaurant Review and Menus
Top 10 Aman Resorts in the World
Best Luxury Hotels of 2014: Top 10 Most Popular TravelSort Hotels
Disclosure: I paid the regular mandatory half board and touring charge, $170 + tax/service per person per day at time of travel, and the views expressed in this post are my own.
Need Award Booking Help? Our fee is as low as $75 per ticket if you book your hotel through us.
If you enjoyed this, join 200,000+ readers: please follow TravelSort on Twitter or like us on Facebook to be alerted to new posts.
Become a TravelSort Client and Book Amantaka with Virtuoso Perks!