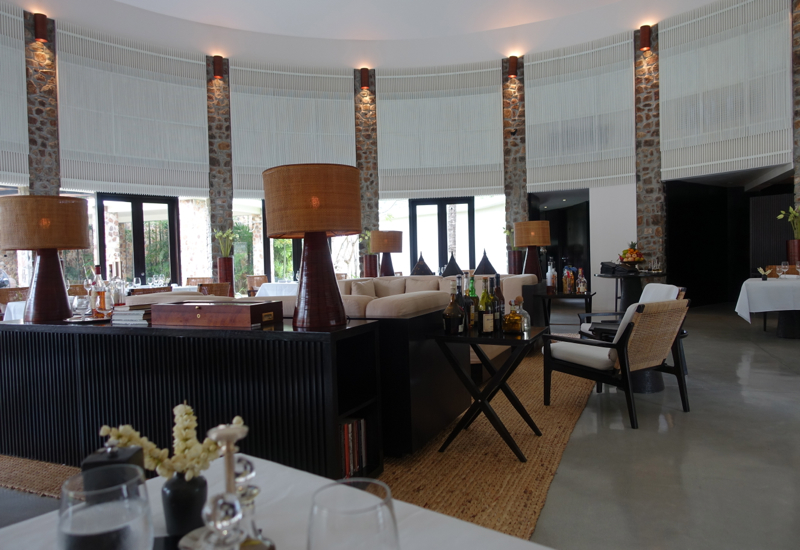 This Amansara Restaurant Review and Menu post covers our food and dining experiences at Amansara in Siem Reap, Cambodia. Future posts will cover other Amansara private tours of Angkor temples and cultural experiences.
The posts are part of a trip report including Asiana First Class, Thai First Class, and luxury resorts and dining in northern Thailand. For the previous articles, please see:
SWISS Lounge JFK Terminal 4 Review
Review: Asiana First Class Suite NYC JFK to Seoul ICN
Review: Cornerstone Restaurant, Park Hyatt Seoul
Lounge Review: Asiana Business Class Lounge Seoul Incheon
Asiana Business Class A330 Review
Review: Novotel Bangkok Airport Hotel Suite
Review: Anantara Golden Triangle Elephant Camp and Resort
Anantara Golden Triangle Sala Mae Nam Restaurant Review and Menu
Mahout Experience at Anantara Golden Triangle Elephant Camp
Dining By Design at Anantara Golden Triangle Elephant Camp
Hotel Review: Park Hyatt Siem Reap
Beng Mealea Jungle Temple Photo Tour, Siem Reap Cambodia
Touich Restaurant Siem Reap Menu and Review
Ta Prohm and Preah Khan Temple Photo Tour, Siem Reap
Angkor Wat Photo Tour and Breakfast at Amansara's Khmer Village House
Amansara is a Virtuoso hotel, so TravelSort Clients receive these benefits when booking a qualifying rate:
Upgrade on arrival, subject to availability
Continental breakfast daily, for up to two in room guests (included as part of mandatory half board and touring charge)
One 45 mins foot massage per person once during stay
Early check-in/late check-out, subject to availability
Amansara Restaurant
Amansara's Restaurant is a beautiful circular space, with soaring ceilings, comfortable couches in the center for lounging, and fresh jasmine blooms at each table lending elegance and a beguiling scent. On hot days, the air conditioning is very welcome during lunch, and we also chose to eat inside at dinner so as not to have to worry about mosquito bites.
That said, we usually enjoyed breakfast outside, either facing the courtyard towards the Pool Villas, or by the main pool. Here's the breakfast menu: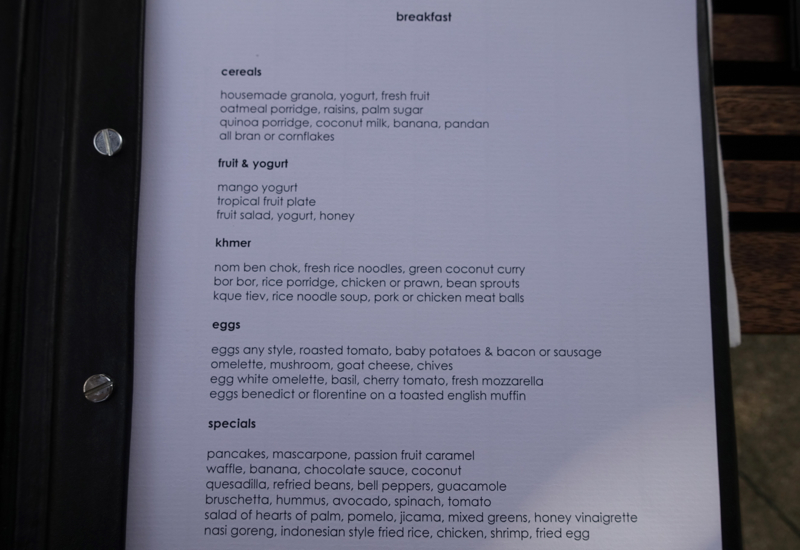 Amansara Breakfast
Amansara's mandatory half board and touring charge includes breakfast plus the choice of lunch or dinner. Breakfast is so substantial that, if you take it late morning after returning from an early morning temple tour, you may well not need anything until you have an early dinner.
Here are our favorite Amansara breakfast selections:
1. Nom Ben Chok (Fresh Rice Noodles with Green Coconut Curry)
As I mentioned in my Angkor Wat and Breakfast at Amansara Khmer Village House post, this mildly spicy soup noodle dish was delicious and fragrant from the green coconut curry and slivers of fresh basil. Not spicy enough? You could doctor it to suit your taste with the supplied fresh red chili, salt and lime. So good–a must order for any Thai food lovers.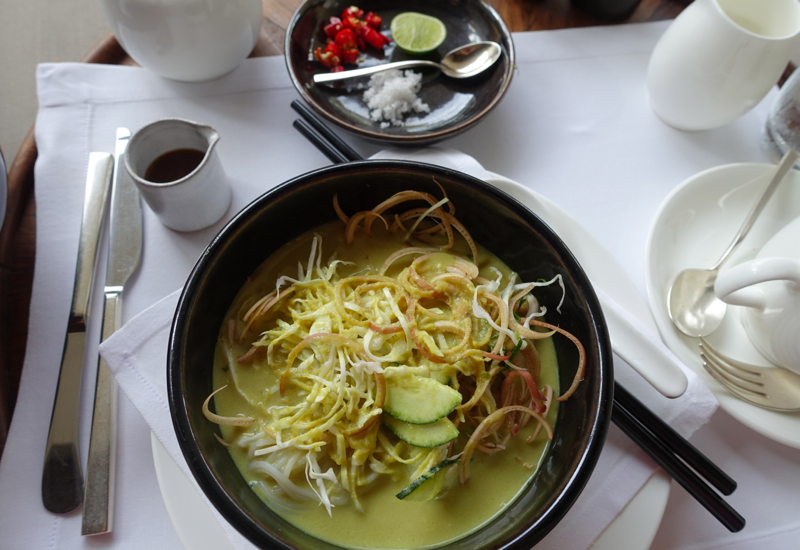 2. Fresh Baked Pastries with Passionfruit Curd and Raspberry Jam
Everyone in my family enjoys fresh baked pastries, especially when they're as good as Amansara's. These were noticeably better than at the Park Hyatt Siem Reap, and changed daily. Heavenly when spread with the passionfruit curd or the homemade raspberry jam.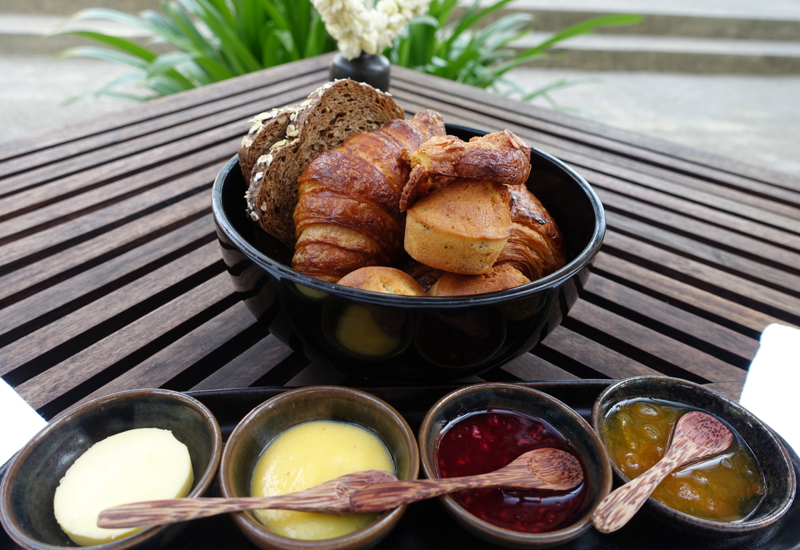 3. Mango Yogurt with Homemade Granola
Yogurt with fruit and granola is my go-to breakfast dish, so invariably I try it if it's on the menu. I've never been disappointed by any Aman Resort yogurt or housemade granola, and Amansara provided a very generous and creamy portion, laced with mango sauce, with crunchy housemade granola underneath. Honestly, this would be enough on its own for a light breakfast.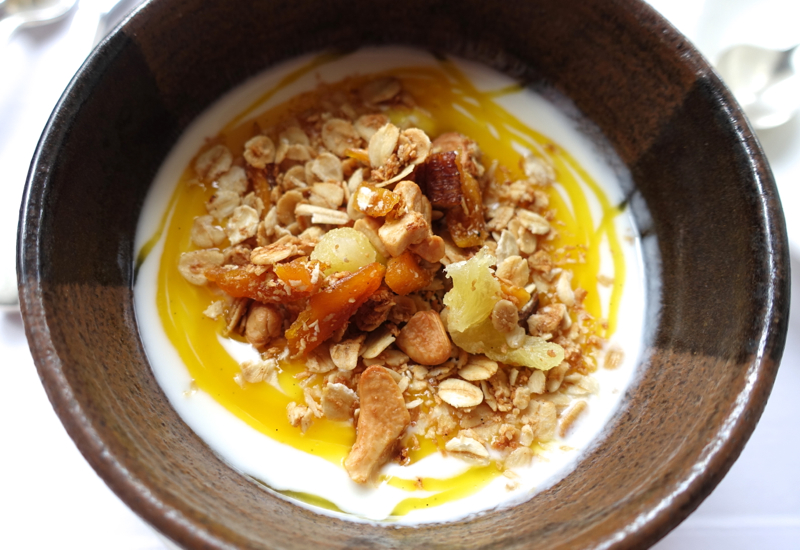 4. Fresh Squeezed Mango Juice
While we don't drink much juice at home, fresh squeezed juice is a nice indulgence when we travel. My son and I loved the fresh squeezed mango juice at Amansara.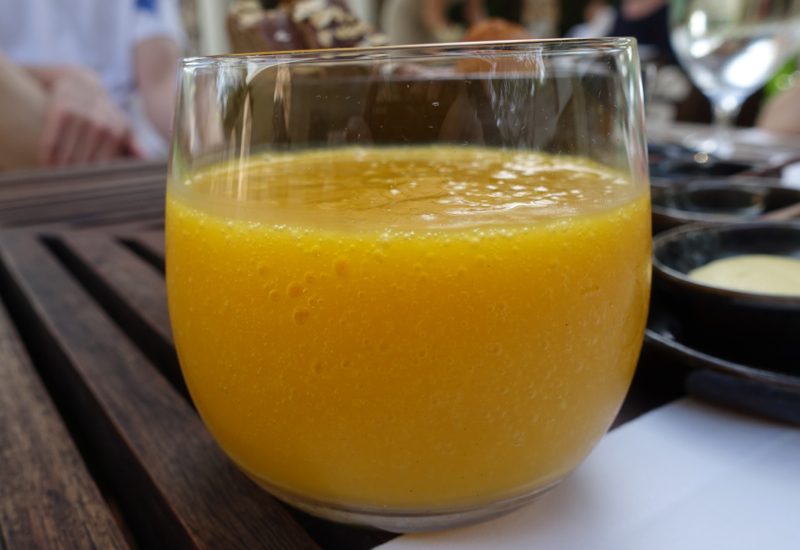 5. Crispy Bacon
A great thing about most Aman Resorts is that they really do note your preferences and you never have to ask again for a dish to be made a certain way. That was the case with bacon–after my husband and son requested it very crispy, it was always perfectly crispy the subsequent times they ordered it. The omelet was very good as well, but it was the perfectly crisp bacon that made the dish.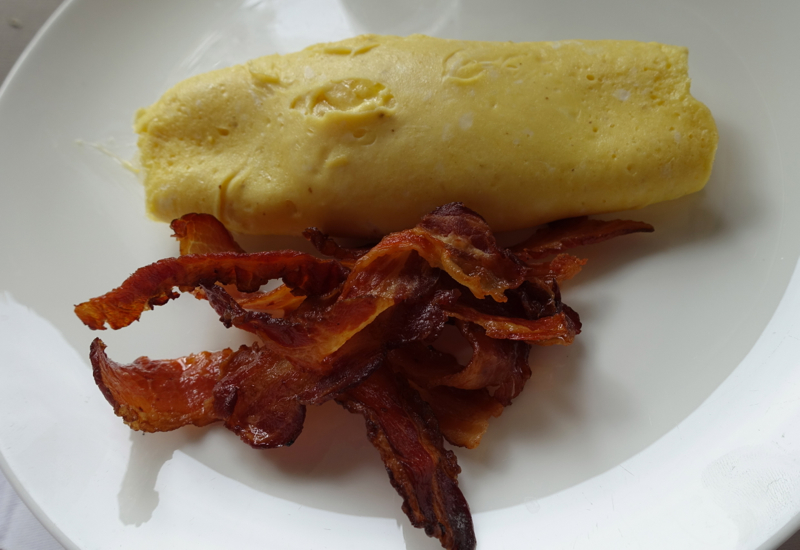 6. Pancakes with Mascarpone and Passionfruit Caramel
Another thing my family always ends up ordering wherever we go are pancakes. We're the kind of family that happily eats breakfast pancakes for dinner sometimes, because we like them so much. In my view Amansara's pancakes weren't as good as the ones we've had at Amanjiwo or Amankila, but the passionfruit caramel definitely elevated them–I found myself dipping bits of pastry into it, as it was so yummy.
Amansara Lunch, Dinner and Dessert
As I noted above, either lunch or dinner is included as part of the half board charge, and house wines and spirits are also included. Most guests opt for dinner, so on the day we arrived, we were one of just two tables enjoying lunch. You might think that serving such a small number of guests would adversely impact the food or service experience, but that wasn't the case at all–we enjoyed superb food and service each time we dined, even though we obviously preferred some dishes over others.
Menus change daily, so keep in mind that these lunch menus from our stay is just an example of the offerings.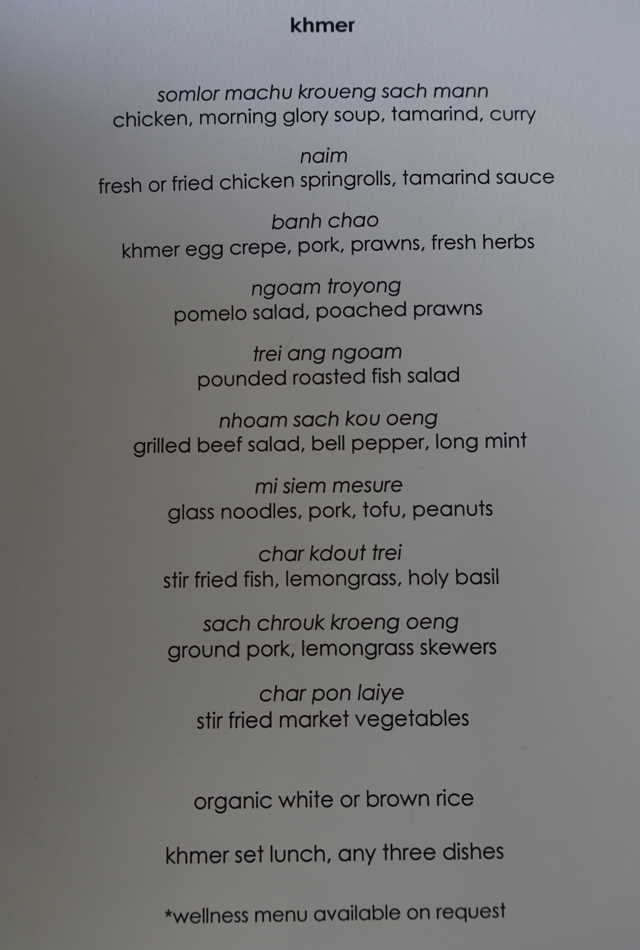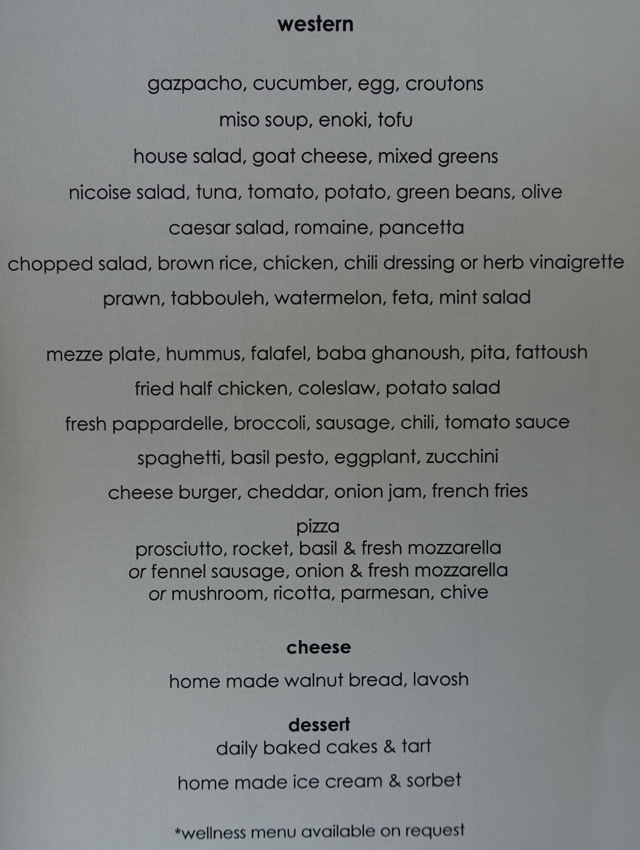 Rather than a dedicated kids' menu, there was a "Comfort Food" menu that the munchkin usually chose from. An apt description, since excellent pizza, mac and cheese and other favorites don't have to be limited to kids 🙂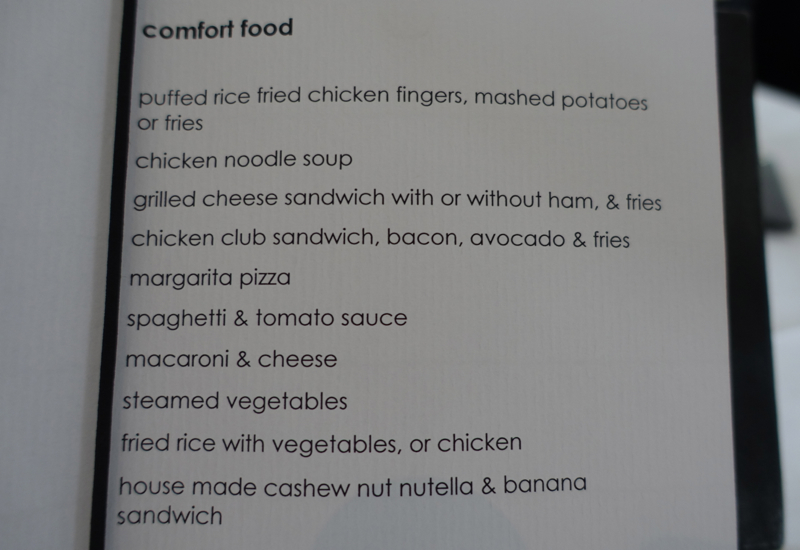 Our favorite lunch and dinner dishes from those we tried were:
1. Pork Skewers on Lemongrass
Our first lunch at Amansara was very memorable, in part because of these delicious pork skewers, infused with the fresh flavor of the lemongrass skewers they were grilled on. It was a good thing that both my husband and I ordered these as part of our lunch set, since otherwise we might have ended up fighting over that third skewer–they were that good.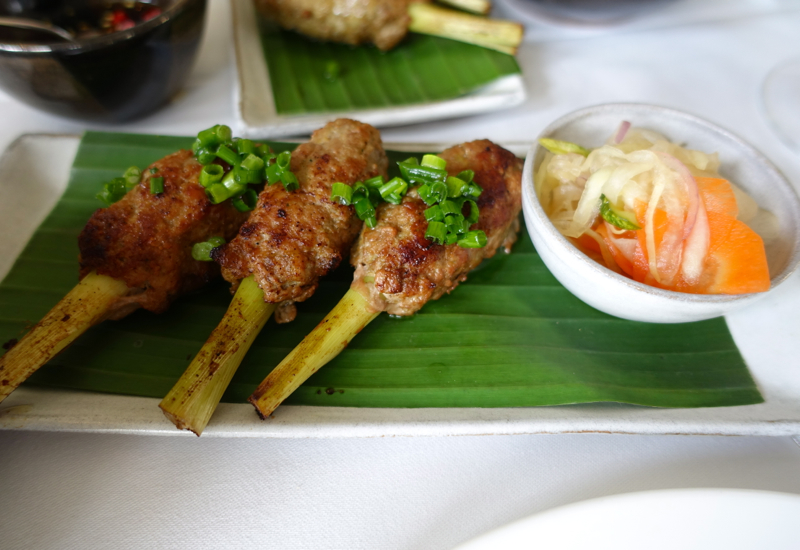 2. Steak with Green Peppercorn Sauce
Even if you're not sure you'll enjoy Cambodian or Khmer cuisine, no need to worry–Amansara's Executive Chef Molly Rygg and her team have a deft touch with Western classics such as this perfectly cooked medium rare steak with green peppercorn sauce, mashed potatoes and asparagus. Touich was good, but not nearly this good either in flavor or tenderness. I just wish there was a restaurant in my immediate neighborhood of NYC that turned out as well prepared dishes.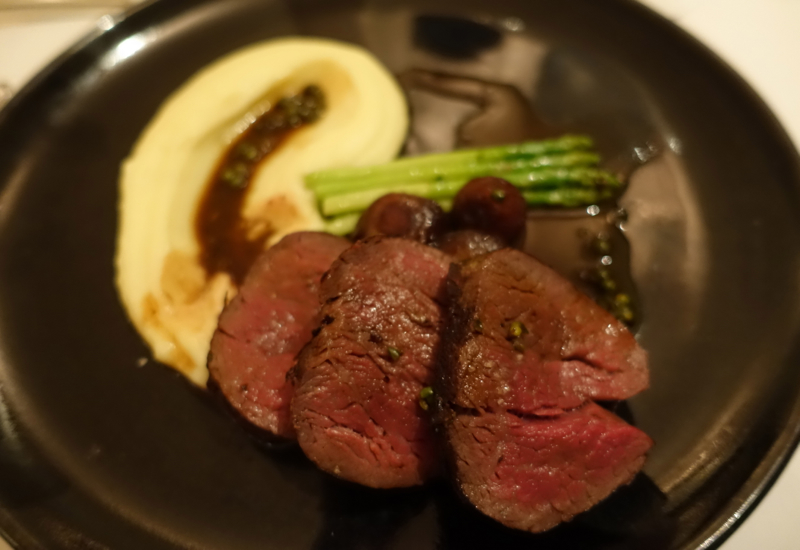 3. Egg Crepe with Fresh Herbs
If you like Vietnamese Banh Xeo, this Cambodian relative, Ban Chao is a must order if you see it on the menu: a delicate egg crepe filled with plump shrimp and beansprouts, accompanied by fragrant fresh herbs and nuoc cham dipping sauce.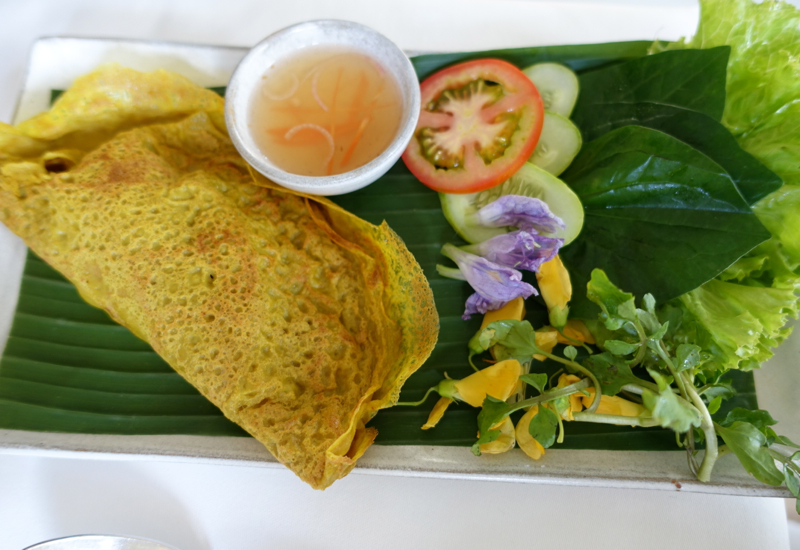 4. Foie Gras Terrine
This was the rich and elegant starter for the dinner that featured the above steak with green peppercorn sauce. Silky smooth, with a hint of Sauternes, and perfect paired with the accompanying brioche.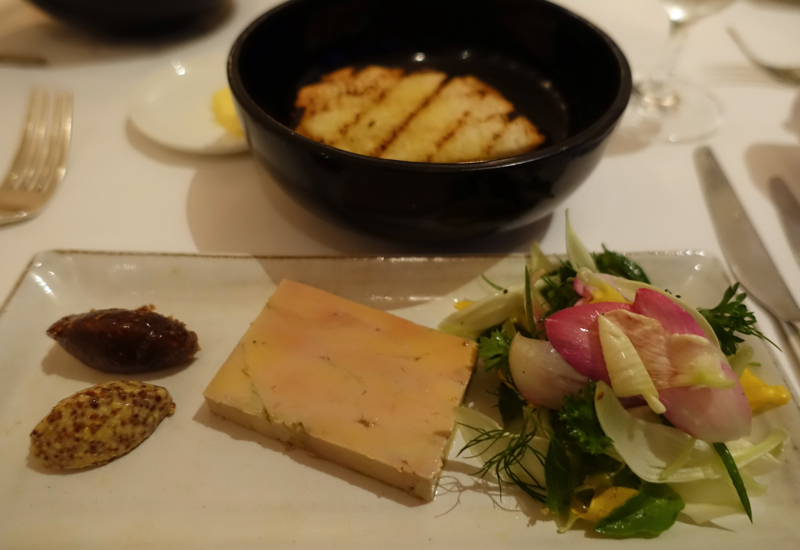 5. Vanilla Bean Cheesecake with Poached Quince and Pandan Sauce
I loved the blending of east and west with this dessert: vanilla bean cheesecake, nestling some sweet tart poached quince and accompanied by a long brushstroke of green pandan sauce, with dark chocolates providing the final adornment.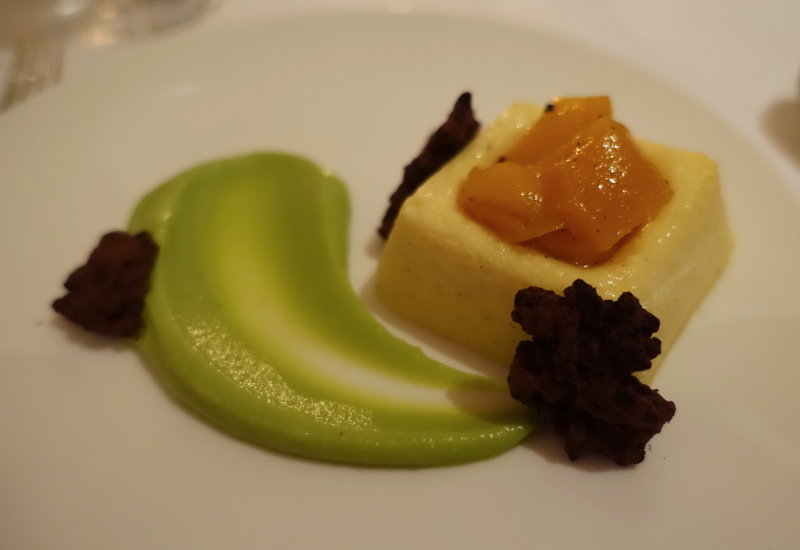 6. Dark Chocolate Brownies
Interestingly, given Aman Resorts' origin in Asia, each Aman Resort we've been to has offered fantastic chocolate creations, and especially chocolate brownies. Does founder Adrian Zecha have a chocolate obsession? I've no idea, but I'm not complaining, since I'm a bit of a chocoholic, at least when the chocolate is dark and high quality. These rich and moist brownies were so good I asked to take a couple of them with me when I departed, and Amansara was gracious enough to oblige.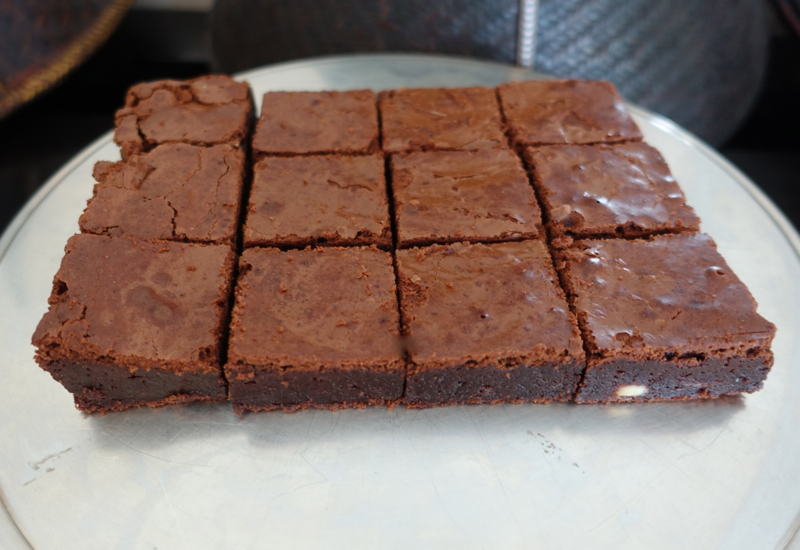 7. Spicy Pomelo Salad with Prawns
I realize this dish isn't for everyone, but as a fan of both pomelo and shrimp, I thought this salad was an inspired combination with its spicy, sweet, and tangy citrus flavors.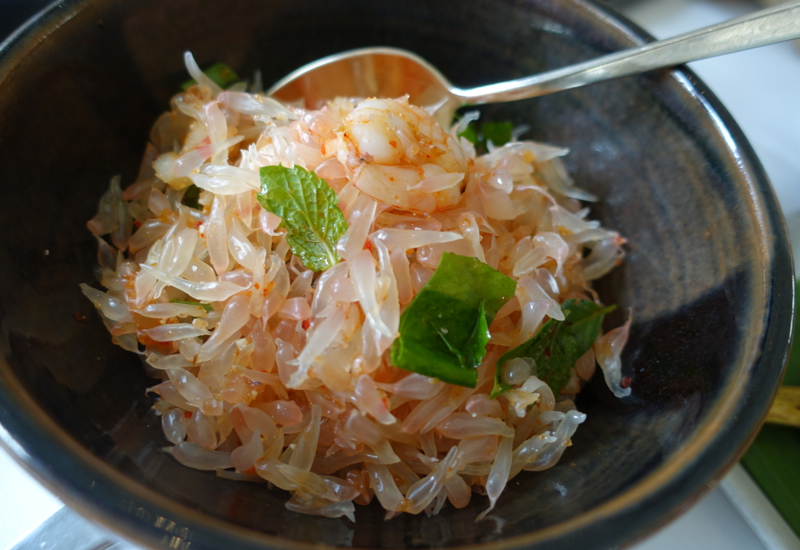 8. Pizza
Obviously if my son was writing this post, his pizza would be at or near the top of this list. It was very good, and apart from the bite I tried, he managed to eat all of it (except the basil leaves–kids and herbs don't always mix well).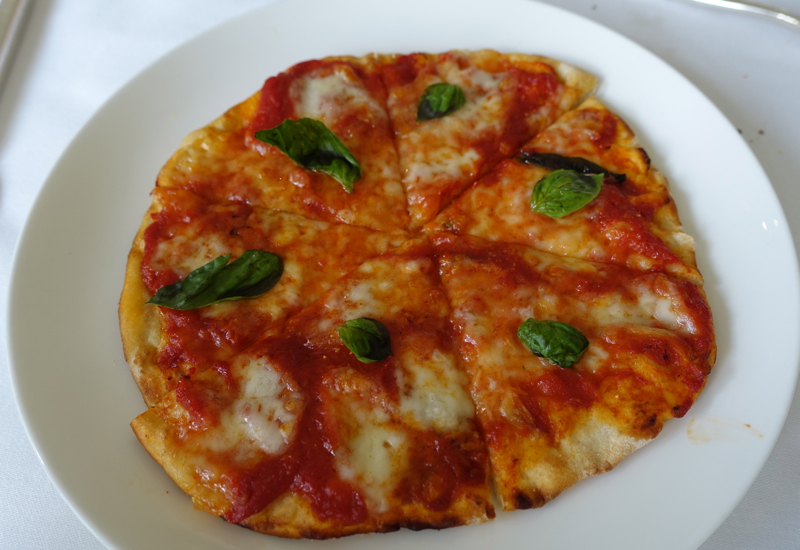 9. Mango Tart
This beautiful tart was just one of several yummy desserts we tried, but it was especially photogenic. There was vanilla bean pastry cream inside (think eclair filling) and a lovely crisp crust.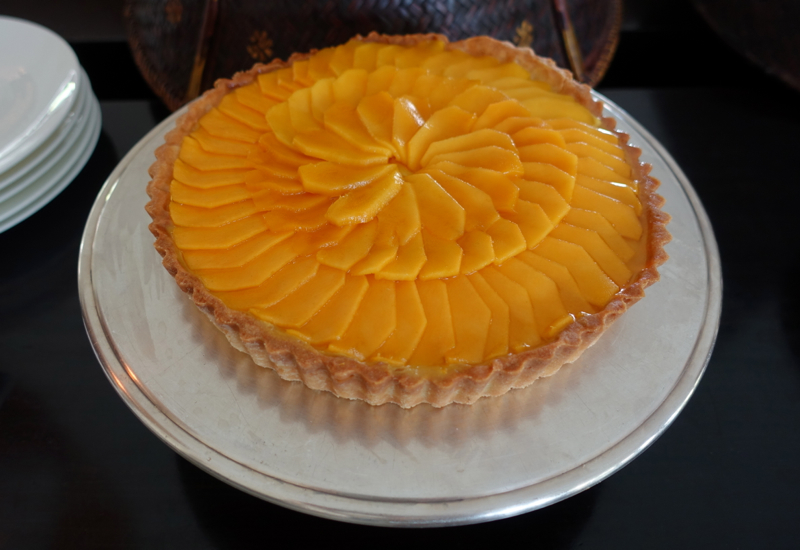 If you've stayed at Amansara, what were your favorite menu items and dishes?
Related Posts
Angkor Wat Photo Tour and Breakfast at Amansara's Khmer Village House
Top 10 Aman Resorts in the World
Virtuoso Hotels: Bookings with Upgrades, Complimentary Breakfast and VIP Perks
Need Award Booking Help? Our fee is as low as $75 per ticket if you book your hotel through us.
If you enjoyed this, join 150,000+ readers: please follow TravelSort on Twitter or like us on Facebook to be alerted to new posts.
Become a TravelSort Client and Book Amansara with Virtuoso Amenities!