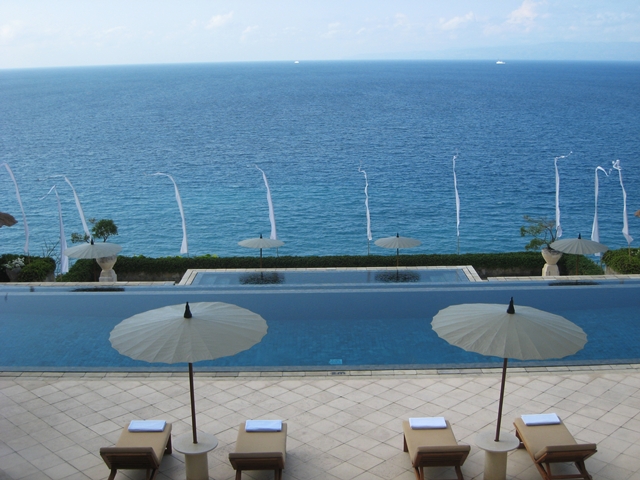 Amankila, Bali made the best breakfast we ate in Bali. The breakfast menu isn't long, and it isn't a buffet, but the quality was top notch, and we were able to order exactly what we wanted from it, including three hearty entrees, smoothies, yogurt and granola, and even doughnuts with custard and espresso granita for dessert. Yum!
Somehow I missed writing about Amankila's breakfast in my Amankila Ocean Suite Review, and since I recently booked two of my clients at the resort, combining the Bali Break package with Virtuoso amenities, I wanted to highlight what we enjoyed for our breakfast for them and others considering Amankila.
The Bali Break offers three nights at Amankila, Amandari or Amanusa, or a combination of the three Bali Aman Resorts, and also includes:
Daily breakfast (which I'll describe below)
Airport and inter-resort transfers
A choice of one activity per stay. At Amankila, the choices are a m

orning cruise and snorkeling on Aman XVI or Aman XII (which we enjoyed; see photos in my Amankila review mentioned above), an

East Bali tour, or an

East Bali trek or cycling tour.
Virtuoso amenities for Amankila include:
Upgrade on arrival, subject to availability
Continental breakfast daily for two (but a full breakfast is already included in the Bali Break package)
Complimentary lunch or dinner for two once during the stay, excluding alcohol, taxes and gratuities
As you can see, even though the breakfast is already included in the Bali Break package, the Virtuoso amenities of an upgrade on availability and complimentary lunch or dinner (I recommend dinner) are not, so it makes sense to book Amankila with TravelSort, as a Virtuoso travel advisor. To book, complete our
Client Request Form
and send it to concierge [at] travelsort.com
On to our Amankila breakfast!
Amankila's breakfast menu is available a la carte, so you'll see prices in IDR on it, but since we were on the Bali Break package, breakfast was included for all three of us. Of course the first thing the munchkin wanted to know was if there were pancakes, and fortunately one of the choices was an order of banana pancakes with maple syrup. My husband wanted the same thing, but personally I was glad to see some savory Indonesian options, and ordered the Mie Goreng.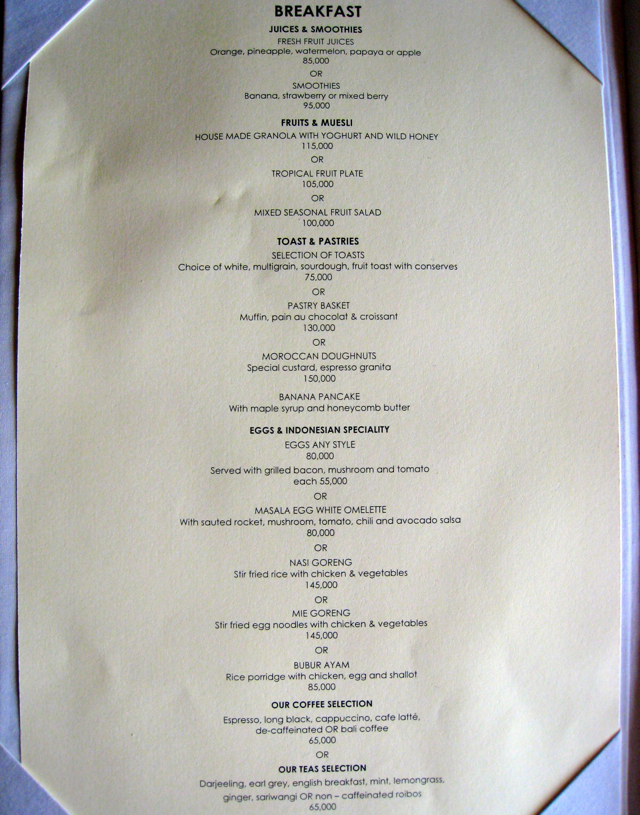 We placed our order by phone, and about half an hour later, Amankila staff arrived at our Ocean Suite to set everything up on the table outside our villa.
The strawberry smoothie was deliciously smooth and sweet tart from the berries and probably some yogurt–I was glad it wasn't too sugary, as some can be. We had ordered yogurt and housemade granola, and the granola was nicely toasted and crunchy with plenty of cashews, hazelnuts and dried fruit, perfect with the yogurt. The only thing I would have changed is that the yogurt was a bit too sweet from the honey.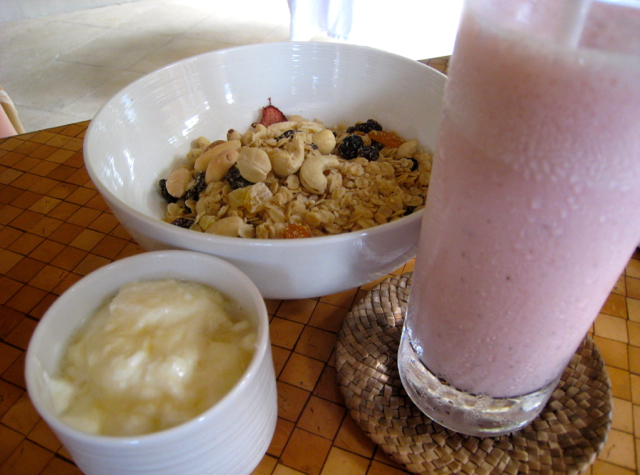 The banana pancakes were delicious and cakey–a good deal better than the ones we'd had at Nusa Lembongan and at Komaneka at Bisma. In addition to the maple syrup, there was honeycomb butter, not that they needed any further embellishment.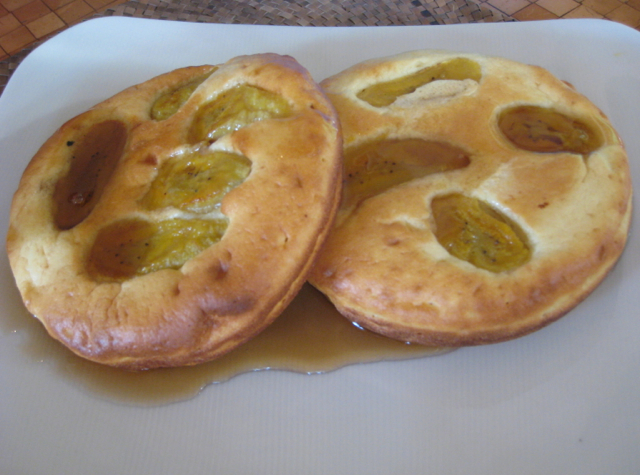 My Mie Goreng was the best I've had in Bali and among the very best I've eaten in Singapore and Malaysia as well, where I've had many variations of this. I loved that it came with fresh cut hot chilis to add a further kick. My husband winced a bit when he saw this (he still can't understand why I'd want something spicy in the morning) but I happily devoured the entire dish, using many of those fresh chilis.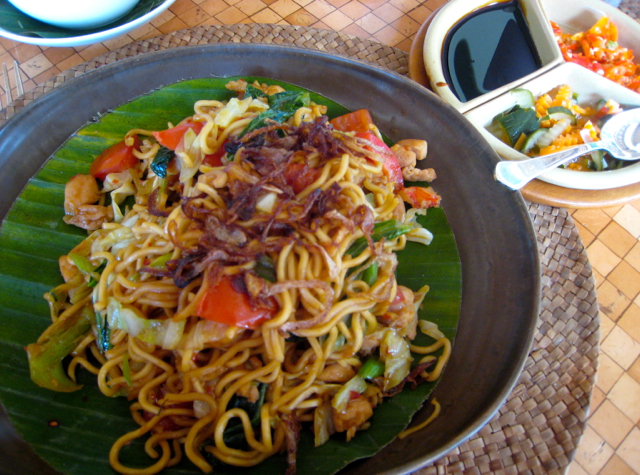 As fantastic as the Mie Goreng was, I'd have to say the piece de resistance was claimed by the Moroccan Doughnuts, served with vanilla bean custard (yes, plenty of vanilla bean flecks in it!) and espresso granita. The doughnuts reminded me of really good Malasadas, which are Portuguese holeless doughnuts and are a local favorite in Hawaii. Crispy on the outside, tender inside, rolled in sugar right after being fried. These were more refined, but that's what they reminded me of.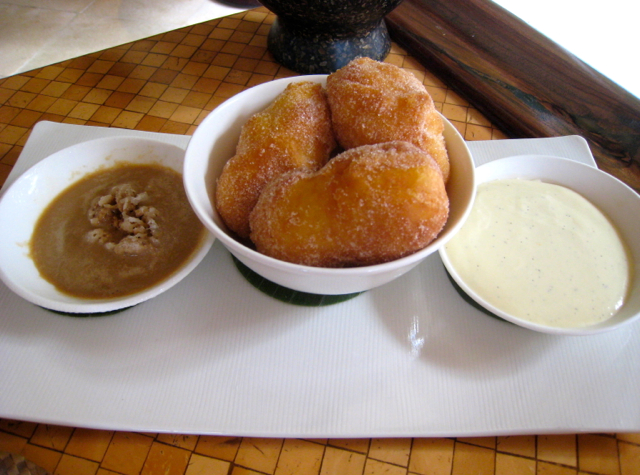 The Verdict
If you're going to Bali and can possibly afford to splurge at one place for a few nights, Amankila in East Bali is a great place to do so, including the superb breakfast that is included in the Bali Break package. While the menu isn't too extensive, the dishes are prepared superbly and offer both Indonesian specialties as well as Western favorites such as eggs with bacon, omelette, pancakes and doughnuts. Don't miss the Moroccan doughnuts!
If you've stayed at Amankila in Bali, what were your breakfast favorites?
Related Posts