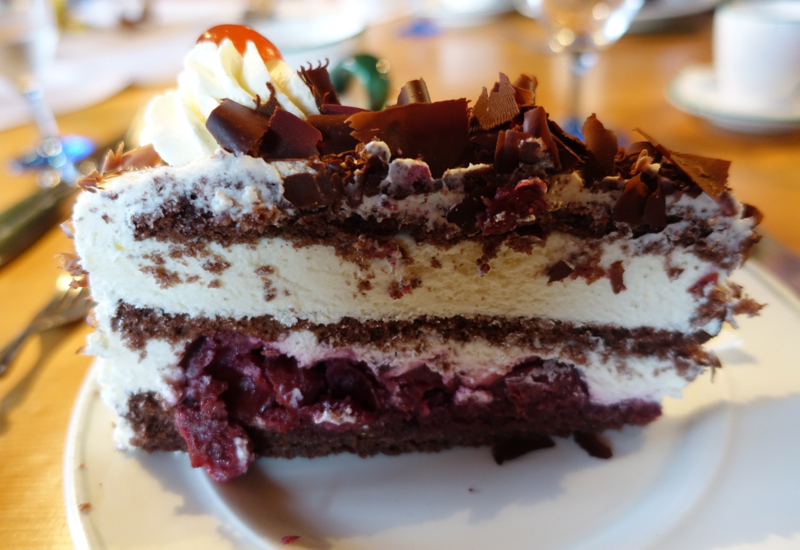 What's great to eat in Germany? While Germany may not instantly spring to mind as one of the great foodie countries, it offers plenty of wonderful dishes, both gourmet and hearty comfort food. Here are a few of my favorites from a recent Culinary and Wine visit to southern Germany.
1. Venison with Spätzle
A recent dinner at a Stuttgart restaurant featured venison with nut spätzle, a hearty and quintessentially fall dish. The lean venison was cooked perfectly, a feat given how easy it is to overcook lean meats, and I loved the nuttiness of the homemade pasta that accompanied it, as well as the lingonberry sauce (it was supposed to be rose hip, which would have been intriguing, but lingonberries were probably a better accompaniment anyway).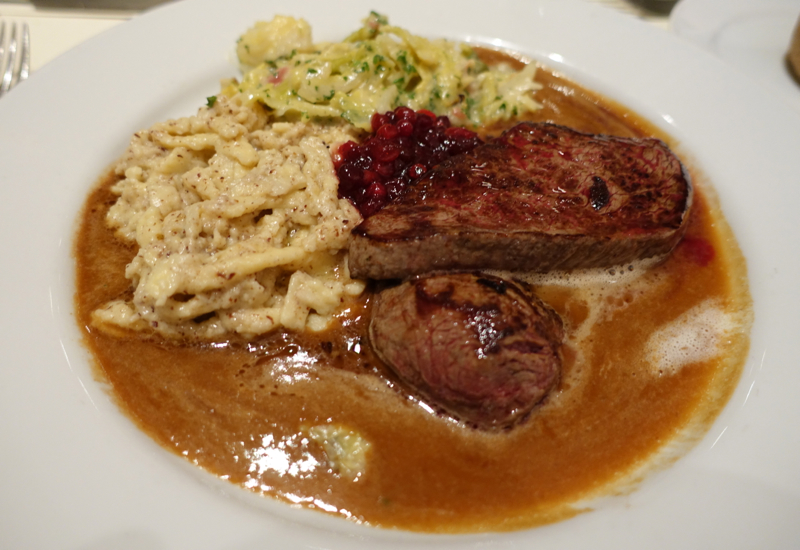 2. Käsespätzle (Homemade Cheese Noodles)
In case you're vegetarian or squeamish about venison, a great alternative is käsespätzle, the German answer to our macaroni and cheese. This was so good that some of my dining companions on this trip ordered it at every. single. restaurant. While my son wasn't with me on this trip, I know he would have loved it–a good bet if you're traveling with kids, or even if you aren't.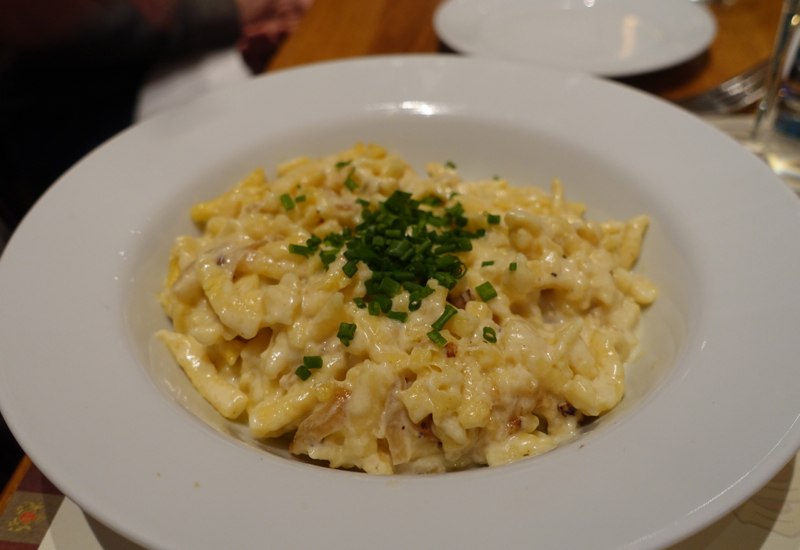 3. Sauerkirschen Kuchen (Sour Cherry Cake)
Germany bakeries are justly famous not only for their range of seeded and rye breads, but also for their kuchen, or cakes–"kaffee und kuchen" is the German version of British afternoon tea, and while usually not as elaborate, with the right cake, it can be even tastier. One of my favorite varieties is Sauerkirschen Kuchen, with its abundance of sour cherries and sweet streusel topping. It really doesn't need any accompaniment, although sometimes you can order it "mit sahn"–"with whipped cream."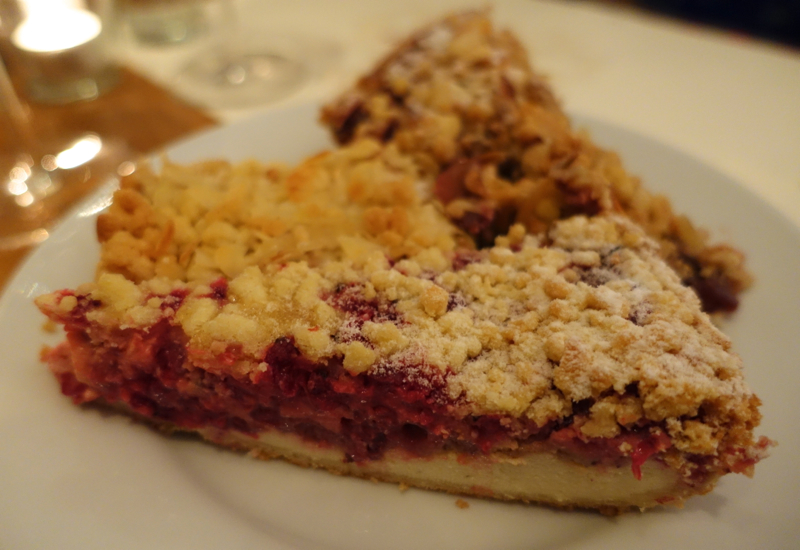 4. Organic Fruit Yogurt
It might seem strange to focus on yogurt, but it's one food I eat daily, so wherever I travel to, I invariably sample the yogurt, if there is any. This organic currant yogurt was one of the best I've ever had, anywhere: thick, creamy, and full of black and red currant flavor (which is also a hard flavor to find in the U.S.).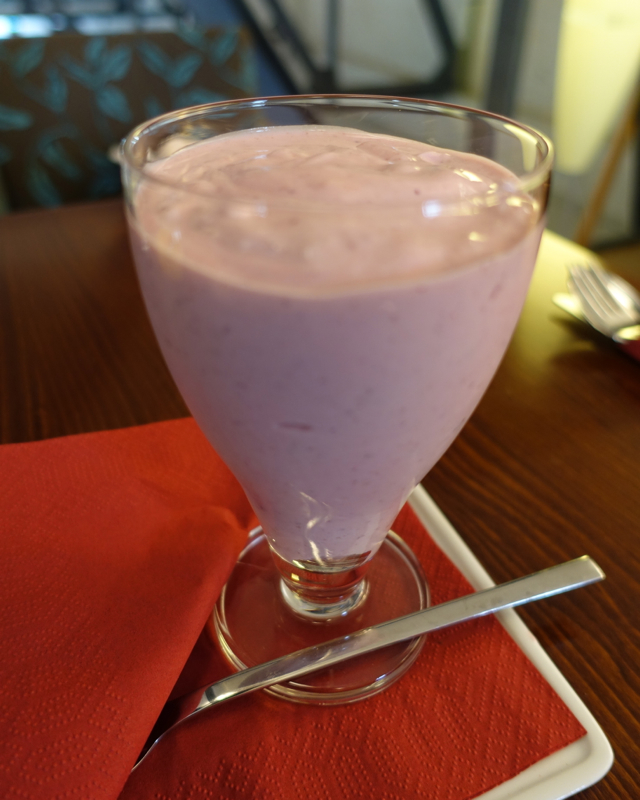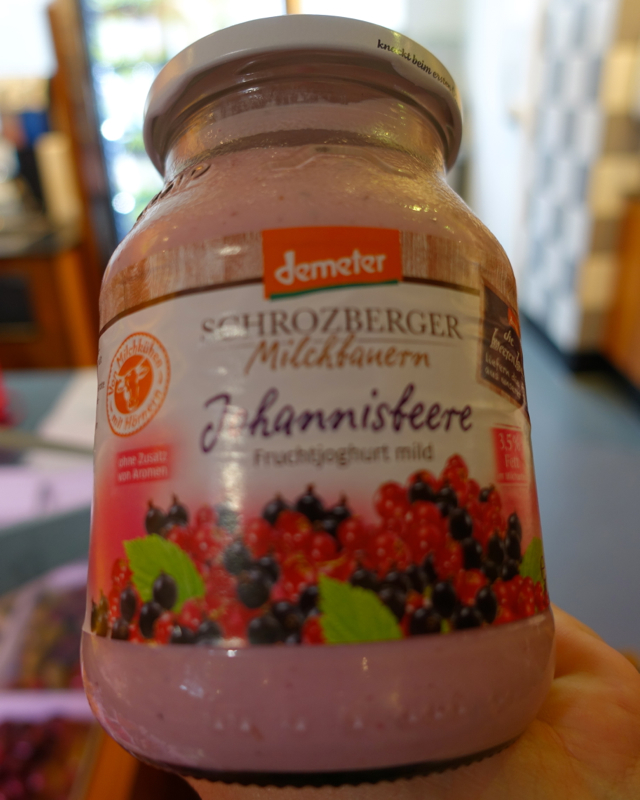 5. Roast Duck with Chestnut Ravioli
By far my favorite dish during our brief stay in Heidelberg was this roast duck with chestnut ravioli. The duck was cooked perfectly–flavorful meat with a crispy skin. While the original dish as described on the menu came with red cabbage and pretzel dumplings, I asked if I could substitute the chestnut ravioli that came with the venison dish, and the restaurant was happy to oblige.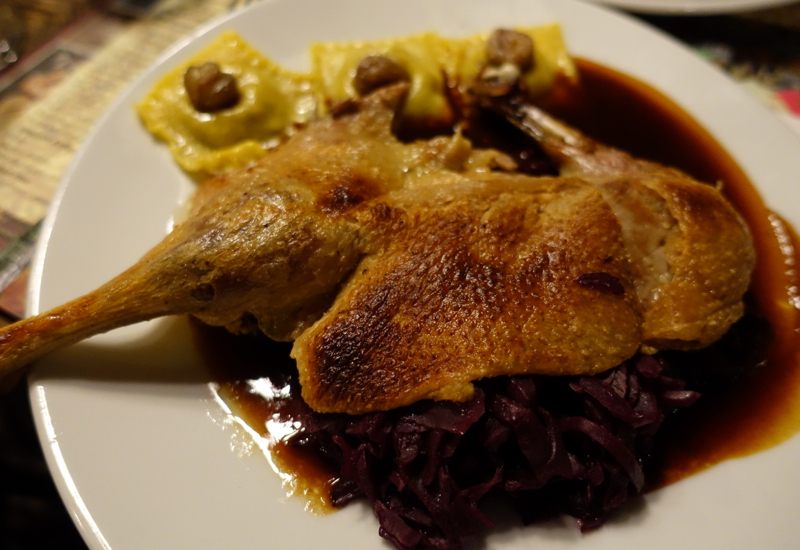 6. Apfelstrudel (Apple Strudel)
It's hard to resist a great apple strudel. I won't say that this one, from the restaurant at the Hip Hotel in Heidelberg, was exemplary, as I've had better apfelstrudel elsewhere in Germany, in Austria, and in Budapest, but it was acceptable, if weirdly plated with mandarin orange segments.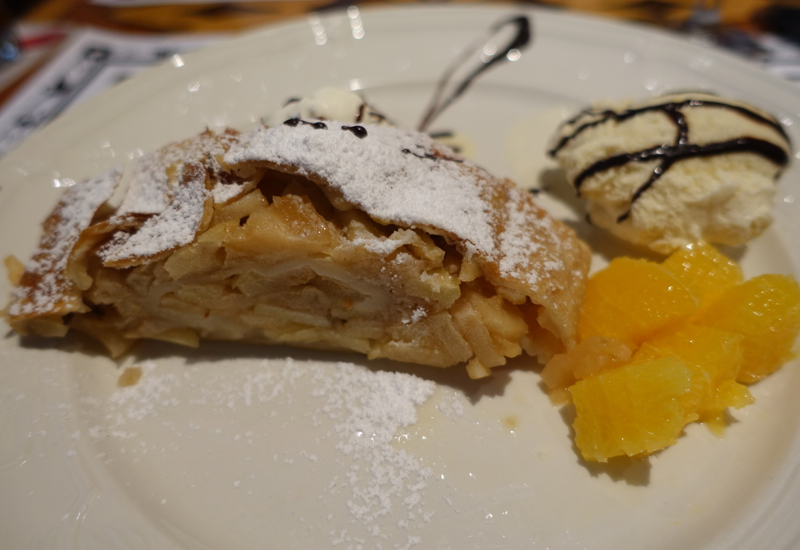 7. Creme Brulee and Fruit Dumpling Dessert at Traube Tonbach
If you're going to the Black Forest area of Germany, Hotel Traube Tonbach is a must-stay. Don't miss dinner at 3 Michelin Star Schwarzwaldstube, but even if you eat in one of the hotel's other dining venues, meals are a treat, and that includes dessert, such as this creamy vanilla creme brulee with caramelized top, fruit dumplings, and a refreshing fruit sorbet. I'm not even a creme brulee fan, but this dessert was sublime.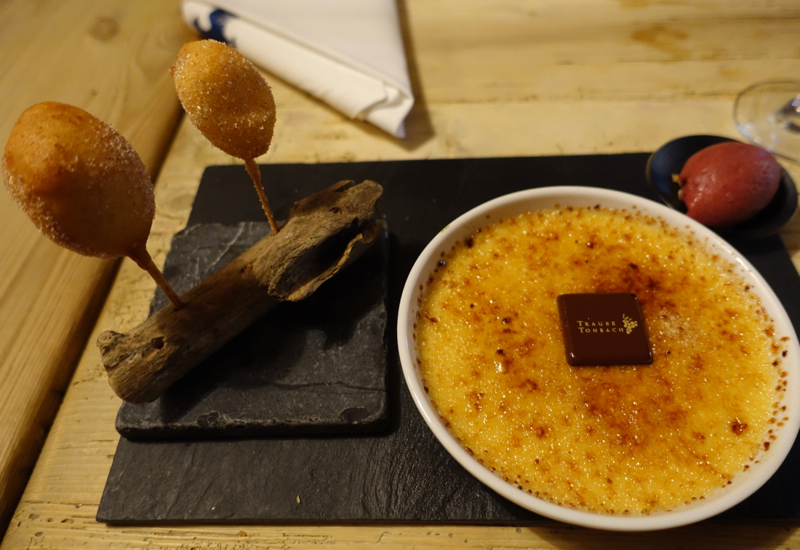 8. Black Forest Cake
I'll admit that Black Forest Cake is far from my favorite dessert, but I still enjoyed this stellar version at Traube Tonbach's cozy Blockhutte, a favorite rest stop for both guests and hikers. Plenty of light whipped cream, plump cherries and dark chocolate curls (and oh yes, a little chocolate cake) in each bite.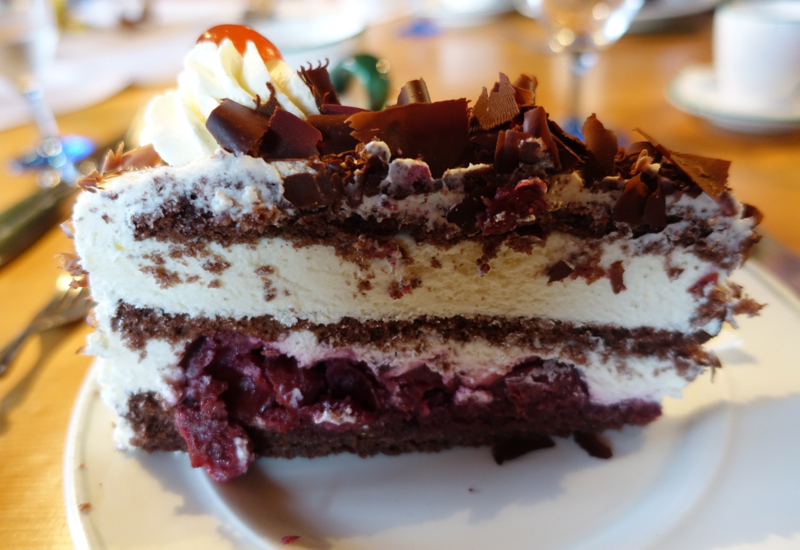 What do you like to eat in Germany?
Related Posts
Review: Hotel Traube Tonbach in Baiersbronn, Black Forest, Germany
What to Do in Heidelberg, Germany
Best Credit Cards for Award Flights to Germany for a Couple
Best Munich 5-Star Luxury and Boutique Hotels
Disclosure: I was a guest at Hotel Traube Tonbach and at the restaurants mentioned in this post as part of a Culinary and Wine trip organized by the German National Tourist Office, however the views expressed in this post are my own.
Need Award Booking Help? Our fee is as low as $75 per ticket if you book your hotel through us.
If you enjoyed this, join 150,000+ readers: please follow TravelSort on Twitter or like us on Facebook to be alerted to new posts.
Become a TravelSort Client and Book 5-Star Hotels with Virtuoso or Four Seasons Preferred Partner Amenities!