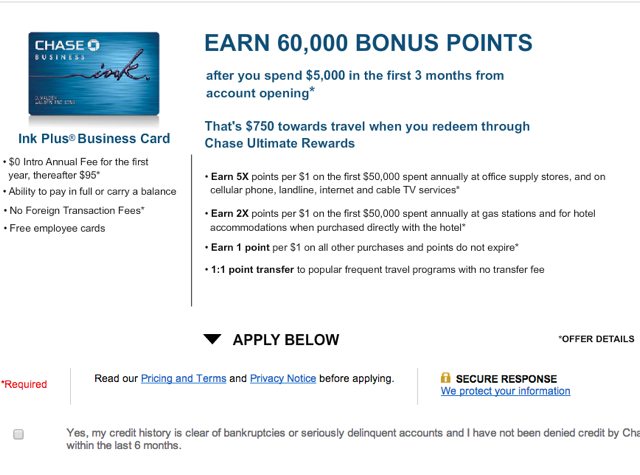 The 60,000 bonus Chase Ink Bold and 60,000 Chase Ink Plus bonus offers are back and listed on the Best Travel Rewards Credit Cards page. Cynically, I wonder if this current promotion is being done to boost Ink Bold and Ink Plus cardholders prior to eliminating 5X for office supply stores. See Will Chase End 5X for Ink Bold and Ink Plus Cards?
Nevertheless, the 60K Ink Bold and 60K Ink Plus bonuses are the highest public offers available. They've been run before, both last year in June 2013 for a week, and also back in 2012. Here are the details:
60K Chase Ink Bold and 60K Chase Ink Plus Offers
60,000 Ultimate Rewards points after you spend $5000 in the first 3 months from account opening (10,000 more points than the usual 50,000 points signup bonus)
5X points per dollar on office supply store spend, telephone, cable and Internet services
2X points on hotel spend when directly with the hotel, gas stations

1:1 point transfer to United, Hyatt, British Airways, Korean Air, Southwest, Marriott, Ritz-Carlton, InterContinental, Priority Club, Amtrak, Virgin Atlantic

Annual fee waived first year, then $95

No foreign transaction fees
FAQ
Oh No! I Just Applied for the 50,000 Bonus Offer. Can I Receive the 60,000 Offer Instead?
Although there are no guarantees, many successfully have been matched to the higher offer by sending Chase a secure message, if they recently (within the past 60 days) applied for an Ink Bold or Ink Plus card. See
Send Chase a Secure Message
Do I Qualify for a Small Business Credit Card?
Many people qualify for a small business card, even some that don't think of themselves as running a business. D
o you ever sell things on Amazon, eBay, Etsy, Craigslist? Do you ever rent out your apartment or other real estate using Craigslist, Airbnb, etc.? Do you do any consulting work?
All of these and most any other small business makes you eligible to apply for an Ink small business credit card.
Also s
ee
Ink Business Card Sign Up Tips
I Didn't Get Instantly Approved–Do I Have to Wait for an Answer in the Mail?
No–you can (and should) call Chase Reconsideration for business cards. See
Call These Reconsideration Phone Numbers
. Be prepared to discuss what your business is, how much money it makes (revenues and profits), how long you've had it, and why you want this particular card. Always tell the truth, don't worry if your business is small or in the planning stages.
Which Ink Card Should I Get?
See
Which Ink Business Card Offer to Apply For?
Many folks like to apply for the Ink Bold charge card first, if they don't yet have any Ink business cards, and later apply for the Ink Plus, with the rationale that they need the flexibility of a credit card (even though you shouldn't be carrying any balance on any of your credit cards anyway, to avoid paying high interest fees).
How Long Are the Increased Ink Bonus Offers Valid?
Unclear. Last year they were available for 1 week, so it may be similar this time around, but there's no specified end date for the offer.
Can I Apply for and Get Approved for More Than One Ink Business Card?
Yes, although be prepared to explain why you need two cards. This will work best if you legitimately have two businesses and need to separate expenses for them.
I've Previously Had the Ink Bold MasterCard; Can I Get a Bonus for the Ink Bold Visa?
Yes. While you may have a tough time getting approved if you still currently have the card, if you previously had the MasterCard version of either the Ink Bold or Ink Plus and want the Visa version (which is the only version being issued now) you can explain why you need Visa: e.g. accepted in more places, access to
Visa SavingsEdge
, etc. The Visa is considered a separate product from the MasterCard, so you would be able to receive another signup bonus.
What Are the Best Uses of Ultimate Rewards Points After the United Award Chart Devaluation?
The
United Award Chart Devaluation
has had the effect of devaluing Chase Ultimate Rewards points as well. Previously United was the top Ultimate Rewards transfer partner, with the goal of redeeming for international premium class awards such as Asiana First Class, last-minute Lufthansa First Class, SWISS Business Class and the occasional Singapore Business Class award.
With the United devaluation, international partner awards to Europe and Asia have increased by 63%-86%. Because of this, I would say that for Asia, especially if you need 2 first class award tickets, one of the best transfer partners is Korean Air Skypass. See
Book Korean Skypass Awards Online
.
For regions more or less unscathed by the United devaluation, such as South America, domestic U.S. and Hawaii (see
Best Frequent Flyer Miles for Hawaii Awards
), it can still make sense to transfer to United, although also look at booking domestic tickets with Singapore KrisFlyer or Lufthansa Miles & More.
What Other Credit Cards Should I Consider Applying for at the Same Time?
It's often worth applying for several credit cards at the same time so that all your credit inquiries occur on the same day, as close in time as possible, then go several months without any new credit applications. The other cards I would recommend right now are:
Do you plan to apply for the 60K Ink Bold or 60K Ink Plus card?