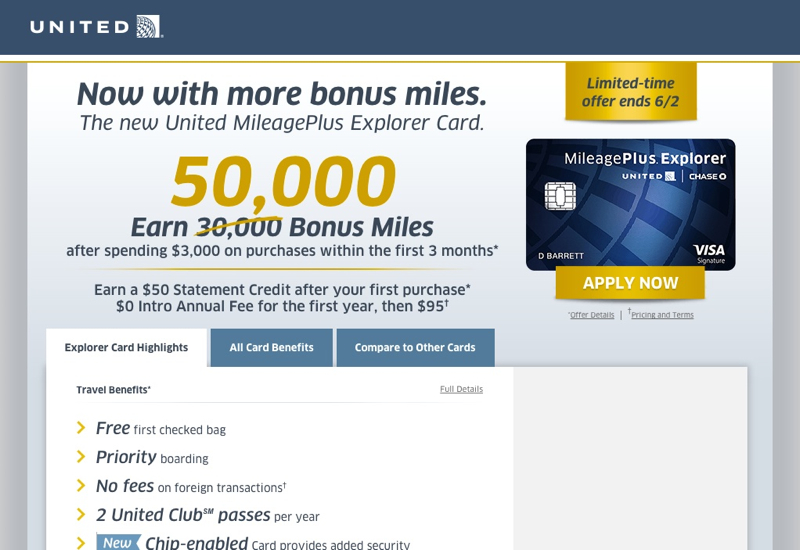 Update: This offer is dead, but see 50K United MileagePlus Explorer Business Card Bonus Offer and the Best Travel Credit Cards page for the most current offers.
A 55K United MileagePlus Explorer offer with $50 statement credit is available on United.com and has beed added to the Best Travel Credit Cards page. The signup bonus is 50,000 United MileagePlus miles, and you can earn an additional 5000 miles by adding an authorized user. Here are the details:
Earn 50,000 United MileagePlus bonus miles after spending $3000 on the card during the first 3 months after account opening
Earn 5000 MileagePlus bonus miles after adding an authorized user and making a purchase within the first 3 months after account opening
Earn a $50 statement credit after your first purchase
Earn 2X miles per dollar on United Airlines tickets
Earn 1 mile per dollar for all other spend
Receive 2 United Club passes after account opening and each account anniversary
Free first checked bag on United flights
Earn 10,000 bonus miles once per calendar year after spending $25,000 or more on the card during a calendar year
50K new cardmember bonus not available to current cardmembers or previous cardmembers who received a new cardmember bonus within the last 24 months
No annual fee the first year, then $95 per year
Offer ends June 2, 2015
To see the offer, go to United.com and start to book a ticket. After you've selected your flight(s) you should see the offer at the top of the page:

FAQ
Is It Worth Earning United Miles After Last Year's United Award Chart Devaluation?
It's true that I'm not going out of my way to earn United miles now, and haven't transferred Ultimate Rewards points to United miles ever since Singapore KrisFlyer become an Ultimate Rewards transfer partner. The high increase for partner business class and first class really became a deal killer, for my family's travel plans. I also dislike flying into and out of Newark Airport, which is United's NYC hub.
As always though, it depends on your travel patterns. If you live near one of United's hubs, such as Denver DEN, Houston IAH, Chicago ORD, San Francisco SFO, or Washington Dulles IAD then United may well offer the most convenient options for your flights. And if you tend to fly on economy awards, then last year's devaluation likely didn't affect you much. On the other hand, if you fly paid discount economy, you're earning a lot less now that United
And if you're otherwise running out of good signup bonuses to apply for, then this is a pretty decent offer, especially as you make money off the card in the first year over and above the miles and the 2 United Club passes, thanks to the $50 statement credit.
Am I Eligible for the 50K Bonus if I Have or Have Had the United MileagePlus Explorer Business Credit Card?
Yes; personal credit cards and business credit cards are separate products, so having or having had the business version of this card doesn't prevent you from receiving the bonus if approved for the business version of the card.
How Long Does it Take the Signup Bonus and the Statement Credit to Post to My MileagePlus Account?
After you qualify and make the minimum spend for the signup bonus, allow 6-8 weeks for the 50,000 signup bonus miles to post. Similarly, allow 6-8 weeks after adding an authorized user and first purchase for the 5000 bonus miles and $50 statement credit to post to your account.
Does Each United Club Pass Allow a Family to Enter the United Club?
No–each United Club pass is for one person. So if you're a party of two, traveling with a spouse or a child, you would need to use both United Club passes for the two of you.
Do I Get a Free First Checked Bag on United Award Tickets That Are on Partner Airlines or United Codeshare Flights?
No–the free first checked bag benefit is only on United and United Express flights; United codeshare flights and any flights not operated by United are not eligible. Terms state that you must use your United MileagePlus Explorer card to purchase the ticket and that your MileagePlus number must be on the ticket, although I haven't recently verified this since I don't have the card and I don't check bags. One traveling companion on the same reservation as the primary cardholder is also entitled to free first checked bag.
Do you plan to apply for the 55K United MileagePlus Explorer with $50 Statement Credit?
Related Posts
50K United MileagePlus Explorer Business Card Bonus Offer