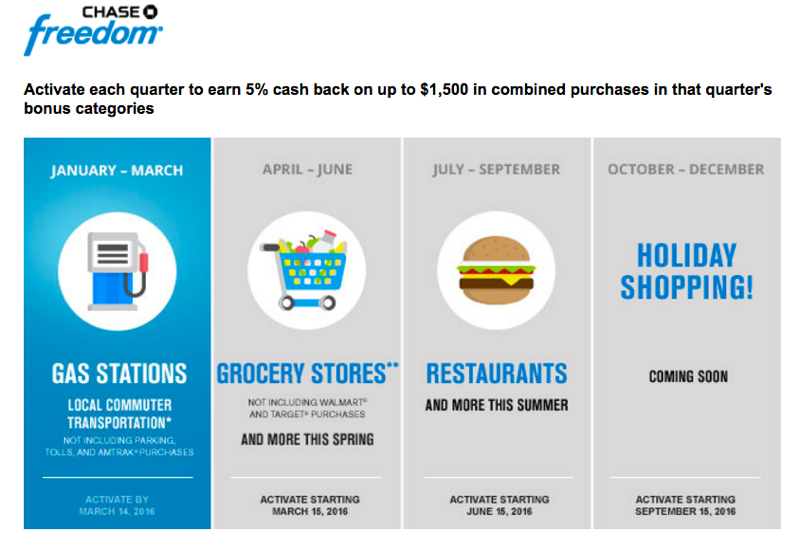 The 2016 Chase Freedom 5X Calendar has been announced, at least the primary categories for Q1-Q3 2016, with more bonus categories to be filled in. Here's the rundown, along with my own take and strategy. Keep in mind this is from my perspective, living in NYC, so I've no doubt that many readers will have different levels of enthusiasm than I do for some of these categories.
Overall, the 2016 5X bonuses are about as good as could be hoped for, since I don't expect Chase to repeat that great 2012 Chase Freedom 5X calendar when Airlines and Hotels were bonus categories. I'm sure way too many people took advantage of those bonuses then transferred them out to Ultimate Rewards airline and hotel partners, making 5X travel bonuses a money losing category for Chase.
Q1 2016 (January 1 to March 31, 2016)
Activate by March 14, 2016
Gas Stations
Local Commuter Transportation (Not including parking, tolls, Amtrak)
Strategy
This is popular category in much of the country, where many have long commutes by car. I'm aware that I and other New Yorkers are very much in the minority when it comes to not having a car or any need for gas, not to mention the difficulty of finding a gas station even if we wanted to.
So it's nice that this time Chase has thrown a bone to us by including taxis, subways and local commuter buses and trains within this category. I'll personally put a few hundred on my NYC MTA card to use throughout the year, though I won't max out the $1500 5X limit. But those with significant gas expenses, or who are able to easily buy gift cards with a credit card at their local gas station could certainly aim to max out the $1500 for Q1 2016.
Q2 2016 (April 1 to June 30, 2016)
Activate by June 14, 2016
Grocery Stores
"And more this spring"
Strategy
I may be one of the few who love grocery stores as a 5X category. Yes, I realize you can earn nearly as many all year round with the AMEX EveryDay Preferred (see
Compare AMEX EveryDay and AMEX EveryDay Preferred Cards
) but that card has a $95 annual fee (not waived) AND to get the 4.5X you need to make 30 or more transactions per billing cycle, for the 50% bonus.
The Chase Freedom has no annual fee, and it enables me to earn 5X at Trader Joe's, which is still my all-around favorite supermarket. I stock up on gift cards (the only pain being that the largest denomination is $100 per card) and these can also be used at the Trader Joe's Wine Store (since NYC requires separate stores for wine sales). So even if you have zero cooking sales, there's no reason why you couldn't stock up on New Zealand Sauvignon Blanc, Sonoma Valley Cabernet Sauvignon or Zinfandel, French Sauternes, champagne, etc.
Don't forget that currently, assuming you've already activated your Q4 2015 5X, you can earn 10X on Amazon.com, including Whole Foods gift card purchases. So save the 5X grocery bonus in Q2 2016 for non-Whole Foods grocery spend.
Keep in mind that the grocery bonus does NOT include Walmart, Target, Costco, Sam's Club or other discount or warehouse club stores.
Q3 2016 (July 1 to September 30, 2016)
Activate by September 14, 2016
Restaurants
"And more this summer"
Strategy
The Chase Freedom 5X category I get most excited about is restaurants. This isn't because we manage to max out $1500 in restaurant spend during the quarter, but because it gives us a chance to pick up gift cards to our favorite restaurants to use throughout the next year, having earned an upfront 5X on our spend. Some of our favorites include
Gramercy Tavern
,
Tsushima
and
Blue Smoke
.
Maison Kayser
is also great for bread and pastries, though it may have some stiff competition by Q3 2016 if
Tartine Bakery
from San Francisco opens its New York outpost by then.
Q4 2016 (October 1 to December 31, 2016)
Activate by December 14, 2016
Strategy
Other than that, 5X on Amazon and many other stores is a bit of a ho hum affair, at least if you have an Ink Plus and can already earn 5X on those stores by buying gift cards at your local Staples or office supply store.
What do you think of the 2016 Chase Freedom 5X calendar?
Related Posts
10X on Amazon, Whole Foods, Hyatt, Starbucks, Nordstrom with Chase Freedom
Travel Credit Cards: What's in My Wallet Now
How to Combine Ultimate Rewards Points on New Chase Web Site
Singapore KrisFlyer a Chase Ultimate Rewards Transfer Partner
Best Credit Cards by Spend Category
Need Award Booking Help? Our fee is as low as $75 per ticket if you book your hotel or cruise us.
If you enjoyed this, join 200,000+ readers: please follow TravelSort on Twitter or like us on Facebook to be alerted to new posts.
Become a TravelSort Client and Book Your Hotel with Virtuoso or Four Seasons Preferred VIP Amenities!