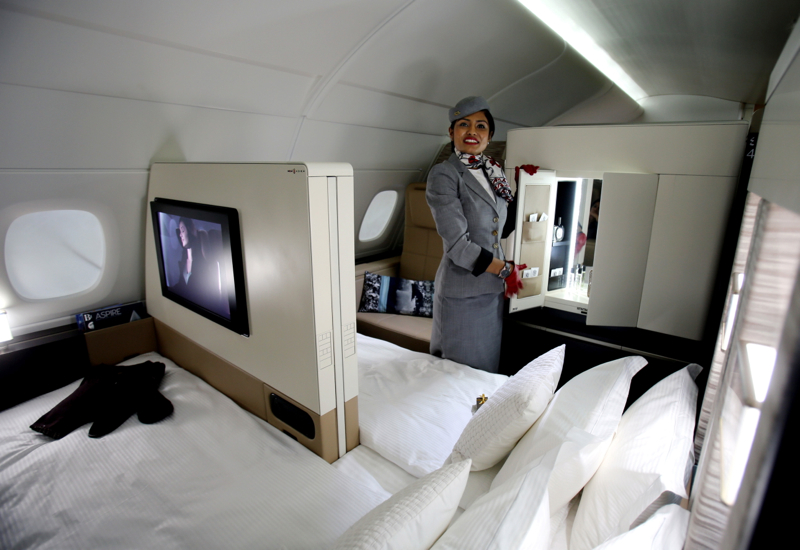 Which Credit Cards are Worth Getting in 2015? While everyone's credit card situation is different, depending on which cards you already have (or had) and which miles and points are most valuable to you given future travel plans, many readers asked me to do a follow up to my end of 2014 post How We Earned 1 Million Miles and Points This Year, and share which cards we'll be applying for in 2015.
For new readers, let me again put our situation in context. We use miles and points almost exclusively for international first class and business class flights, where we find the greatest value. We would never pay $25,000 for a first class ticket such as Singapore Suites on the A380, but we'll happily redeem miles and points and pay taxes/fuel surcharges to fly such a ticket.
Using miles/points for air travel enables us to upgrade our hotel stay, since the best luxury hotels are not available with miles and points. Our favorite stays and that of many TravelSort Clients have been at Aman Resorts such as Amanpulo, Amanjiwo and Amankila; Four Seasons resorts such as Four Seasons Hualalai, Four Seasons George V Paris, Four Seasons Hong Kong, Four Seasons Koh Samui; and select Virtuoso boutique hotels such as The Upper House Hong Kong.
Here's what we plan to apply for this year:
1. 50K US Airways Dividend Miles Credit Card
Both my husband and I have gotten approved for new 50K US Airways cards, which will likely be our last ones before the card goes away with the merger of the Dividend Miles and AAdvantage frequent flyer programs. Hard to beat a card that offers the 50,000 bonus after payment of the $89 annual fee and first spend with the card.
2. 45K Sapphire Preferred Visa
My husband got a new Sapphire Preferred Visa towards the end of last year–he was eligible since his previous Sapphire Preferred was a MasterCard (which no longer exists as a product, since all Chase cards are now issued solely as Visa cards). I just applied for a new Sapphire Preferred Visa for myself, since it had been over 2 years since I received a bonus for my last Sapphire Preferred Visa.
3. 50K Citi Business AAdvantage
I haven't had the Citi Business AAdvantage for almost a year, so this is on my list of cards to reapply for this year. Business cards are not held to the same ~12-20 month rule that Citi personal cards are, so I'm hoping to earn the bonus for this card again, even though I've had this card before.
4. 50K Citi Executive AAdvantage
AAdvantage miles are incredible valuable to us right now, so even though we both got this card a couple times with the 100K bonus last year, we may both get it again at just the 50K bonus, because it's the only Citi AAdvantage personal card that is currently possible to get again without waiting 12-24 months from the last successful application.
5. 50K United MileagePlus Explorer Business Card
Although I don't value United miles as highly as I used to, after last year's United award chart devaluation, it can still be useful to have some United miles for specific awards, as there are no surcharges. I likely won't earn the miles soon enough to use them for Discounted United MileagePlus Partner Business Class Awards, but they could come in handy for some travel in 2016.
6. 50K Ink Plus
It's possible to have two business cards for two different businesses, for example one applied for under an EIN and one as a sole proprietorship under your SSN. Ultimate Rewards points are valuable for transferring to Singapore KrisFlyer or Korean Air Skypass, so I plan to apply for another Ink Plus later this year.
Under Consideration
As you'll have noticed, there are no AMEX cards in our planned lineup so far. That's because so far we haven't received any attractive targeted offers, so I'm holding out for one or more of the following offers. Until that time, AMEX is rather irrelevant for our miles and points earning, given that AMEX cards are so much less lucrative for spend bonuses. It's hard to compete with 5X or more per dollar, which you get via the Chase Ink Plus or Chase Freedom, with additional bonuses sometimes for shopping via the Ultimate Rewards portal.
And since AMEX personal card bonuses are now once in a lifetime and AMEX Business cards are once per year, my threshold for applying for an AMEX card has gone up, particularly since AMEX does offer targeted bonuses that are so much higher than the public bonuses.
75K AMEX Business Gold Card
AMEX Platinum: 75K or 100K Bonus
AMEX Business Platinum
Another card I'm taking a wait and see approach to is the United MileagePlus Explorer. Currently it's only at a paltry 30K, but if a 50K offer returns, I plan to reapply my husband for it since later this year it will have been over 2 years since he earned a bonus for it.
Bottom Line
As you can see, our planned card applications focus on AAdvantage miles, Ultimate Rewards points and United miles, both because of our award redemption needs and because of what's possible for us to get in terms of bonuses. We're moderate in terms of card applications, and will supplement the bonuses we earn with category spend bonuses and also purchased miles as needed.
Which new credit cards do you plan to apply for in 2015?
Related Posts