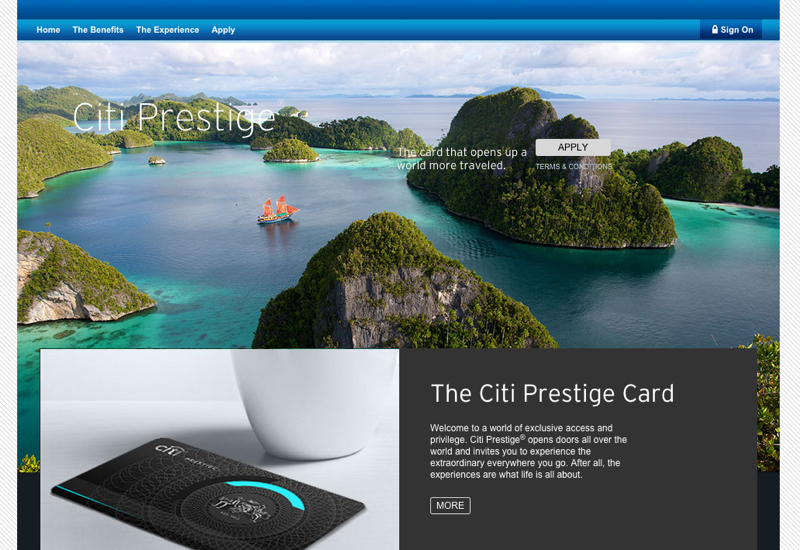 A 100K Citi Prestige Card targeted signup bonus offer has started arriving via mail to some Flyertalk posters such as ILGfly.

I have largely ignored this card, partly because I'm most focused on Citi AAdvantage cards in terms of my Citi applications, ahead of an anticipated AAdvantage devaluation later this year, and also because we're working on $20,000 of minimum spend for the 150K AMEX Business Platinum.
The usual Citi Prestige signup bonus offer is 50K ThankYou points with a $450 annual fee, although it's possible to get an in-branch offer of 60K ThankYou points with a lower $350 annual fee.
The targeted Citi Prestige 100K offers are so far all reported to have come by snail mail, but you can also check to see whether you're targeted for any good offers at this Citi link. I checked, and my husband and I weren't targeted for anything interesting–not surprising since we have several Citi credit cards between us.
Here are the details for the targeted 100K Citi Prestige offer:
100,000 bonus ThankYou points after spending $3000 on purchases within the first 3 months of account opening
Apply by 6/15/2015
$250 air travel credit each year
American Admirals Club Access (when traveling on an American, American Eagle or American Connection flight only)
$100 Global Entry fee credit
3X points for air travel and hotel spend
2X points for dining
No foreign transaction fees
$450 annual fee is not waived
FAQ
I Just Got the Citi Prestige Card; Can I Get Matched to the 100K Bonus?
Unfortunately no. You'd need to be targeted for the 100K offer.
How Can I Maximize My Chances of Being Targeted for the 100K Citi Prestige?
Anecdotal evidence is that those on Flyertalk who have been targeted for the 100K Citi Prestige offer have little relationship with Citi, for example some prior Citi cards that have been cancelled or haven't seen much use. So one of the best ways to be targeted is to have no or few Citi cards that don't see much use.
That's similar to my experience with AMEX, where in the past few months we've received 100K and 150K offers, after basically eliminating everything except our no fee AMEX cards.
What's the Best Use of Citi ThankYou Points?
The best use of Citi ThankYou points if you value business and first class travel is to transfer to airline partners. Partners include Cathay Pacific Asia Miles, EVA Air, Etihad Guest, Air France/KLM FlyingBlue, Garuda Indonesia, Malaysia Airlines, Qantas, Qatar, Singapore KrisFlyer, Thai Airways, Virgin Atlantic Flying Club. The most attractive of these, in my view, is Singapore KrisFlyer.
The other way some Citi Prestige cardholders will find value for Citi ThankYou points is redeeming them for 1.6 cents per point towards the cost of a ticket on American or US Airways. You do need to book through Citi's Web site to redeem this way. Personally, I'd choose Singapore Airlines where I can get much better value per point, but if most of your travel is domestic, this could be a good option.
What Are the Other Pros of the Citi Prestige Card?
The $250 in air travel credit per calendar year means $500 in air travel credit in your first year, and unlike the AMEX incidental credit, this credit can be applied directly towards airfare, or towards taxes and fees on award tickets. That's a nice benefit, and you come out ahead in the first year on this benefit alone.
If you don't yet have Global Entry, that's a good benefit too, although this benefit is also common to AMEX Platinum cards.
Similarly, if you're not already getting 3X on airfare with an AMEX Premier Rewards Gold card or AMEX Business Gold, that's a good benefit, as is 3X on all hotel spend.
Also, if your spouse, domestic partner, family member or friend has a Citi Prestige or Citi ThankYou Premier card, you can share Citi ThankYou points with him/her and vice versa; but see the rules, in
Citi ThankYou Points Transfer Rules
.
What Are the Cons of the Citi Prestige Card?
As with other premium cards such as the AMEX Platinum and the Citi Executive AAdvantage, the high annual fee, either $450 (or $350 with the in-branch offer) is high, and is not waived the first year.
Note also that any authorized users of the card must be traveling with the primary card member in order have access to American Admirals Club lounges.
While much touted, the 4th night free at hotels benefit isn't great if you want VIP perks, for example with
Virtuoso
,
Four Seasons Preferred Partner
,
Starwood Luxury Privileges
, AMEX FHR and the like. That's because to qualify, the hotel must be booked with Carson Wagonlit travel; it's not possible to book with any other agency or benefits. That means you won't get priority upgrades, complimentary breakfast and other perks. Readers of mine who have the card have also noted that it takes a long time to get reimbursed for the 4th night, and that Carson Wagonlit is not very responsive.
Your best bet is to ask TravelSort or your luxury travel advisor which hotels and resorts in your destination may have special offers, since a number of Virtuoso and Four Seasons resorts periodically offer 3rd Night Free or 4th Night Free offers that combine with all Virtuoso or preferred partner benefits, and you'll come out ahead with these offers.
I Want to Apply–Where's Your Referral Link?
I prefer to only list the best bonuses out there, and it so happens that the best bonus (open to most people who can walk into a Citi branch, plus some have had success in calling in for it) is the 60K offer with $350 annual fee. So definitely try to get this offer, even if you're not targeted for the 100K offer. If for some reason you're not able to get the 60K offer because you don't live near a Citi branch and phone calls don't work either, let me know at concierge [at] travelsort.com and I would be happy to refer you for the 50K offer.
Have you been targeted with a 100K Citi Prestige bonus offer?
Related Posts