This post on 10 Things to Eat in Bali is part of a trip report including Cathay Pacific Business Class and First Class to Hong Kong and Bali, plus reviews of luxury hotels and food in Hong Kong and Bali. Prior posts include:
Review of British Airways Galleries Lounge at JFK Airport
Cathay Pacific Business Class Review: 777-300ER NYC to Hong Kong
Cathay Pacific First Class NYC-Hong Kong
Tim Ho Wan Review: Hong Kong's Best Dim Sum and Cheapest Michelin Star?
Mandarin Oriental Hong Kong Review
Balinese and Indonesian food are among my favorites, but are unfortunately not easy to get, even in NYC, so I was excited to try to get my fill of it over the last several days in Bali and Nusa Lembongan. I didn't always manage to get a great rendition of the classic dishes, but many that I tried were fantastic, and I also discovered some amazing French restaurants as well. Here's my top 10 list of all the many dishes my family and I tried, and my recommendations for where to eat them. For simple places such as Warung Nyoman on Nusa Lembongan you'll need to pay cash, but for hotel restaurants, don't forget to pay with the Barclays Arrival Card for an effective 2.2% cash back rebate on travel spend and no foreign transaction fees, or the Sapphire Preferred to get 2.14X points and no foreign transaction fees. Enjoy!
1. Iga Babi Panggang at Warung Mie, Four Seasons Resort at Jimbaran Bay
If you read my review of Warung Mie, you know that these Balinese bbq glazed pork ribs were succulent, fall off the bone tender and so addictively delicious. We'd definitely order a full portion of these next time, as the three that came with our sampler platter were just not enough, given their amazing flavor!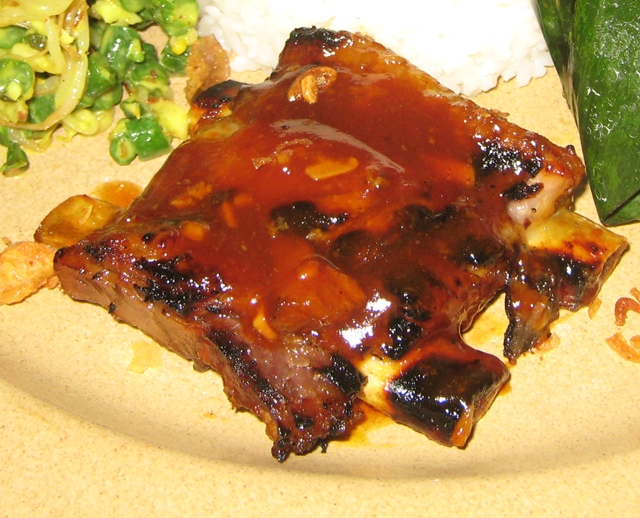 2. Babi Guling
Babi Guling, Balinese roast suckling pig, is one of the absolute local favorites and is considered a must-try, along with Bebek Betutu. Typically it's served over rice as pork slices, pork crackling, some pork sausage, urap (a refreshing Balinese vegetable salad) and perhaps some condiments, as well as a side of rich pork soup. To my chagrin, I haven't had the chance to try it on this trip, although I've heard good things about Warung Babi Guling Sanur. You could make a stop there en route to the speed boat that will take you to Nusa Lembongan, where my #3 pick is located.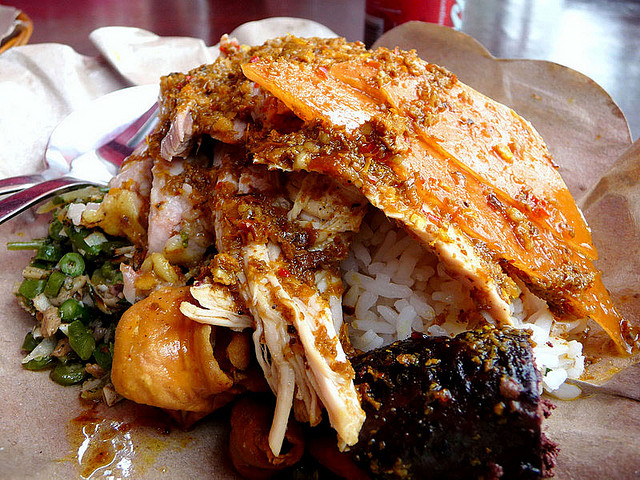 3. The Duck at Indiana Kenanga, Nusa Lembongan
I know, you're wondering why this list includes some clearly non-Balinese, non-Indonesian foods. Well, Indiana Kenanga on Nusa Lembongan is that good, so good that we went there twice during our 4 night stay. And we had to order "The Duck" a second time. It's simply but perfectly seared duck breast, served atop date puree and accompanied by turnip slices bathed in orange reduction. I didn't think I even liked turnip until I tasted them in this dish. Chef Clement Fouquere cooked in some of the top Paris kitchens, including 3 Michelin star Le Bristol, before basing himself in Nusa Lembongan (since his other passion is surfing) and it shows. I challenge you to find another dining experience of this caliber where you can also wiggle your toes in sand as you eat 🙂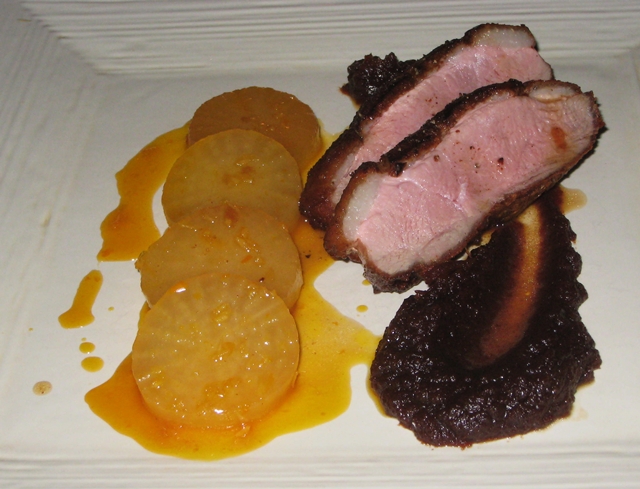 4. Bebek Betutu
Another classic Balinese feast food that we highlighted in Must-Try Foods from Around the World, Bebek Betutu is duck stuffed with a fragrant Balinese spice paste, then wrapped in banana leaves before being placed in coconut or rice husk charcoal and allowed to slow roast for hours. Because of this, you typically need to order this dish at least 24 hours in advance. We were supposed to try this dish at Putu's Wild Ginger restaurant in Ubud, but due to some miscommunication, they didn't have it ready for us, and I instead ordered Bebek Goreng (Crispy Fried Duck) at our hotel, Komaneka Bisma, instead. It was simpler dish, but still very delicious.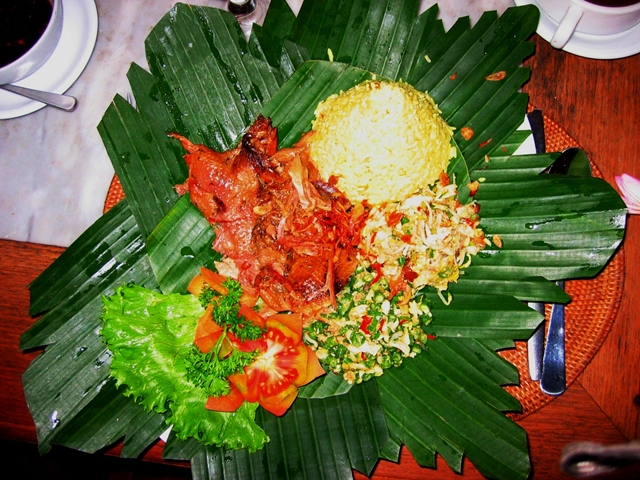 5. Seafood Laksa at Warung Mie, Four Seasons Resort at Jimbaran Bay
I know, Laksa is not Balinese, it's Malaysian and Singaporean, but the seafood laksa I enjoyed at Warung Mie is truly the best I've had to date and I highly recommend it if you like laksa, seafood, or both.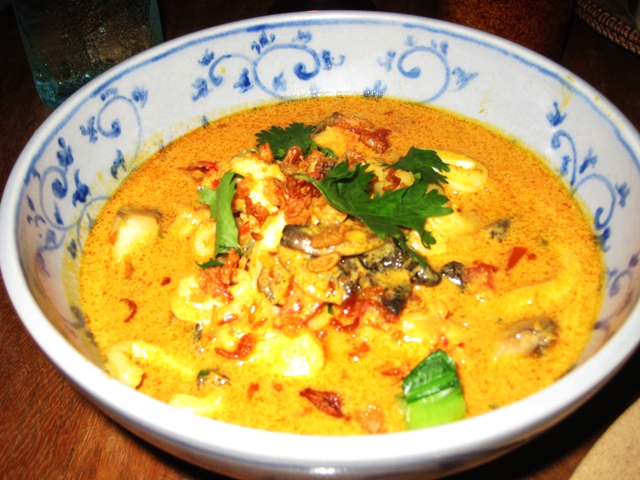 6. Grilled Jacket Fish at Warung Nyoman on Nusa Lembongan
I learned about jacket fish at Warung Nyoman from another guest at our hotel on Nusa Lembongan, and am so glad to have gotten this recommendation. While you'll need to either rent a moped or get a ride to Warung Nyoman, since it's not in the waterfront or main drag of Nusa Lembongan, it's worth it. Make sure to call ahead and see if jacket fish is available, since it's caught by spear fishing and isn't always available. This white fish has sweet, firm flesh and Nyoman grills it to perfection before serving it with rice, urap and sambal. I'd recommend just using sambal on the rice, because the fish's freshness and flavor are best enjoyed unadorned.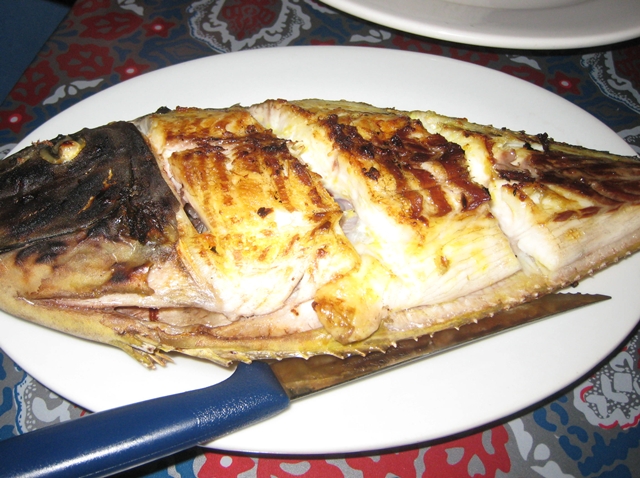 7. Chocolate Souffle and Pistachio Cream at Metis, Seminyak
In addition to Indiana Kenanga on Nusa Lembongan, the other must-try French restaurant in Bali is Metis. The munchkin had the most decadent "mac & cheese" I've ever tasted, enriched with foie gras and truffles, and I loved the cepes mushrooms that flavored the potatoes served with my duck confit. But the dessert of Caraibe Chocolate Souffle with Pistachio Parfait, Grapefruit Confit and Vanilla Cream was the star, and well worth planning in advance for (you should order it along with your main course, since it takes 25 minutes). Top quality dark chocolate, with the top puff of the souffle giving way to a silky almost fondant center, and perfectly paired with the pistachio cream we poured over it. Save room!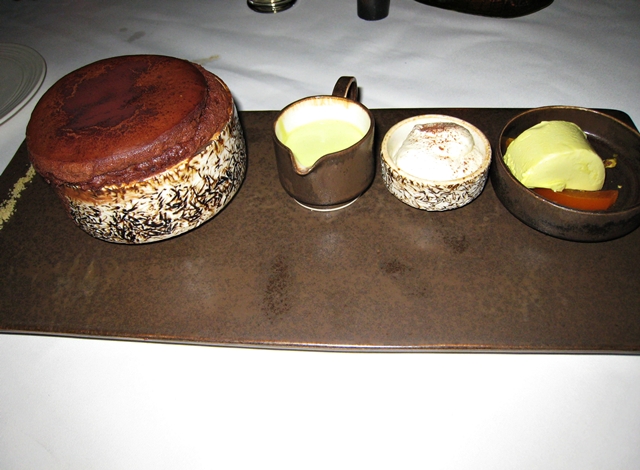 8. Beef Rendang at Komeneka at Bisma, Ubud
I've enjoyed beef rendang, which is more an Indonesian dish, as part of rijsttafel. But the version my husband enjoyed at Komaneka at Bisma is definitely the best I've tasted, and far superior to that of Cafe Wayan, a lovely looking spot near the Monkey Forest that came recommended but underwhelmed in terms of the food. In fact, Rendang Sapi is Komaneka at Bisma's Chef Signature Dish, so perhaps that's why it's so good. Make sure to order it with yellow (fragrant) rice, cooked with tumeric, lemongrass, and other spices, and liberally spoon the accompanying sambals on top of the rice to kick the spice level up a notch.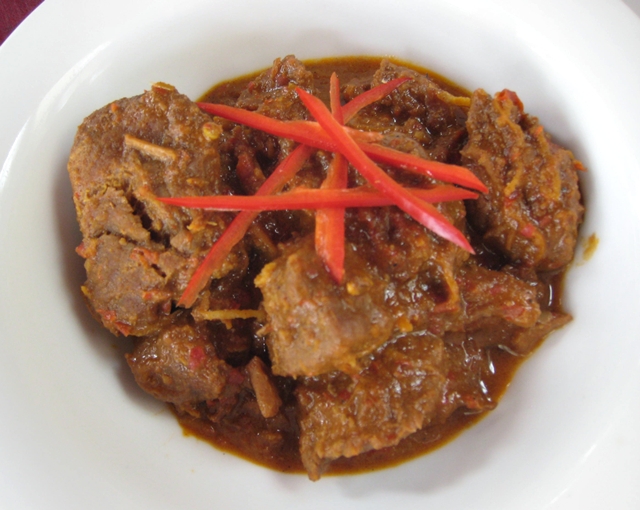 9. Fisherman Dish at Indiana Kenanga, Nusa Lembongan
My photo of the Fisherman Dish at Indiana Kenanga doesn't do it justice at all. In fact, it looks exactly like what I despise–molecular gastronomy with a lot of foam. But in point of fact, this was a standout dish, with a cumin corinder coconut sauce that enhanced the tangle of fresh seafood it surrounded, with a very fresh locally caught piece of seared tuna atop. It was also reasonably priced for this caliber of restaurant, at $15.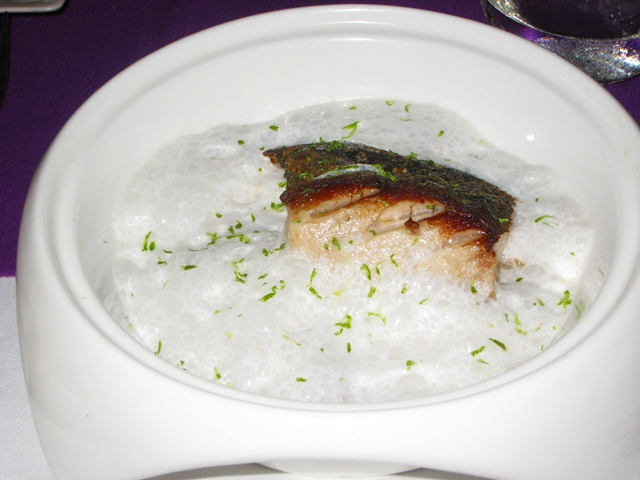 10. Mie Goreng
Mie Goreng (sometimes spelled Mee Goreng) is an Indonesian staple–fried noodles, usually with chicken and vegetables, served with a fried egg on top, and perhaps some sate with peanut sauce and pickle alongside. Our hotel in Nusa Lembongan, Batu Karang Lembongan, served a solid version for lunch that I ordered several times, but I'm sure you can find many good versions all around Bali.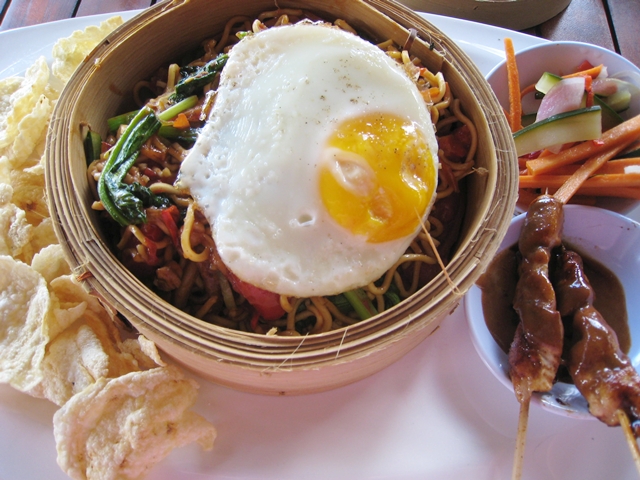 Related Posts
Disclosure: My family and I were guests of the Four Seasons Resort Bali at Jimbaran Bay, however the views expressed in this post are my own.