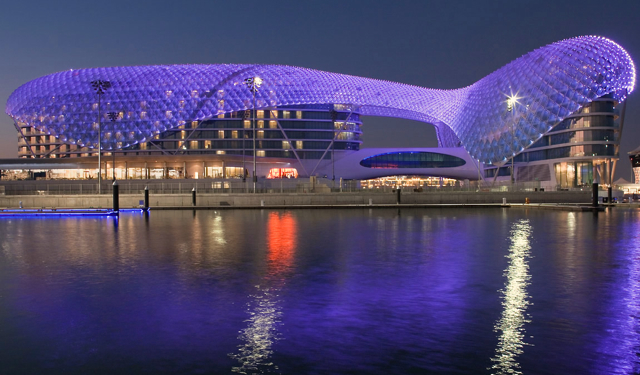 This Yas Viceroy Abu Dhabi hotel review is part of a Maldives trip report including Qatar Business Class, Etihad Business Class, Etihad First Class and the Park Hyatt Maldives. For prior posts please see:
Review: American Airlines Flagship Lounge in NYC, JFK
Review: Qatar Business Class NYC JFK to Doha
Review: Qatar Business Class Lounge, Doha
Qatar Business Class and Economy Class Review, Doha to Male, Maldives
Park Hyatt Maldives Hadahaa Review
Park Hyatt Maldives Island Grill Restaurant Review
Park Hyatt Maldives Water Villa Review
Park Hyatt Maldives Diving and Snorkeling
Park Hyatt Maldives Food and Menu
Park Hyatt Maldives Back of House Tour
Park Hyatt Maldives Interview with General Manager Julian Moore
Park Hyatt Maldives Activities: Top 10
Male: Plaza Premium Lounge Review
Etihad Business Class Review Male to Abu Dhabi
Our Yas Viceroy hotel reservation came about because of our 10 hour layover in Abu Dhabi. Although we would be flying Etihad First Class from Abu Dhabi and would have access to the First Class Lounge, which does have a sleeping room, the sleeping room is available first come first served, and I didn't want to risk not having a place to lie down overnight.
Getting There
The Yas Viceroy is just 15 minutes from the airport by taxi. After we exited the airport and got out some local currency from an ATM for the cab fare, we easily got a taxi to the hotel, which, as its name implies, is on Yas Island. Most folks would stay on Yas Island for Ferrari World, but of course we didn't have time this trip for any sightseeing–it was just for a good night's sleep. The nice thing about the futuristic looking, purple illuminated Yas Viceroy Hotel (see first photo) is that it's impossible to miss!
Check-In
We arrived, and there was a crowd of young hip folks dressed to the nines ready to argue with each other to get in the taxi we were vacating–looked like there had been quite a party. We made our way to the reception, and the staffer was very friendly, gladly making the call to set up an extra bed for our son at no charge, as well as some extra bottled water, when I inquired whether the tap water was potable (best not to drink it, was the reply).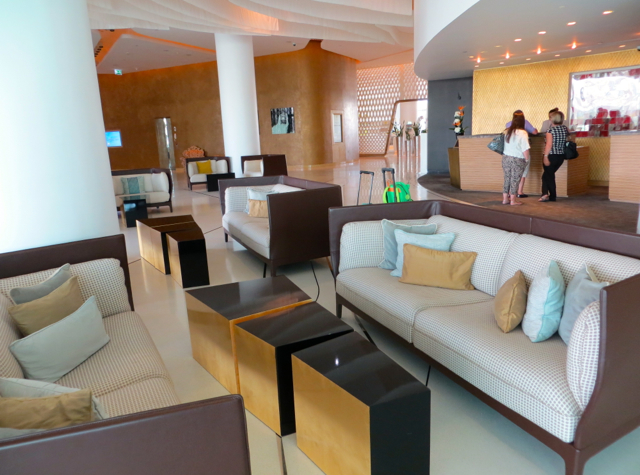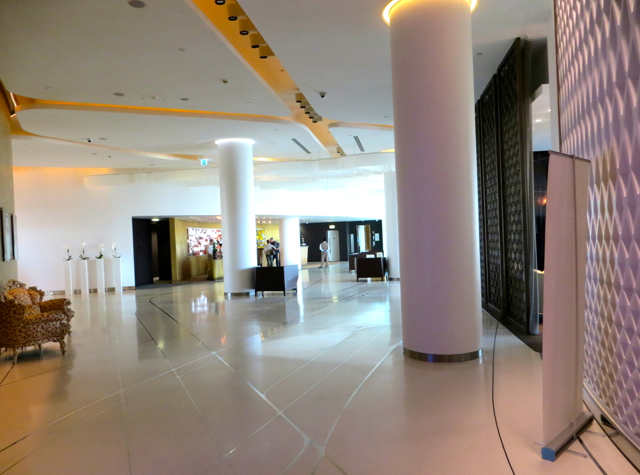 Room
I booked the entry level Deluxe Room, which was perfect for our needs–spacious, with ample room for the extra bed for the munchkin and immaculate. The modern design still managed to be comfortable–in this case, there wasn't that problem of style over function.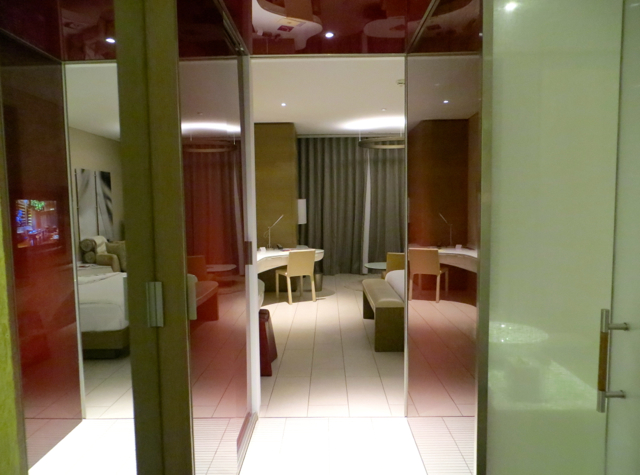 The King Bed was very comfortable: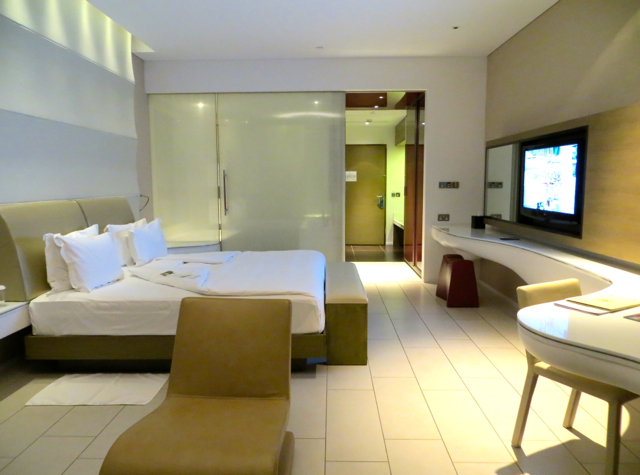 We never used the sitting area, but it warmed up the room a bit: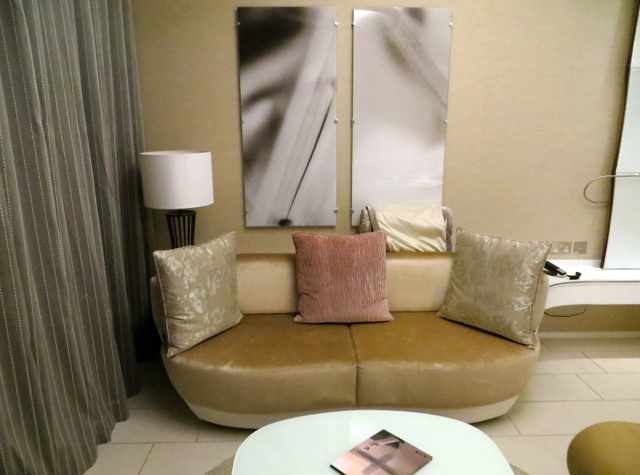 Across from the sitting area was the in-room bar, with glassware and a mini bar: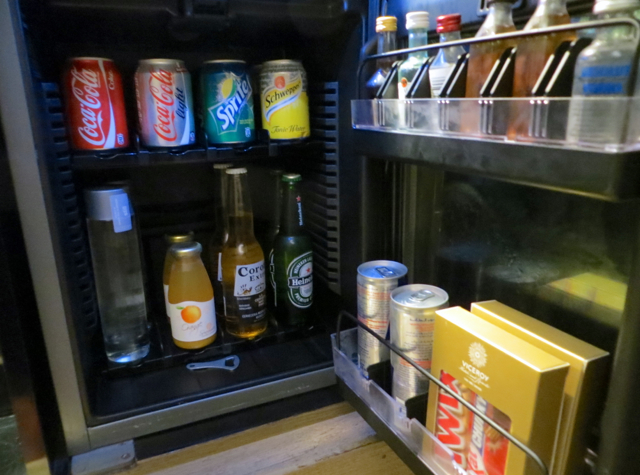 The bathroom included a separate bathtub and glass enclosed rain shower: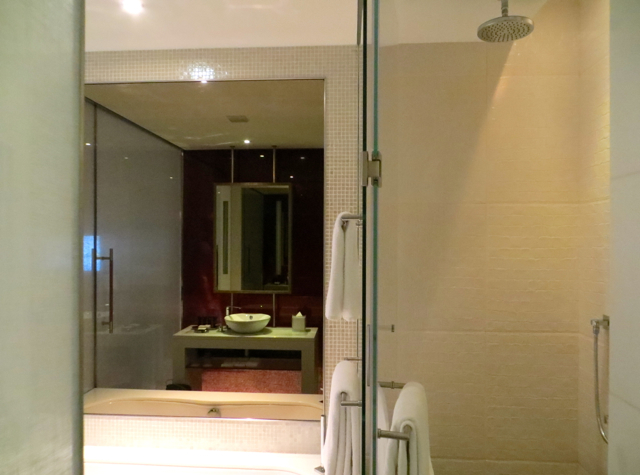 Bath amenities were a brand I'd never heard of, BeeKind, so nothing special at least to me, not that it mattered for a one night stay: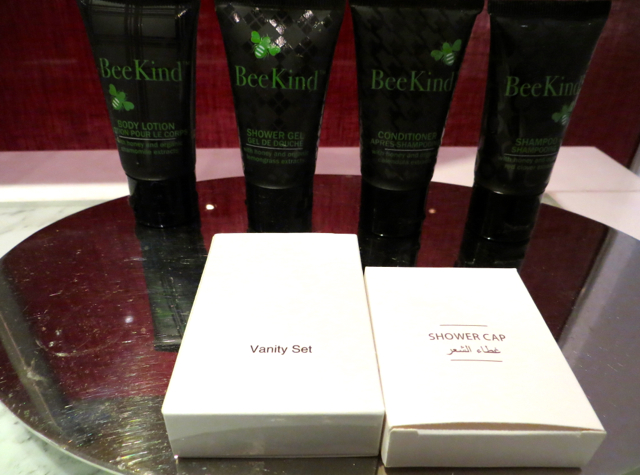 Pool and Fitness Center
There's a beautiful rooftop swimming pool, if a bit small: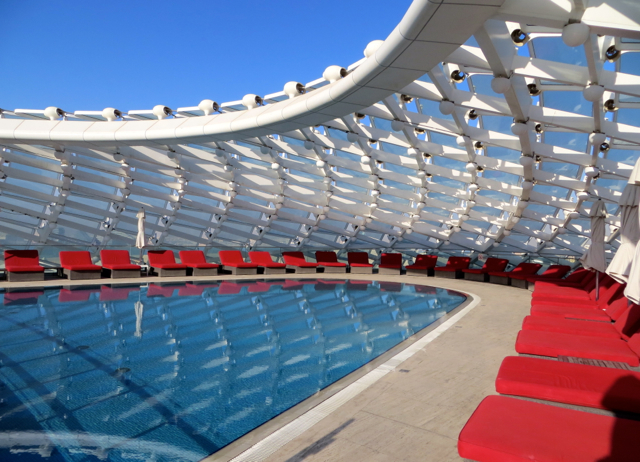 The Fitness Center access was initially quite confusing to me. I thought that the women's sign indicated a bathroom, but, as is no doubt the norm in the Middle East, there are actually separate women's and men's fitness centers side by side (actually one room once you get inside, but with a room divider).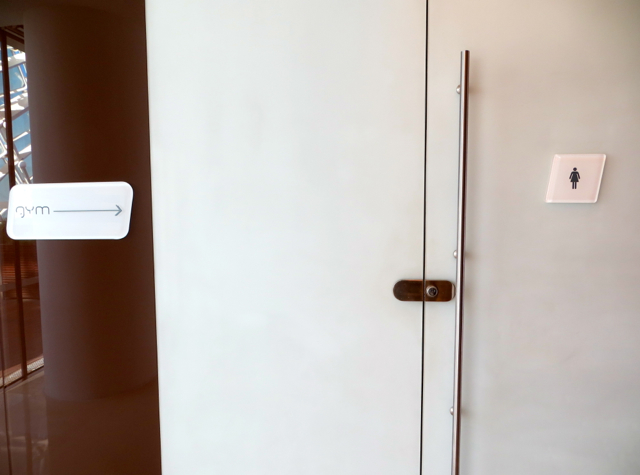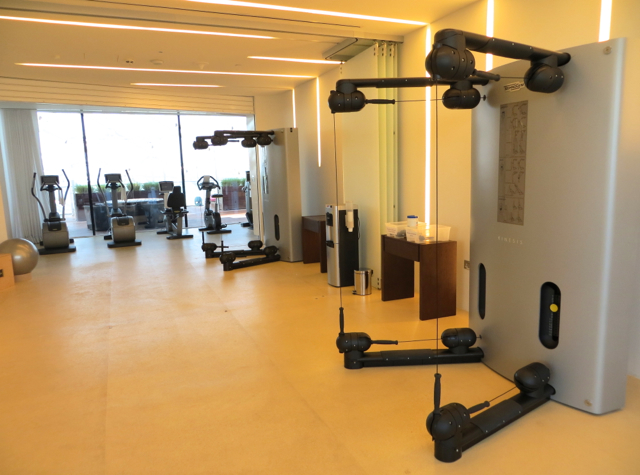 Breakfast Buffet at Origins Restaurant
We had breakfast included in our rate, so I thought it would be a shame not to check it out. I'm so glad we did–it's easily one of the very best hotel breakfast buffets I've experienced taking into account quality, not just variety. While there were cooked to order options, we were in a bit of a hurry so focused on the cold buffet items.
As I entered, I was greeted by the host, who asked if I'd prefer to sit indoors or outdoors. Given the heat, I opted for indoors, and he led me to a table. Although you help yourself to the buffet, servers periodically asked if I'd like more fresh squeezed juice or coffee, so I was well looked after.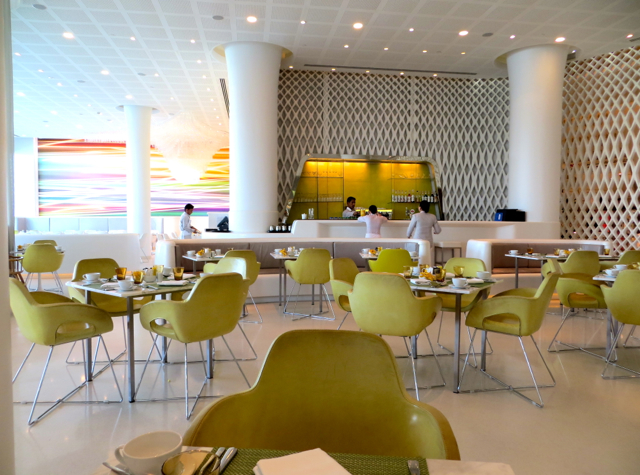 Here's the smoked salmon, smoked trout and other smoked fish: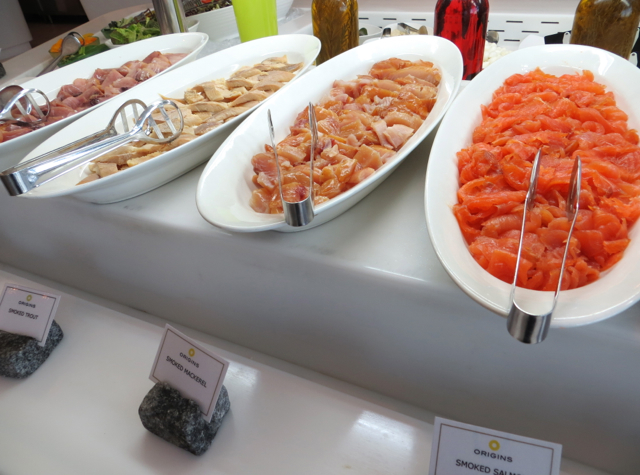 Middle Eastern dips, which were deliciously rich and creamy:
Cheeses–I loved that they offered Pont l'Eveque, which rarely appears on breakfast buffet (or even first class) cheese plates: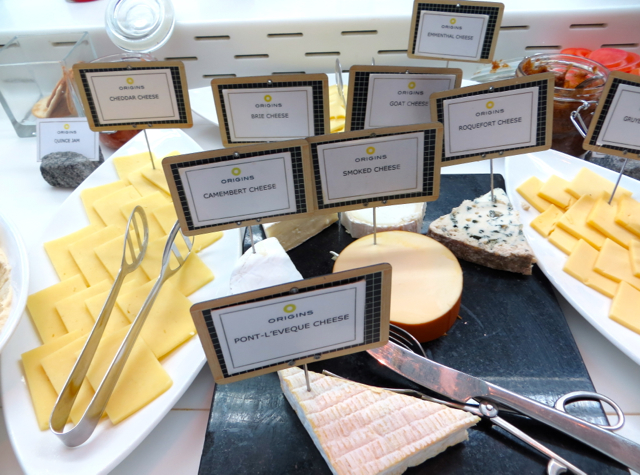 Fresh fruit, including rambutan: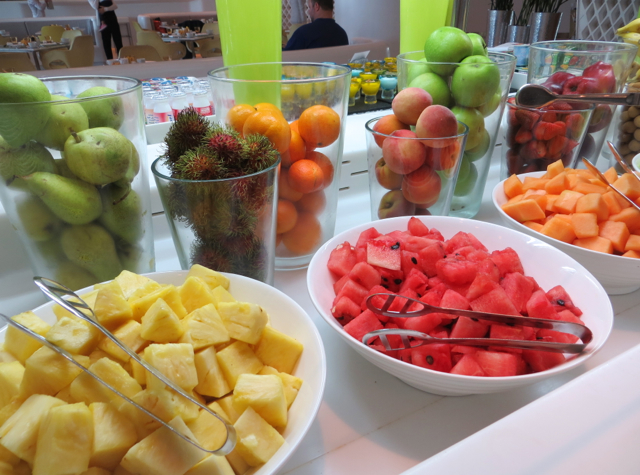 Breads and pastries–including an intriguing croissant with za'atar spice (a popular Arabian spice mixture of sumac, sesame seeds, oregano and sometimes other herbs):
There was no shortage of yogurt choices either: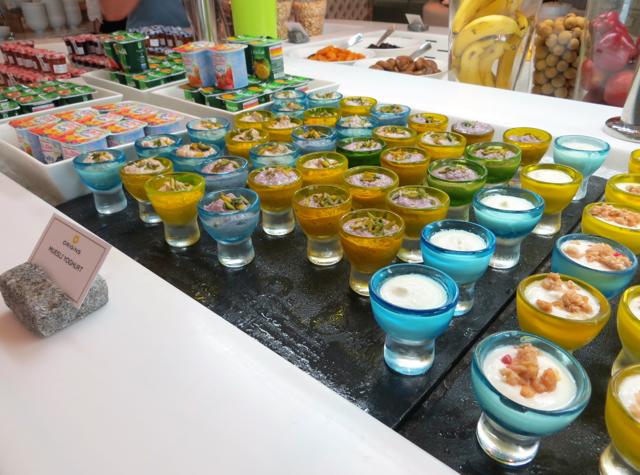 There were also fresh squeezed juices, smoothie, cooked food such as eggs, meats, etc., and some of the best apricot compote I've tasted. As usual, when faced with all these choices, I had a hard time deciding and tried a bit of each of my favorites on my first plate.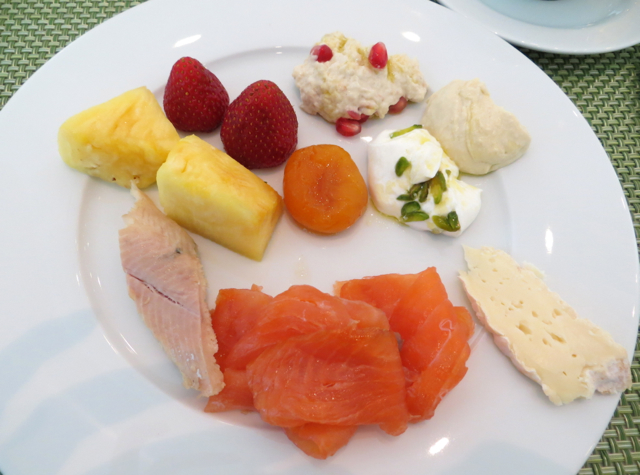 The only slight disappointment was that espresso drinks such as cappuccinos and lattes are not included in the price (although can be ordered for an additional charge) although of course regular or decaf coffee or tea is included.
The Verdict: My husband acclaimed the Yas Viceroy as his favorite city hotel to date. While I'm not sure I'd go that far, it was an incredibly good deal, and I was very pleasantly surprised by the quality of the room, service and especially breakfast, given the price. I would absolutely love to have a hotel such as this within 15 minutes of any airport where I had to overnight. One thing I'd been worried about was that, due to the proximity of the airport, I've seen guests who reported being bothered by the noise of planes flying overhead even late at night. We didn't hear a thing and our room was very quiet, so either we were lucky or our room placement (we were in Room 1420) helped.
I must say that now knowing there's such a nice hotel option close to the airport makes an overnight layover in Abu Dhabi a lot more attractive on future trips transiting Etihad's hub.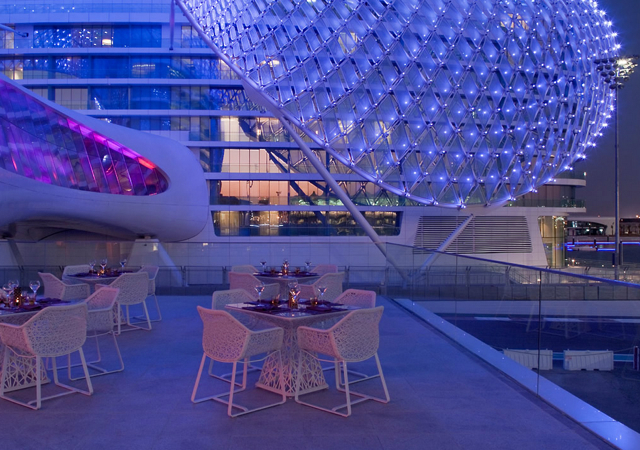 Have you stayed at the Yas Viceroy Hotel in Abu Dhabi?
Related Posts
Etihad Business Class Review Male to Abu Dhabi
Park Hyatt Maldives Hadahaa Review
Best Luxury Hotels in Abu Dhabi
Use American Airlines AAdvantage Miles for Etihad First Class
Need Award Booking Help? Our fee is as low as $75 per ticket if you book your hotel through us.
If you enjoyed this, join 90,000+ readers: please follow TravelSort on Twitter or like us on Facebook to be alerted to new posts.
Become a TravelSort Client and Book Your Hotel with Virtuoso or Four Seasons Preferred VIP Amenities!