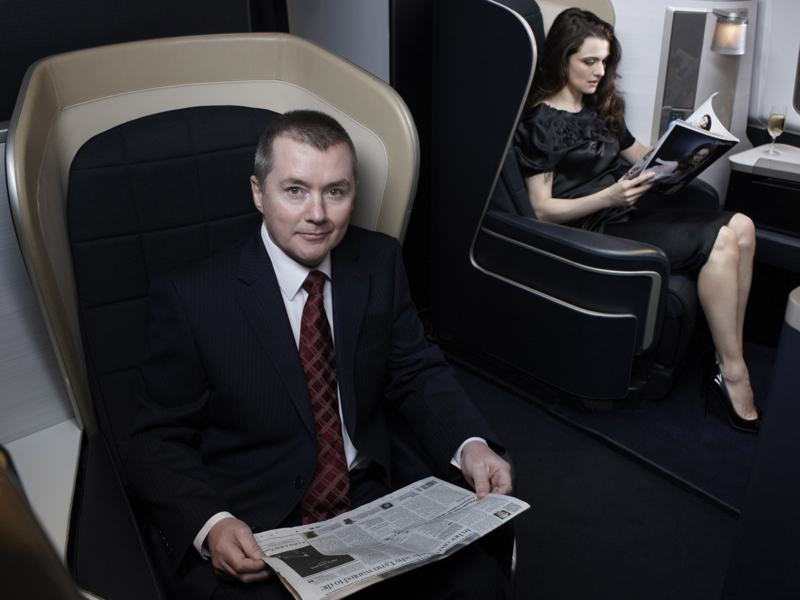 Which passengers get the best service on airlines? Can it depend on ethnicity, gender, language? The short answer: of course–just as pretty much anything else in life, airline service is not necessarily fair.
A TravelSort reader writes "I'm a young Asian woman who travels extensively in business class between the U.S. and Asia for work, and have elite status on [airline]. But I've noticed that even with my elite status, the flight attendants (almost without exception female) are much more attentive to and provide better service to older male passengers. Have you and your readers noticed this? What would you suggest doing, if anything?"
I have no elite status with any airline, so I'm the wrong person to ask for that aspect of the question, but hopefully some readers can chime in there.
My personal experience has actually been very good, but then again, I'm usually traveling first class and sometimes business class for major international travel, and often with the munchkin, which I'm convinced paradoxically gets me better service. Either because the flight attendants are worried about the munchkin disturbing the rest of the first class cabin, so they take extra good care of us, or because some of them are themselves mothers with young children and can relate to us a bit more than the older businessmen they usually see on these flights.
That said, I've definitely seen some references to different levels of service for different passengers. It happens in a variety of other human interactions, and airlines are not immune. Here are examples from my own as well as Flyertalk of real or perceived variations in service quality, depending on race or ethnicity :
Better Service in Lufthansa First Class for German Speakers?
Both my husband and I have flown Lufthansa First Class, and neither of us thought it was all that special. Here's my husband's Lufthansa First Class review, and here's my review of Lufthansa New First Class. Yet certainly my husband observed the flight attendants taking great care of the German business class passengers on board, and Ben of One Mile at a Time raves about it (despite not looking like an older businessman) and is also German speaking. Sure, it's possible that our experiences were anomalies, so I look forward to hearing of others' experiences, which language they were speaking to the cabin crew, and whether the experiences were similar or different from ours.
Better Service on Cathay Pacific for Caucasians and Cantonese Speakers?
"CX will downgrade your service if you are not Caucasian or speak Cantonese. Caucasian > Look nothing like Asian > Speak English > Speak Cantonese > Speak Other Languages including Mandarin. It gets worse depending on which cabin you are in, your status with CX and which kind of crew you get." —coolfish1103, Flyertalk
Worse Service on British Airways for Non-Whites and Non-Indians?
"I am HK Chinese. I have never felt any better treatment. From what I experienced before, CX is not so much racially-biased in any aspect.
Try BA for a day and you will immediately know racism is not yet dead in this world. For non-white and non-Indian people like me, it is always a complete lower-class experience on BA. Many times, I tried to return to my seat from the bathroom and somehow the BA FAs would come and police the policy of 'going back to your cabin'. I need to show my J boarding pass to prove I am a J passenger returning to my J seat after using the J bathroom. Never an apology for the annoyance." —livetutravel, Flyertalk
Meal Preferences Honored More for Japanese Customers Than Non-Japanese on Japanese Airlines?
"Travelled from JFK-NRT [on Japan Airlines] sitting in 14E, ordered Japanese meal. After taking all orders, the attendant came and told me that they had run out of Japanese meals, and that they could offer me something from the second meal menu, or the Western first meal.
However, it was a bit strange that everyone else in my row (all Japanese) got their first choice of Japanese meal, and I also spotted several bento boxes going to the rows behind me.
Just wondering if anyone knows their policy, as the only way I can explain how I was the one singled out not to receive my first choice after all orders were taken is that 1.) I had been discriminated against for not being Japanese or 2.) They operate some kind of lottery system after taking all orders and I drew the short straw." —minibook, Flyertalk
"This comes up here and at ANA quite a bit….When a similar situation happened on ANA, I called them out on it. I bought my ticket on ANA as a one-way business class ticket through United for almost $3000. They told me they didn't have any Japanese meals left, I said, "is this because I am the United Customer…..". They made a face, came back to me 5 minutes later and apologized, and gave me the Japanese meal…" —peloton, Flyertalk
Better Service for Arabs and Caucasians on Qatar Airways?
"Qatar Airways used to have a training manual that specifically stated that Caucasian and Arab passengers should be treated with priority ahead of South Asian and SE Asian passengers." —B747-437B, Flyertalk
What to Do if Your Service Seems Subpar, But Others Are Getting Great Service?
1. Give the Benefit of the Doubt
Sometimes we take things personally that are simply business. It could be that the greater attention you see being paid to someone else in your cabin is due to higher elite status or simply because s/he actually knows or is familiar with the flight crew, say if they fly this route often. Try not to let it make you defensive, since that can lead to a downward spiral in your interactions with the flight crew.
2. Ask for What You'd Like, Confidently But Politely
While it helps if cabin crew are intuitive, you can't count on them to be mind readers. Just be forthright and ask directly but politely for what you'd like, making reasonable requests of course, that take into account other passengers' needs and the cabin class you booked. Also keep in mind that different airlines have different styles in terms of service; Singapore Airlines flight attendants in Singapore First Class or Singapore Suites are generally very proactive about asking you if they can help, whereas Cathay Pacific, Etihad and most other carriers, even in First Class, tend to be more hands off and wait for you to request a service from them.
3. If It's a Big Enough Deal, Speak with the Purser
Don't stew about real or perceived lapses in service; if you notice much better service from another flight attendant who's not serving you, it's early on in a very long flight, and it will really affect your enjoyment of the flight, I'd recommend speaking privately with the Purser of your flight, and asking if that attendant who is providing such great service to other passengers can also be the attendant providing service to you. Phrase it more in terms of the positive service of that other flight attendant, rather than the lapses in service you're experiencing from your current flight attendant.
4. Provide Feedback
The only way an airline (or any other service provider) can improve is if you and other customers provide feedback. So try to provide feedback, both positive and negative, about your experience, to help staff improve.
Have you noticed any differences in service on an airline based on your (or other passengers') ethnicity, gender, or other immutable characteristics?
Related Posts
How to Complain to Airlines and Hotels – and Get Compensated
Airline Passenger Bill of Rights-What Are Flyers' Rights?
Top 12 Airline Ticket Booking Errors to Avoid
Top 10 Frequent Flyer Airline Mile Mistakes and How to Avoid Them
Best First Class Airline Seats for Couples
Need Award Booking Help? Our fee is as low as $75 per ticket if you book your hotel or cruise with TravelSort.
If you enjoyed this, join 150,000+ readers: please follow TravelSort on Twitter or like us on Facebook to be alerted to new posts.
Become a TravelSort Client and Book Luxury Hotels with Virtuoso Benefits!