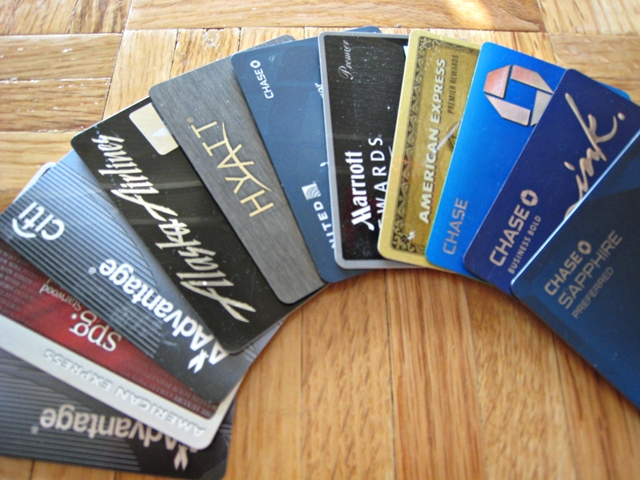 Which travel rewards credit card is best to be able to redeem towards free travel on any airline? A TravelSort reader writes:
"I'm completely new [to miles and points], but I decided to get more information and decide on a reward credit card…as I go to Brazil with my family every year and decided that it's time to make use of the huge amount of money we spend on traveling. But I would like a credit card that could allow me to buy tickets with any airline and still accumulate miles, through everyday spending.
I was considering the [credit card] but the reviews on customer service are soooooo bad that i don't think I want that headache."
This question touches on a key question for many folks: traditional airline credit cards, that earn miles in a single frequent flyer program, vs. credit cards that earn transferable points that can be transferred to some (but not all) frequent flyer programs, vs. certain travel cash back cards.
Here's my take, with the pros and cons of each:
Airline Credit Cards
Airline credit cards are specific to a given frequent flyer program; for example the Citi Executive AAdvantage Card with 100K Bonus earns AAdvantage miles. These miles, as you'd expect for a loyalty program, cannot be transferred to any other mileage program–they must be redeemed through that airline's frequent flyer program.
Currently I prefer AAdvantage miles (earned with the 100K Citi Executive AAdvantage) and US Airways Dividend miles (earned with the US Airways Premier World MasterCard and US Airways Share Miles Bonus Offers) to redeem on oneworld partners, due to the United Award Chart Devaluation earlier this year, although the United devaluation primarily affects business and first class awards to Asia, Europe, Africa and Australia awards, and hasn't affected South America as much.
Pros
Cons
Miles not transferable to any other airline
Award chart for that airline could devalue at any time with or without notice

Subject to frequent flyer program award availability
Transferable Points Credit Cards: Ultimate Rewards, AMEX Membership Rewards and SPG Points
Transferable points credit cards are those that either earn the issuing bank's own currency, such as Chase Ultimate Rewards points or AMEX Membership Rewards points, or, in the case of the SPG AMEX, Starwood Preferred Guest points that are hotel loyalty points but can most valuably be used to transfer to airline programs (see SPG Airline Partners: Transfer Starpoints to Miles).
Pros
Can transfer points to some (although not all) airlines
Can have large signup bonuses (although typically not the SPG AMEX)
Can have good category bonuses, e.g. 5X for Ink cards at office supply stores and 3X for airline spend with AMEX Premier Rewards Gold and AMEX Business Gold cards
Since points are transferable, good way of hedging against devaluation in any one program
For many Ultimate Rewards and Membership Rewards airline partners, transfer is instant

Transfer bonuses: periodic transfer bonuses with UR and MR points, and an ongoing SPG 25% transfer bonus when transferring in increments of 20,000 points
Cons
Not all airlines are transfer partners
Annual fee, especially for AMEX cards, is high after the initial first year
SPG: points transfers can take weeks
Subject to frequent flyer program award availability
Some cards (all AMEX cards except Platinum) have foreign exchange fees, so not good when traveling abroad
Travel Cash Back Cards
The only way to truly be able to use points for any airline is either with "Pay with Points" (available both with AMEX Membership Rewards and Chase Ultimate Rewards points), which is a terrible deal compared to transferring points to mileage programs, or with a travel cash back card, such as Capital One or other cash back cards.
Pros
Can redeem for ANY airline or travel purchase, with no blackout dates or dealing with limited award availability
Can redeem for taxes, fees and fuel surcharges paid on an award ticket
2X for all purchases
No foreign exchange fees
Cons
Cash back type rewards works best for economy class, award ticket taxes, or other travel redemptions in the hundreds of dollars, not thousands of dollars
Can't get "outsize" value the way you can with international first class awards booked through a frequent flyer program
My Recommendation
In this reader's shoes, I would recommend getting one card from each group, specifically the 100K Citi Executive AAdvantage card in order to take advantage of award travel when possible (and oneworld is well positioned for Brazil and South American travel), but also redeem for paid travel when no awards are available.
For a transferable points card, a choice among an Ultimate Rewards card, AMEX Membership Rewards card or SPG AMEX may come down to what this reader's high spend categories are. While the SPG AMEX offers the most airline partners, it comes with the smallest signup bonus and the disadvantage of a significant lag time when transferring points, so I'd recommend an Ultimate Rewards or Membership Rewards card instead. Avios could be useful for short flights, and Membership Rewards sometimes has transfer bonuses to Avios, so that may be worth getting, especially if the reader is targeted for a higher than normal signup bonus.
Frequent Flyer cards, transferable points cards and travel cash back credit cards are complementary, and I recommend holding at least one if not more from each group, to maximize your rewards.
Ultimately, it's important to understand that the freedom to redeem for ANY airline can come at significant cost, so multiple credit cards and diversifying your miles and points portfolio can be key to providing yourself options and still getting great value from your awards.
What's your strategy in terms of maximizing travel rewards while being able to redeem miles for multiple airlines?
Related Posts