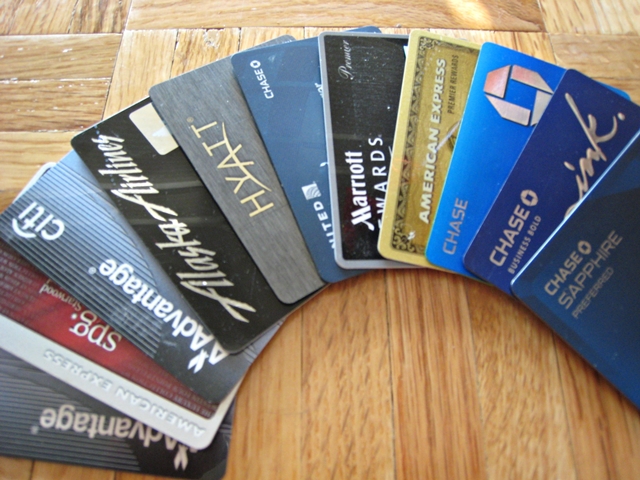 Which credit card should you use for what? I have somewhere between 10-20 credit cards (let's leave it at that) and of these there are 7 that I'm currently using. If you have a number of credit cards or are considering applying for some new ones, it helps to have a system for which cards you use for which expenses, to maximize your miles and points earning. Here's my current lineup, listed by type of expense:
Rent or Mortgage: AMEX Bluebird (If Easy Access to Vanilla Reloads or Walmart)
The ideal is to have easy access to Vanilla reload cards that you can buy with credit card and use to reload your AMEX Bluebird. Since the monthly limit is $5000, that won't cover mortgage or rent for everyone, but if your spouse or partner also has an AMEX Bluebird and you can buy enough Vanilla reload cards, $10,000 will cover monthly rent or mortgage payment for most folks.
Another alternative is to buy gift cards at an office supply store with your Ink Bold or Ink Plus, assign a PIN, then load these for free onto your AMEX Bluebird at Walmart.
Unfortunately, if you're in NYC or another place where Vanilla reload cards are scarce and there's no Walmart, it's still hard to earn miles and points while paying rent or mortgage in a cost effective way.
Air Tickets (USD, Transaction Processed in U.S.): 3X to 5X via AMEX Premier Rewards Gold and UR Mall
If you're purchasing airline tickets that are denominated in dollars and the transaction is processed in the U.S., you can get anywhere from 3X (simply using the AMEX Premier Rewards Gold card or AMEX Business Gold Rewards Card) to 5X, if you can accept some risk and click through Travelocity in the Ultimate Rewards Mall. See
Maximize Frequent Flyer Miles When Booking Flights
Air Tickets (Foreign Currency or Transaction Processed Outside of U.S.): 2.14X via Sapphire Preferred
If you need to buy an airline ticket abroad or pay taxes and fees for one that is processed abroad then you won't want to use the AMEX Premier Rewards Gold card, since it incurs foreign transaction fees. Instead, put it on your Sapphire Preferred so that at least you'll receive 2.14X points (the 2 points for a travel category purchase + 7% annual dividend) with no foreign transaction fees.
Dining, U.S.: 5X via Chase Freedom
You could also earn 6X Hilton HHonors points with the Hilton Surpass, but frankly I'll take 5X Ultimate Rewards points any day, especially after the
massive Hilton HHonors devaluation
.
Dining, International: 2.14X via Sapphire Preferred
While the Chase Freedom is great for dining spend in the U.S., you'll want to keep your Sapphire Preferred handy for dining when abroad, to avoid foreign transaction fees. Note that because of the 7% annual dividend, the Sapphire Preferred earns an effective 2.14X points and is still better than the Hyatt Visa for dining, which earns 2X in Hyatt Gold Passport points (which also aren't quite as valuable as transferable Ultimate Rewards points).
Grocery, U.S.: 2X via AMEX Premier Rewards Gold or 6X via Hilton HHonors Surpass
Now, some folks will prefer of course to earn 6X Hilton HHonors points even post-devaluation, but since I've already burned a bunch of Hilton points on a Hilton AXON award and don't have any other Hilton awards on the horizon, I personally prefer to earn 2X Membership Rewards points for my grocery spend. Do what works best for your situation.
Transportation >$10 and All Transport Outside the U.S.: 2.14X via Sapphire Preferred
By transportation, I'm referring to all ground and water transport: subways, buses, trains, ferries, car rentals, tolls, and taxis. For subway card refills and larger transportation expenses, taxis to the airport, etc. I use the Sapphire Preferred. And of course for transportation while traveling abroad, you want to use the Sapphire Preferred to avoid foreign transaction fees.
The only exception is if the Sapphire Preferred literally doesn't work, due to not being an EMV chip card. There are automated transit ticket machines, unmanned toll booths in France, etc. that only accept chip enabled credit cards. In that case, consider using the Hyatt Visa or your AMEX Platinum (if you have one with an EMV chip) or see other suggestions in
Best EMV Chip Cards in the U.S.
Transportation <$10: Chase Freedom (Old Chase Exclusives)
I'm (luckily) on the old Chase Exclusives program through the end of 2013, and I take full advantage of that being in NYC. On a typical day I have at least 3 transactions on my card, and even for a non-bonus category such as transport, it earns 10 points per transaction, in addition to the dollar amount spent and 10% of the transaction amount. That's why for short taxi rides or a cheap transport ticket I always use my Chase Freedom.
Amazon and Other Shopping: 5X via Ink Bold or Ink Plus and Gift Cards
The bulk of our non-grocery shopping is via Amazon, so we love being able to earn
5X points on all Amazon spend
. For certain retailers, if you can find their gift cards at an office supply store and they offer extra bonus points in the Ultimate Rewards Mall, you can earn even higher bonuses. For a few examples, see
Ultimate Rewards Mall Deals
–even though this was for April, many of these are still valid in May.
Non Bonus Category Transactions
Frankly your best bet for transactions that you can pay by credit card and don't fall into one of the bonus categories above is to use a card that you're working on meeting minimum spend for.
1. New Credit Cards: Work on Minimum Spend
Assuming you applied for a card with a lucrative signup bonus, this should be your first choice for non bonus category spend. Of course you can supplement with other ideas from our
tips on meeting minimum spend
but it's good to ensure some real (not just manufactured) spend goes on the card.
2. Existing Credit Cards: Work on Retention Bonuses
Although usually not as lucrative as sign up bonuses, retention or other incentive spend bonuses are another good bet for your otherwise nonbonused spend.
3. Chase Freedom
My small nonbonused spend always goes on my Chase Freedom, because of Chase Exclusives (10 + 10) giving me 10 bonus points per transaction as well as 10% of the transaction in bonus points.
4. Starwood Preferred Guest AMEX
Normally the above three uses mean I hardly use my SPG AMEX anymore for nonbonused spend, but if I had a large nonbonused transaction and didn't have any more spend thresholds to meet the SPG AMEX would be a decent choice, since it can be thought of as 1.25X: 20,000 SPG points transfer to 25,000 airline miles in a variety of programs. See
Starwood Preferred Guest Airline Transfer Partners: Turn SPG Points into Miles
Hyatt Hotels, U.S.: SPG Business AMEX with OPEN
While normally you would use the relevant hotel card for your stays that are booked directly with that hotel, you'll be better off putting Hyatt stays in the U.S. on your SPG Business AMEX card. That's because, thanks to the OPEN savings, you receive a 5% discount when you pay with the SPG Business AMEX (in the form of a statement credit) and SPG points are generally valued more highly than Hyatt points, due to the airline transfer benefit above.
For paid stays at international Hyatt hotels, however, you'll want to stick with the Hyatt Visa to avoid foreign transaction charges.
What's your strategy when it comes to which credit card to use for what?
Related Posts
Maximize Frequent Flyer Miles When Booking Flights
Which Credit Cards to Keep, Close, Trade and Apply For
Need Award Booking Help? Our fee is as low as $75 per ticket if you book your hotel through us.
If you enjoyed this, please follow TravelSort on Twitter or like us on Facebook to be alerted to new posts.
Become a Member to book your perfect luxury or boutique hotel at wholesale prices: TravelSort Hotels