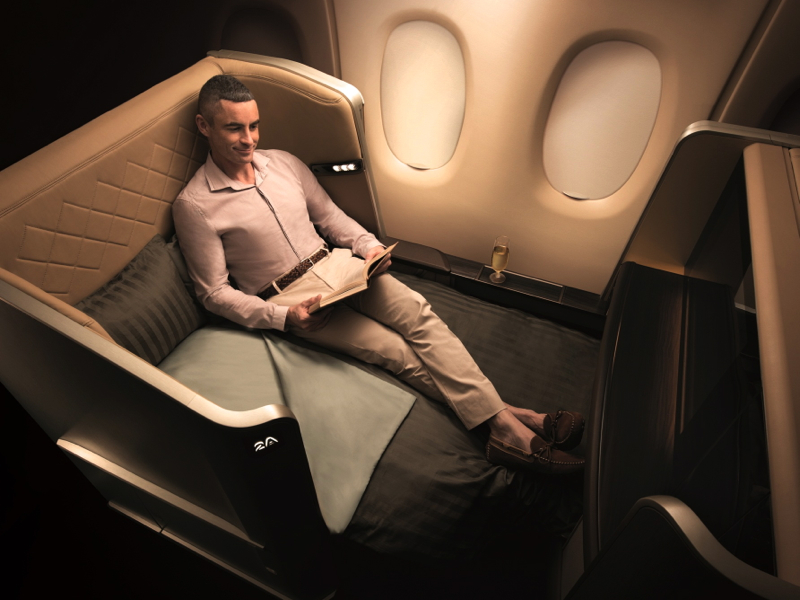 Which Business Credit Card is Best for Travel Rewards? TravelSort client Neil writes "I'd love to apply for the 150K AMEX Business Platinum, but haven't received a targeted offer. What are the other top business credit cards I should apply for? My business spending is about $100,000 per year and I'd like to maximize it to earn miles and points for flights, preferably international first class or business class to Asia where I travel about 3 times a year. As you know, I'm not interested in hotel cards since I prefer Four Seasons, Peninsula and Rosewood hotels which you're already reserving for me with great perks."
3 Reasons to Apply for A Business Credit Card
If you have a small business, there are several reasons why it makes sense to apply for a business credit card, rather than just using one of your personal cards for business expenses:
1. Accounting: Separate Out Business Expenses from Personal Expenses
It makes things a lot easier when it comes time to do taxes to have all your business expenses on business credit cards that you only use for your business.
2. Credit Utilization Not Reflected on Your Personal Credit Report for Business Cards
Credit utilization is an important part of your FICO credit score (see Understanding How Your Credit Score Works to Maximize Credit Card Rewards). That's why if, for example, you have a total credit limit of $25,000, you don't want to make a $20,000 purchase and wait until the statement closes to pay it–you'll want to pay it off right away, so that it does look as though you're using 80% of your credit line.
The good thing is that with small business credit cards, this utilization doesn't show up on your personal credit report. So when you have large business purchases, make sure they always go on your business credit card.
3. Better Sign-up Bonuses for Business Cards
Currently, several business cards offer better signup bonus offers than personal cards. The targeted 150K AMEX Business Platinum bonus is a case in point–I haven't heard of anyone recently being targeted for a 150K AMEX Platinum for the personal charge card.
Similarly, the 60K Ink Plus is a better offer than the 40K Chase Sapphire Preferred (although do note that the $95 annual fee is not waived for the 60K Ink Plus as it is for the first year for the Chase Sapphire Preferred).
4. AMEX Business Cards Can Be Applied for Again–But Personal Cards Are Once in a Lifetime
Since May 2014, American Express has limited signup bonuses for personal AMEX charge cards and credit cards to once in a lifetime, so if you previously earned a bonus for a card such as the AMEX Premier Rewards Gold card, you won't be able to earn the signup bonus again.
AMEX Business cards however do permit you to earn the bonus again, subject to the terms and conditions–typically those who don't current have the card and have not had that particular AMEX business card anytime within the past 12 months.
1. Targeted 150K AMEX Business Platinum or 100K AMEX Business Platinum
While Neil so far hasn't been targeted for these offers, if you do receive a 150K AMEX Business Platinum or 100K AMEX Business Platinum offer, jump on it. The current public bonus for these cards is just 40K, so these are great deals if you can get them. It helps if you are NOT a current AMEX cardmember or are a lapsed card member. Both my husband and I eliminated all our AMEX cards (except a no fee AMEX card I keep to help with my credit score, via improving my average age of accounts) and didn't have any fee paying AMEX cards for a year before we got targeted for these.
In my view, these cards are really all about the signup bonus, and Maximizing the AMEX Platinum Airline Fee Credit as well getting the AMEX Global Entry fee reimbursement (if you don't already have Global Entry) to help defray the card's high $450 annual fee in the first year. Unfortunately the AMEX Platinum really isn't great for day to day spending, as there are no bonus categories.
2. 60K Ink Plus
The usual Ink Plus offer is 50K, with the $95 annual fee waived the first year; the current signup bonus offer is higher, 60K Ultimate Rewards points, but the $95 annual fee is NOT waived. The Ink Plus is actually the only card I pay an annual fee for and is my primary business card. Why? Because it has some lucrative 5X categories: phone, Internet and office supply stores (which enable 5X on all Amazon spend and 5X on all Whole Foods spend) and 2X on hotels.
I also value Ultimate Rewards points more highly than AMEX points, because in addition to 1:1 transfers to Singapore KrisFlyer, Ultimate Rewards points transfer 1:1 to Korean Air Skypass, United MileagePlus, Hyatt Gold Passport and British Airways Avios (AMEX Membership Rewards points have devalued and now transfer at 1.25:1, see Transfer AMEX Membership Rewards Points to British Airways Avios Before the Devaluation?)
3. 50K Citi Business AAdvantage Card (see Best Travel Credit Cards page for link)
It's no secret that AAdvantage miles are some of my favorite frequent flyer miles at the moment, thanks to a great award chart and the ability to redeem for Etihad First Class, Qantas First Class on the A380, Cathay Pacific First Class and Air Berlin Business Class with no fuel surcharges to and from Europe. Even with the 400,000 AAdvantage miles we earned last year we didn't have enough and have bought AAdvantage miles when there have been bonus offers for buying miles. And fortunately American processes its own buy miles transactions, so unlike most airline buy miles offers (which are processed by points.com) you can earn bonus miles using your AAdvantage credit card or card that bonuses airline spend.
4. Targeted 75K AMEX Business Gold or 50K AMEX Business Gold
Earlier this year I was able to consistently see a targeted 75K AMEX Business Gold offer whenever I searched in my browser, but I didn't want to take on another $10K of minimum spend given other minimum spend I was meeting. I just recently applied for and got approved for a 50K AMEX Business Gold offer for $5K minimum spend. What I like about this card is the 3X bonus on all air fare if you choose this as your 3X category. You could choose among 4 other categories: advertising purchased in the U.S. to promote your business online, on television, or on the radio; gas purchases at gas stations in the U.S. (superstores, supermarkets and warehouse clubs that sell gasoline are not considered gas stations); shipping services purchased in the U.S. for courier, postal, and freight; and computer hardware, software, and cloud computing purchases in the U.S. made directly from select providers.
But for my business, airline spend is the most valuable, particularly as it's not confined to the U.S., and the card no longer charges foreign transaction fees. In addition to paying taxes/fees on award tickets, we often do need to purchase positioning flights in Europe or Asia from low cost carriers, so this is perfect.
5. Targeted 70K United MileagePlus Business Card
I personally haven't been targeted for this 70K offer but have heard of others who have. I did recently get the 50K United MileagePlus Business card as part of our ongoing goal to diversify our miles and points and since I needed some MileagePlus miles for positioning flights, but I rank this card lowest since we rarely redeem MileagePlus miles ever since the 2014 United Award Chart Devaluation.
Bottom Line
For Neil, since he hasn't received the targeted offers for the 150K or 100K AMEX Business Platinum, and because he often travels to Asia, I would recommend the Ink Plus and 50K AMEX Business Gold if he can see it (but not the 25K public offer which is very low). That will give him 120K points that he can transfer to Singapore KrisFlyer to book Singapore Suites on the A380 or Singapore Business Class to Asia. The 50K CitiBusiness AAdvantage is also a good deal and can be used to book Cathay Pacific Business Class (or, with date flexibility, Cathay Pacific First Class) to Asia, if he tops up his account with SPG points transferred to AAdvantage or by buying AAdvantage miles when there's a buy miles bonus offer.
Which is your favorite business credit card either for the signup bonus or for ongoing earning of frequent flyer miles and points?
Related Posts
70K United MileagePlus Explorer Business Offer (Targeted)
Which Travel Credit Card to Maximize Miles Earned for American Airlines Flights?
How to Decide to Close or Keep a Credit Card?
100K British Airways Visa for $20K Spend: Worth It?
Our 2015 Progress Towards 1 Million Frequent Flyer Miles and Points
Need Award Booking Help? Our fee is as low as $75 per ticket if you book your hotel through us.
If you enjoyed this, join 200,000+ readers: please follow TravelSort on Twitter or like us on Facebook to be alerted to new posts.
Become a TravelSort Client and Book 5-Star Hotels with Virtuoso or Four Seasons Preferred Partner Amenities!