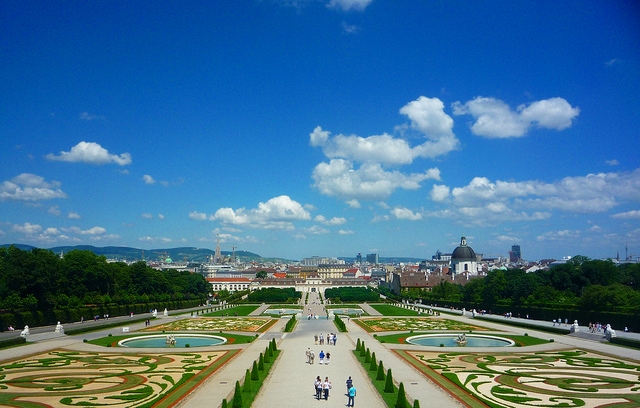 Why go

What is the first thing that comes to your mind when you think of Vienna? Is it history? Is it architecture? Is it classical music and Mozart? There are many reasons to visit Austria and its capital city; but perhaps surprisingly for some, food is definitely one of them. Vienna offers a wide variety of places to dine, from sumptuous Michelin-starred feasts to local spots serving schnitzel, goulash, and other hearty fare. Don't forget the excellent Austrian wines to accompany your meals, or Vienna's legendary pastries, from the decadent Sacher Torte to strudel with a variety of fillings. And once you've sated your hunger, enjoy world-class culture, from the Belvedere with the largest collection of original Klimt paintings in the world, to opera and ballet at the Vienna State Opera House.
Insider Tips
If you're planning your trip for July, August or close to Christmas, be sure to make your hotel bookings well in advance, as these are peak seasons and the city tends to fill up. Try instead to visit during the spring or fall, when it's less crowded, you'll get better deals on hotels, and the weather is generally sunny, clear and comfortable, neither too hot nor too cold.
That said, if you're willing to plan ahead, December is a magical time to visit, Don't miss the Christmas village with all its traditional holiday food, sweets, decorations and carolers. It is the season to learn the traditional side of Vienna.
To get from Vienna Airport to the city center you can take the City Airport Train, which takes 16 minutes and runs every 30 minutes (one-way 9 Euros, round trip 16 Euros if purchased online), use Airport Express Buses which take about 20 minutes and also run every 30 minutes (7 Euros one-way, 12 Euros round trip) or the Vienna Airport Service taxis (27 Euros to Vienna for a maximum of 3 people in the car), or Airport Express Buses. There's also the regular city train (S-bahn) which is less than 5 euros one-way, but discounted to 2.20 Euros if you already have the Vienna Card.
If you want to visit a lot of attractions within a 3-day period, check out the Vienna card, which gives you over 200 discounts in the city's museums, theaters, cafes and restaurant, plus free subway, bus and tram travel, all for 18.50 Euros.
If you plan on using public transportation to get around the city, plan on buying a ticket before boarding a bus/tram or train. Depending on the duration of your visit you can buy tickets which range from a single ticket to a monthly pass or even a yearly pass. Check the Vienna Metro Web site for more info.
If you prefer walking and roaming around the city, be sure to bring comfortable footwear. If you're visiting in the winter, there may be snow and temperatures are in the 30s, so don't forget to pack some warm clothes.
If you love walking, you can have a nice stroll starting at St. Stephan's Cathedral then proceed to the Emperor's Palace. Past the National Library you can reach the monument to Maria Teresa and don't forget to stop at the Parliament building and Rathaus or City Hall.
Where to Stay
There are hundreds of hotels in Vienna. There are more than enough choices to satisfy everyone either in downtown or on the outskirts of the city.
If you want to stay in luxury be sure to check out The Best Vienna Luxury Hotels. All of them are located in the center of the city, a close distance from all the great sightseeing areas, designer shopping and delicious dining.
The best hotel in the city if you love elegant, historical hotels is The Grand Hotel Wien. This is a luxury hotel with a capital L. Staying here you will feel like you are at one of Vienna's palaces. The hotel is designed and decorated in the classic style. Crystal chandeliers, expensive carpets, antique furniture and famous artworks on the walls add to the special quality of this place. The guests are offered prestige rooms or suites to choose from. The hotel staff treats their guests as royalty. The guests are free to use the services of a Concierge and multilingual personnel, a security guard, limo services, ballrooms, banquet rooms, dry cleaning, and babysitting among other amenities. The hotel is home to a number of well regarded restaurants including Le Ciel. This restaurant opens its roof top terrace for dining during the nice summer days. The hotel's restaurant Unkai serves Japanese food prepared by well-known chefs. For snacks, drinks and cocktails guests are welcome at Rosengarten and Kavalierbar down on the hotel lobby level.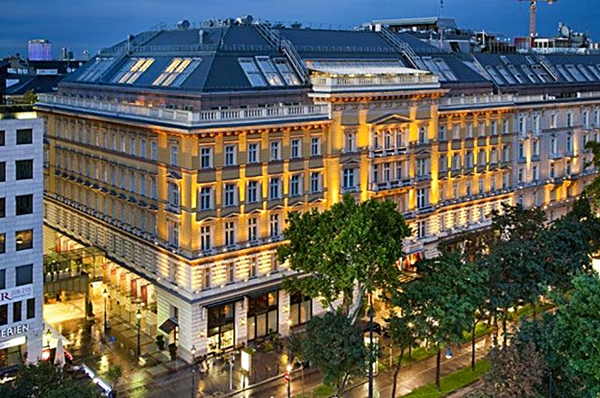 What to Eat
Vienna is a city with a history which absorbed the cuisine and culture of many neighboring nations. You will find the food which was influenced by the rich Austrian history – Hungarian Goulash, found on many menus in Vienna, is a good example of this.
Locals and tourists can find restaurants that meet everyone's expectations. It is true that restaurants serving European food prevail in this ancient city, but one will easily find a steakhouse (Porterhouse), sushi restaurant (Dots-lounge, Kojiro), Chinese (On, Goldene Zeiten), Indian (Nam Nam) and many others from around the world. There are a number of Michelin restaurants and tiny romantic places as well as cozy coffee houses located throughout the city.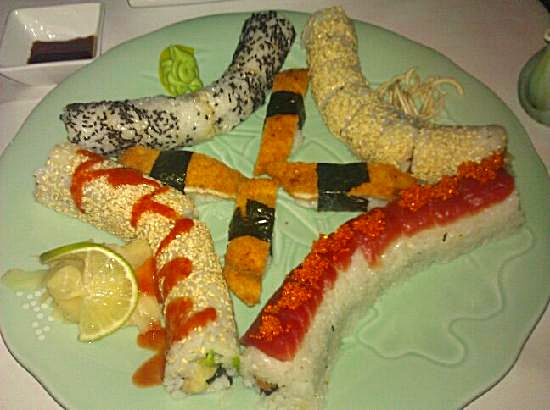 The only Viennese restaurant with 2 Michelin stars, Restaurant Steirereck presents a modern twist on Austrian cuisine. Here you can taste lamb, Danube salmon, fried pigeon with herbs or veal tongue, served with oyster mushrooms as well as a boiled and grilled mountain pasture ox. The restaurant's mouthwatering dishes come with the professionally selected wines and cheeses. All their ingredients are of excellent quality and enhance the freshness of the meal.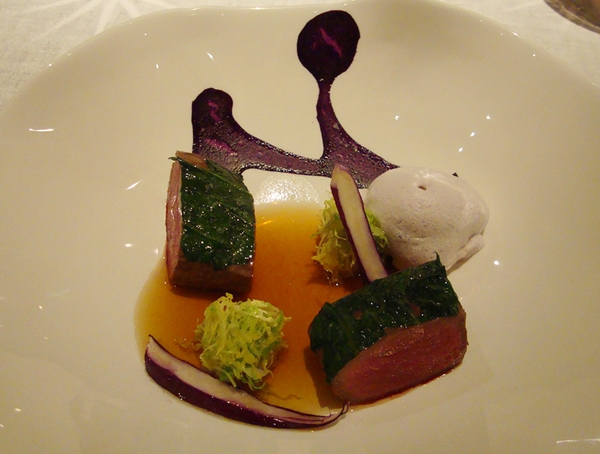 RieGi, awarded 1 Michelin star, offers superbly fresh and innovative Mediterranean and Austrian cuisine. The menus are flexible, with individually priced courses so you can opt for 3 courses or 8. Try crayfish with frog's legs and Yuzu, savory wild boar with roasted root vegetables and other market-driven fare, paired beautifully with Austrian vintages.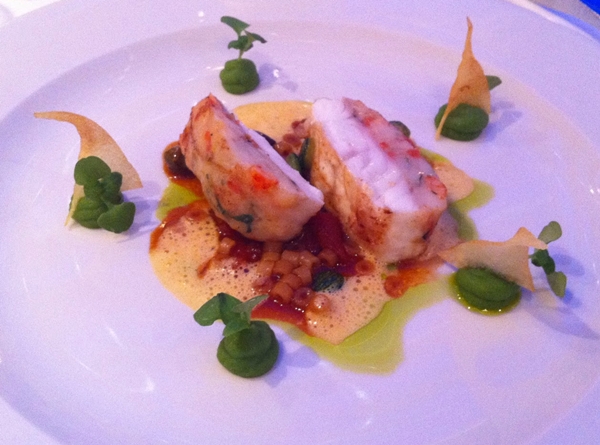 After a vacation in the mountains, a busy day in the town or before a nice visit to the Vienna Opera House, you can have a long list of romantic restaurants to choose from to take your significant other to enjoy a romantic dinner. These restaurants are all about comfort and satisfaction. They provide a nice atmosphere for their patrons and serve the most delicious food. Weibels Wirtshaus is a fine example of such a place. It is not a large restaurant and during warmer months you can be lucky enough to reserve a table outside in the restaurant's beautiful garden. This place attracts customers with its cozy and quiet atmosphere – all you need for a pleasant evening out with your loved one. And of course, there is the food. At Wiebels Wirtshaus, it is all about traditional Austrian cuisine. It is the place where on the menu you'll find Wiener schnitzel as well as apple strudel and their wine list will let you choose from many Austrian wines.
If you want to splurge, make a reservation for two at Le Ciel. This high-end restaurant delivers everything that will leave you with priceless memories – atmosphere, ambience, style, service, company and food. It is located on the top floor of the Grand Hotel Wien with unforgettable views of the elegant city. The chefs here created exquisite dishes like lobster essence with lobster ravioli or grilled slow-cooked leg of rabbit to name a few. The wines they suggest are a nice accompaniment to their meats and fish.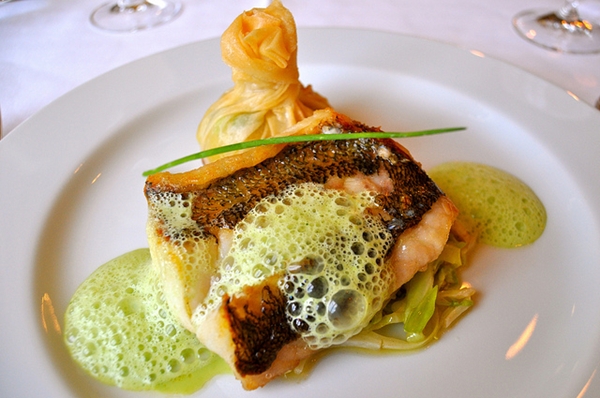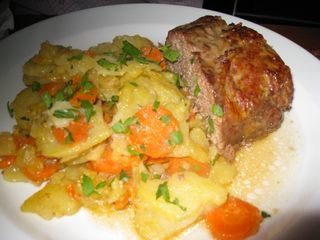 If you are on a budget while travelling to Vienna, you also will find nice inexpensive local restaurants. There are many cafes or bistros where you can have a nice meal without empting your wallet. In bistros such as Rebhuhn, Steman, and Gasthaus Floss you will be able to find hearty Austrian food served in a traditional atmosphere. Most of these places are designed in a rustic style with simple tables and chairs and wood panels on the walls. At these bistros you can get either a bowl of traditional soup like beef soup or a plentiful portion of dishes like goulash, Viennese schnitzel, served with spatzel and vegetables all for under 15 Euros. This comfort food can be washed down with a glass or two of local or imported beers.
Dessert is an essential part of Viennese cuisine. There are more to desserts in Vienna than just the world famous apple strudel. Give in to the temptation and taste dobostorte or linzertorte. No one should leave this city without tasting their staple cake – Sacher Torte created by the chefs at Vienna's Sacher hotel. This scrumptious dessert became the best known Viennese cake throughout the world. Even if one can find it in many restaurants around Austria, the best place to enjoy each spoonful of this rich and decadent dessert is at the Sacher Hotel in downtown Vienna.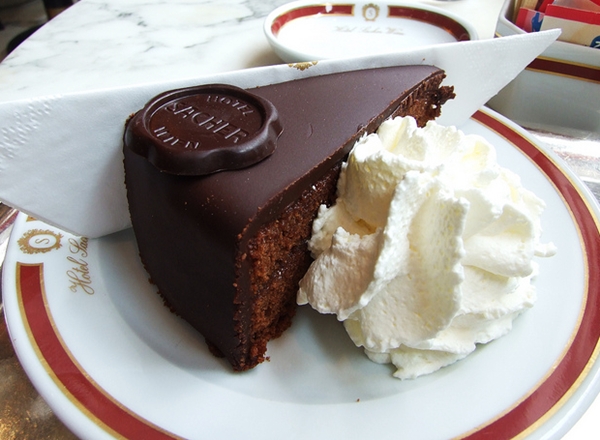 What to Do
There are plentiful opportunities while visiting the Austrian capital. Of course, it would be difficult to explore the city's numerous museums, palaces, parks, galleries without having a month long vacation, but you can do your best. If you don't have too much time, but still want to see as much as possible do some planning beforehand according to your taste. If your passion is architecture and history, then Vienna is the right destination for you. So be sure to include visiting churches, cathedrals, palaces and prominent government buildings in your itinerary.
St. Stephen's Cathedral is one of the city landmarks. It is a religious symbol famous for its Gothic architecture. The cathedral's beautiful roof is made by beautiful colorful tiles and it makes it different from any other dome. You can either enjoy the cathedral on your own pace, marveling over the mosaics, stain glassed windows, carved stone columns, chapels and altars or you can take a tour around the cathedral and down to catacombs walking through the crypts of various bishops, archbishops, kings and other royals.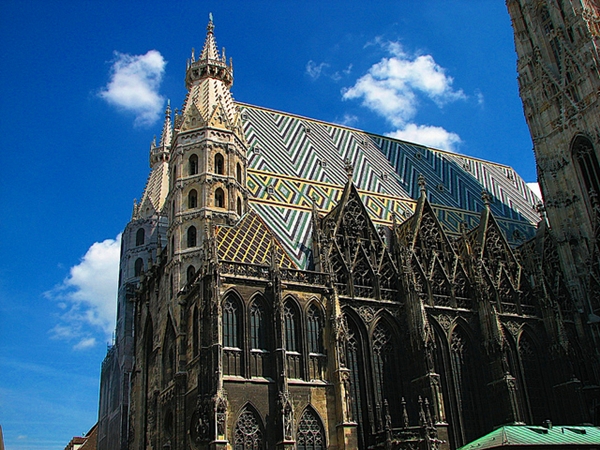 A short walk from St Stephen's Cathedral you can find another place, visited by tourists from all over the world. It is Hofburg Palace. As the imperial residence it was the center of Austria's history. Now you can enjoy its beauty with all the exquisite sculptures, monuments, passages, annexes. You can choose either walking and observing the outside magnificence of the St. Michael's Wing, the Imperial Library and the horse stables or purchasing tickets for a tour at the Sisi Museum, the Imperial apartments and Silver collection, all of which are located on the territory of the Palace. No matter what you choose, you will have fantastic time.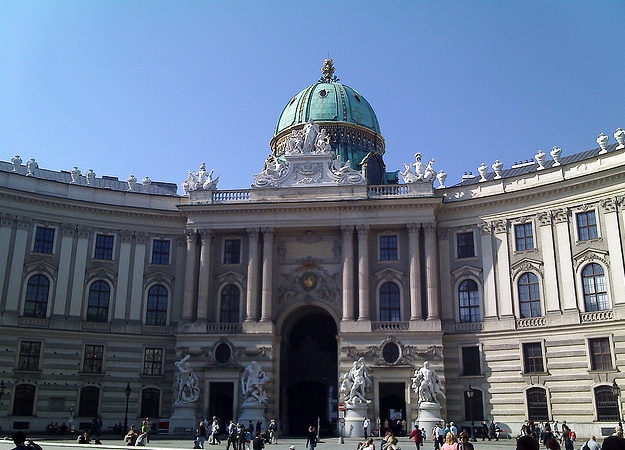 While visiting Vienna, stop by the Rathaus, Vienna's City Hall. Its Gothic architecture attracts tourists around the year. Also it is a famous destination during the winter months, when the square in front of the City Hall undertakes many metamorphoses. Around Christmas season it hosts the city's main Christmas tree as well as the Christmas Market famous among the city inhabitants and visitors. It Is the place where many Austrians ring in the new year with breathtaking fireworks . Between late January and the end of February the Rathaus Platz is recreated into a huge skating rink with many food stands serving hot food and drinks to the skaters and by passers.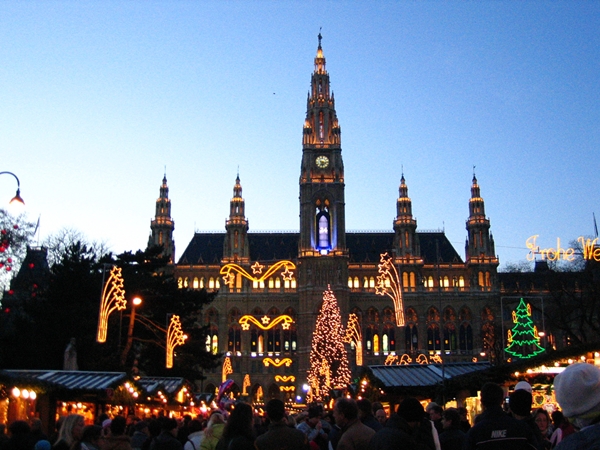 If you are a music and art connoisseur, then you have to buy a ticket to the Musikverein, Burgtheater Vienna or Volksoper Vienna as well as visit the Albertina and the Museum of Fine Arts.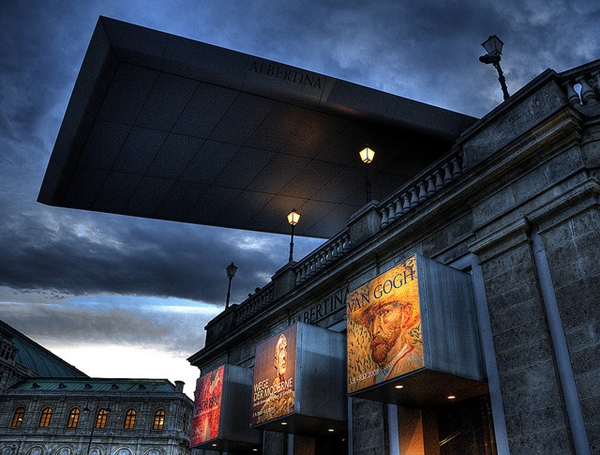 The Belvedere is a Viennese landmark which features two magnificent palaces. They are part of Austrian history and now they are a part of Austrian cultural life. These two palaces are home to the most prominent art collections in Vienna. Here you can find the masterpieces of Gustav Klimt, Egon Schiele and many others.
After viewing the museum collections, you can get outside and roam through the Palace's gardens, which are masterpieces themselves. They feature state of art statures, fountains and cascades. The gardens' landscape is all about the tastefully arranged trees, bushes, hedges and flower beds.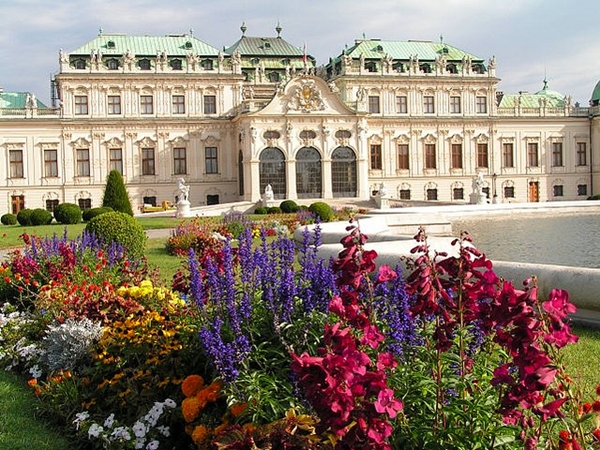 There are three main opera houses in Vienna and the Vienna National Opera is the most prominent one. It gives its stage to the best operas and the most recognized opera singers. Also it is the home of the traditional Vienna Opera Ball which has a worldwide reputation.
While in Vienna, don't forget that this is the city of many world-known classical composers such as Haydn, Schubert, Beethoven and Strauss. You can have a tour at the place where Mozart lived in Vienna. It is Mozarthaus Vienna. Here you will see how Mozart lived, you will learn about his music and passions and about his family. The visit will give you a chance to walk where many years ago the music prodigy used to walk, see the objects which Mozart owned which will make you feel closer to him and to understanding his beautiful music.
Do you love horses? Do you enjoy watching them? Being in Vienna you have a chance to experience shows like nowhere else in the world. If you buy a ticket to the Spanish Riding School performance, you can watch graceful and well trained Lipizzaner stallions. This performance ends with the longest and most difficult part called 'School Quadrille'. This show will prove you how beautiful, intelligent and elegant the horses can be.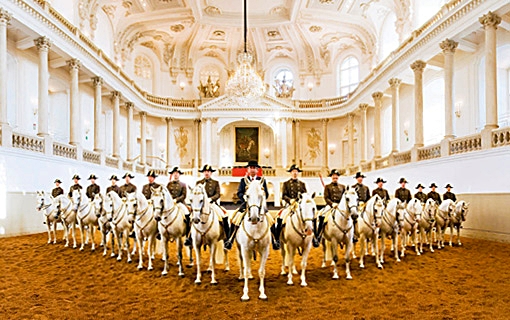 Related Posts
Review: Sofitel Vienna Stephansdom
Photos: College of William & Mary, Grand Hotel Wien, franzj, Gery Singer, charley1965, Brett The Wine Maestro, Sarah_Ackerman, tharikrish, *natsu*, meatdoom, Resident on Earth