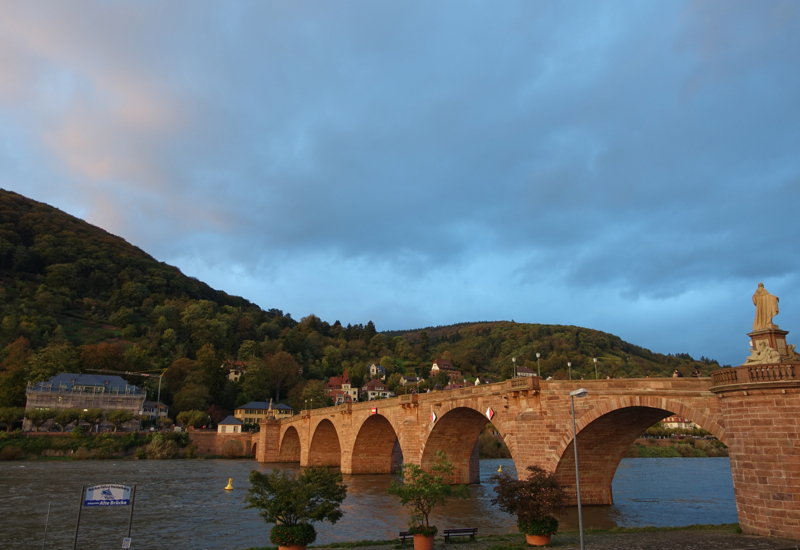 Heidelberg is a beautiful university city, set on the Neckar River with a lovely old town (Altstadt) and pedestrianized area for walking. Here's what to see and do in this picturesque German city:
1. Meander in the Old Town (Altstadt)
Heidelberg's old town enjoys one of the longest pedestrianized stretches of any city in Europe, making for a pleasant wander. In the winter, enjoy the Christmas Market while sipping mulled wine, and even a skating rink. If it's chilly, there's no shortage of interesting shops and restaurants to warm up in. In fact, one of my favorite meals on a recent trip to Germany (apart from the incredible meals at Traube Tonbach) was a meal that included roast duck and chestnut ravioli at a local Heidelberg haunt.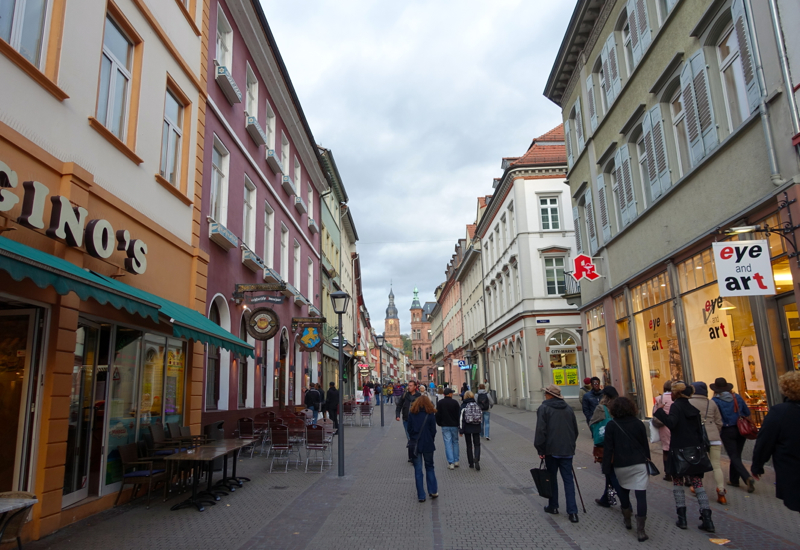 2. Enjoy the Sunset from the Old Bridge (Alte Brucke)
A natural extension of a late afternoon walk in the Altstadt is to veer towards the Neckar River and walk up the Old Bridge to catch the sunset. There are two statues on the bridge; one of Carl Theodor, who created the bridge and was a supporter of the arts and sciences, and one of Athena, the Greek goddess of wisdom.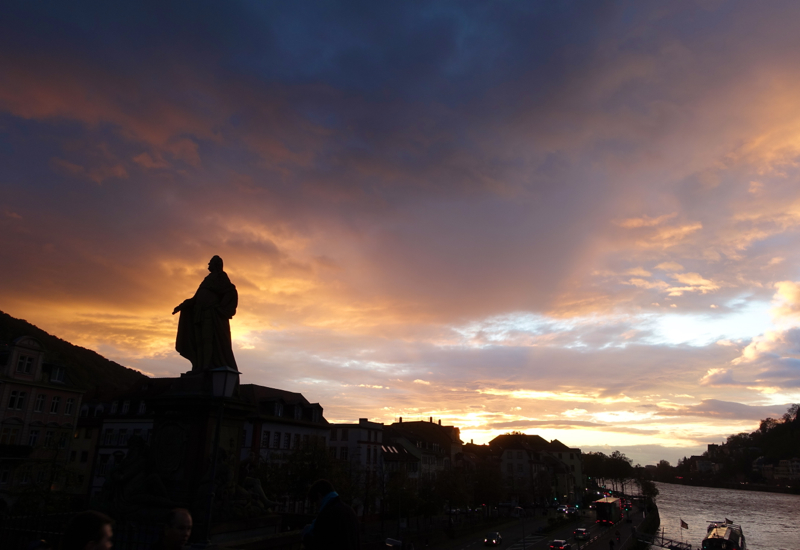 3. See Heidelberg Castle
You can't miss seeing Heidelberg Castle (Schloss Heidelberg) from most any vantage point in Heidelberg, given its lofty position overlooking the city. While I didn't have time to visit the castle, I loved the pretty sight of it when illuminated at night.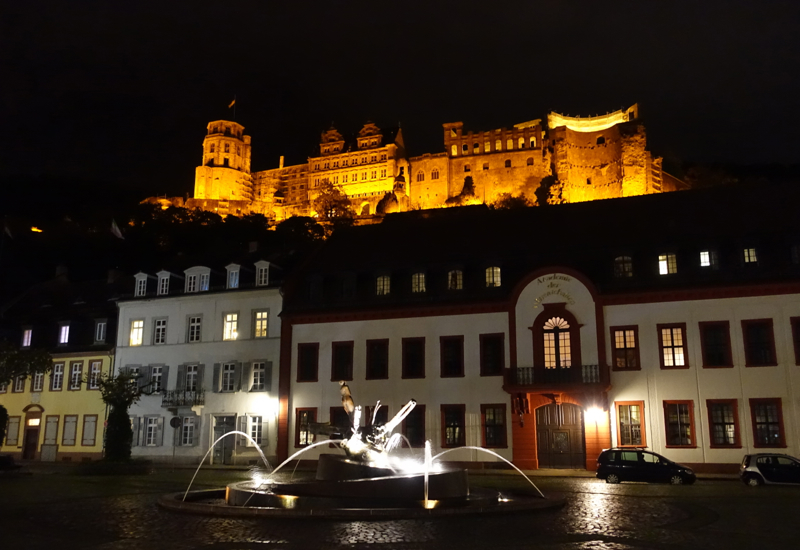 4. Notice the Stolperstein and Remember Victims of the Nazis
If you see a shiny gold star among the cobblestones, take a closer look. Chances are you're looking at one of Heidelberg's many stolperstein, a memorial to a victim of the Nazis. While most stolpersteine honor Jewish victims, some are for other victims of the Nazis, such as gypsies, Christians who opposed the Nazis, homosexuals, blacks, Communists and others.
Here is one to a Jewish family. Both parents were deported to the Auschwitz concentration camp and died. The sons, Walter Durlacher and Ludwig Durlacher, were taken to England as part of the Kindertransport relief effort organized by British Jewish leaders and Quakers. Personal accounts of some of these survivors are at the Quaker Kindertransport page.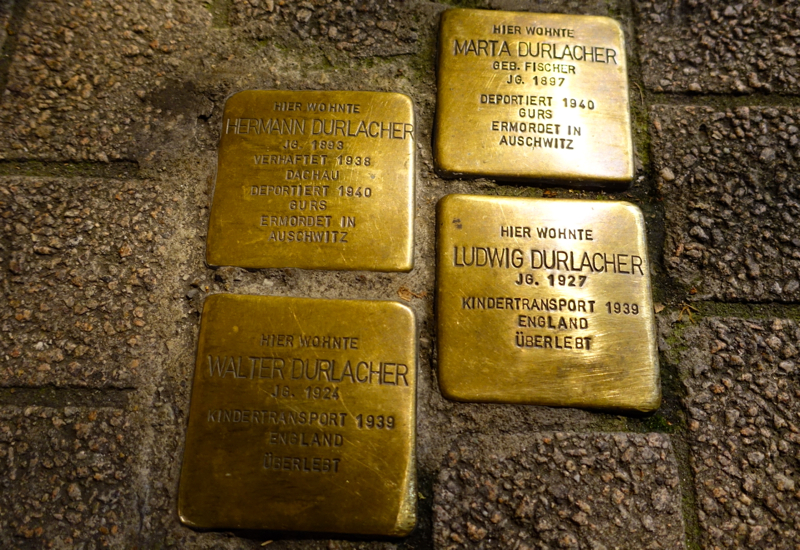 5. Taste a Heidelberg Student Kiss
No, I don't mean romancing a Heidelberg student 🙂 One of Heidelberg's best known chocolate confections is the Heidelberger Studentenkuß (delicious nougat and crisp wafer encased in dark chocolate), invented by chocolatier Fridolin Knösel in 1863 for university students to give to the young ladies at Cafe Knosel, as a token of affection that even the ladies' watchful governesses could not object to. Just around the corner from Cafe Knosel is the Knosel family's chocolate shop, at Haspelgasse 16, where you can buy and taste your very own Heidelberger Studentenkuß. It makes a sweet souvenir for loved ones as well.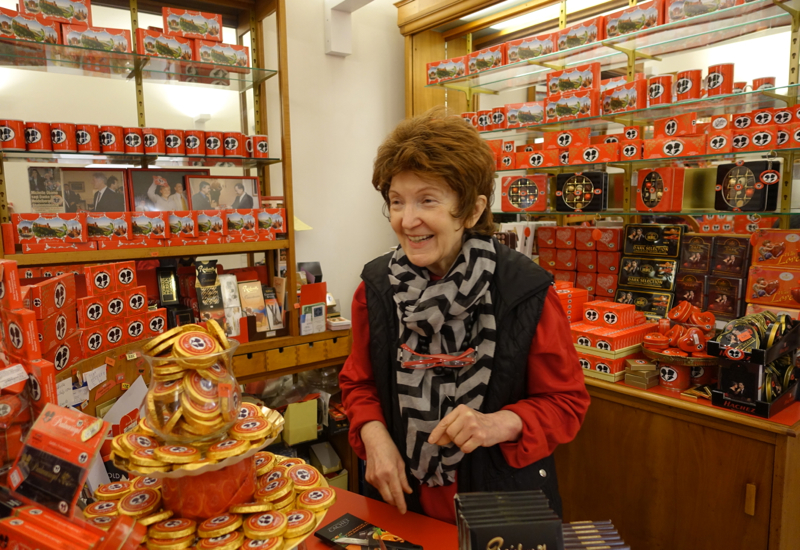 6. See the Heidelberg Student Jail
If you think visiting the University of Heidelberg student jail will be a dreary and depressing experience, think again. There were several incarnations of it, but the one you can visit today, on Augustinergasse, around the corner from the university (Alte Universitat), was the final location of the jail, until it closed down in 1914, before World War I.
Almost every inch of the walls is covered with graffiti, commemorating student pranks such as setting locals' pigs free. Since most students were from wealthy families and could afford to have meals and other items brought to make their stay more comfortable, it's no wonder that many students considered a stay in the jail a badge of honor and were quite happy to stay there for days or weeks at a time.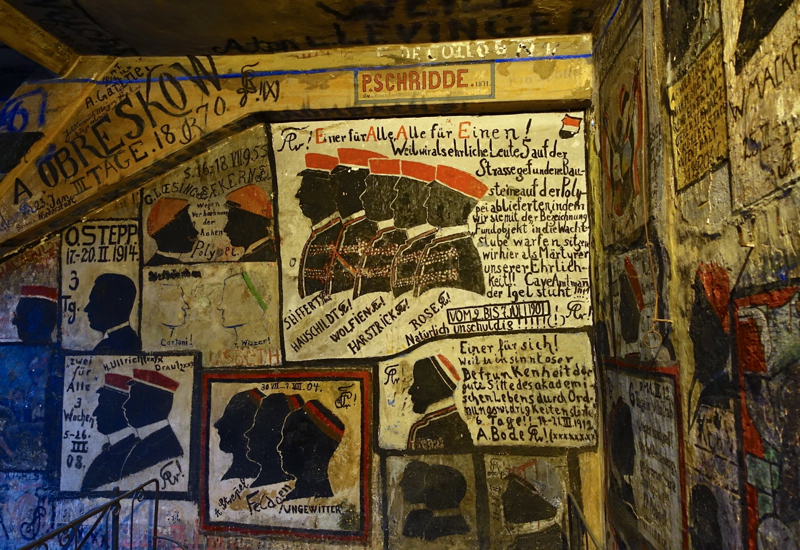 7. Taste Organic Beer at Brauerei zum Klosterhof Heidelberg
I'm not a beer drinker, but I nevertheless enjoyed learning about the beer making process at this small organic brewery on the grounds of the Neuburg Monastery, which we also visited. Classic varieties include Kellerbock, Bernsteinweizen, Pils, Weizen (Wheat), Dunkles (Dark), and Helles (Bright), and a number of others are seasonally available, such as Hopfenfuchs (Fox Hops), Adventsbock in the Advent season, Weizenbock, Maibock (Deer) and Maerzen.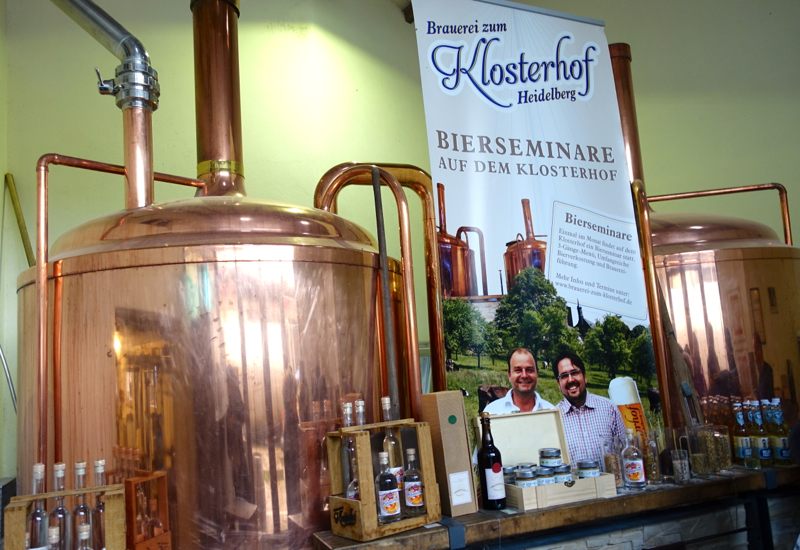 If you've visited Heidelberg, which experiences do you recommend?
Related Posts
Review: Hotel Traube Tonbach in Baiersbronn, Black Forest, Germany
Best Credit Cards for Award Flights to Germany for a Couple
Disclosure: I was a guest of the German National Tourist Office, however the views expressed in this post are my own.
Need Award Booking Help? Our fee is as low as $75 per ticket if you book your hotel through us.
If you enjoyed this, join 150,000+ readers: please follow TravelSort on Twitter or like us on Facebook to be alerted to new posts.
Become a TravelSort Client and Book 5-Star Hotels with Virtuoso or Four Seasons Preferred Partner Amenities!