All the time I hear people talk about the contract of carriage and how much it empowers passengers. While it does offer passengers plenty of protection in some instances, there are other cases where it's almost shocking how little responsibility the airlines take. For example, take a look at American's contract of carriage when it comes to their responsibility for schedules and operations:
"American will endeavor to carry you and your baggage with reasonable dispatch, but times shown in timetables or elsewhere are not guaranteed and form no part of this contract. American may, without notice, substitute alternate carriers or aircraft and, if necessary, may alter or omit stopping places shown on the ticket. Schedules are subject to change without notice. American is not responsible for or liable for failure to make connections, or to operate any flight according to schedule, or for a change to the schedule of any flight. Under no circumstances shall American be liable for any special, incidental or consequential damages arising from the foregoing."
Now I'm not meaning to pick on American since most airlines have a similar clause in their contracts of carriage. But seriously, read that carefully. American is literally saying they have no responsibility or liability to operate your flight according to schedule. Based on how open to interpretation the contract of carriage is, American is basically saying they could get you to your destination a month late and you'd have no right to complain.
Let me actually share a recent experience I had regarding this, though with another airline. I was scheduled to fly from Delhi, India to Shimla, India, on Kingfisher Red. Kingfisher Red happens to be the only airline that flies from Delhi to Shimla, and I booked my ticket about a month in advance.
A day before my flight I got a call from Kingfisher Red saying they've cut the route and are no longer operating the flight. They offer me a flight to another airport that's a five-hour drive away, though don't offer to pay for transportation between the two airports. They told me if I didn't like the change I could request a refund. The sad thing is, after carefully reviewing their contract of carriage, they were completely within their rights.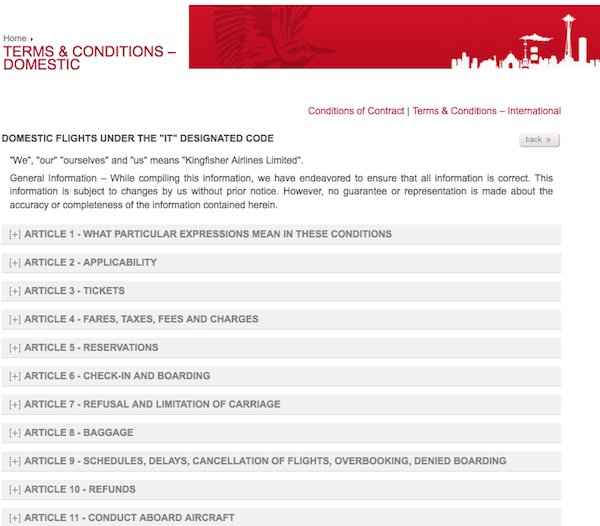 But all of this pales in comparison to when you're on a multi-airline award ticket and have a schedule change on a partner airline. While airlines tout how comprehensive their alliances are, when things go wrong the individual airlines are all quick to point fingers.
For example, say you booked an award ticket with United Mileage Plus miles from Seattle to Frankfurt via Chicago. Seattle to Chicago is booked in first class on United, while Chicago to Frankfurt is booked in first class on Lufthansa. Say Lufthansa has a schedule change and cancels the Chicago to Frankfurt flight. Beyond that, let's say that there are no alternative routings available using miles. With this scenario, it helps to understand a couple of things up front:
Airlines don't have the ability to open up award space on partner airlines
People always assume that an airline can go into their partner airline's system and just open up award seats, but that's simply not possible, no matter how helpful of an agent you have.
You're at the mercy of the airlines
As frightening as it might be, you're not really entitled to a reasonable alternative – just look at American's contract of carriage above. The reason I mention this is because it makes a lot of sense to be especially nice to reservations agents when you have an issue like this. You should always be nice to phone agents because they will do a lot more for you if they like you, though this is one of those cases where it's especially true.
So what can you do in a situation where a partner airline award ticket is screwed up?
Elite status can help
Probably unsurprisingly, it can help to have elite status when asking for help. As an Executive Platinum AAdvantage member, agents have no problem putting in a request for upgrade space to be opened up on account of my status, though equally so when things go wrong they can fairly easily put in a request to revenue management.
Do your research
As soon as you see you have a schedule change on an award ticket that's going to cause problems, see what alternatives are out there. Use the methods I've outlined in previous posts about finding award space on Star Alliance, One World, and SkyTeam, to find alternatives on your own. Get creative with routings, because you may very well need to. This way you'll be prepared when you call to handle the schedule change.
Be reasonable
I'm an airplane "nut" and can appreciate the difference between aircraft types, but reservations agents often can't. Keep in mind that when an airline's partner makes a flight change, the airline that issued the ticket hates the change as much as you do because it only translates to more work for them. So if an agent comes up with an alternative routing that's reasonable, take it, even if it means a slightly different first class product. Along the same lines, don't expect to get all that much sympathy if the schedule change is just in the form of a different aircraft type.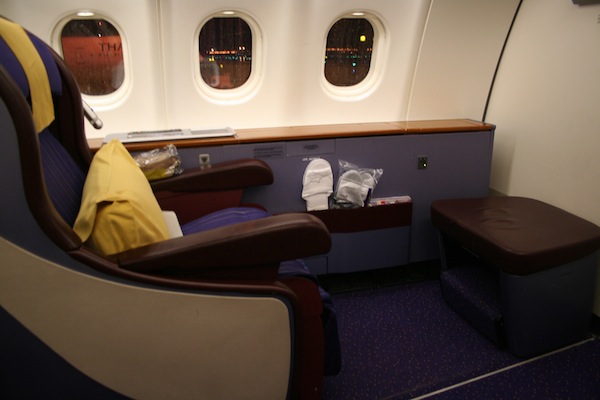 Know what an airline liaison is
The good news is that most of the time when there's a schedule change there are reasonable alternatives out there. Then there are just some cases where there's nothing reasonable available. You see, airlines have alliance liaisons, and their job is to handle those situations.
As I said above, United can't open up award space on a Lufthansa flight, though the liaison can usually work with both airlines to make it happen. Typically you can't speak directly to the liaison, though if all else fails ask the reservations agent if an alliance liaison could maybe contact the operating airline to see if they could open up space on a flight given a circumstance (and this would have to be an extreme circumstance, like a canceled flight with no alternatives).
Typically you'll be forwarded directly to a supervisor who will put a request in the liaison's queue. The liaison then talks to the airline with which the issue needs to be resolved, and they'll usually release the award space for that specific purpose.
Knowing that these people exist is really the secret weapon to getting solutions to otherwise unsolvable award ticket problems. If your request is reasonable and the situation dire enough, they can get almost anything taken care of.
Ask the airline to open up award space on their own flights
While an airline can't open up award space on a partner airline, they can open up award space on their own flights if the situation warrants it. So if you have a partner airline award ticket and are willing to fly the airline with which you issued the ticket, consider asking if they could open up award space for you. The agent would just have to call revenue management, and usually the seats can be released almost instantly.

Be aware that Delta tends to be most helpful, followed by American, United/Continental and US Airways
I find American and Delta to be the best with proactively opening up space when things go wrong. Delta's award system is so complicated to the point that most agents don't understand how pricing works, so they have no problem involving revenue management to see if they'll open something up. As I noted above, I've had good experiences with American, although that may be mostly due to my elite status.
United/Continental and US Airways are also fairly good, though in my experience will first ensure that absolutely nothing else is available on a partner airline before they open up space on their own flights. I do find pre-merger United to be a bit better than pre-merger Continental when it comes to this, though.
Anyway, those are some of my top tips for dealing with difficult award schedule changes. While the contract of carriage isn't especially helpful, a good attitude and a bit of knowledge can get almost any award ticket issue resolved.
Related Posts
Airline Passenger Bill of Rights – What Are Flyers' Rights for Delays, Cancellations and Reroutings?
How to Complain to Airlines and Get Compensated
Best and Worst U.S. Airlines: Late Flights, Cancellations, Lost Luggage
Tips to Avoid and Deal with Lost Luggage
Need Award Booking Help? Our fee is as low as $75 per ticket if you book your hotel through us.
If you enjoyed this, join 200,000+ readers: please follow TravelSort on Twitter or like us on Facebook to be alerted to new posts.
Become a TravelSort Client and Book 5-Star Hotels with Virtuoso or Four Seasons Preferred Partner Amenities!