Balinese and Indonesian cuisine is among my favorites in the world, together with Singaporean and Vietnamese. So when the
Four Seasons Resort at Jimbaran Bay
was kind enough to host my family for a one night stay, I asked if we could dine at Warung Mie, the resort's Indonesian restaurant. We were anticipating it so much that we asked to move our reservation earlier (twice!) and fortunately the restaurant was very understanding and accommodated us for the earliest possible seating, at 6pm.
While the
Four Seasons Bali
is so extensive that buggies run 24/7 to transport guests to and from their villas to other points in the 35 acre resort, fortunately our villa was a short walk to
Warung Mie
, and it's well signed. Now, traditionally in Bali and Indonesia a warung is a small family-owned restaurant–quite a humble affair–and from the road Warung Mie could almost fit its moniker. But a step inside its enchanting courtyard, with stepping stones set in a tranquil lily pond, hinted at the much more upscale nature of the Four Seasons' rendition of a traditional warung.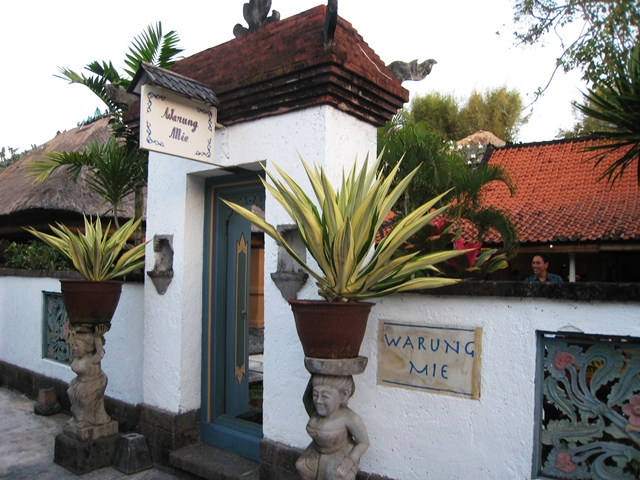 We were warmly welcomed and seated right in front of the lily pond, with a view that became even more romantic as twilight deepened into evening and candles flickered to light the stepping stone path.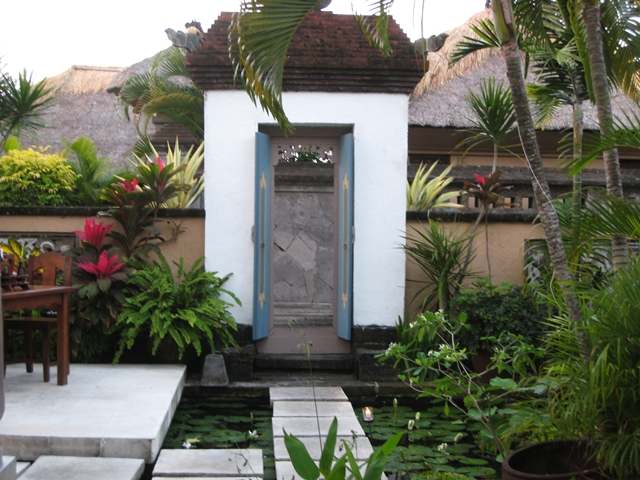 Our server offered cool, fragrant towels along with our menus, which were rolled up as scrolls and adorned with plumeria blossoms. There was even a kids' menu, to the delight of our famished munchkin. As you can see, the tables are unadorned, and silverware and chopsticks were in a container on the condiments tray, so that casual aspect of a traditional warung was preserved. It certainly suited us, as a low-stress way to enjoy a family meal.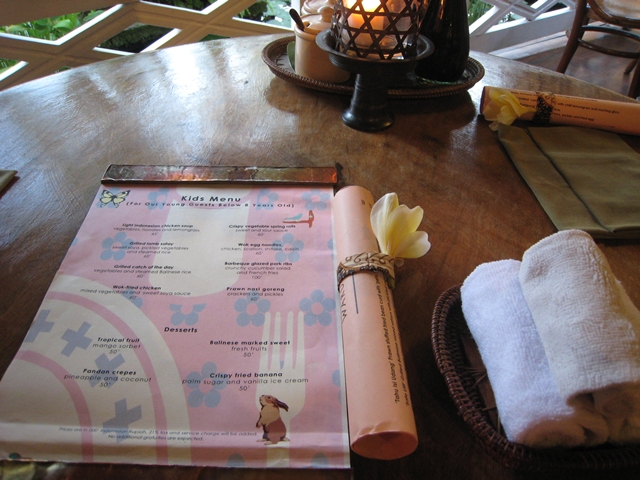 My son unfortunately has a severe peanut allergy, so the traditional crisp crackers (fried in peanut oil) were not in the cards for us. Our server went above and beyond by going to the Four Seasons' Italian fine dining restaurant, Taman Wantilan, and getting some breadsticks. The munchkin's eyes positively lit up at this treat, and as parents we were very, very grateful–anyone who has had a *very* hungry (borderline cranky) child on their hands knows what I mean, and what a difference getting some food in that child makes.
We ordered a simple wok fried chicken and vegetable dish for the munchkin, and from our own menu, since I found it so hard to decide among all the tantalizing options, I chose the Nasi Campur (280,000 IDR/~$29), with tastes of several traditional dishes, and (no surprise to regular readers) the Seafood Laksa (220,000 IDR/~$23).
The Nasi Campur was beautifully presented, with five different dishes arranged around a rice timbale. As best I could tell, the dishes were:
Crispy fried fish
Udang Kemangi (Spicy jumbo prawns, chilli tomato sambal, sweet basil and long beans)
Tum Ayam (Chicken in banana leaves with Balinese spices)
Iga Babi Panggang (Barbeque glazed pork ribs)
Kacang Panjang Mekalas (long bean and bean sprouts salad, wild ginger)
My first taste was of the sweet and spicy Udang Kemangi, and the flavors simply popped–so delicious! I doubted that anything else on the plate could top that until I tried the Iga Babi. I'm pretty sure that if we'd had triple or even quadruple the portion of these barbeque glazed pork ribs we'd have devoured them. The Tum Ayam was also a wonderfully fragrant dish–the banana leaves are the Balinese version of cooking en papillote, and the spicy coconut based sauce was addictive. Any rice lovers will also be glad to know that in addition to the plain rice that the Nasi Campur comes with, you're also invited to partake of Nasi Kuning (saffron scented Indonesian rice) and Nasi Merah (organic red rice), both of which are entirely complimentary.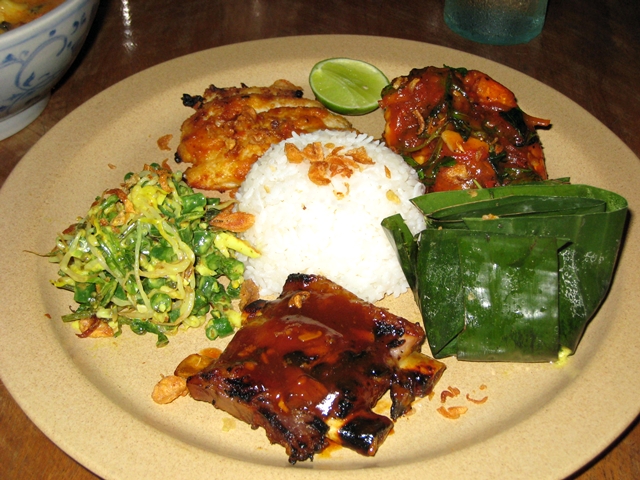 Speaking of coconut based sauce, the seafood laksa was the best I've ever had. Certainly I don't mean to slight the wonderful versions I had in Singapore, but this one really was so stellar in flavor and the freshness of the prawns and seafood.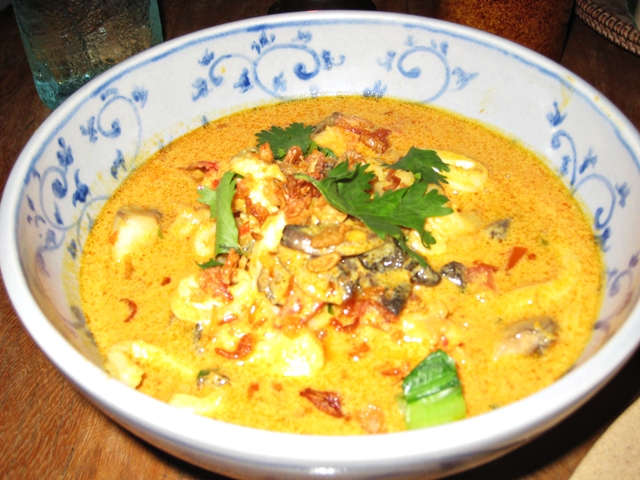 If I had to criticise anything, it would be that portion sizes are somewhat restrained. That's probably a good thing for most guests with a normal appetite, but my husband is 6'5 and eats quite a lot, and I eat quite a bit as well when I'm hungry. The nice thing was that we weren't too full to try some dessert. Normally I'm not a big fan of Asian desserts or of banana, but for some reason I like fried banana, so I ordered that. And, at the encouragement of our server, we also ordered the Black Rice Pudding with Sticky Rice and Palm Sugar Syrup. These desserts are each 85,000 IDR/~$9.
The Fried Banana was excellent–perfectly hot and crispy, served around a scoop of vanilla ice cream. I could see that my husband liked it just as much, so I let him have most of it.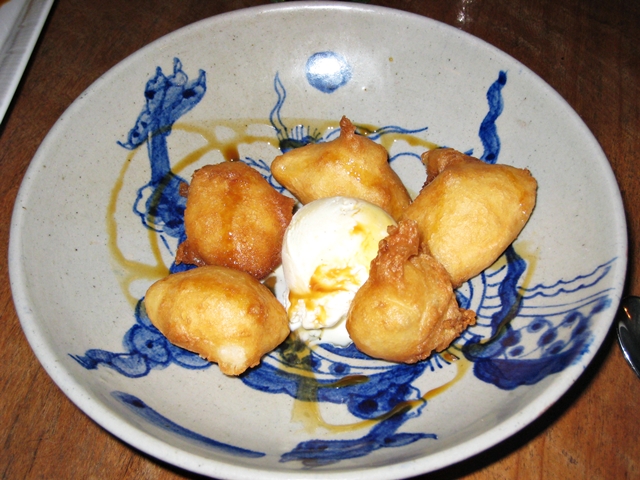 I remembered black rice pudding with coconut milk from my first trip to Bali, around 11 years ago, when it was served as a breakfast option at the guesthouse I stayed at in Ubud. So the taste brought back memories, even though I wouldn't say that it's my favorite dessert.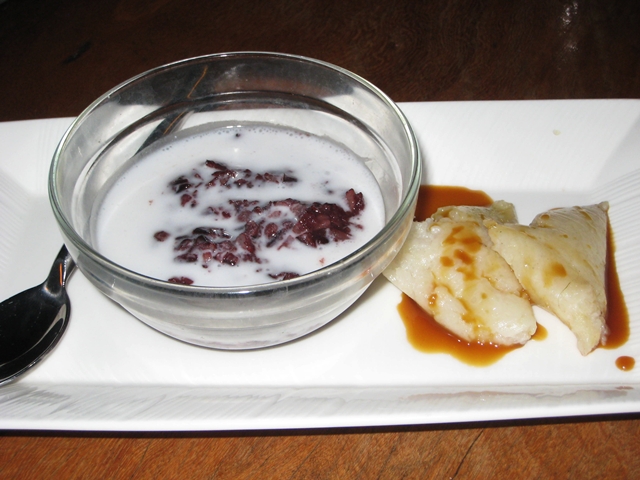 Verdict: While dining at Warung Mie I mused to my husband how much I wished we had such a restaurant near us in NYC. If we did, I can say with certainty that we'd be there at least every other week for a date night dinner. It's certainly not inexpensive, but that's to be expected given its setting in the Four Seasons, and the quality is superb, not to mention the incredibly friendly and warm service that included that special breadstick favor for my son. Would I have been more critical of the portion sizes if I'd paid out of pocket for our meal? Yes. Would I have liked the food less? No–the food was amazing, and I'm already plotting how I can get the recipes for a couple of those dishes. I know Jimbaran is supposed to be famous for its fresh seafood beach dining, and while I'm sure the sunset over the water is nice, if I only had one night in Jimbaran I'd dine at Warung Mie without question.
Related Posts
Disclosure: My family and I were guests of the Four Seasons Resort Bali at Jimbaran Bay, however the views expressed in this post are my own.